A traditional Aboriginal Smoking Ceremony has signaled the start of construction of a new $20 million neighbourhood shopping centre at Gordonvale near Cairns. 
On completion the Woolworths Gordonvale Neighbourhood Shopping Centre will be home to more than 5,000 square metres of retail space including a full-line modern Woolworths Supermarket with direct to boot pick up facilities, approximately eight specialty tenancies and more than 200 customer car parks.
Woolworths Regional Development Manager Marissa Hopewell said: "It's been many years in the making and we're looking forward to commencing construction on a state-of-the-art shopping centre for the Gordonvale community.
"Woolworths Gordonvale Shopping Centre forms an important part of our ongoing commitment to invest in Far North Queensland to support jobs growth and increased demand for more localised, neighbourhood retail close to where residents live and work.
"This project will bring significant employment opportunities to the Cairns region, with 80 jobs during construction and around 120 ongoing jobs when the centre opens next year."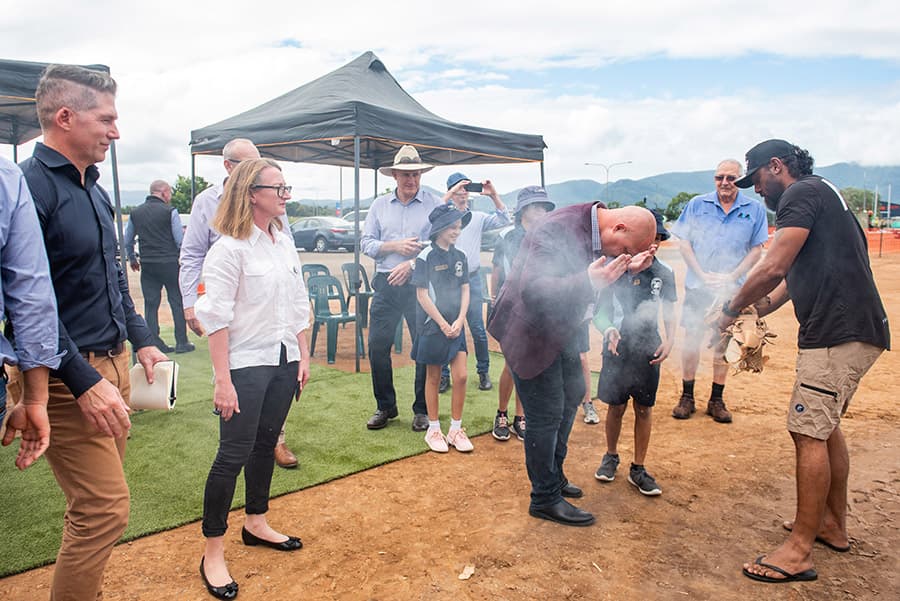 Curtis Pitt MP, State Member for Mulgrave has been an avid supporter of the project since Woolworths first sought Council approval more than 10 years ago.
"I've long supported a Woolworths development in the growing southern corridor of Cairns. The location on Draper Road will draw shoppers from as far south as Babinda, and provide options for a trolley shop closer to home for residents of Goldsborough and Mount Peter.
"Population infill is already occurring, attracting more families with teenage children looking for their first job opportunity.
"The $481 million Bruce Highway duplication between Edmonton and Gordonvale will provide safe and easy access to the new Woolworths site. I am pleased to have secured funding for a pedestrian overpass just south of the development which will ensure connectivity between the old and new parts of Gordonvale, which will continue to support the economic viability of the Gordonvale CBD."
Cairns Mayor Cr Bob Manning OAM recognised the significance of the development for the city's southern corridor and said it was another demonstration of the confidence business and industry has in our region.
"We know that future population growth of Cairns will be very much to the south of the city, and this new development will play an important role in servicing the area.
"Council understands the importance of delivering core infrastructure in supporting new developments and has invested $6 million in critical works associated with the new Woolworths shopping centre, principally for the extension of Fisher Road and the Draper Road roundabout."
The Smoking Ceremony event was attended by Hon Curtis Pitt MP, Speaker of the Queensland Parliament and Member for Mulgrave, Councillor Bob Manning OAM, Mayor of Cairns, and Councillor Brett Moller.
The event marks the collaboration between the Woolworths Gordonvale Shopping Centre project, led by its construction contractors ADCO Constructions, and the local Aboriginal community.
Attendees took part in a traditional cleansing ceremony performed by Traditional Owners on Yidinji country. Alex Knight, the nephew of local Aboriginal elder Uncle Frank, led the ceremony and delivered a Welcome to Country and Francis Royee, Uncle Frank's oldest son performed the smoking ceremony along with Gary Creek (Creeky) on the Didgeridoo.
ADCO Constructions' Queensland State Manager Brad Eathorne said: "We are committed to working with Aboriginal and Torres Strait Islander Elders, trade partners and the community to build positive and meaningful relationships during construction, and producing high-quality developments that will serve the community for many years to come."
To improve traffic flows and access to the new shopping centre, Woolworths will undertake significant road upgrades as part of an infrastructure agreement with Cairns Regional Council. Works include the extension of Fisher Road, upgrades at the Draper Road roundabout and construction of a slip lane from the new Bruce Highway expansion.
Hopewell concluded: "We understand the key role community hubs can play in the day to day lives of local residents as they  seek vibrant places to come together, shop, connect and interact.
"We're confident we can deliver a high quality and convenient shopping destination that will meet the needs of the Gordonvale community well into the future.
"We're on track to complete the project mid-2022 and look forward to welcoming customers into the centre then."