Refurbishment works began this month on the Cleveland Central Shopping Centre's northern (Coles) building and will include new seating, lighting, fittings and furnishings.
Artwork by Quandamooka woman Delvene Cockatoo-Collins will feature prominently in a refurbished Cleveland Central Shopping Centre, with Centre Manager Korina Krucican saying the Quandamooka People are the Traditional Owners of much of Redland City, where the centre is located.
"Connection to the land and traditional owners is central to the refurbishment," said Krucican. "Delvene's artwork will be featured throughout the centre on walls, travellators and furniture fabrics. Her artwork has also inspired new ceiling features.
"We're excited to create a beautiful space for the community that showcases the local environment, lands and waters – the essence of Cleveland," Krucican said.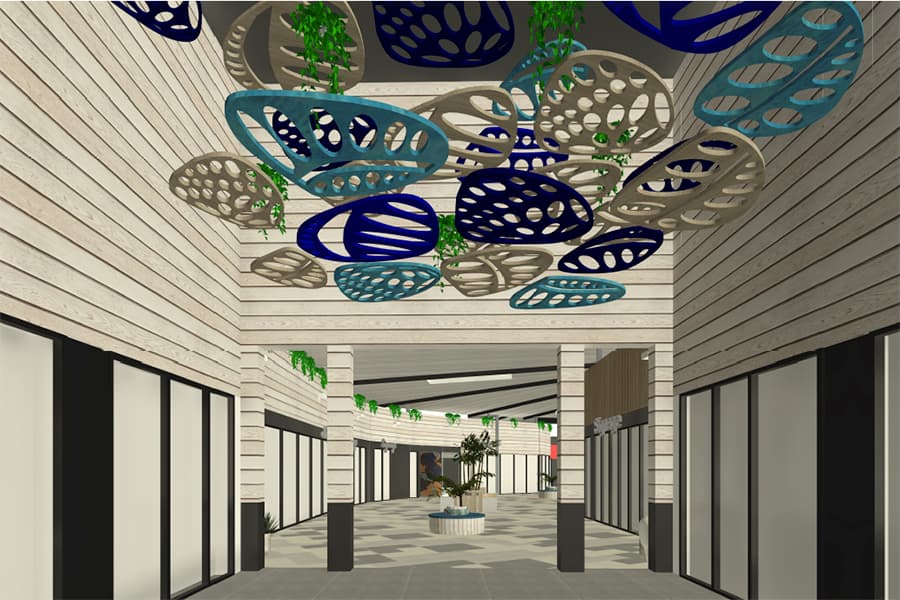 The majority of refurbishment work will take place outside of general trading hours to ensure minimal disruption, with completion expected by the end of June.
All stores, including Coles and Australia Post will remain open during the refurbishment.
Krucican said the refurbishment would support local businesses, with furniture sourced from local suppliers.
"The Centre was in need of an upgrade – we wanted to modernise and upgrade our facilities to provide a better experience for our shoppers," Krucican said.
Cleveland Central is owned by Haben Property Fund and is located in Middle Street, Cleveland.
Architect is i2C – designer is Sharni Harold. Builder is Intermain.