AMP Capital have marked the completion of Karrinyup Shopping Centre, following an $800 million, three-year redevelopment with an official opening event attended by the Hon Mark McGowan, Premier of Western Australia. The official ribbon cutting event on Thursday 28 October will be followed by a weekend of entertainment and activities throughout the new dining and entertainment precinct – The West Deck.
Now complete, the new Karrinyup Shopping Centre has almost doubled in size, expanding from 59,874 to 109,000m2 and is home to 290 retail stores as well as The West Deck. The outdoor precinct features an exciting line-up of over 20 new entertainment, food and beverage venues to the centre, as well as a new kids play area.
The completion of the final stage and launch of The West Deck follows a series of launch events on the 7 October which celebrated the completion of fashion and lifestyle precinct The Loop, Level 1, and casual dining area The Café Terrace.
The redevelopment of Karringyup Shopping Centre, which is managed by AMP Capital on behalf of owners UniSuper, was undertaken with construction partner Multiplex.
Kylie O'Connor, AMP Capital Global Head of Real Estate said "The Karrinyup redevelopment is a perfect example of AMP Capital embracing the future of retail and mixed-use development, while continuing to deliver sustainable returns for investors."
"Our vision for this project has always been to create an integrated development which embraces a live, work, play approach and in a first for Perth, Karrinyup Shopping Centre now offers access to a genuine mixed-use precinct for all to enjoy."
"The successful completion of the development at Karrinyup Shopping Centre underscores our track record and expertise in real estate development and funds management."
The owner of Karrinyup Shopping Centre, UniSuper, has been a long-term investor in Western Australia and welcomes the delivery of one of Perth's leading fashion and lifestyle destinations.
Kent Robbins, UniSuper Head of Property and Infrastructure commented: "The completion of Karrinyup Shopping Centre is a proud moment shared with our project partners AMP Capital and Multiplex.
"This redevelopment addresses the community's expectations to provide not just best in class retailers, but also a diverse range of entertainment, dining, wellness and service offerings.
"We look forward to the ongoing partnership with our retailers, local management and the broader Perth community, including UniSuper's Perth based members."
Multiplex Regional Managing Director Chris Palandri said "Having built the original Karrinyup Shopping Centre in 1972 and completed an extensive refurbishment in 1996, we are delighted to have worked with AMP Capital over the last five years to once again make our mark and deliver this landmark retail destination for West Australians".
"Throughout construction we successfully worked in a live environment, with an objective to minimise the disruption to shoppers as far as possible while ensuring safety remained our number one priority. This project is another outstanding example of Multiplex on time delivery and is a credit to our staff, subcontractors and the AMP Capital team that brought it all together."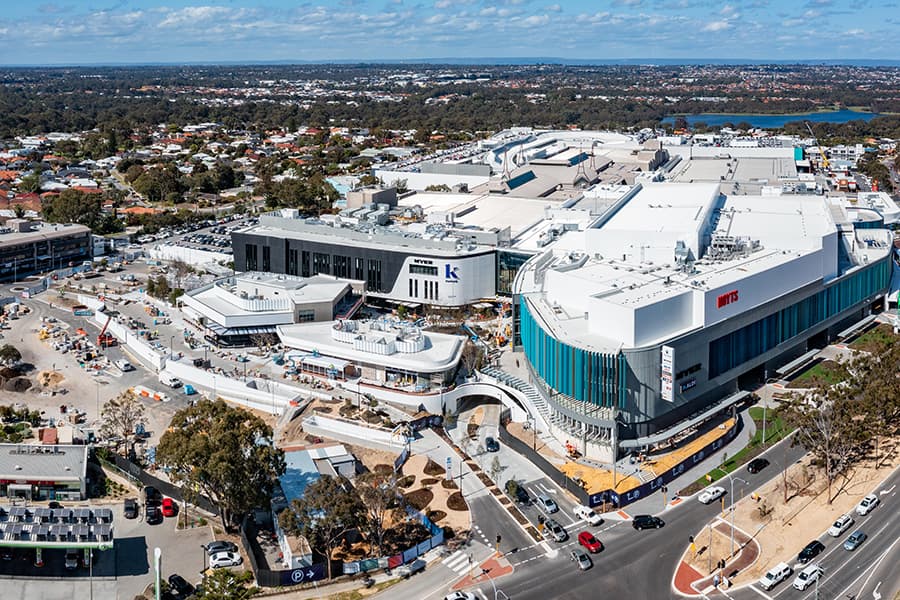 AMP Capital's Divisional Investment & Development Manager WA, Scott Nugent, said the launch of the precinct completes the new-look Karrinyup.
"The West Deck marks completion of Karrinyup's extensive refurbishment and with it the arrival of some of WA's most anticipated new eateries and entertainment venues. We know our customers will love our new offering which includes unique first to Perth venues like Archie Brothers Cirque Electriq as well a new West Australian flagship HOYTS Cinemas."
As part of the launch of The West Deck, the centre has also unveiled its major new immersive play area, The Cubby. The 950m2 play area features shallow waterplay, nature play, a climbing wall, sand pit and mud kitchen, swings, slides, fireman's poles, trampolines, wobble toys and swinging benches.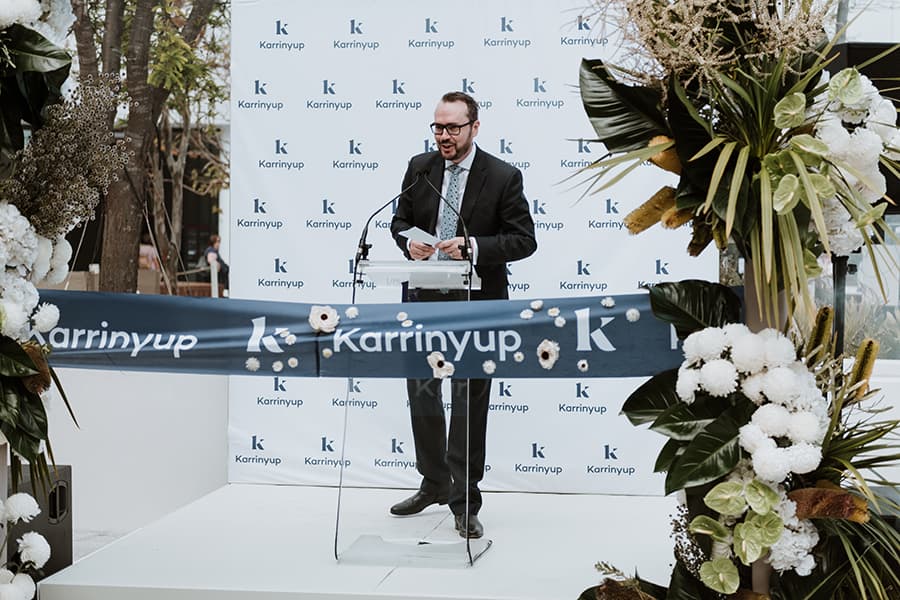 "We know that Karrinyup is an important hub for the local community. Our new external play and landscaped area will surprise and delight children and parents alike. It has been designed to encourage engagement and enjoyment with the new-look centre, and much like the wider offering at Karrinyup, will not be found anywhere else in Perth," said Nugent.
The new HOYTS Karrinyup has installed the first Western Australian cinema to be fitted with a D-BOX. President and CEO of The HOYTS Group Damian Keogh said each auditorium offered a unique and extremely comfortable cinema experience, but the added touch of D-BOX will provide another option for West Australians who are looking for something new.
"This award-winning D-BOX motion technology submerges movie lovers in the cinema experience, with seats that pitch, roll and heave in sync with the on-screen action.
"The new HOYTS Karrinyup cinema is the culmination of over $300 million of investment into renovating and building cinemas over the past seven years in Australia and New Zealand." said Keogh.
The HOYTS complex also features nine other state-of-the art auditoriums, LUX lounges with sweeping panoramic city views, and its own bar, Artie's, where guests can enjoy their favourite beer or wine with a side of pizza or fries after catching the latest blockbusters.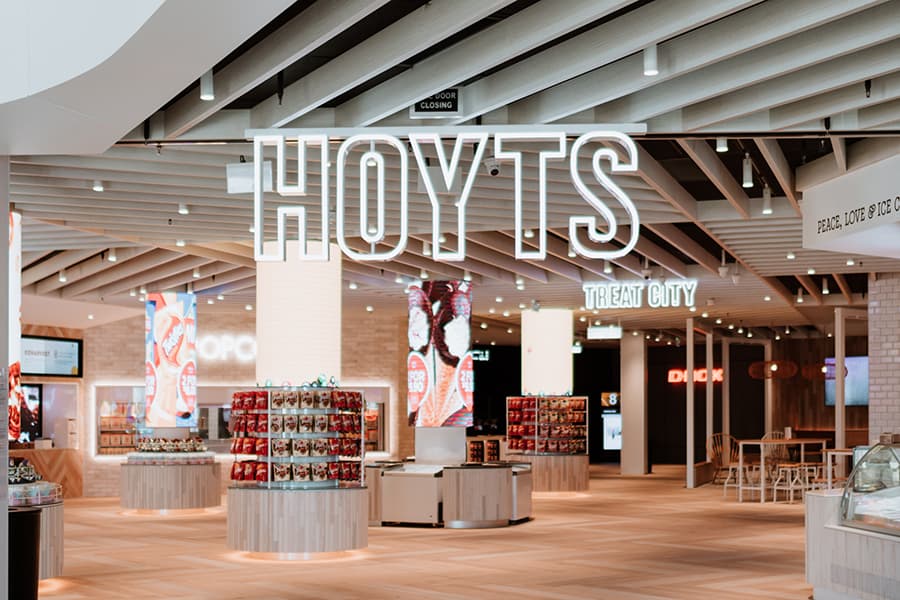 Across The West Deck and wider centre, customers enjoyed roaming entertainment, face painting, speed style sessions and mini pamper moments. Right throughout the long weekend, there will be a number of launch events and giveaways, including; The Lawn Bar which will be offering Pressed Earth juices, Billy Van Creamy ice-creams, and cocktails by Good Company.
In addition to the shopping centre development, a $100 million residential development is well under way on the eastern side with more than 80% of the 94 apartments already pre-sold. Approval has also just been granted for the western side residential development, which consists of three buildings to be built in two stages, including a total of 270 new homes as well as some commercial tenancies.
Karrinyup has been Perth's largest commercial construction project since development began in November 2018 and has helped boost the Western Australian economy. The project has directly supported about 2,500 new jobs during the construction phase and it is expected to generate a further 2,500 new jobs in retail, support and management now that it is completed.