Food and Hospitality is capable of creating a real and sustainable point of difference (POD) for a centre. In this article, Francis Loughran shares with you how larger malls nationally and globally have succeeded in achieving their POD and maximising market share.
In an ever-changing world of retail, on-trend one day will be old the next, the key to achieving success in food and hospitality is to continually innovate and always be thinking ahead.  
The 'business' within any credible shopping centre company continually plans beforehand; never before has it been so crucial for landlords to consider how food and hospitality need to be strategically planned around their customers and their ever-growing need to enjoy positive experiences within shopping centres.  
As within many customer-facing service providers such as airlines and hotels, the challenge to improve customer-experiences through excellence in execution is endless. In retail, many of the Big Gun centres are transitioning from Shopping Centres to Living Lifestyle Centres.
New dining experiences – more to enjoy in living lifestyle centres
Masterplanning of food and hospitality in any shopping mall starts with the commitment of the Centre to a vision statement and business plan that clearly defines its commitment and promise to its customers, the community and the environment. Where most malls fulfil their promise by delivering positive retail experiences, many Big Guns are exceeding the promise of strategically defined excellence by mastering the art of superior food and service across a diverse range of positioning levels.  
Much like Chadstone, the biggest mall in the Southern Hemisphere which keeps expanding, so too the biggest mall in the world just got even bigger. The Dubai Mall has added a new nine-storey extension to its 350,000m2 mega-mall, called Zabeel. A two-minute walk through a 200-metre footbridge from the original, The Dubai Mall, Zabeel offers another 13,000m2 of new lifestyle experiences, new high-end dining options and retail stores as well as 3,000 more parking spaces and convenient access from the existing transport infrastructure.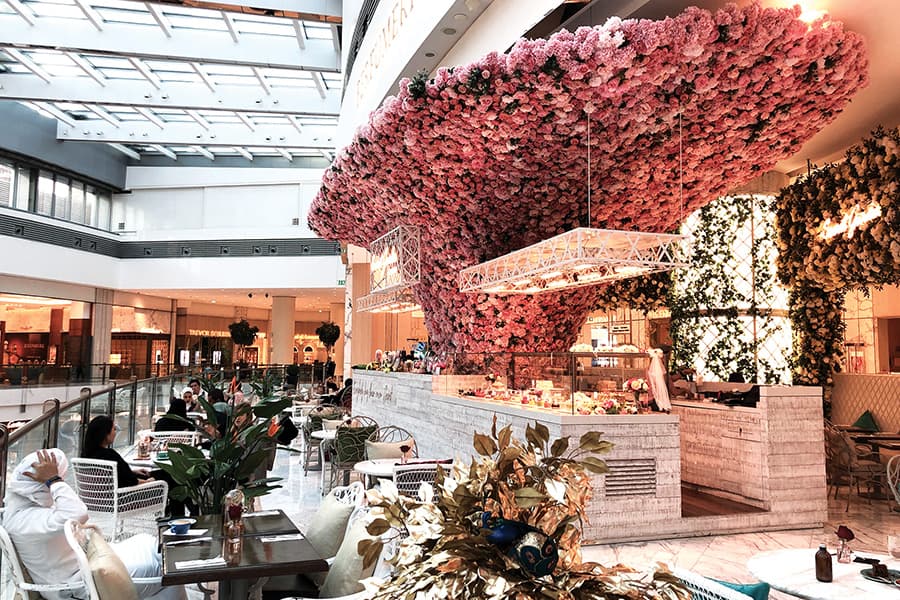 Zabeel is gorgeous. It combines exciting design, large multi-storey atriums, double-storey shop fronts, non-linear soft lines and externalised F&B outlets to create a property that meets and anticipates customer aspirations. It marries luxurious tenants with luxurious F&B that caters to all who buy or just look. 
Zabeel is truly the next level of strategically defined excellence in Food and Hospitality where F&B, design and leasing work together to create a unified and coherent statement.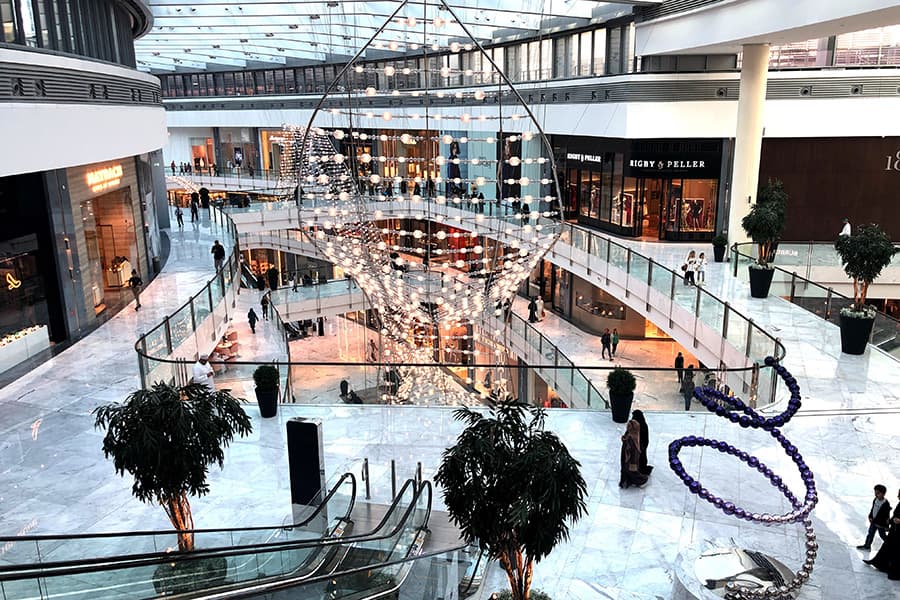 It would be wrong to view Zabeel as the exception because it is aimed at the top end of the market. It is aimed at that cohort because that is the gap in the market that the property is seeking to close. The principles behind the expansion are applicable across all centres throughout Australia and the world and they have been picked up in a variety of new developments.
Last year saw the opening of other creative dining clusters including the Spanish food hall at Hudson Yards, New York, the Roof Top Dining Precinct at the Westfield Newmarket, Auckland and the opening of The Nakheel Mall on Palm Jumeriah, Dubai. This latter property has a state-of-the-art Waitrose Supermarket, The Depachika Artisan Food Hall, (Depachika is a Japanese term used to describe a basement food hall) and a range of cafés and restaurants. The Dining Terrace on the roof top is due to open in mid 2020.  Cinemas along with Fabyland (FEC) and Trampo Extreme, (a super new trampoline park) add to the range of entertainment options.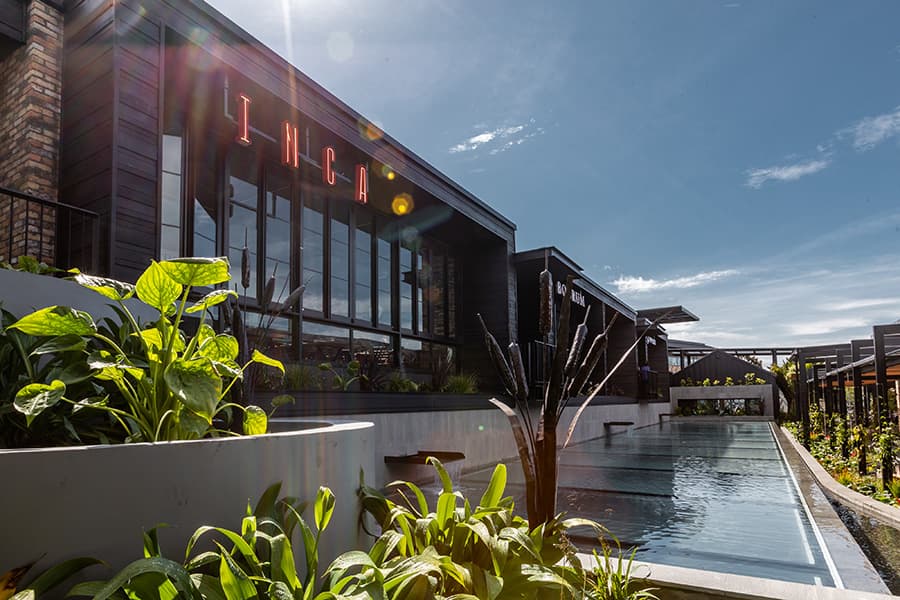 In Abu Dhabi, The Galleria Expansion opened in September 2019 with the Central Kitchen Food Hall on level three, a family food court on level two and a selection of cafés including Bouchon Bakery by Thomas Keller. Guests at The Galleria Expansion can now choose between 70 dining venues ranging from fast food restaurants such as Blaze Pizza (its first branch in the UAE) as well as casual dining establishments such as The Cheesecake Factory and P.F. Changs. In addition, the original restaurants, including Zuma and L'Eto, continue to grow in popularity, based upon their consistency, authenticity and evolving menu offers.  
What these shopping centre food offers have in common is that their food and hospitality have been strategically planned based upon a defined Food Master plan that aims to challenge the developer, future-proof the centres' market share for food and deliver a range of customer-centric positive experiences. Head office business teams must plan ahead so that key assets deliver new-to-market and experiential-based food and beverage products and complementary entertainment options.
Dining and entertainment precincts are living-spaces: they need to deliver joy, to excite and create positive memories, regardless of the occasion – business or pleasure. Fun has often been overlooked when delivering food in shopping centres, but this is no longer the case with live-entertainment, resident DJs, rooftop bars, gardens, picnic parks, open-air yoga classes and endless children's activities adding to the new menu of adult-focused non-alcohol reliant entertainment.
Past experiences – what we've learned
While some celebrity chef concepts and respected culinary brands continue to succeed and create destination status for food halls, café courts, restaurant precincts, roof top eating, drinking and entertainment clusters; too often celebrity chefs are not actively involved in the service delivery or sales techniques of the day-to-day operations. This has resulted in some Big Gun centres rethinking how best to reduce financial risk and customer dissatisfaction and at the same time provide credible concepts?  
Larger malls are partnering with established chefs and local food gurus that offer a range of lower-risk multiple concepts that can be modified or replaced at a lower investment cost. Modern food halls globally welcome local and national chef heroes, but not as fine dining restaurants; but rather as business partners in multi-outlet, quick service, high volume food outlets. Examples include; Mercado Spanish Market, Hudson Yards by Spanish chef, José Andrés in association with Ferran and Albert Adrià, or Time Out Markets, globally. Café examples with quality food include Agnes B and Passions by Chef Gerard Dubois (Hong Kong).  
The programming of the food concepts must be carefully curated, so that the every-day touch points deliver 'joy' to their target markets, maximise sales opportunities and deliver positive experiences. They need to be driven by passionate chefs and front-of-house managers rather than a range of franchised coffee shops offering formulated menus that neither evolve or reflect seasonal changes. 
Larger malls are well-placed to attract new-to-market food concepts and to work with existing food-partners to developed customised concepts, designed to align with their adjacent speciality precincts (haute couture, premium fashion, various entertainment precincts, technology, health and well-being, fine and smart casual dining to name a few).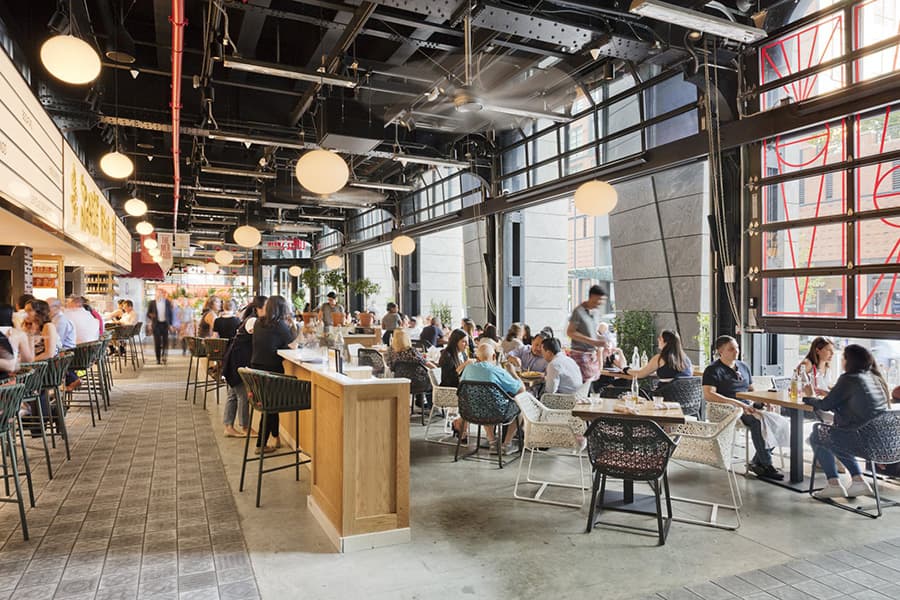 Based upon my experience working on Big Gun projects globally and nationally, it is critical that Big Gun projects push the boundaries in delivering "Living Lifestyle Centres". Let me share with you how our Big Gun clients developed their thinking on how best to create a POD for their new centre or extension.  
The criteria used to build the business case must always be big-picture focused, creative and allow for some level of boldness from a risk perspective. It involves:
• Forging new food-partnerships to secure new-to-market concepts
• Working with existing food operators who are capable of customising food and beverage concepts that are aligned with the current or future customer base
• Not accepting concepts with dated designs
• Believing that your Big Guns centre is worthy and capable of hosting a range of amazing food and beverage concepts that will set your mall apart from its competitors
• It will provide a 2023-25 food offer that defines your Centre as a place that 'owns' food and hospitality in your City.  
This new approach delivers great results provided the Food and Hospitality Strategy is aligned with the Centre's overall positioning strategy and, most of all, its execution capacity – without Excellence in Execution, the best planned food strategy will under deliver, both financially and visually. Furthermore, as the photos in this article have shown, image is everything when it comes to modern food and hospitality.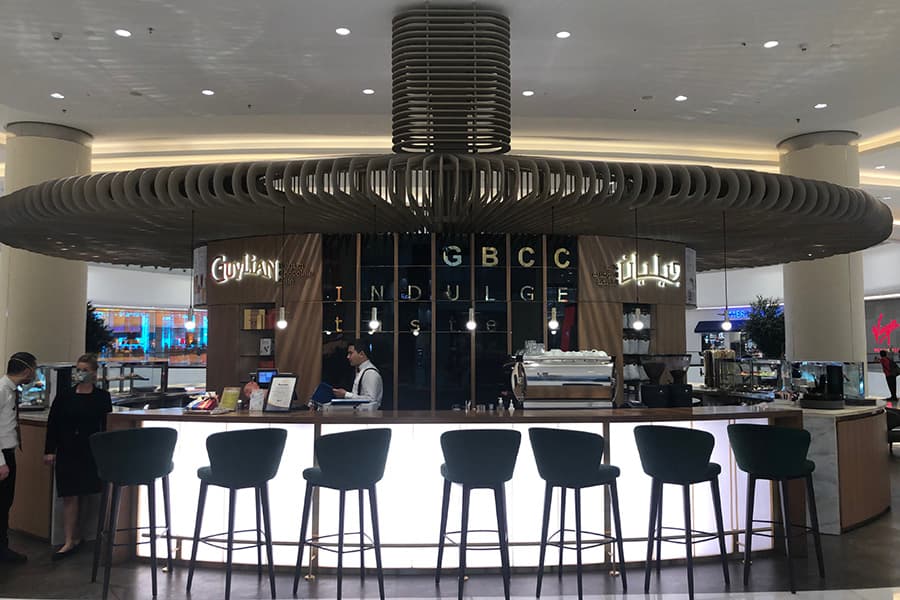 To close, I would like to leave you with six core strategies and rules-of-thumb that can assist Big Guns to achieve a POD:
1. There needs to be an F&B advocate and instigator – either an internal executive at a high level or an external consultant reporting into a high level – who must inspire the development team to commit to the best possible food strategy and to ensure food and design are viewed as one and that the range of spaces, precincts or markets or rooftops are planned with confidence and are strategically fit for new markets and future trends.
2. This 'ombudsman' would be responsible to ensure future lifestyle trends, eating habits, local nuances, sociio-economic, cultural relevance, religious and other characteristics are fully considered so that the food, beverage and entertainment are 100% aligned with the customer expectation and a surprise element if always evolving. As we mentioned previously, Big Guns in the Middle East more and more are ensuring their luxury fashion, lifestyle merchandise options are supported by superior food offers that complement the locals' lifestyle and social status expectations.  
3. Local concepts require support and guidance, but the investment is often worth the time and effort as the end result is a flagship outlet that competitors cannot replicate. Our research suggests that this type of venue, could make up 5 – 10% of F&B mix.
4. Overall, 25% of F&B outlets should be either new-to-market or unique to catchment.
5. Every concept has a lifecycle. Avoid rolling over food retailer leases without demanding a new menu and negotiating a permitted use clause that offers 30% new menu product every 12 months.
6. Exit strategy – Big Gun centres now conduct food, service and sales audits. These audits will identify bad food and hospitality operators and identify actions to rectify their shortcomings or replace them, before they damage the centre brand.