This article by Johanna Williams, General Manager, Rundle Mall was first published in SCN Vol. 39 no. 2 CBD Guns issue



Rundle Mall is more than South Australia's premier shopping destination, it's the much-loved heart of Adelaide celebrating 45 years as a pedestrian-only mall.
Generations of South Australians share fond memories of visiting the Mall, meeting friends at the Mall's Balls or at our beloved bronze pig sculptures.
Rundle Mall is home to more than 700 traders and 300 services, including exclusive international flagships H&M, Sephora, Apple, Tiffany & Co, Nespresso, Ted Baker and Dr Martens, through to national brands and South Australian favourites including RM Williams, Jurlique and Haigh Chocolates.
The Mall's unique model
Rundle Mall is managed by the Adelaide Economic Development Agency (AEDA), a subsidiary of the City of Adelaide. Rather than a property owner, we are custodians charged with future proofing the precinct against the ever-changing retail landscape.
Like centre owners, we are constantly balancing the 'big picture' strategy against the short-term delivery of campaigns and initiatives to underpin visitation and support landlords and leasing agents as they lure new brands to the precinct. To achieve this, Rundle Mall draws on the expertise and information within Council while remaining accountable to Council's elected members.
Constantly evolving
In line with Rundle Mall's brand promise to 'expect it all', our strategy is to attract visitors and encourage a longer dwell time by delivering the latest retail experiences that can't be found elsewhere in the state.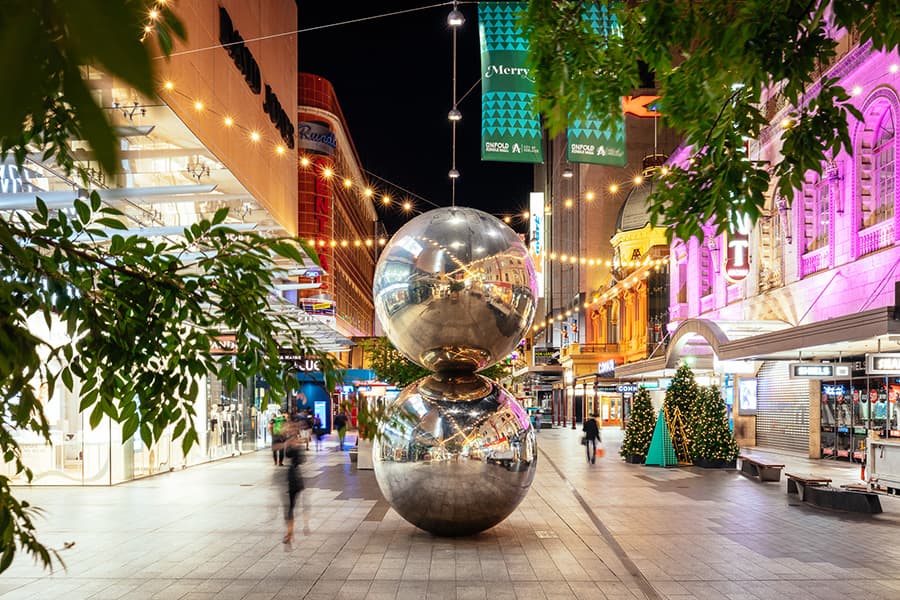 This includes extending wider city events into the mall with partnerships and activations – a program that COVID-19 curtailed in 2020 but resumed in February 2021 with our Adelaide Festival partnership seeing us host immersive art installation 'The Plastic Bag Store' to strong public demand.
Arriving straight from New York to coincide with the South Australian Government banning single-use plastics, the installation by artist Robin Frohardt featured supermarket shelves filled with everyday grocery items all handmade from thousands of upcycled plastic bags and rubbish. It was so popular that all tours were booked out prior to launch.
Through Council, we wove Rundle Mall into the City of Music Laneways project, recognising five music icons with strong ties to the city. A mall laneway was renamed No Fixed Address Lane after Australia's first reggae rock group of the same name. A spectacular mural of the band members creates a destination in its own right, complementing the mall's public art, which also welcomed the impressive two-metre mirrored stainless steel Pigeon sculpture last November.
Last month, Rundle Mall hosted the first-ever Urban Kitchen, a free 10-day pop-up kitchen event as part of the nationally acclaimed Tasting Australia festival. The cooking demonstrations by Sprout, founded by MasterChef all-star Callum Hann, showcased regional produce and were booked out within days of being announced.
Urban Kitchen was complemented by our 'Taste the Win' promotion, with shoppers vying for more than 1,000 instant prizes, ranging from luxury escapes to nearby tourism experiences on our doorstep such as Adelaide Zoo and vouchers to spend in the mall.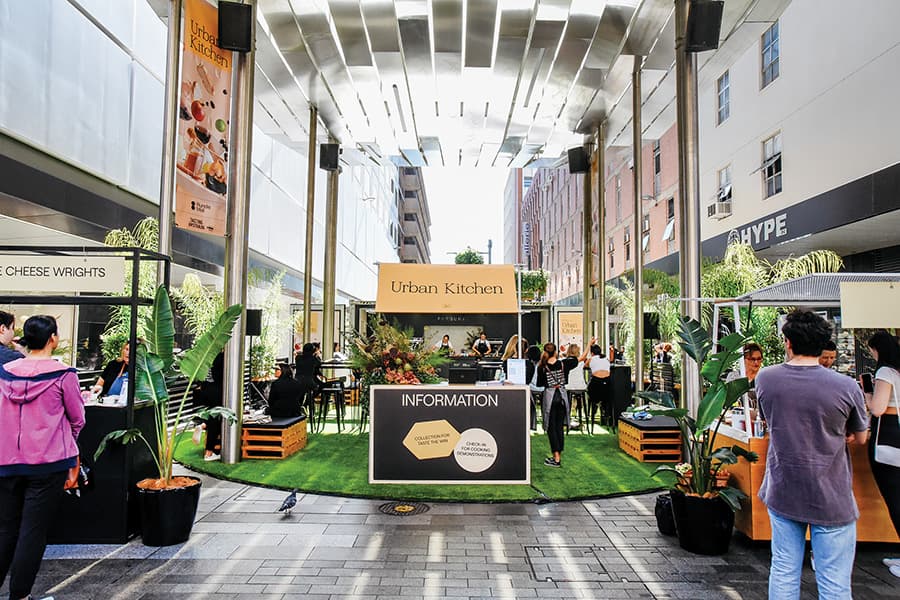 As winter sets in, we are eager to continue drawing South Australians into the city.
In July we'll turn the precinct into a winter playground with the arrival of Sky Castle by ENESS. The interactive inflatable rainbows will transform Rundle Mall into a dreamscape of colour and light as part of the city's first winter festival, Illuminate Adelaide.
Later in the year, we'll consolidate our eastern sports hub featuring Nike and Adidas flagships with Rebel Sport moving to a Mall frontage with a new-generation three-storey megastore.
Kickstarting SA's retail recovery
As retailers reopened in May 2020 following South Australia's COVID-19 management success, we launched our Roadmap to Recovery.
Our focus shifted from larger events to ensuring the Mall was a vibrant and safe destination, with marketing campaigns reconnecting the community with their Rundle Mall favourites. Increased security, cleaning increased and social distancing measures were essential to win community confidence.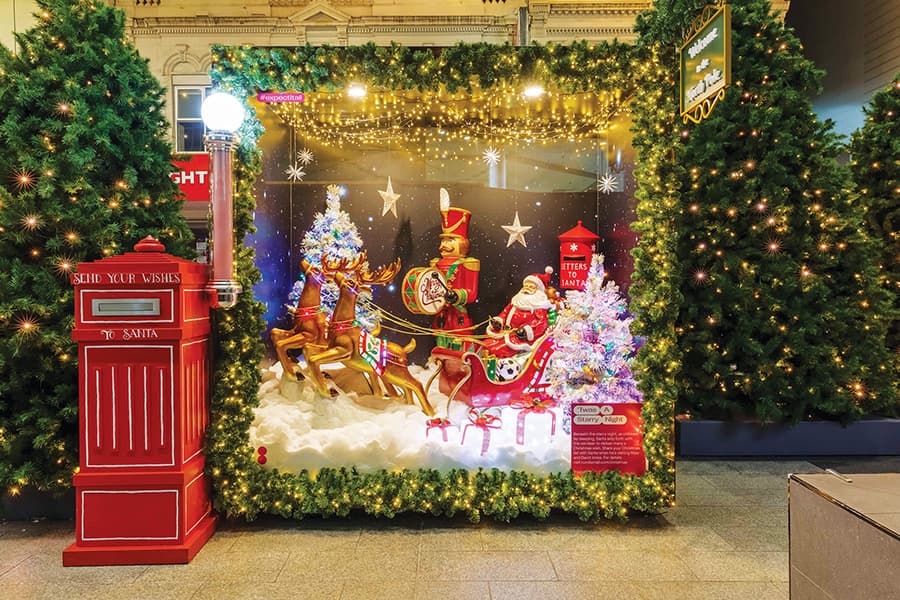 During spring, our incredibly successful 'WIN it all' campaign drove repeat visitation. The campaign offered shoppers spending $50 or more the chance to win a share of $28,000 in Rundle Mall vouchers. The eight-week campaign was promoted by more than 70% of our traders, drawing more than 6,000 entries with a $292 average spend per person across 500 stores. 
Meticulous execution ensured Rundle Mall retained its reputation for being the heart of Christmas in the city with a spectacular installation of individually themed windows bringing the Christmas spirit to life and showcasing wares from mall retailers and city creatives.
Despite a medi-hotel COVID-19 outbreak plunging the city into a shortlived lockdown in mid-November, major sales event Black Friday was an overwhelming success in part due to our partnership with SA Health to distribute masks to shoppers.
And to celebrate the mall's exclusive 8am opening on Boxing Day, we created an exciting 'moment', with confetti cannons, voucher giveaways and celebrity MCs welcoming shoppers into the city.
As the new normality sets in with about 70% of city workers back at their desks and international students still largely absent from the CBD, Rundle Mall and AEDA are striving to continue drawing visitors into the city with further promotions, initiatives and pop-ups to benefit our traders, property owners and business owners, and the people of South Australia.