A 'must read' for Development and Project Managers. Data interpretation can save a tonne of money in shopping centre construction. Early Contractor Involvement (ECI), is key – the figures are staggering!
By Rob Doust, Managing Director, Mainbrace (article first published in SCN Big Guns Vol. 39 No. 1, 2021)
The construction sector is not traditionally known for innovation. The perception, justified or not, is that it's a slow mover. But momentum is building, and data is one area helping to drive the change. 
Yes, data is important, but on its own, it can be a bit 'so what?'. How you use it, interpret it and communicate it is the key. 
Many of us watched Australia play India in the cricket earlier this year. DRS, specifically ball tracking, played a big part, just as it did recently in the Australian Open tennis. Ball tracking is simply data depicted in a clear, meaningful way. Yet it enhances everyone's understanding of the game.
In various sports, it has revolutionised how players and coaches approach training, tactics, skills and more. For fans, who felt they already knew the game well with slow-motion replays and expert commentary, data has introduced new levels of understanding and entertainment – including predictive analytics used in LBW decisions (unfortunately to the regular chagrin of the Aussie bowlers!). 
What are the applications in retail construction?
There are many, and the one below we are using more and more.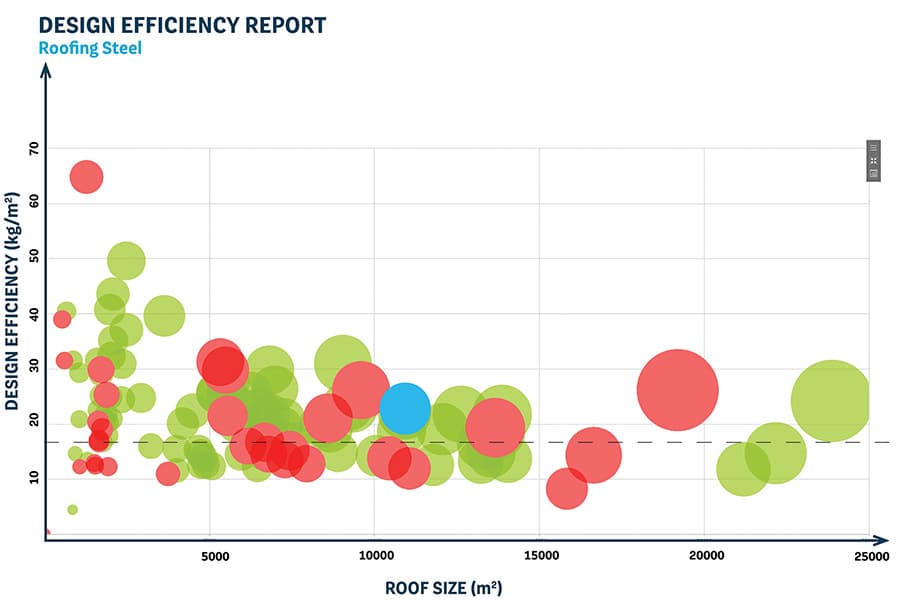 Chart 1, above plots steel weights for almost 100 retail new-builds. On the vertical axis is the weight of steel in the roof structure per square metre. The horizontal axis is the roof size, and the dotted line is the average of this sample set. The project we are looking at is the blue circle. The red circles are similar project types. In the most basic terms, the heavier the steel is, the more it costs. 
This project (the blue circle) is above average, and above most comparable projects (red circles). Something is less than ideal and we need to investigate. There may well be some good reasons, but that is not the point. By looking at the data in this format we can quickly and clearly compare and validate.
The difference between an average project and the blue circle project is 8kg/m2. On this 11,000m2 example, the cost saving in designing the project just to an average efficiency would be $528,000.
Then, we can explore how else we might be able to use this very data: 
• Let's say we looked by engineer. Is there a firm that's relatively cost efficient and more consistent? 
• What about if we looked across projects that are almost identical – for example a Coles or Woolworths Supermarket box. What is the most efficient and why? Could we hone our game to deliver that every time?
Just like the ball tracker, as we capture this rich data, we can quickly start to see if a project is on the right or wrong track. Like the predictive analysis used to decide LBW decisions, we are at the point of being able to use data to predict building costs very accurately. The earlier the better, too, which is another advantage of the Early Contractor Involvement (ECI) model.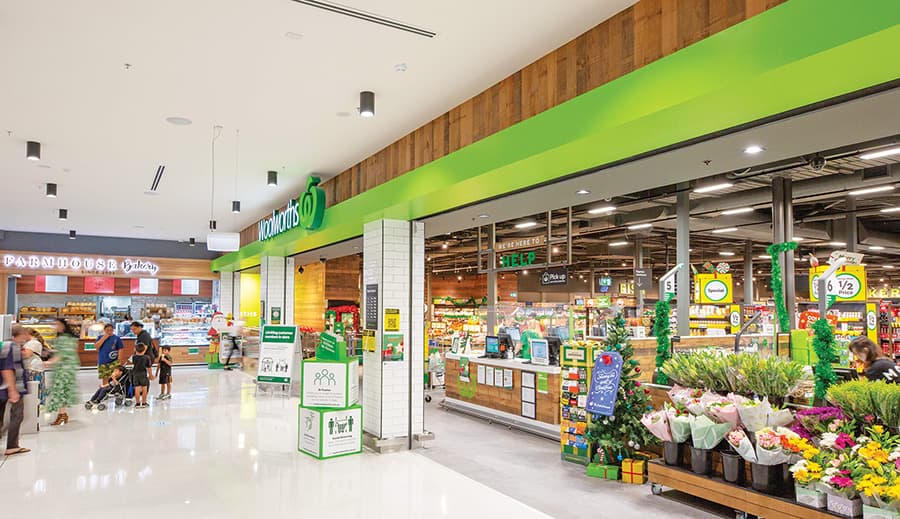 In 2020, by using data early in the design process, we helped our clients on average save 8.6% on budgets endorsed through external quantity surveyors. 
Steel is just one example. We're continually feeding our data lake with new information from a growing pipeline of projects. Information on materials, designers, contractors and more, viewed through different lenses, can and will unlock new cost and time savings, improve design efficiencies, and reveal benefits we are not yet aware of. 
In the case of ball tracking, data evaluates and determines future outcomes. In construction, it can reveal new pathways to a more consistent, safe, cost and time efficient delivery, that may not have been evident before.