The Large Format Retail (LFR) sector currently accounts for $95.58 billion or 26.4% of all Australian retail trade and has been steadily increasing over the past two years.
Previously known as bulky goods, large format retailer categories include furniture, household goods, home improvement, pets, food, automotive/trade, office supplies and electrical appliances. The rise of demand for retail in these categories over the last year is due to the sustained high levels of consumer confidence and the significant increase of time consumers are spending at home, due to travel restrictions intrastate, interstate and overseas.
Growing Demand for LFR
The recent success of the sector is largely attributable to the fact that LFR centres have been well placed to brace for and survive COVID-19 restrictions as they are typically well spaced and in open environments that could accommodate social distancing regulations. For instance, the large store blueprints have seamlessly allowed retailers to comply with social distancing measures. The easy access in and out of shops from the car park has effectively alleviated some customer concerns about contact with others. LFR centres in LGA's of concern were encouraged to only allow for Click & Collect capabilities. This was demonstrated in the Colliers managed centre Primewest Auburn Megamall, whereby the loading dock access was utilised to support their Click & Collect capabilities.
In the FY2021 reporting season, the apparent surge of discretionary spending in Australia supported the products and services that are offered in LFR stores. Over this period, many large format retailers achieved record results including tenants such as JB Hi-Fi, The Good Guys, Super Retail Group, Baby Bunting, Beacon Lighting and Adairs. The significant sales growth reported by these retailers have encouraged plans for continued store network expansion throughout Australia.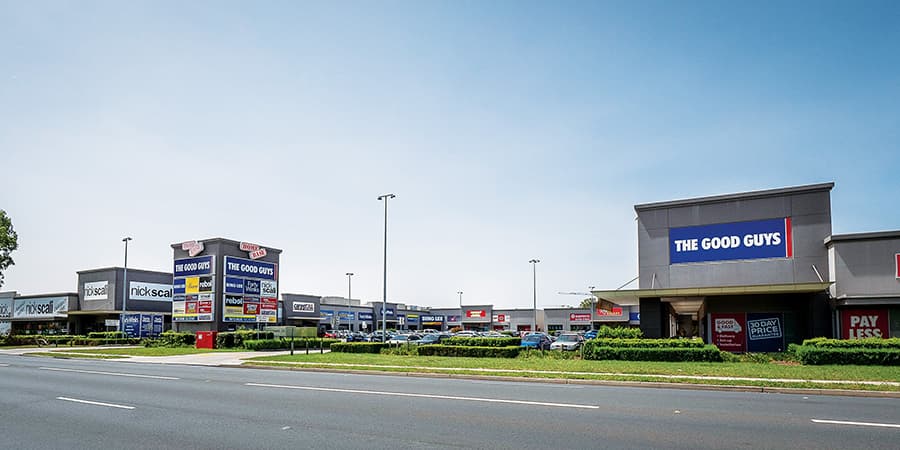 Additional LFR sites to support growing demand
It is evident that bricks-and-mortar retail is still strong, with successful retailers being quick in adopting alternate sale and collection channels including home delivery and Click & Collect services to maintain their stock turns. This time of challenge and uncertainty has shifted retailers focus to higher quality store locations with assured serviceability in terms of access (deliveries and customer), exposure, and parking. The consumer will still want to experience the tactile aspect of purchasing, the touch and feel factor and with this, a stronger customer service experience. At Colliers, we are seeing the inclusion of the food and beverage sector into the LFR space as a complimentary and important part of any development that not only services the retail clients, but also the wider community in which the centre is located.
Colliers are exclusively assisting with plans for the construction of a new LFR centre Warwick Farm, NSW which will consist of a two-level Large Format, QSR and Specialty Retail centre consisting of 19,000m2. The integration of multiple tenancies is likely to increase community exposure and foot traffic.
Pipeline expands beyond the suburbs
We have also seen significant growth in demand by retailers, investors, and developers for non-suburban assets with good fundamentals. With residential prices in QLD increasing as much as 30% during the past few years, consumers are being driven to the outer suburbs and even regional locations. Subsequently, change in available demographic has encouraged retailers to capitalise on outer suburb and regional locations. For instance, there is currently a retail precinct under construction in Caboolture, QLD, at the heart of a rapidly growing corridor north of Brisbane. The site will be exposed to ~70,000 passing cars daily and located adjacent to a neighbourhood centre. Caboolture Retail Precinct will support a new full-line Bunnings Warehouse, a 1,500m2 Petstock and allow an additional 2,500m2 available to LFR tenants. Colliers have recognised significant interest in the project, with understanding that landlords and retailers are looking to leverage off the strong positioning and catchment of the site.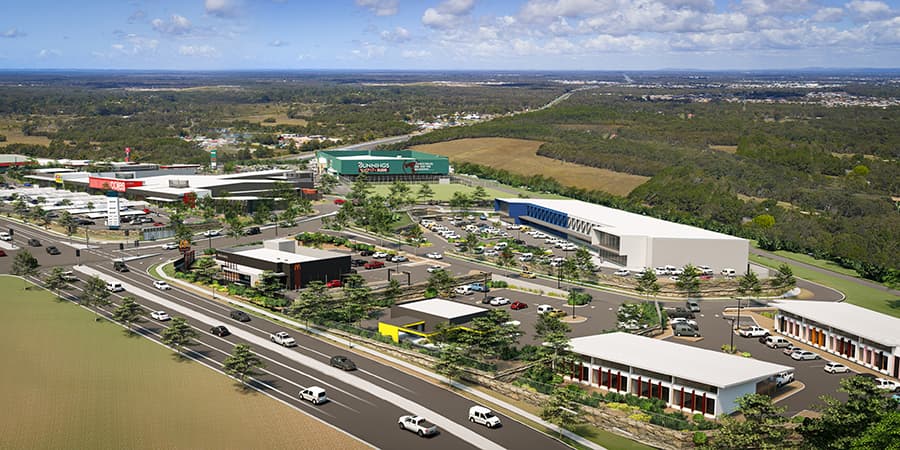 Plans for these new centres have also been driven by a strong migration from city locations to regional and warmer parts of northern NSW and QLD.
For instance, in Dubbo, located in regional NSW, an LFR centre is being developed by the Stevens Group which will be a multi-use site divided into LFR, childcare, QSR and fuel. The LFR component will consist of 3,800m2 with completion estimated to be Q3 2022. Similarly, the Hunter Region of NSW, Taylors Beach, will see a newly developed centre anchored by Harvey Norman due for completion in Q3 2022. The development will include QSR, fuel and 11,395m2 allocated to LFR tenancies. Colliers are pleased to have secured 95% of this development with pre-commitments from Spotlight, Petstock, and Autobarn.
Colliers are looking forward to 2022 with a strong pipeline in LFR developments.
John Karlovasitis is an Associate Director in Colliers Large Format Retail (LFR) National Leasing team in Australia. Based in Sydney, NSW John in conjunction with interstate colleagues is focussed on both LFR project and centre leasing, delivering exceptional results for some of Australian's top LFR landlords. John holds over a decade of experience within the real estate industry and has a passion for the ever-evolving large format retail sector.
Adrianna Kazzi is the Senior Analyst of Colliers Research, Sydney specialising in Retail Property. Adrianna is focussed on producing research insights on the performance of the retail sector and the new and innovative trends shaping this asset class. In her role, Adrianna collaborates across the Colliers Retail business including, Retail leasing, Capital Markets Investment Services and Real Estate Management Services. She is pivotal for the improvement of data management systems, and delivering quality real estate data and analysis across the retail sector.