This article by Jérôme Audais, Managing Director KONE, was first published in  SCN – July/August edition

Experience is everything in retail, and delivering the best possible shopping experience means keeping people and goods flowing. Understanding how, when and where people move around a retail space should remain at the forefront of the shopping centre's design. The more people moving through the centre, the better.
When most people enter a shopping centre they aren't familiar with, they can typically expect to find their way via signage, and get there quickly and efficiently thanks to elevators, escalators or stairs. But entering that same building with a disability can be an entirely different experience. Shopping centres that embrace universal design are usable by all people, to the greatest extent, without the need for special adaptation. These are the shopping centres of the future, using singular solutions that meet everyone's needs.
Universal design is not just a question of 'doing the right thing'. A shopping centre that serves more people in a unified way so that customers aren't segregated by types of use is good for the centre's longevity and good for its profitability. This is where people flow turns into cash flow.
Retail facilities rely on escalators, elevators and autowalks to keep foot (and trolley) traffic moving. The most obvious example of a universally designed centre is one that makes use of travelators. Installing or upgrading a shopping centre with travelators or inclined autowalks allows for a new level of accessibility and safety that would otherwise be unavailable with escalators, which are not able to be used by those in wheelchairs or by some low-sight users.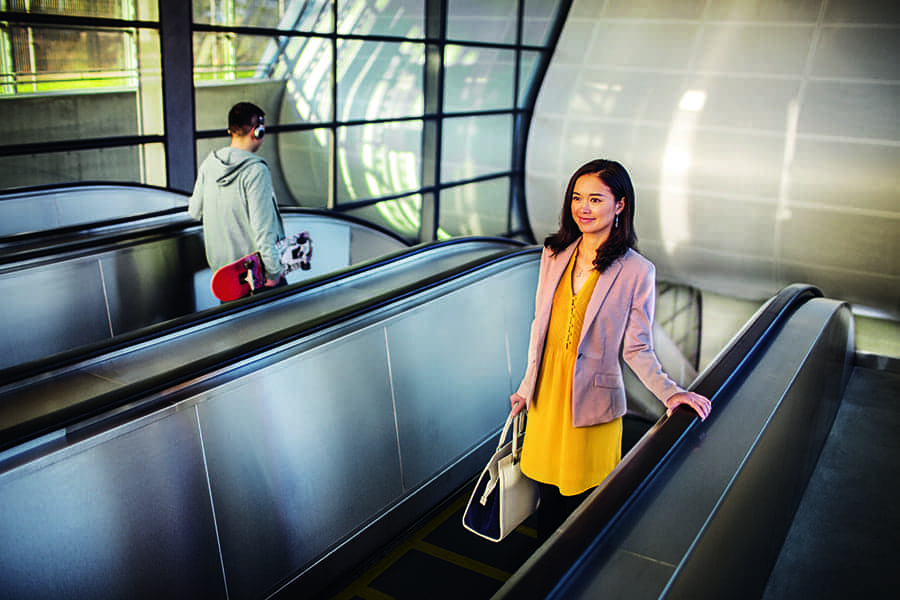 Technology heralds a range of new opportunities to ensure life runs smoothly for everyone. With personal tech and the built environment beginning to merge – and smart buildings dominating the landscape – the ways in which infrastructure can accommodate the needs of individual users are boundless. For example, what if a building could recognise a visually impaired person by their smartphone, and automatically open a lift door for them and take them to their desired floor?
A digitally connected lift is able to connect via APIs to wayfinding apps that work inside buildings, enabling people who are blind or partially sighted to navigate new spaces with confidence.
Elevators, by definition, make a centre more accessible. However, it takes more than an elevator to cater to different types of centre users with different needs. Elevators that are hard to find or too small to cope with the volume of shoppers can cause confusion and discourage people from visiting other floors. Smart people flow requires planning to support the different uses of a given centre.
Using hard data and valuable insights, we are able to work with centre owners to map out density and people flow, to enable flexible, functional designs that provide users with frictionless navigation, shorter travel times, and reduced bottlenecks or cross-flows. Not only does this provide for optimal user experience by helping different user groups get the most out of the centre, reducing bottlenecks is an important part of improving the hygiene and safety of the building. With social distancing requirements at play, centres need to reduce the likelihood of long waits at lifts, or shoppers being clogged at escalator points.
Part of universal design is also ensuring health and hygiene is at the forefront to ensure everyone feels safe moving throughout shopping centres. With hygiene more important than ever, touchless experiences have nsurprisingly become a key trend in retail spaces. Just take a look at the rise of click and collect models.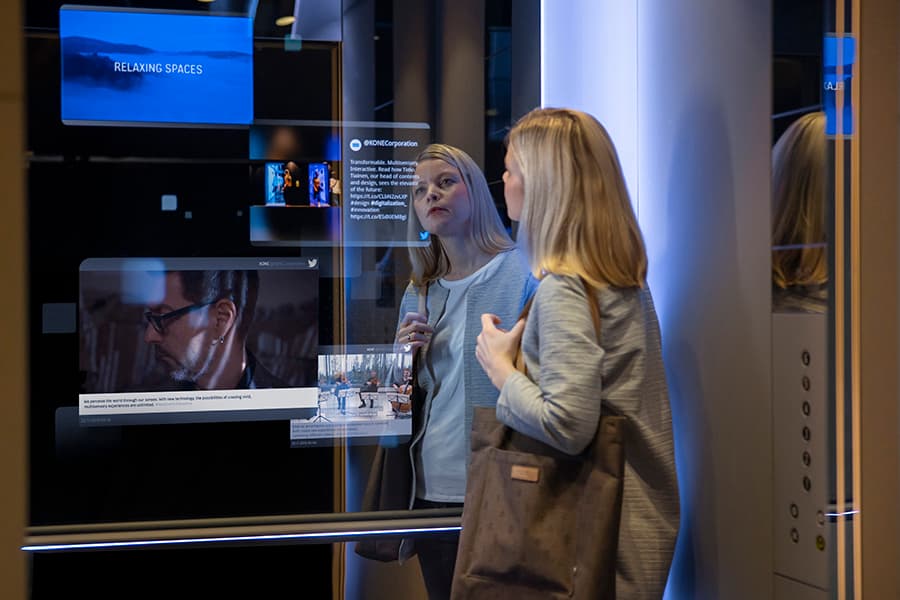 Many centres have also recognised the need to upgrade parking facilities to offer registration plate recognition to not only speed entry and exit, but also allow for a touchless experience. Similarly, built-in connectivity allows check-in management and contact tracing technologies to be potentially connected to KONE DX lifts, making the journey from the carpark, through the centre and back, completely touchless.
No one likes queuing for an elevator, or having to walk to the other side of the centre if an escalator is down. Having lifts that can easily enable AI-based predictive maintenance such as 24/7 connected services, means potential faults in equipment can be identified long before they become an issue through data analysis in the cloud. This reduces equipment downtime and costs for major repairs, while also ensuring the equipment is always operating at its safest.
Technology such as UV lighting module integration into the mechanism of escalators and autowalks allows handrails to be automatically sanitised on each revolution. All of these solutions are critical to encourage shoppers back to centres and restore them to vibrant urban hubs.
Accessibility and adaptability go hand-in-hand. The past year has demonstrated more than ever the need for shopping centres to be flexible and purpose designed in order to adapt to changes in usage. Built-in connectivity makes upgrading elevators simple, meaning the equipment can evolve with the centre's needs.
Keeping visitors and tenants happy means delivering the best possible shopping experience for everyone, now and into the future. Technology makes these opportunities endless, promising a new era of safety, convenience and sustainability in our shopping centres.