According to Joanna Russell, increased design expectations have given rise to a new sub-sector in retail assets: the super-neighbourhood centre.
Typically between 10,000m2 and 25,000m2 in retail area, super-neighbourhood centres differ from sub-regional centres through their tenant mix and response to local community needs. They may share some qualities with sub-regionals, including commitments from anchor tenants, but the slightly smaller retail area, as well as the target mix of anchor tenants and supporting speciality shops, reflect their community in a much deeper way.
Super-neighbourhood centres balance everyday convenience shopping needs with non-retail services, such as collaborative working spaces, lounge areas, education zones and childcare, as well as experiential offers, such as cinemas, play areas, yoga and meditation spaces, and gardens.
The super-neighbourhood centre has now emerged conceptually, but not yet in widespread reality. But these centres have an opportunity to claim the position of the community's natural heart and soul, and the right design will legitimise this claim.
These centres have the opportunity to create a sense of place where people really feel comfortable and want to spend time.
To achieve this, the design must understand and consider more than just census demographics or LGA statistics of the local community, going much deeper to investigate the surroundings, history, culture and aspirations of the people that live there.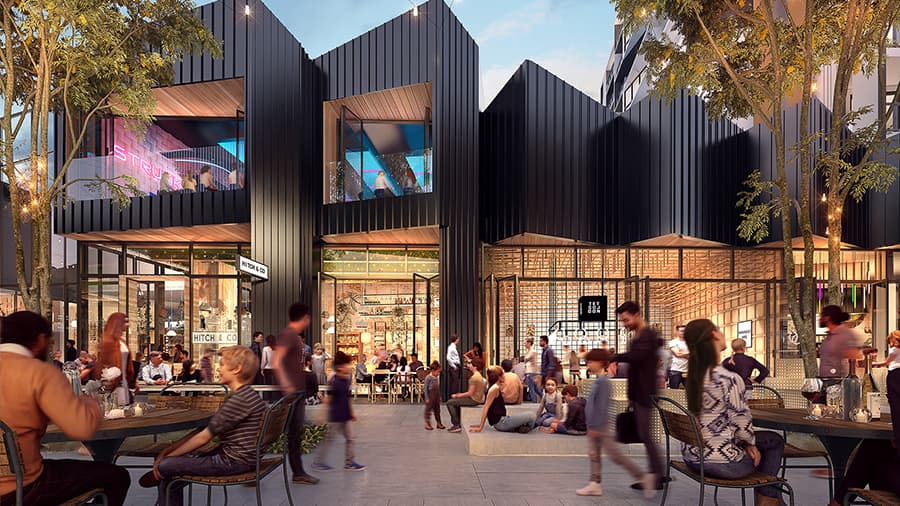 Going beyond the site's footprint, the super-neighbourhood centre should be a natural part of the townscape, designed from a whole-of-neighbourhood perspective, complementing the existing amenity, nestled within the natural street grid, and in symbiosis with the land and the people in its catchment.
Achieve this balance, and you create a super-neighbourhood centre that the local community feels belongs to them. It becomes a source of pride. Visiting the centre becomes part of daily routines.
Get the design wrong – design in a generic or inauthentic way – and the centre does not form an intrinsic part of the neighbourhood.
Ed.Square Town Centre is set to become a regionally significant community in Sydney's south west.