A recent study concluded that 72% of consumers would 'spend more money' at a shopping centre if they also had access to 'wellness' concepts. This article has significant implications for leasing and tenant mix disciplines within our industry.
This article written by Susanne Pini of HDR was first published in SCN Vol.39 No. 2 – CBD Guns 2021



After a year like no other, health and wellness has emerged as a key focus for consumers readjusting to the 'new normal'. COVID-19 has drastically changed our notion of living well and being healthy and it seems now more than ever, people are prioritising a healthy lifestyle, proactively taking care of their health and, in the process, spending more money on their physical and mental wellbeing.
With the retail market saturated with general products, there is an increasing willingness to invest in 'experiences', especially those that enhance a sense of wellbeing. 
A recent report by GlobalData found that 75% of consumers across all ages are planning to spend more on health and wellness products and services over the next few years, compared to 25% of those planning to spend more on general retail products. The wellness industry is booming and with mass appeal comes mass profit. According to the Global Wellness Institute (GWI) market analysis by Research Dive, the market was valued at US$4.2 trillion in 2018 and is further projected to account for US$6.5 trillion by the end of 2026, which represents 5.3% of global economic output.
What is wellness?
The GWI describes wellness as "the active pursuit of activities, choices and lifestyles that lead to a state of holistic health". Wellness encompasses a wide range of activities and products, from fitness and training to diet, nutrition and beauty, (ie. anything that promotes physical, mental, spiritual or emotional health and happiness or simply makes us feel better). Everything from athletic wear, spin cycling, spas and meditation rooms to juice bars, brow bars and dry bars – it's all wellness.
In just a few years, wellness went from a niche concern to something that is mainstream, becoming a part of daily routines and a dominant lifestyle value that is profoundly influencing consumer behaviours. As a result, there are great opportunities for retailers and brands to explore wellness in new contexts beyond their core categories, and to meet new consumer needs and blend in wellness to create products and services that cater to the needs of people who want to be healthier, happier and live longer.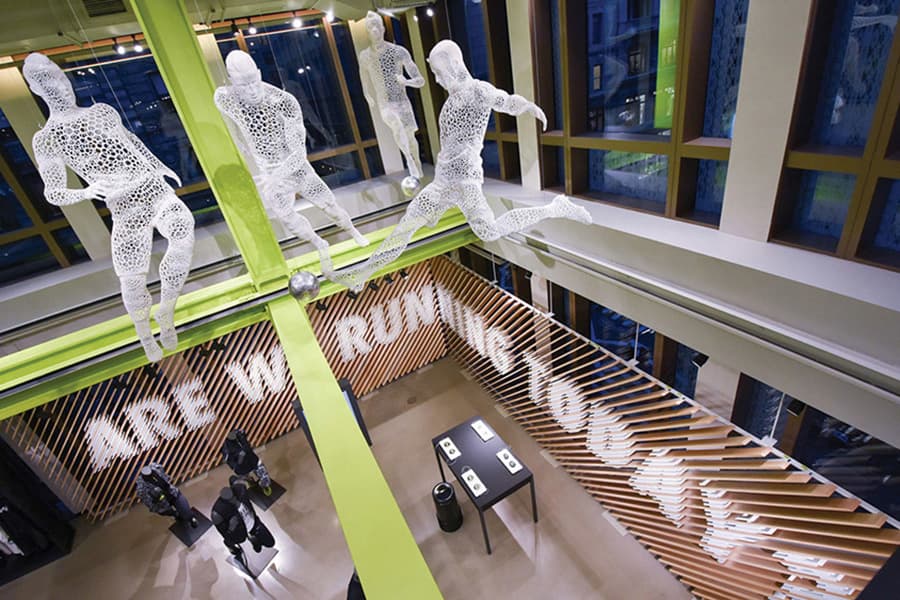 Powerhouse of experience
For most people, taking part in sport is essential to improving one's general health and wellbeing, hence sport retailers are one of the biggest winners of this trend. However, just selling lots of products will not ensure brand success, and the leading sportswear giants, such as Nike, Adidas and Vans, realised early on that people who visit their stores are actually looking for an experience, a place to go and play, not just a place where they can buy shoes.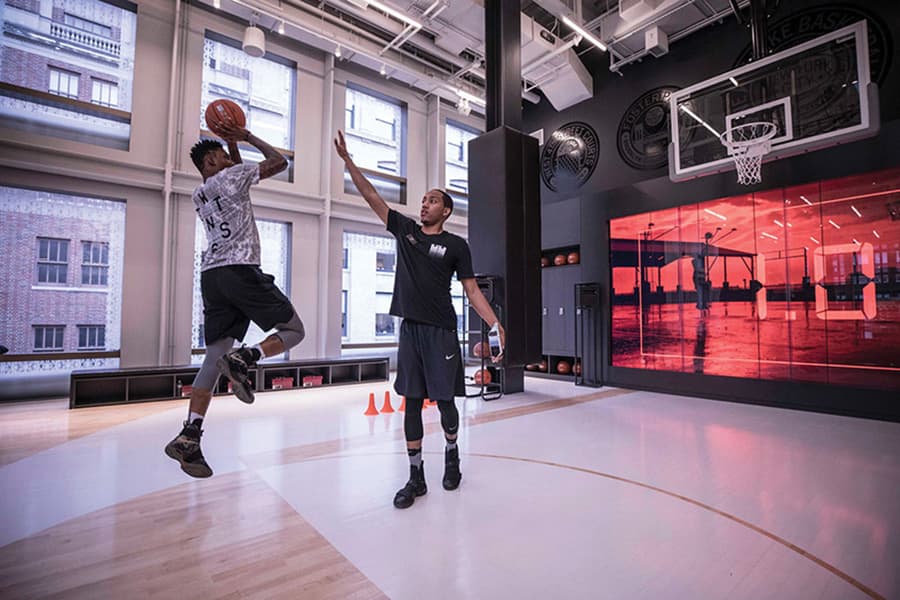 Some Nike stores that opened in the past few years can serve as a casebook example of 'experience-driven retail'. New York City's SoHo store currently features a basketball half-court with adjustable hoops, a soccer trial area, a treadmill in front of a jumbotron that simulates outdoor runs, touchscreens everywhere you look and dedicated coaches to help you test out new sneakers. Nike's aptly named 'House of Innovation' stores that are opening globally combine the best of Nike products, experiences and sport innovation to create an immersive shopping experience. The company's digitally powered end-to-end journey has been designed to take customers from the 360-degree, virtual, Parkour-inspired runner's experience to augmented reality outdoor adventures and one-handed zipper challenges. Celebrating creative self-expression, customers can also design unique products at the Sneaker Bar by exploring the full range of Nike's footwear accessories.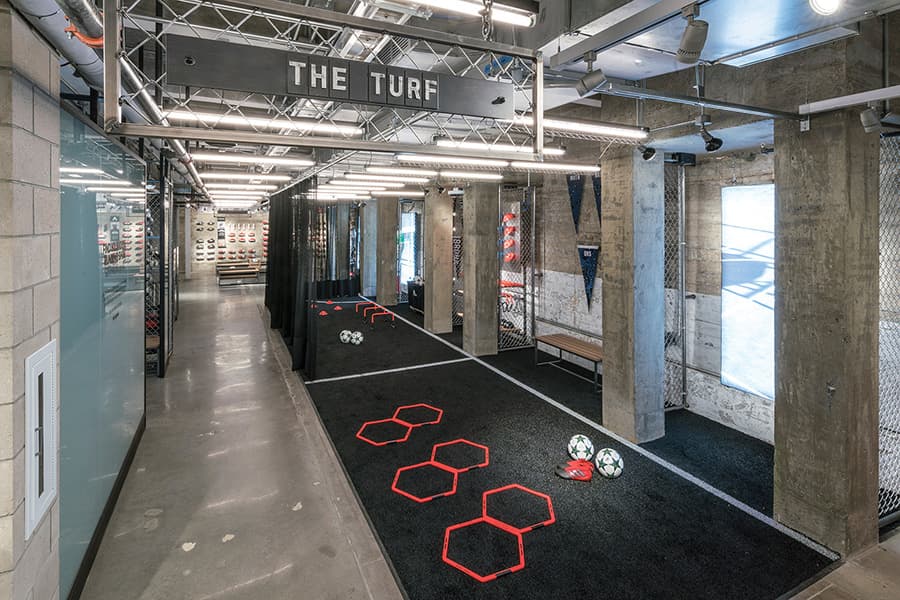 The epic Adidas flagship is another NYC store where you don't so much come to shop but to experience it. With an interior modelled on a high school stadium, the store features an indoor track, treadmills to test run your new gear, 'Sneakerheads' to customise shoes, and a juice bar with giant screens showing sporting events.
House of Vans London showcases Vans' unique culture by turning the space below Waterloo Station into a mixed-use creative venue for Vans enthusiasts and those interested in skateboarding culture. The venue embodies the brand and culture surrounding it through multifaceted activations including a three-tier indoor concrete skate park, an art gallery, 'Vans labs' creative spaces, a live music space and numerous bars and cafés.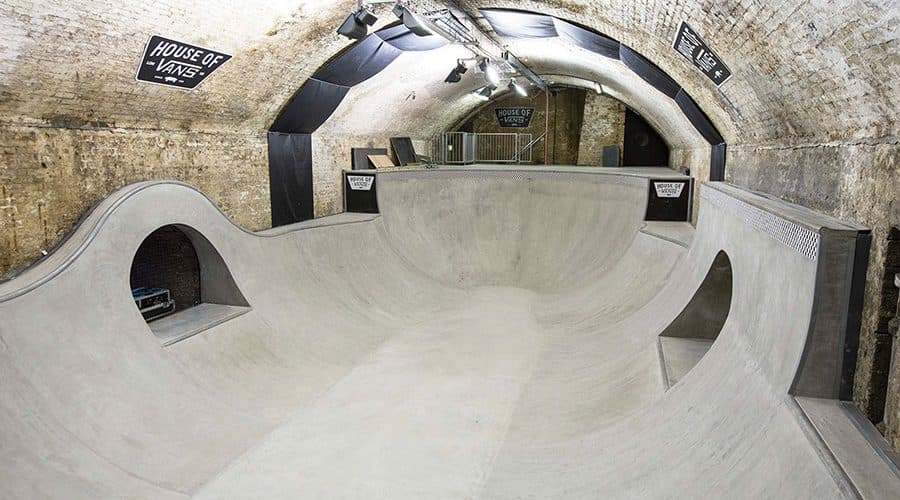 Wellness lifestyle
The most successful brands go beyond the products they sell to create an entire lifestyle that their most loyal customers strive to achieve. Lululemon, a premium yoga and fitness apparel company, offers one of the best examples of a global lifestyle brand. By promoting a lifestyle of health and wellness, in-store and on social media, Lululemon has managed to build an impressive, almost cult-like global community of active enthusiasts.
The Canadian-based company started by selling high-quality clothing that people used to wear only to gyms or yoga class, but now yoga pants are worn pretty much everywhere. The brand then got a larger share of your lifestyle by offering free in-store yoga classes, which have been going on for several years, well before anyone cared. Eventually, word-of-mouth in the yoga community, followed by a strong social media presence, led to global expansion and success. Lululemon's newest and biggest store to date, located in Chicago, is part of its push to become "a truly experiential brand" and to further reinforce its lifestyle brand image. The 20,000ft2 megastore features a yoga studio, gym, meditation area, restaurant and, of course, a Lululemon store. The space also holds community events such as movie screenings and concerts.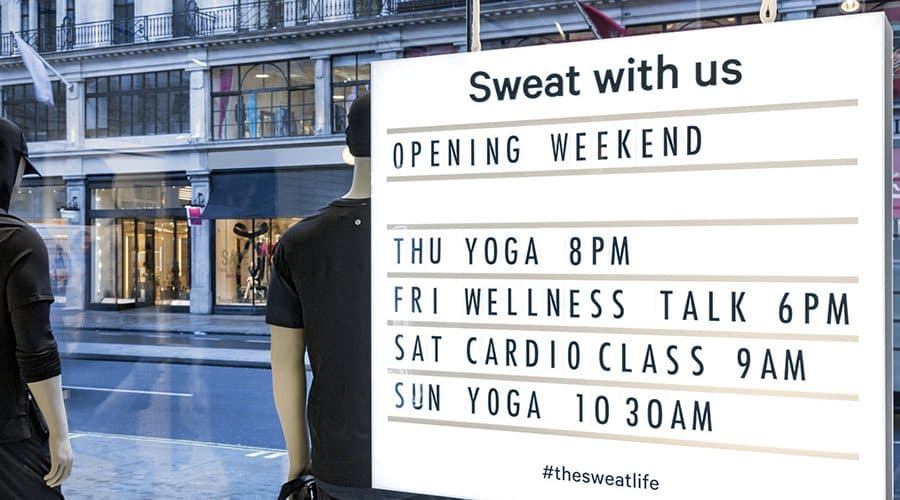 By opening the Chicago store, the company essentially wanted to create a gathering place for its active-lifestyle customers, giving them yet more reasons to visit a store. In addition to buying stuff, here you can take a hip-hop yoga class, do some weightlifting in the in-house gym or get a bit of stress relief with a guided meditation session, after which you can gather with like-minded friends and enjoy a cocktail or Beyond Meat burger in the company's restaurant. Such an experience-driven strategy is certainly the right move in today's retail climate, where people increasingly favour experiences over material things. 
According to Euromonitor, the experience economy is expected to reach US$8 trillion by 2030, so it's no surprise that by 2023, approximately 10% of Lululemon's total store fleet will be considered experiential, similar to its store in Chicago.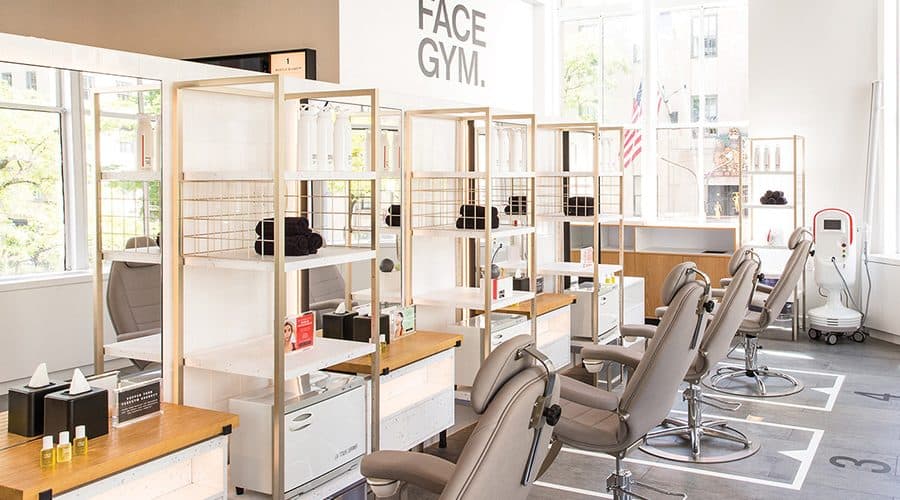 The 'new luxury'
Experience is what the beauty space in the Saks Fifth Avenue New York store is all about. An entire floor of the flagship store, a massive 32,000ft2 space, is dedicated to wellness. According to Saks President Marc Metrick, the store wanted to create a place not just to transact for beauty but to experience it. Shoppers can have their eyebrows shaped in the brow bar, exercise their face to tone sagging muscles at the FaceGym (yes, that's a thing!) or book one of 15 spa treatment rooms at the Skinney Medspa for CoolSculpting and weight-loss treatments. Beauty department focus has evolved to centralise on wellness, calling it "the new luxury". Traditionally, luxury used to be about fur and leather, Metrick explained in his recent interview to The New York Times, but now "people just want to feel better".

In a world where social media can make or break any business concept, Saks also wants this beauty experience to be something to "post about". The environment is very Instagrammable, creating both spectacle and experience, with the open layout of beauty panels, secret spa rooms and a large event space that hosts regular influencer workshops, among other events and rotating art installations. 
UK-based Harrods, another brand synonymous with the world of luxury, boasts a Wellness Clinic, arguably the world's first clinic to offer an integrated approach to wellness and beauty. Located on the fourth floor of the flagship store in London, it is self-described as "a tranquil space offering a bespoke, holistic approach to wellness, featuring world-class practitioners and cutting-edge technology to deliver results". 
The luxurious, state-of-the-art clinic "blends technology with ancient healing techniques" through services ranging from dermatology, beauty acupuncture and cryotherapy to mindfulness, nutrition planning and sleep-pattern tracking.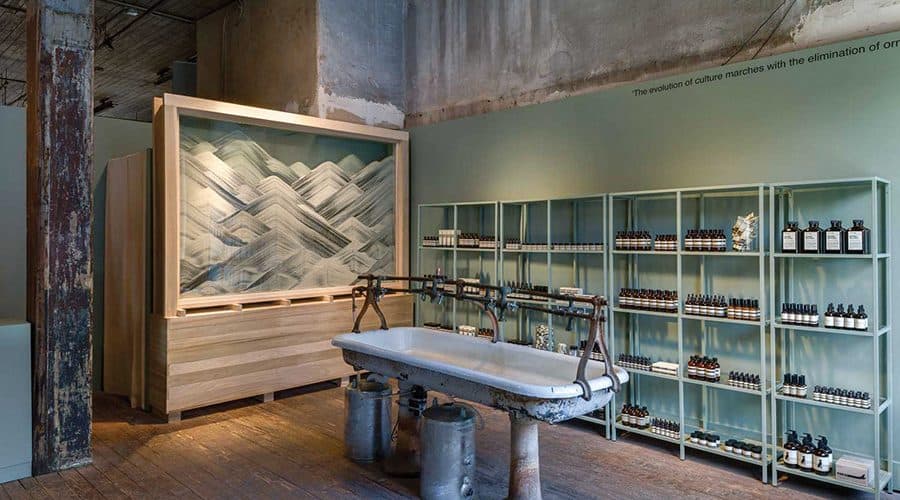 Modern apothecary
As the wellness industry grows, so does the demand for scientifically proven, natural and, of course, beautifully packaged beauty products and nutritional supplements to help support the mind and body. Apothecary is making a comeback as personal care products and accessories using the apothecary theme are gaining popularity, with some brands literally having a 'kitchen chemist' or herbalist mixing herbs, oils and grains to create unique products.
Global modern apothecary brands that pride themselves on authenticity of their products, like Aesop and Malin+Goetz, also create unique, design-led retail experiences that almost make purchasing an event rather than an everyday activity. While each store is respectful of the local context, the consistent intention is to reduce the noise and clutter, thus creating a moment of calm for all the senses.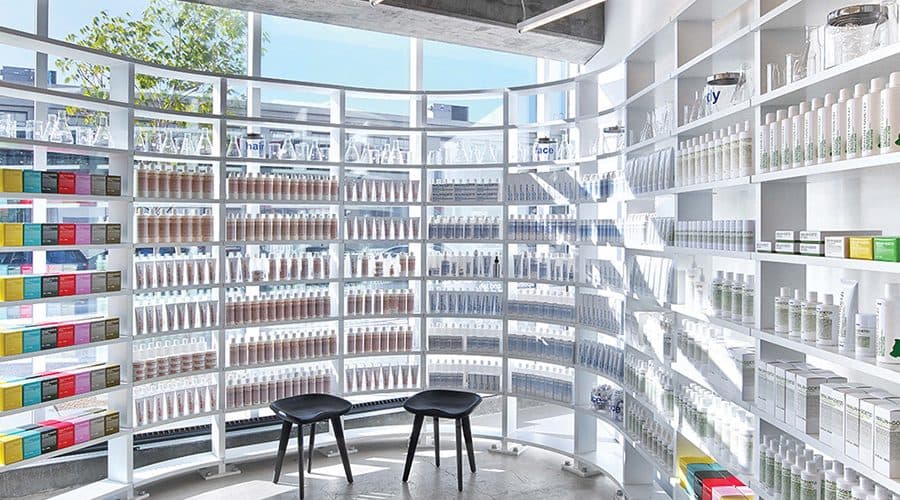 Other growing brands offer similar experiences. Recently opened, the London-based modern apothecary store Anatom stocks high-quality health products and supplements, an organic skincare collection, therapeutic oils and wellness-themed books, all displayed on vertical floor-to-ceiling dispensary shelves made from glass, brass and wood. In this holistic wellness hub, you can also book appointments with in-house health practitioners for personal health, nutrition and 'better sleep'. Thoughtfully designed, with a contemporary aesthetic, the space itself is calming, even offering a 'sleep experience room' next to the dispensary. Finally, the large apothecary bar takes centre stage, enabling customers to explore their products while sipping bespoke teas, protein shakes and alkaline antioxidant water.
Capitalising on wellness
According to JLL, malls that appeal to customers' lifestyles beyond shopping are more effective. With the rise of health-conscious consumers coinciding with the fall of big box retailers, stores with fitness and wellness concepts could increasingly act as important anchors to shopping malls.
Westfield Century City in Los Angeles is already a hot spot for luxury-ticket items such as the Next Health wellness clinic offering everything from infrared saunas, ozone, exosome and cryotherapies to trendy IV hydration studios that provide vitamin infusions for those feeling run-down. The clinic also offers other medical services such as COVID-19 testing, hormone optimisation and aesthetic services.
One of the biggest Century City anchors is Equinox, an upmarket fitness club, which last year opened its fully equipped outdoor version on the top floor of the mall's parking structure as a way to comply with COVID restrictions. Dubbed 'Equinox+ In The Wild', the club transformed drab, grey concrete space into a sleek, turf-covered outdoor gym, complete with a full selection of fitness equipment and a dedicated class space for TRX, yoga and stretching.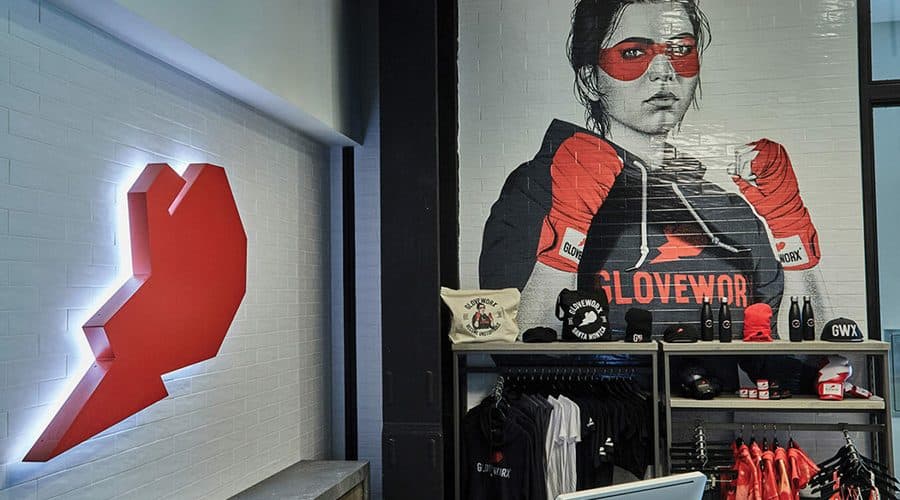 The mall's emphasis on becoming a health and wellness destination extends further to a wide variety of other wellness-focused, retail-cum-services such as a New Age personalised doctor's office, a fertility clinic, Caudalie Paris spa, UCLA Health Clinic, Gloveworx boxing, Peloton and a multitude of healthy food options serving organic, gluten-free snacks, juices and tonics.
As shown by the recent survey conducted by GlobalData, wellness is likely to drive foot traffic and spending in malls, with 72% of consumers surveyed stating they would spend more money at a retail project if they also had access to wellness concepts. Wellness services are already stretching beyond the spa and fitness industry into alternative medicine, beauty and food, with the leading retailers expanding their in-store offerings.
New and intriguing self-care options are popping up constantly, such as a napping lounge in NYC where consumers pay up to US$250 a month to catch up on sleep in private pods, or in-store meditation spaces that offer consumers quiet reflection and relaxation sessions. With so many wellness services and so much wellness advice, the idea of a one-stop-shop – sort of a wellness department store – is also increasingly appealing to consumers.
Needless to say, with every crisis comes new opportunities. Evidently, re-evaluation of our life priorities and accelerated health and wellness consciousness in the face of a pandemic are giving rise to new values and spending criteria. And this profound shift will most certainly drive the wellness industry to new heights.