I've been asked to write about retail spaces that become tourist destinations. So here's my list – not exhaustive by any means – but in my opinion, these are serious drawcards for many a tourist.
I'll start with some golden oldies that have set the scene for some time.
For longevity, it's hard to go past one of the biggest and most famous, The Grand Bazaar in Istanbul. It's one of the oldest covered markets in the world with 61 covered streets, more than 4,000 shops and a total area of 30,700m2. It attracts between 250,000 to 400,000 visitors per day, depending on the season.
In 2014, The Grand Bazaar, Istanbul was listed No.1 among the world's most visited tourist attractions with 91.25 million annual visitors.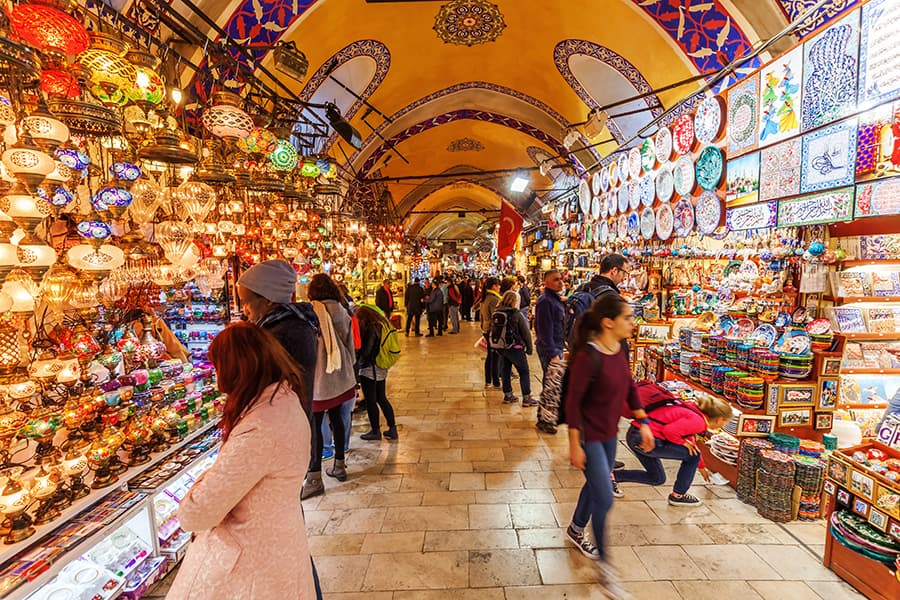 It is often regarded as one of the first shopping centres in the world, with construction beginning during the winter of 1455. It was part of a broader initiative to stimulate economic prosperity in Istanbul. Seems nothing has changed! Plagued by wars, fires and earthquakes over the centuries, it has managed to survive all these calamities.
Today, it's renowned for its gold jewellery, leather goods and carpets and employs more than 26,000 people. On its 550th birthday, in 2011, it was claimed the most visited monument in the world.
Next is another favourite, the Corso Galleria Vittorio Emanuele II in Milan. Built in 1865 it's described as the oldest active shopping arcade in Italy. It's also a beautiful piece of architecture.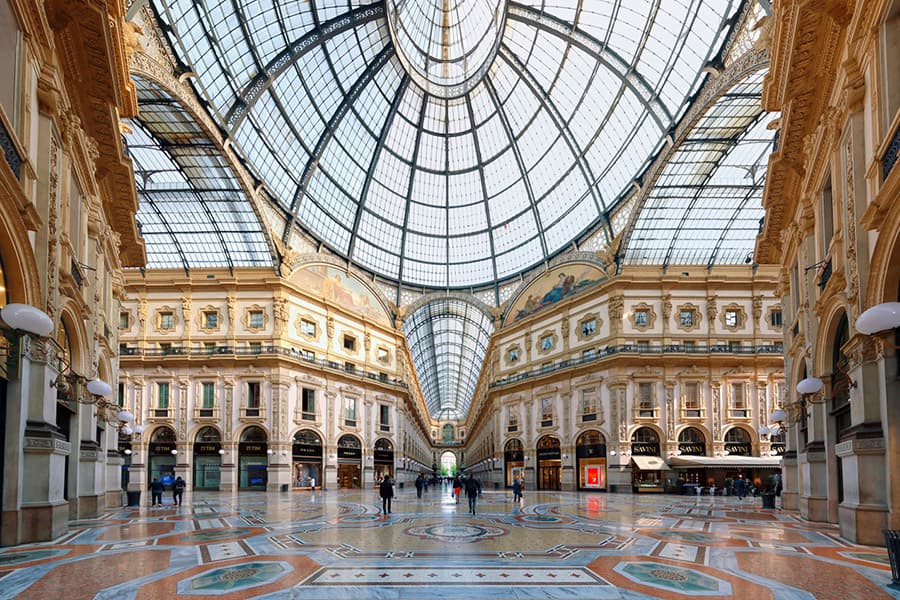 The Milan gallery consists of two glass vaulted arcades intersecting in an octagon covering the street. The arcade contains luxury retail selling haute couture, jewellery, books and paintings as well as restaurants, cafés, bars and a hotel. It is renowned for being home to some of the oldest shops and restaurants in Milan, such as Biffi Café founded in 1867 by Pablo Biffi, pastry chef to the monarch, and the Borsalino hat shop in 1883. The gallery is located in the historical heart of the city adjacent to landmarks the Milan Cathedral and Teatro alla Scala, one of the oldest and most famous opera houses in the world.
Moving to the UK, Covent Garden is the site of the former fruit, vegetable and flower markets dating back to 1654. An Act of Parliament and the erection of the first galleria building brought more organisation to the market, with further buildings added including the Flower Hall, Charter Market and, in 1904, the Jubilee Market. In 1974, the market relocated due to traffic congestion and in 1980 the Central Building reopened as a shopping destination containing cafés, pubs, small shops and craft markets. In 2010, what was the largest Apple Store in the world opened in the market.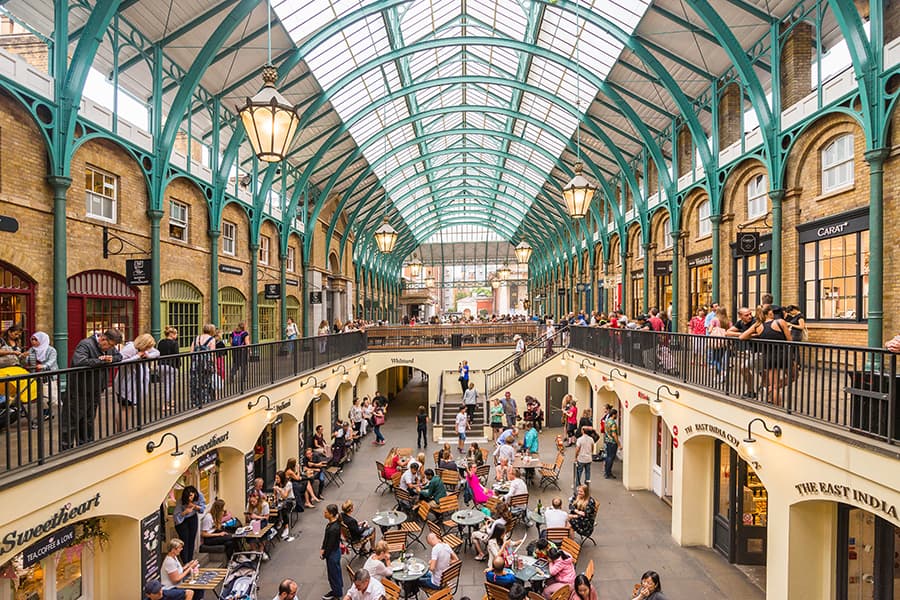 Adjoining attractions include the Royal Opera House dating back to 1858, and the Theatre Royal, Drury Lane. Others include St Paul's Church (1633) and the London Transport Museum in the old Flower Hall.
The whole district has long been associated with entertainment, theatre and shopping and is commonly called London's Theatre District, with its 13 theatres, more than 60 pubs and bars and trendy retail outlets. Street entertainment at Covent Garden was noted in Samuel Pepys diary in May 1662 when he recorded the first mention of a Punch and Judy show in Britain. Covent Garden receives more than 44 million visitors a year, making it one of the most popular tourist attractions in the world.
While still in the UK, we head north to Birmingham to a more recent development, and that's Bull Ring Centre developed in 2003 on the site of markets dating back to 1154. The site was previously redeveloped with a mixture of traditional open-air markets and a new indoor shopping centre in 1964, with 33,000m2 of trading area. The centre didn't age well and became known as an unfortunate example of 1960's Brutalist architecture.
In 1988, in response to a new design by Benoy, planning permission was received and demolition commenced in 2000. Part of the redevelopment was a new freestanding landmark Selfridges department store – the brief to update its image. Architects Future Systems designed a building of world renown, winning multiple design awards in 2004.
The main shopping centre consists of two buildings (East and West malls) that are connected by an underground passage lined with shops.
The centre is 147,300m2 over four levels with parking for 3,100 cars, and is the UK's largest shopping centre.
The Bull Ring has more than 200 shops including Selfridges and gets a footfall of 39 million people per year, and is in the top three for retail spending in the UK.
Next, on to the US and the Mall of America in Minnesota. Opened in 1992, it's the ninth largest centre in the world, and biggest in the western hemisphere at 500,000m2 with 12,300 car spaces. Designed by US retail architects the Jerde Partnership, the Mall has 42 million annual visitors – equal to roughly eight times the population of the state of Minnesota – and employs in the order of 13,000 workers.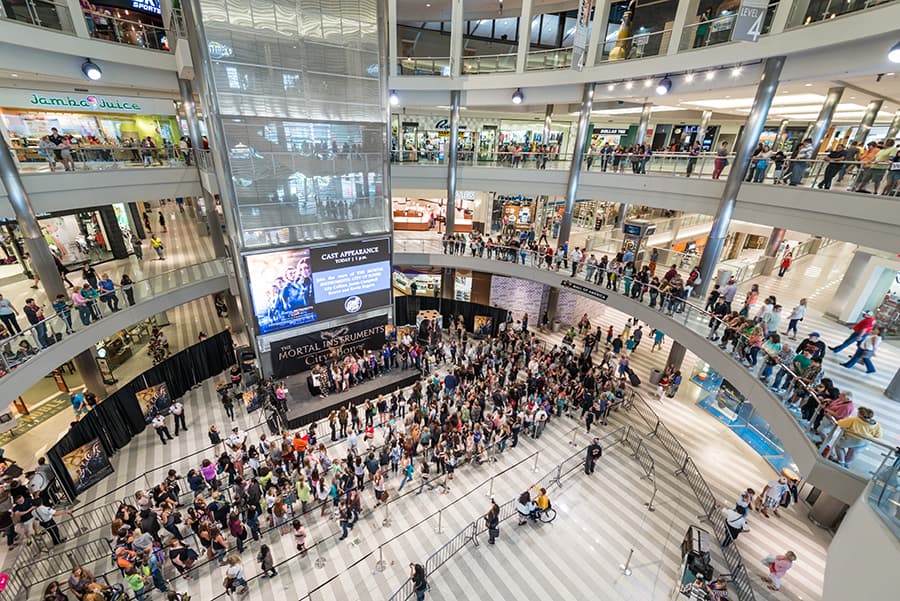 Marketed as an all-encompassing entertainment and retail destination, the Mall of America is anchored by Nordstroms, Macy's and Marshalls department stores. The four-level centre has a massive attraction offering with Nickelodeon Universe featuring roller coaster rides and is the largest indoor theme park in the US.
Other attractions include 13 cinemas, Sea Life Aquarium where guests travel through a 90-metre curved glass tunnel through a 4.5-metre deep pool to view more than 4,500 sea creatures including sharks, turtles, sting rays and multiple varieties of fish. It also offers special events such as sleepover, snorkelling, scuba diving and party events. The Mall opens early in Minnesota's sub-zero winters as a community service as it's used by winter walkers as a means of daily exercise.
The Mall generates nearly $2 billion in economic activity annually for the State of Minnesota, with annual spend per visit 52% higher than the average US retail spend.
By way of comparison, Chadstone in Melbourne (Australia's largest centre) has annual sales in excess of $2 billion and has the highest visitation at 20 million visitors annually.
On to a smaller centre, but an extremely successful one. The Forum Shops at Caesars Palace Casino complex in Las Vegas is a luxury destination of some 160 specialty shops and fine dining restaurants. The Roman themed centre contains Fendi, Gucci, Louis Vuitton, Dior, Versace, Chanel and Cartier along with its art galleries, bars and Carmine's famous Italian restaurant.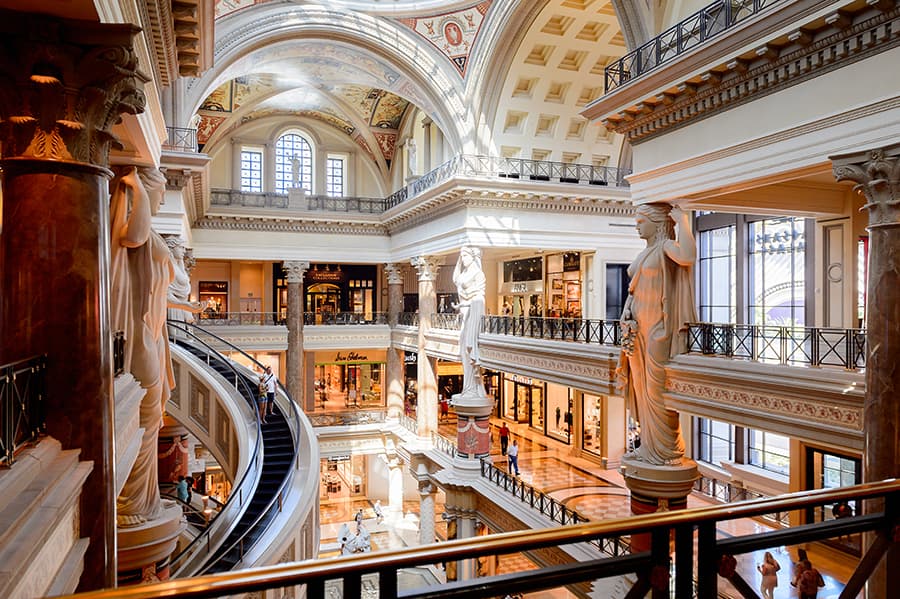 The Forum Shops are the highest grossing mall per square metre in the US, with higher sales per metre than Rodeo Drive in Beverly Hills.
The Shops were built as an extension wing to the Casino and Hotel in 1992, and had 29 million visitors in 2017, while 42.9 million visited Las Vegas that year. That means one out of every two visitors checked out the Forum Shops.
The 62,000m2 centre urges visitors to 'shop like the Romans do', along its Italianate streetscape with talking statues. The tables literally turned in 1999, when retail and other non-gaming revenue collectively surpassed casino gambling income.
Moving to the Middle East, the Dubai Mall is the second largest mall in the world by land area and has a total retail area of more than 500,000m2.
In 2011, it was the most visited building on the planet with more than 54 million visitors that year. In 2019, that number jumped to 84 million visitors. It is the world's most visited shopping and leisure destination.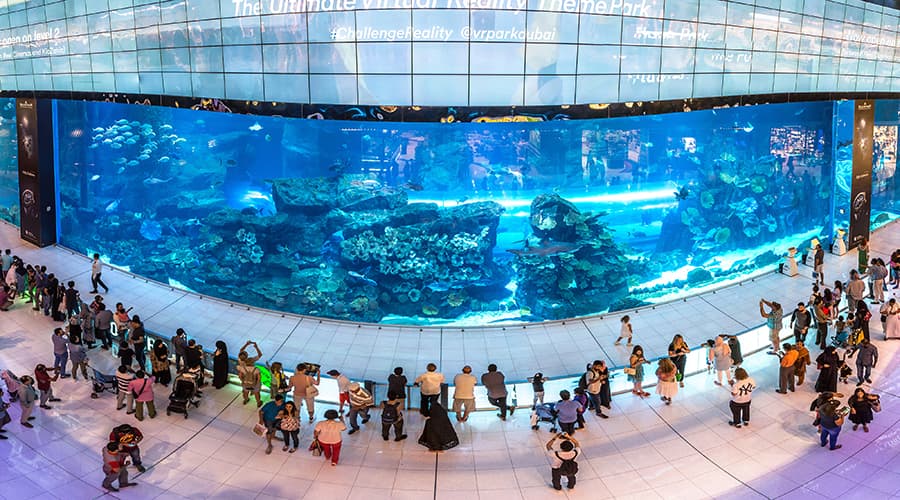 The Dubai Mall includes a 250-room luxury hotel, 22 cinema screens, and 120 restaurants and cafés. The Mall also features an Olympic-size ice rink, Dubai Aquarium and Underwater Zoo, a 7,000m2 indoor amusement park, Hysteria Haunted House attraction and a Kidzania child-size themed park.
Last but not least, is one of the more recent retail destinations, Asia's Jewel Centre at Changi Airport, Singapore. The nature themed entertainment and retail complex covers a total gross floor area of 135,700m2, spanning ten storeys, with five above ground and five in basement levels.
Attractions include a tropical rainforest with its centrepiece and the world's tallest indoor waterfall, the 40 metre Rain Vortex. Other attractions include the Shiseido Forest Valley, an indoor garden spanning five storeys and the Canopy Park at the top that contains leisure facilities.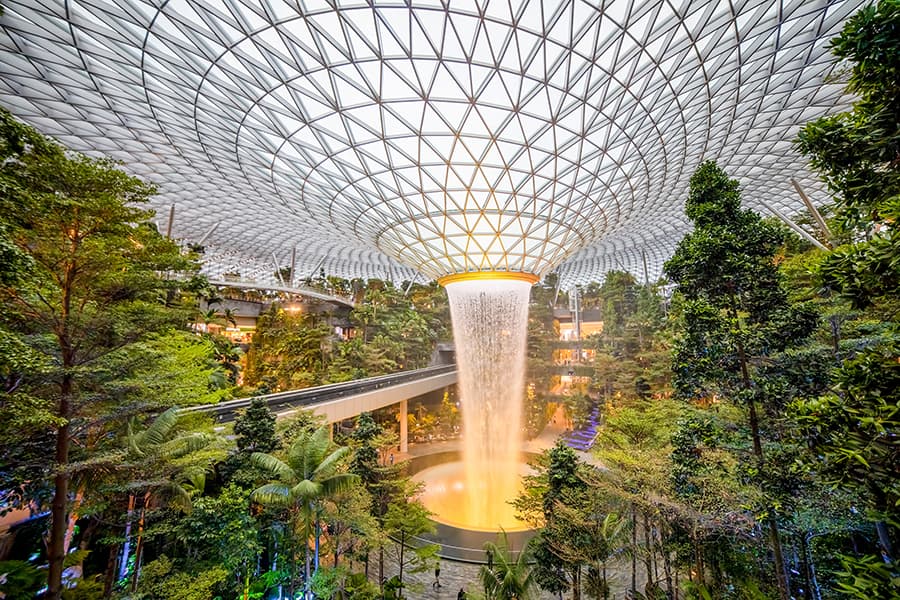 When it initially opened in 2019, it had 300,000 visitors per day, and within six months had welcomed 50 million visitors. The development was designed by architect Moshe Safdie who also designed Singapore's Marina Bay Sands development.
Jewel also houses a 130-room hotel, Sky Nets, a suspended net trampoline 8m metres, above ground, Discovery Slides and a Canopy Bridge. International retail brands in the centre include Nike and Apple Stores, Marks & Spencer, Zara, Uniqlo, Imax and 11 cinemas, along with restaurants that make up the complex.
The Jewel is located at the heart of Changi's three passenger terminals and while most people think of airports as places of transit and stopover, Jewel is a must-see tourist destination in its own right.
In summary, the one common theme that's become evident is that all these retail destinations are more than just retail; they are entertainment, attraction and dining experiences, that make them such desirable places to visit.