Several of our shopping centres have already begun to utilise their rooftops. Previously unused space can be transformed into favourite places. In this article, Reid Nakou, Head of Retail and Design at The General Store, highlights the versatility of experiences made possible in unlocking rooftop spaces and what it might mean for the future of shopping centres.
Let's face it, everybody loves a great rooftop experience. From lush urban farms to sporting facilities and even spectacular wedding venues, rooftops are no longer simply viewed as functional spaces for mechanical services or carparks.
For our communities, rooftops represent exciting places to escape from the city, often supported by stellar views, great design and engaging experiences. For developers, they inject assets with high-quality social infrastructure and create places people want to be a part of, becoming new generators of growth, commercially and culturally. Everybody wins.
New opportunities for rooftops
Architecturally, what excites me most about rooftops is their sector-agnostic nature. They can pop up on top of any building – shopping centres, offices, residential buildings, schools or even carparks. The diversity of these environments, coupled with rapidly changing consumer needs, has given rise to new out-of-the-box thinking and experiences that engage communities.
As it relates to shopping centres, these executions can inspire a fresh approach to activating otherwise underutilised spaces, stretching the lifecycle of our assets and, most interestingly, providing blank canvases for brands to engage in.
Upon examining the continued rise of rooftops around the world, we're seeing many of these fall into one of four categories:
Commercial (retail and hospitality)
Agriculture (urban farming)
Recreation (sporting amenities, parks and play spaces); and
Culture (activations, events and other brand-building experiences).
Where it gets interesting is where there is a cross-pollination of these themes and the creation of environments that push the boundaries of what we traditionally expect to see on a rooftop.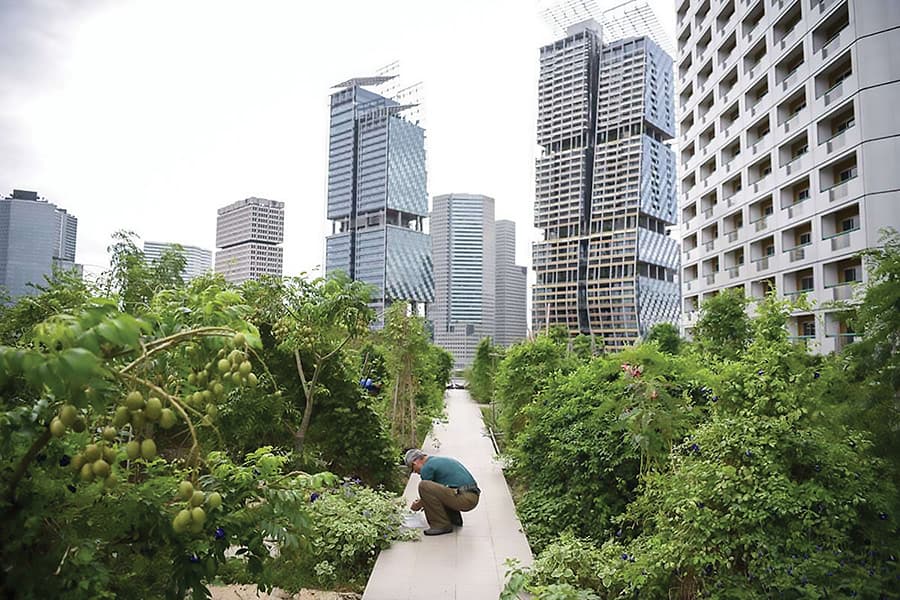 From farm to face
There is no better example of this than what quietly sits atop Raffles City shopping centre in Singapore: a rooftop garden from Farm to Beauty, a cosmetics and skincare brand from Spa Esprit Group.
Inspired by a passion for agriculture, the ingredients for Farm to Beauty are grown locally at this unique take on an urban farm. Aloe vera, calendula, butterfly pea and lemon are handpicked from this lush oasis and distilled to extract essential oils and nutrients – which customers can purchase as well as experience as part of the treatments on offer. Apart from its focus on sustainability and agriculture, what I love most about this rooftop is that it's been created by a brand – capitalising on a unique opportunity to experiment, innovate and evolve its offering and value proposition.
Living breathing spaces
Countless businesses continue to reap the benefits of 'agritecture' – a fusion of agriculture and architecture – to create unique destinations.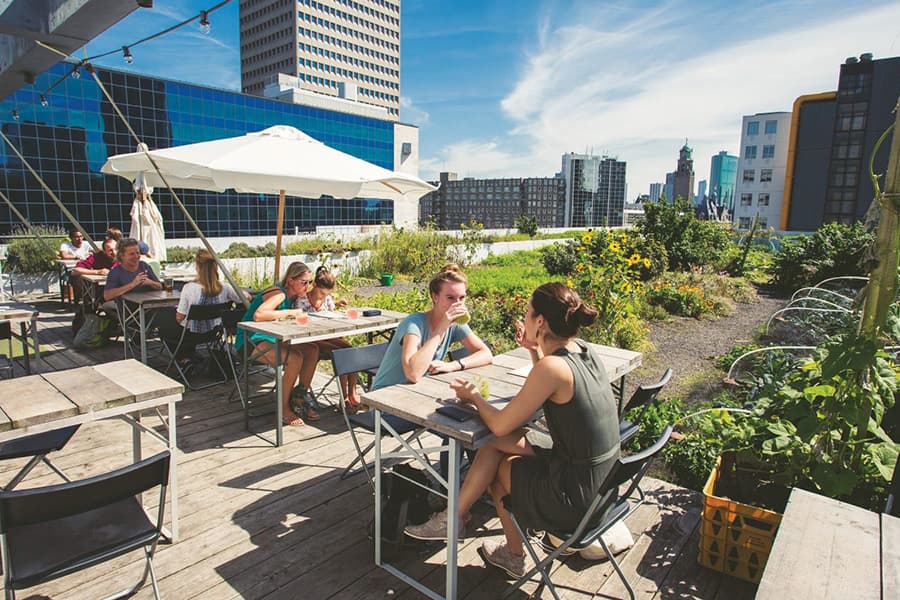 Two of my favourites are Op Het Dak, perched atop a 15-storey office building in Rotterdam and ØsterGRO in Copenhagen, established above an old car auction house. Both spanning approximately 600m2, rolling paddocks of organically grown vegetables, fruits, herbs and edible flowers surround greenhouses and restaurants. Tours, workshops and courses for kids add a level of depth to these magical dining experiences, educating communities about the relationship between food, ecology, and our natural environment.
ØsterGRO's sister farm, Øens Have takes this one step further, leveraging its beautiful gardens to create spaces for weddings, conferences and cultural events. This innovative use of space, particularly in the hours that straddle primary 'trade', is something we're increasingly seeing around the world.
Driving innovation into carparks
One of the best projects in the world that showcases this is Herzog & de Meuron's development at 1111 Lincoln Road in Miami. To the untrained eye, this beautiful carpark structure floats atop a ground plane of retail, office and public space. Delicate concrete slabs float among robust geometric blade columns, open to all four sides and offer breathtaking perspectives of Miami's skyline and coast.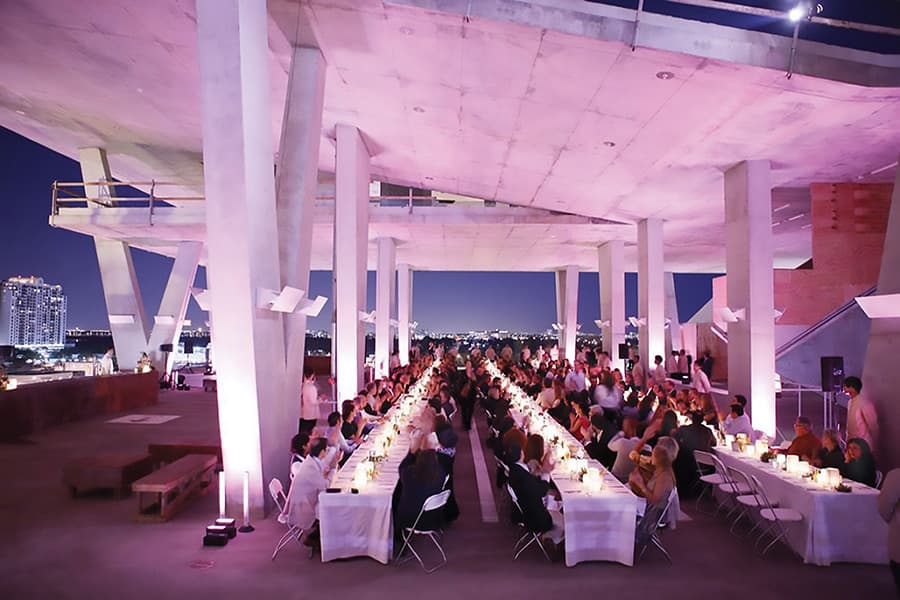 However, this glorified carpark really comes to life as the sun sets. Crisp, white tablecloths grace its upper levels for weddings and elegant dinner events, rows of seats bookend red carpet runways for high profile fashion shows, booming beats reverberate across the city in the filming of music videos and concerts, and colourful lights illuminate public art installations in outdoor gallery spaces.
While the architecture is stunning, it does beg the question: are we doing enough with our assets after hours? Are we sufficiently 'sweating' the spaces we have and extracting as much value as possible from its real estate? What more could we be doing to create 'canvases for culture', be it in our carparks, rooftops or otherwise?
Creative canvases for culture
In a more traditional sense, exhibition centres have long been a canvas for culture. Recently, these projects have graced the built environment with some wildly innovative buildings – where almost every capital city has one nestled in its skyline. However, one stand-out for me in what is arguably still a relatively civic landscape is Hangzhou's Cloud Town Exhibition Centre in China.
In what feels like a building that's been designed from the top down, a 66,000m2 rooftop park envelops a network of buildings, halls and public spaces beneath. What I find most extraordinary about this project is the sheer scale of amenity created and its focus on sport and recreation to engage its community.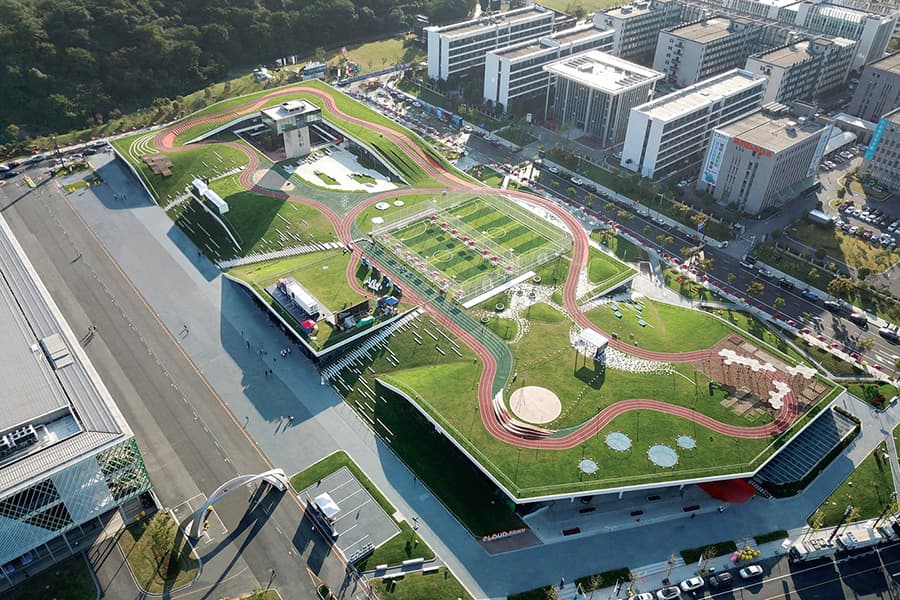 It feels more like a sporting project than an exhibition centre. There are two full-size football pitches, landscaped parks, outdoor fitness spaces and a 760-metre running track that meanders through its architecture.
Multiple amphitheatres connect the street to the roof, creating an intuitive and accessible means of enjoying the centre. Recognising the uniqueness of this project, shopping centres around the world are leaning upon recreation and sporting amenity to activate their 'fifth elevations'.
Morinomiya Q's Mall in Osaka is another great example of this, which features a 300-metre running track, two futsal pitches and terraced park spaces on its rooftop.
My favourite part of this project is how the running track becomes an architectural feature of the centre, floating and jumping across the various buildings below.
As societies continue to recognise the benefits of creating recreational and wellbeing infrastructure, other building typologies are also experimenting in the same space.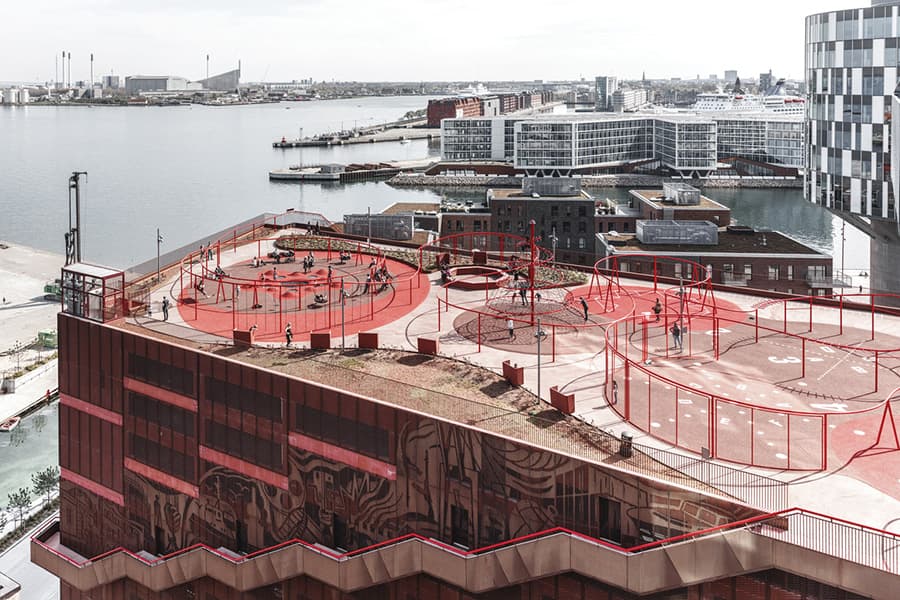 Park 'n' Play in Copenhagen is one of the most unique interpretations of this –featuring a 2,400m2 rooftop play space above a multi-deck carpark. This multi-generational playground houses dozens of swings, climbing structures and outdoor fitness facilities. Its design is inventive, bold and playful. Of course, mixed-use developments are best primed to take advantage of this opportunity.
A recent favourite is Brisbane's Soak Bathhouse in West Village. Positioned as a new age wellness experience, this indoor/outdoor day spa and rooftop bathhouse is a haven in the heart of the city. Seven spas, infrared saunas, mineral plunge pools and a rooftop sun deck create a special experience for customers to destress, recharge and socialise.
These projects merely scratch the surface of what's possible for shopping centres in unlocking these special spaces. As urbanisation and economic pressures force us to work better with what we have, rooftops will become increasingly important to the lifecycle, performance and relevance of our assets. In light of evolving environmental conditions, these spaces might also hold the key to effectively cooling our cities and building a sustainable future for our world.
This article is featured in the latest edition of Shopping Centre News. Premium members can view the full digital magazine here.