There is a worldwide initiative underway to create 'after-dark' experiences in major cities. Such experiences don't just afford people pleasure and entertainment, they also extend the operating hours of CBD businesses. Shopping centres could be described as 'mini-cities'; there could be lessons here for extending the operating hours of our centres…
This article by Kelvin Taylor, Project Director at Diadem is featured in the latest issue of SCN magazine.



Cities, and urban environments in general, are at their best when people come together to experience arts, culture, events and performances set in an inviting built environment that offers high levels of accessibility, safety and amenity. In particular, it is the night-time experience where people, whether they be workers, residents or tourists, often feel most connected and engaged with the place where they work and live.
There are many examples of cities, both local and overseas, that actively encourage night-time activity by creating attractive and vibrant spaces and couple this with services, events and amenity. Many cities use light to augment the night-time experience. Vivid Sydney, Lumiere Festival UK, i Light Marina Bay Singapore, and Luminale Germany are but some examples that illustrate the global trend of embracing after-dark experiences, transforming cities into captivating landscapes of light, art, and entertainment.
In the realm of retail centres, after-dark experiences offer an opportunity to extend shopping hours and provide unique entertainment options. By incorporating lighting installations, live performances and cultural events, retail centres can create a compelling and immersive environment that attracts customers and fosters a sense of community. Retail centres can also collaborate with local artists and organisations to host night markets, pop-up stores and themed events, further enriching the after-dark experience.
When we think about the night, the first things that often come to mind are bars and clubs, restaurants, partying, alcohol and noise. However, the notion of the night has a much broader meaning. With good policy and when well-managed, the night-time interactivity of an urban space can leverage great opportunity. This can lead to improved quality of life, not only for entertainment and freedom of expression but also for those who work during the night. This can be seen in local examples such as Art After Dark on Wednesdays hosted by the Art Gallery of NSW and linked to Sydney World Pride, Dark Mofo at MONA in Tasmania, and the RISING Festival in Melbourne, celebrating music, food, art and culture.
Over the past decade or so, global cities like London and New York have embarked on a dedicated mission to understand and expand the night-time experience and identify advantages or reasons why cities should promote a greater night-time economy. The two major Australian cities, Sydney and Melbourne, have also initiated strategies to encourage people back into the city and work out how best to support businesses that have been most severely impacted by COVID restrictions.
Melbourne has established a Night-Time Economy Advisory Committee of industry leaders that play a critical role in bringing back the buzz to Melbourne and ensuring the sector continues to play a major role in the economy. Councillor Roshena Campbell has clearly stated reviving the night-time economy is critical to Melbourne's post-COVID recovery. With night-time pedestrian traffic dropping by two-thirds since the pandemic, the reasons to focus on this are self-evident when you consider Melbourne's night-time economy grew by $310.3 million in 2018 and contributed $3.5 billion in annual turnover and supported more than 31,000 jobs.
The Advisory Committee brings together retail, hospitality and creative industry leaders, government representatives and experts in city safety and urban planning to solve challenges facing the night-time economy post-COVID.
With assistance from the University of Melbourne, the City of Melbourne has reviewed leading international examples from New York, Toronto, London, Amsterdam and Tokyo to develop an approach that best fits Melbourne.
Likewise, Sydney is well progressed in establishing a vibrant night-time ecosystem. The 24-Hour Economy Commission, run out of Investment NSW and headed by Michael Rodrigues, recently hosted the NEON International Night-Time Economy Forum. The Forum brought together a number of international "night-mayors" from New York, Singapore, Paris, London, Vienna, Montreal and Barcelona to share insights and success stories and develop strategies to help place Sydney at the forefront of the after-dark environment.
Going out after dark in Sydney has rebounded beyond pre-pandemic levels, and there's a lot going on to help that continue to lift. Rodrigues has stated that NSW is the only state government in the world to have a dedicated Office of the 24-Hour Economy and associated strategy. The success of any good strategy is based on having input from all areas of the system. This includes government, property developers and landlords, retailers, resident's groups, transport providers and industry advocates.
In this respect, the role of the Night Time Industry Association (NTIA), headed by Mick Gibb, is pivotal. With a mission to rebuild, protect and grow night-time experiences and industries, NTIA is a key industry advocate to help reduce unnecessary regulation and increase inclusive decision-making around policy and action.
In a recent discussion with Gibb, he noted the importance of shifting the narrative of how products and services can be made more available in a 24/7 economy. "It's about providing equity where people should be able to access what they want, where they want and when they need to." This goes way beyond alcohol or entertainment and speaks to more essential services like shopping, being able to grab a meal or exercise after a late shift. The retail sector plays a key role and engagement with landlords is crucial.
We are, however, dealing with a complex ecosystem with many stakeholders and impediments. Gibb states there are two main barriers that need to be addressed; that of security and safety, and sound and noise.
Gibb states: "We need to reduce the burden inherent in the process of addressing complaints, especially around noise where the needs and rights of all parties may be addressed in a healthy environment of mediation."
Western Sydney and the new Aerotropolis will broaden the outlook for the 24-hour economy, especially as it relates to the new workforce. Noise management will be a key factor for this new district.
The issues of noise and safety in our cities are global. Surveys carried out by the Emerging and Sustainable Cities Initiative (ESCI) focused on Latin America, highlight there is a generally negative perception of the night in the city, perhaps because it is mainly associated with issues such as noise (40% of citizens surveyed by ESCI complain about high noise levels in their city) and insecurity (only 18% report that they feel safe walking around their city at night). This is where good design that includes well-lit streets and pathways that help create psychologically safe spaces, and good operational practices to help control noise can help generate a positive and holistic outcome for all.
London-based guest speaker at NEON, Amy Lamé notes, "It's incredibly important that we recognise the role that the night-time economy plays in the success of our cities. Not just that traditional night-time economy of bars, pubs and clubs, but actually across all activity that happens at night. For example, in London, we have 1.4 million people who work at night, a lot of them working in our national health service." Lamé points out that people like this need places to go after knocking off – places to eat, hang out and even get stuff done, like shopping.
Sydney is on a growth trajectory in terms of its night-time economy and has initiated the $4.75 million Uptown Grants Program aimed at activating a series of precincts beyond the CBD, targeting the 24-hour economy. The accelerator program is well on its way, with 21 funded precincts from Bondi to Blacktown. The strategy encourages place-based collaboration, branding and storytelling within districts, and provides a platform for communities to innovate with reduced risk and ultimately become self-sustainable.
Examples of this success include Little India at Harris Park, Koreatown in Eastwood, Rainbow Precinct at Darlinghurst and the Walsh Bay Arts Precinct. Brian Park, team leader for the Eastwood Korea Uptown District Team, sang the program's praises: "We've learnt from A to Z how to make up our own story, develop an action plan, prepare proposals and contact potential sponsors. This is a starting point for our journey to success."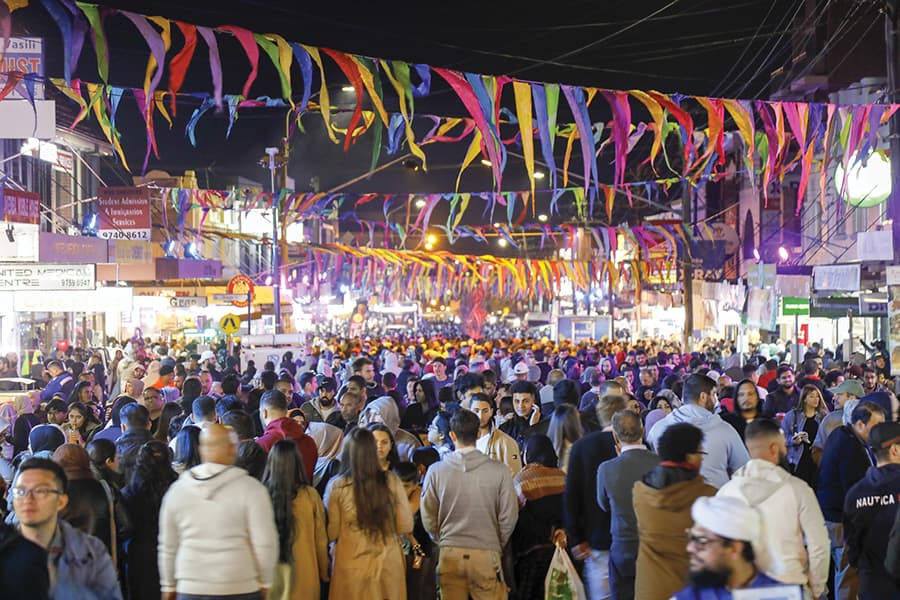 Communities, property managers, developers, retailers and residents all benefit from the interconnected social structure that the night-time economy offers. All can play a role and have a point of view in the creation of a balanced outcome. Taking a lead from global cities, we can identify a series of advantages or reasons why our cities should promote a greater night-time economy:
More jobs – The night-time economy is a source of new jobs and new income for the city and surrounding precincts.
Revitalisation of public space – It allows the revitalisation of areas and buildings in the city, particularly those that are not used after a certain hour of the day.
Safety – 24-hour cities promote user security. A street that is filled with people feels much safer than an empty street. For this reason, policies that invite people to stay outside, such as expanding the hours of operation of shops, restaurants, galleries, museums and cinemas, help maintain lively streets.
Foster tourism – A city with a vibrant night-life is much more attractive for visitors. A city that offers 24-hour transportation, as well as restaurants and shops that open late, is much more attractive to those who come to visit.
Sense of belonging – If managed well, night-time cities can generate a greater sense of belonging.
As cities across the globe realise the immense potential of the night-time economy, after dark experiences have become a driving force for urban revitalisation and community engagement.
When asked what night-time economic success looks like, Mick Gibbs, of NTIA, simply stated, "We will know we have achieved positive change when you can go out and buy a bag of onions at 3am".