Australian practice i2C Architects, in a global alliance with international design practice Ryder Architecture will deliver New Zealand's first major build to rent development. 
Enlisted by local developer Kiwi Property, the 295 apartment, three-building project is the latest addition to the Sylvia Park precinct in Mount Wellington, Auckland, which includes the largest shopping centre in New Zealand. The $221 million project is also set to become home to the country's first dog park in a multi-residential setting.
Comprising three separate residential buildings located around a central communal open plaza and private resident pavilion, the project has been designed to effortlessly reflect its surrounding context, influenced by the industrial history of the area, as well as, local pre-colonialism ecology.
Following the philosophy, 'build to rent is about people', Joe Wright, Associate Architect at i2C Architects, said the design emphasises creating an enriching community environment, where amenities and congregation spaces are a focal point. "From the beginning, we have looked to create a vibrant, healthy community, with a deep connection to place and strong promotion of neighbourhood values. The dog park is a leading example of this philosophy – fur residents will have 800m2 of space to explore – while the centralised amenity area offers human residents (both singles and families) unbridled access to coworking facilities, café and a gym.
"This project is about walkability and promoting sustainable transport initiatives – childcare is close by, and the site connects directly to a number of running and cycling paths.
"The site connects directly with the adjoining greenspace and stream to the south and provides residents with an opportunity to enjoy the natural environment via a connecting footbridge with quiet seating and outlook zones," said Wright.
Intended as a more affordable option for those living in bigger urban areas like Auckland – where there is often a shortage of good properties close to the CBD – i2C Architects and Ryder Architecture have taken cues from more established build to rent markets, such as the US and UK.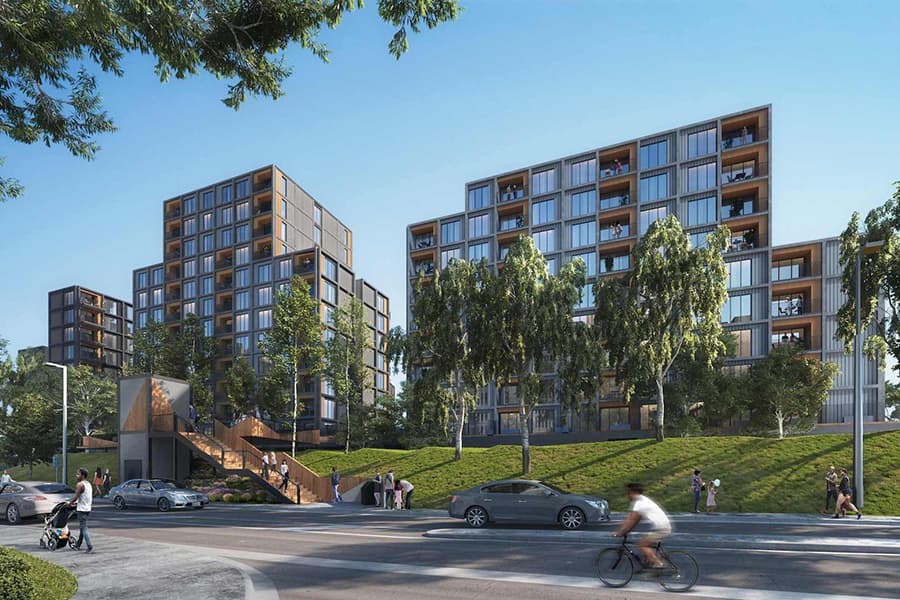 Designing from the inside out, the modularisation of apartment types and the method in which one, two and three-bedroom dwellings are designed to provide flexibility across the board.
"Not only is the cost of renting an apartment from the developer more affordable, but limiting cost structure and regulating the overall project pricing during construction allows the team to put capital back into amenities within the development.
"Build to rent has become much like a hotel – designed to have a central concierge for all to access, with someone to handle deliveries, maintenance issues and so on," said Wright.
Relating to the design details, the project boasts classic architecture over a bespoke approach, ensuring longevity. Unlike build to sell projects where owners may sell within a short period, build to rent projects can be owned and run by the same developer for decades.
"Many nuances go into designing a build to rent project because similarly, maintaining a development for longer periods also attracts varied life cycles. It is about flexibility and adaptability, looking at the psychology of architecture and its use.
"Design considerations take into account, for example, a gym needing to expand or contract pending demand, the same with a coworking facility and café. Spaces need to be able to transform at night; creating cinema spaces or a bar setting," said Wright.
An emerging sector in the Australian property market, i2C Architects, has placed itself as leaders in build to rent design thinking, fine-tuning overseas market research and knowledge for the local landscape. Having invested considerably in understanding this new sector, the practice has joined forces with Ryder Architecture to bring the knowledge and experience of their learnings in designing more than 3,000 build to rent apartments, to Australia and now, New Zealand.
"It's fantastic to be collaborating with our Alliance partners, i2C, on this project. Having worked at the forefront of the build to rent sector in the UK with clients such as MODA, Legal & General and TIPI, it's hugely exciting to pass our experience to emerging markets around the world.
"We have been able to work with i2C and Kiwi Properties from the inception of this project and look forward to seeing it start on site later this year," said Jonathan Seebacher, Architectural Director at Ryder.
Construction is slated to commence late 2021, with renters likely to be enjoying the new build by early 2024.