This article by Iain Stewart, Senior Associate at Hames Sharley, was first published in SCN Vol. 40 No. 1, 2022 Big Guns edition. 


In 2017, AMP Capital embarked on an expansion of the existing Marrickville Metro Shopping Centre, on behalf of the centre's owner, UniSuper, enlisting Hames Sharley's assistance to transform a former factory into a community-focused centre. The result is a high-quality design outcome for the residents and businesses of Marrickville and Sydney's Inner West.
Marrickville has a strong community identity, and its surrounding suburbs represent one of Sydney's most diverse, creative, urban communities. The team was inspired by the industrial character and its history of often sustainably repositioned buildings to accommodate new and shifting needs. In maintaining this tradition, the Smidmore Street extension is a sensitive integration with the existing Marrickville Metro and its neighbourhood fabric and draws inspiration from the textured and industrial nature of the built environment of Marrickville and surrounding suburbs. The former Shelley Drinks Factory has been transformed by carefully considering urban structures, local architecture and public art to create an active community-focused place.
The extension lies to the south of the original centre and leverages its north-facing orientation to create a new, vibrant retail and dining destination in Sydney, offering amenity that includes a Coles supermarket, gourmet grocer, specialty boutiques and 12 restaurants with open-air seating. The development is set to become a key destination for cultural, sensory and food experiences in the Inner West.
The site is bound by Edinburgh Road, Murray and Smidmore Streets. Smidmore Street itself has been reimagined as a lively 'eat street' with a multi-layered public domain strategy underpinned by traffic calming and sustainable urban landscaping, including a levelled pedestrian crossing for unimpeded accessibility.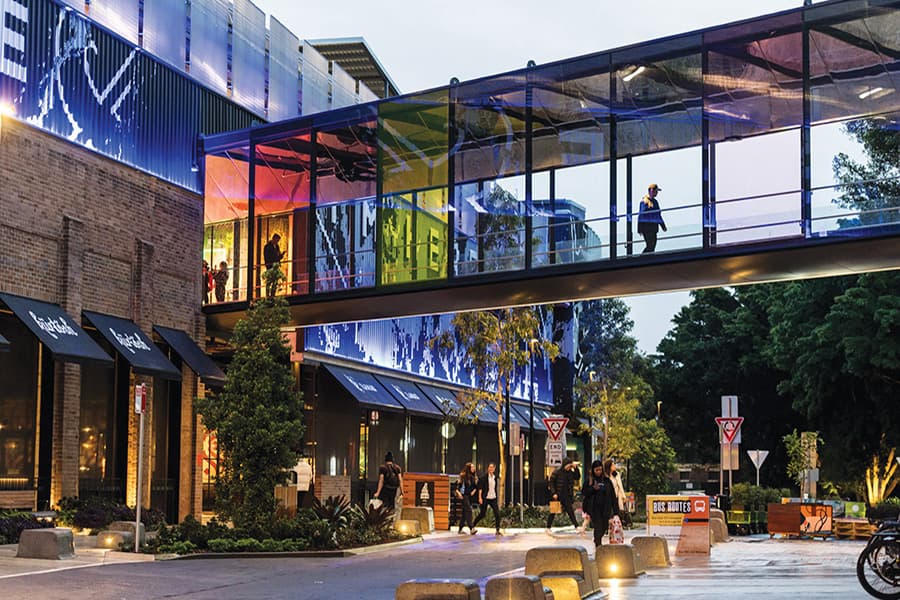 The design anticipates the future Sydnenham Metro Station, with the permeable ground level linking this part of the Inner West to the future station and ultimately Greater Sydney.
Permeability and pedestrian amenity were enhanced by implementing a mixed-mode ventilation strategy for all the internal circulation space. Large ceiling fans and glass louvres were connected to the Building Management Systems (BMS) for natural ventilation when temperate conditions permit. This resulted in open (yet protected), unimpeded thresholds at the North entries off Smidmore Street. The project team implemented environmental and sustainable design strategies to ensure ESD targets set for the project were exceeded. Further initiatives include shading the rooftop car park with a field of solar panels – a 450kW system injecting approximately 650Mwh of power into the network of the building and equating to 539.5kg C02; economy cycles on all air handling units, energy-efficient lighting design, central water-cooled chillers and intelligent building controls.
The old drink factory's brick walls were deemed historically and contextually significant and meaningful to the community and were retained, celebrating the site's raw industrial heritage and reflecting a unique Marrickville character.
Existing openings in the original brick walls (that were no longer applicable to the adapted functions of the intervention) were bricked closed, and new openings then cut into the existing brick wall. The new openings were lined with steel architraves supporting canvas canopies to shelter north-facing restaurants and create an open, active frontage and new street character. The built form is set back at ground level with permeable frontage and includes curated outdoor dining offers within its covered colonnade overlooking street activity.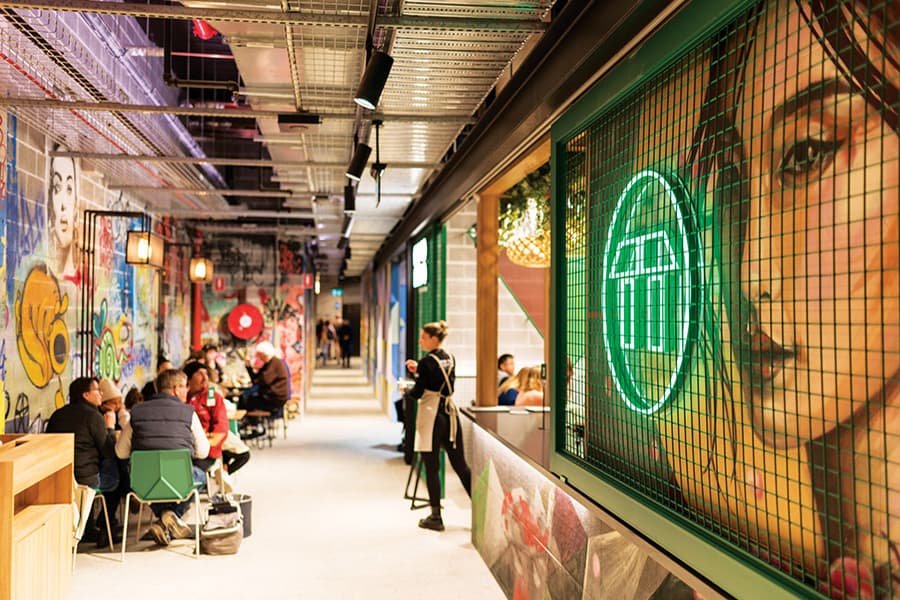 Overhead, new facades are a unifying skin of galvanised steel that varies in opacity and perforation, articulating different functional and ventilation program requirements behind it. The use of galvanised steel is a nod to the manufacturing heritage of the locale. It is a material that will vary in patina according to texture and orientation, maintaining an authentic presence into the future.
The aesthetic motivation was driven by simplicity and authenticity. Surfaces remain unadorned, and building function is unapologetically exposed externally and internally. The raw architecture is a backdrop to activity, diverse tenancies and artwork.
An elegant, minimal bridge passes patrons over Smidmore Street through the tree canopy between the original Marrickville Metro and the new extension. The slim walkway is suspended from an inverted triangular truss that spans the road width. The truss is concealed with a mirrored surface that reflects trees and people below, while slender posts in tension support a coloured glass skin.
Customers can walk between the extension and the original centre at street level. The Edinburgh Road corner expands on landscape and public art opportunities and opens pedestrian through-site connections to future residential and transport infrastructure at its eastern and western ends. A discrete, character laneway adjacent to the dock and to the rear of cafés and restaurants adds permeability to the ground plane furthering walkability, exploration and delight.
Vehicular entry is off Edinburgh Road with the car-park ramp integrated into the design of the centre, including a spectacular public artwork by local inner west artist, Liz Shreeve installed along the vertical palisades.
Art was commissioned from local artists, for façades and throughout the interior and public realm, to foster community ownership and pride. More than 15 bold world-class public artworks feature in the project, developed in partnership with Inner West Council with support by Art Pharmacy.
The public arts program developed with Inner West Council is a corporate, local government, community and creative partnership, unique in its co-curatorial approach. The model for the program was to partner local artists with their neighbours and community to collaboratively develop original artworks, each individually inspired by shared stories, history and ideas of Marrickville. Reflecting the creative spirit of Marrickville, artwork enlivens and colours the façade, interior and public realm.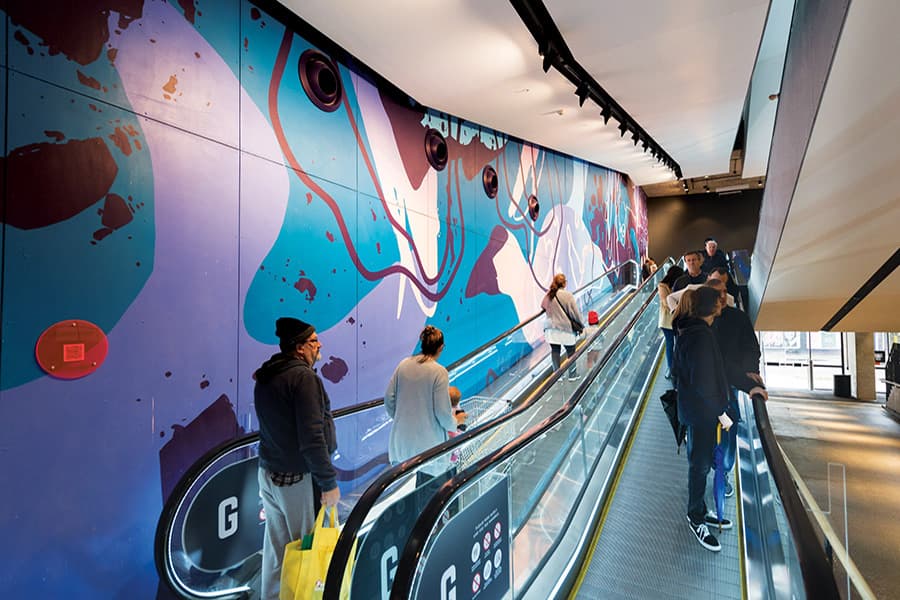 The program consolidates Inner West Council and Marrickville Metro's firm commitment to support talented local artists and the creative sector, expanding local employment opportunities and showcasing the valuable contribution they make to the Inner West.
The extension positions Smidmore Street as a vibrant, bustling centre at the heart of Marrickville; a community village where locals meet and feel at home and a destination so dynamic it attracts visitors from the Inner West and beyond.