Now here's an article to set some retail development managers running to the arena of Public Private Partnerships. The redevelopment of railway stations presents some massive opportunities. Great retail centres with assured numbers of people passing through equals more revenue for rail transport that's notoriously under pressure, and the result is much better environments for the users! All win-win!
As passenger numbers continue to soar in the major cities around the world, train stations are increasingly becoming much more than just a stop on the daily commute. Instead, they are being recognised as the hubs of modern local communities and shopping and dining destinations in their own right, providing a catalyst for housing, regeneration and economic growth in the surrounding areas.
A bite at the end of the tunnel
Long gone are the days when the most people would expect to buy at a train station were newspapers, a very expensive, but tired looking sandwich and an insipid, lukewarm coffee. You only ate there if you were in a big hurry, disorganised and very hungry – in retail, it is known as a "distress purchase".
But, how times have changed!
While at many stations around the world might still constitute the typical refuelling experience, at other stations shoppers are now spoilt for choice with an abundance of food and drink outlets offering everything, from bagels and sushi to craft beer and champagne.
No doubt, customer expectations have radically changed over the years – they expect convenience, quality and accessibility, bringing a whole new, enhanced station experience. These days, you can top up your weekly food shopping, check out the latest upmarket boutiques, pick up your 'click and collect', meet a friend for a drink, have a decent meal, and get your shoes repaired – all before catching a train, or just walking home for that matter! There has been a shift in the mindset of people using train stations, and while they were always very special buildings in any community, only recently have the operators started investing in the station environment to create a better retail experience, in turn changing the attitudes of both retailers and visitors alike.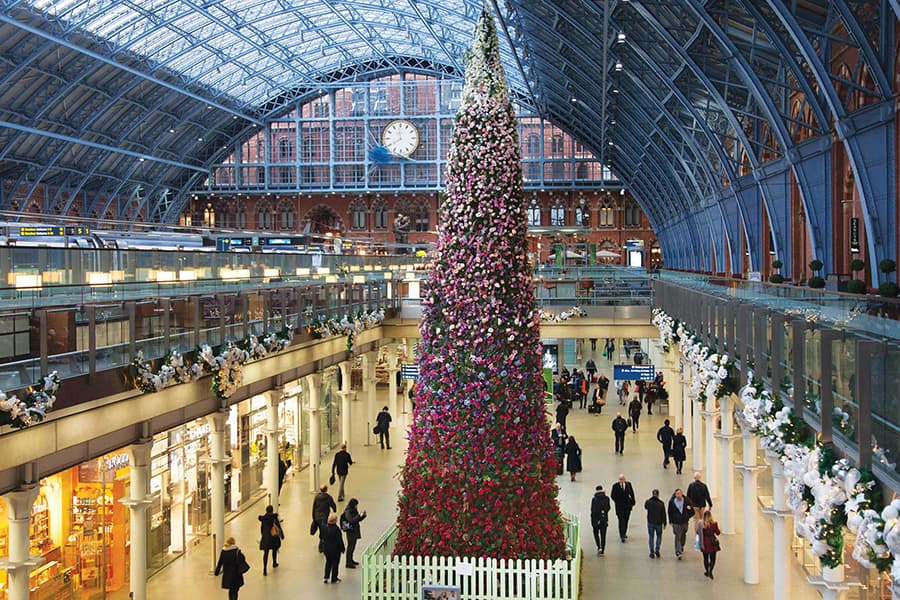 The evolution of station retail
A successful train station development can be transformative, argues Charles Pinchbeck, director at JLL, and instead of just being a place people pass through, it becomes a place that people enjoy spending time in, even when it's not their destination.
When England's St Pancras Station was renovated in 2007, it was intended to be "a station more about staying than leaving," says Ben Ruse of HS1, which owns the station. The station's shopping centre, hotel and restaurants, topped with Europe's longest Champagne Bar, have essentially formulated a 'mini-city' within a city and it works! As the recent UK Rail figures suggest, a quarter of people visiting railway stations come to eat, drink, shop and socialise rather than take a train, paving the way for more retail opportunities. High foot traffic means that station stores often do better than comparable spaces elsewhere and rents in major London stations are now similar to Oxford Circus. It's a prime location and brands want to get a foot in the door.
Hence, to attract people for different reasons throughout the day, the design focus is not only to streamline the flow of passengers as well as shoppers and diners, but also to curate a mix of retail and dining that is relevant to the people working and living in the area. At Birmingham New Street Station, for example, an overhaul led to the installation of a glass-topped atrium for an enhanced sense of space, allowing light to flood the bustling retail-lined atrium with a new 250,000 square foot John Lewis flagship, transforming a once-lacklustre terminal into a retail destination.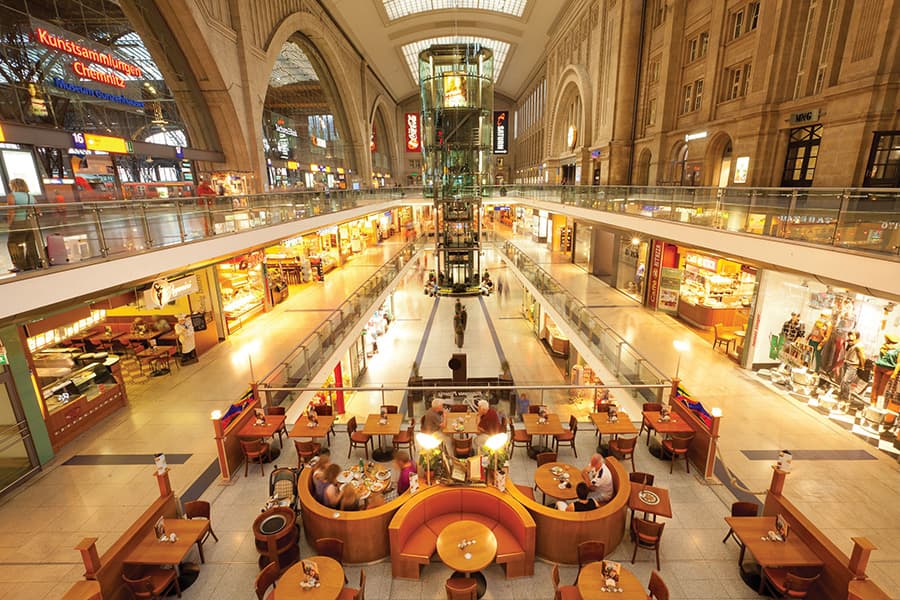 Meanwhile in Germany, as a European pilot project for the revitalisation of a listed major railway station, magnificent Leipzig Hauptbahnhof, technically the world's largest train station by floor area, now also houses the three-level Promenaden, the city's biggest shopping centre with almost 200 shops and an estimated 120,000 visitors every day, making it officially the most visited building in the state of Saxonia! Although Germany has strict laws regarding Sunday trading bans, Promenaden is exempt due to its location and Leipzigers actually go the Hauptbahnhof just to shop on Sundays. Whilst most major train stations have long been established locations for retail, thanks to their extremely high foot traffic, the properties were designed primarily to serve a transport function, with the shopping function as secondary, usually added on later. But the ratio has flipped. In the latest survey by the EHI Retail Institute, 48% of the lettable area in German train stations was devoted to gastronomy, followed by retail with 43%, with only 9% devoted to services.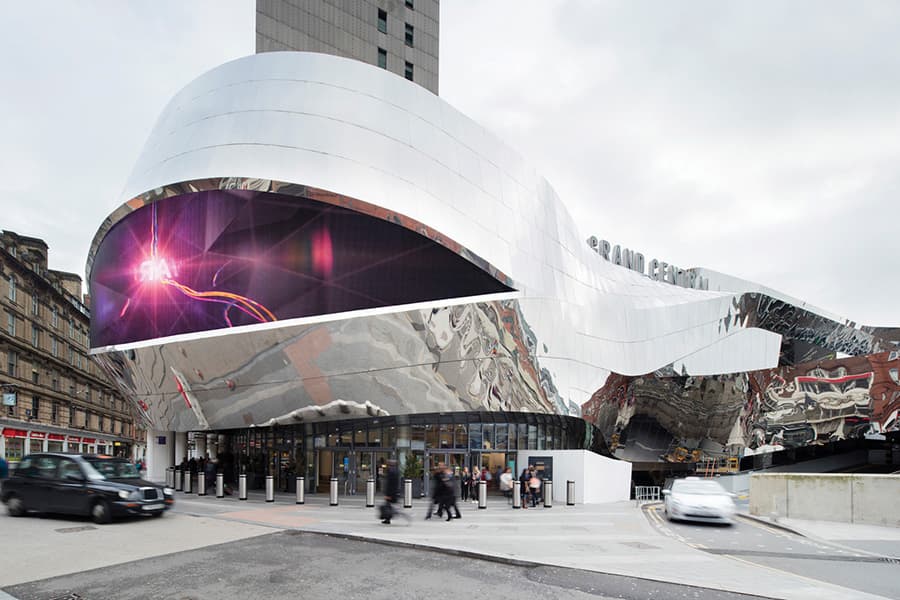 A world beneath your feet
From cinemas and babysitting services to standing sake bars and cafés specialising in popular vinegar drinks, Japanese stations have it all. Tokyo Station, often referred to as 'Tokyo Station City' because of its size and facilities, even devotes an entire wing to Ramen Street, home to some of the city's best ramen shops. With the busiest and the most efficient train system in the world, it's not surprising that Japan's stations are so much more than merely points of arrival and departure. Almost 20 years ago, Japan Rail (JR) launched 'Station Renaissance', a strategy aimed to lessen dependence on the railway business alone. Under the slogan "from a station of passing to a station of gathering", they broke away from the concept that railway stations were just places to pass through and stated that if an attractive shopping area was developed inside a station, people would gather in it with a sense of purpose.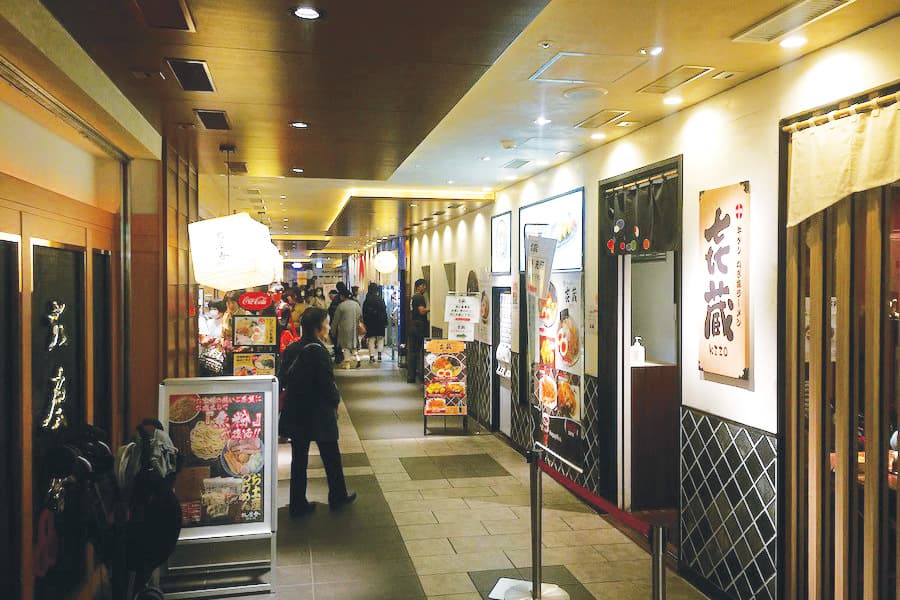 Based on this notion, ekinaka (literally "in the station"), a mall-type shopping centre within a ticket gate, was born. Once passengers get off the trains, they are already in the shopping mall and can enjoy eating, shopping or having a haircut without once having to step out of the ticket gates. Making the shopping experience even smoother, station concierge and JR apps both provide detailed information about station services and shoppers can also make all their payments with the tap of the same transit smart card that they use to board the trains.
Beyond transport
Across the UK, recently redeveloped major stations, such as King's Cross, Crossrail Place and London Bridge, are all evolving into lifestyle hubs as developers focus on improving facilities, maximising space and enhancing surrounding areas. And it's paying off! Retail revenue across UK Network Rail rose to nearly £750m last year, with King's Cross station alone increasing its total retail sales by 130% after its world-class makeover in time for the 2012 Olympics. The £550 million refurbishment is also credited for being a catalyst for wider regeneration of the area, attracting £2.2 billion investment into the 120-acre mixed-use King's Cross scheme. It's complete with luxury offices, retail spaces and residential units dotted with parks and playgrounds, all facilitating further job growth and economic development.
Crossrail Place is another recent mixed-use scheme encompassing the over-ground elements of a new station for the Crossrail project at Canary Wharf. The design by Foster and Partners is characterised by a tropical public park on the roof accessible from the ground level by connecting bridges and the shopping and leisure complex comprising of four levels of shops, cafés and amenities. The area around the station is designed to encourage people to use the new park and shops at the weekend – as well as during the week – creating a lively new community facility.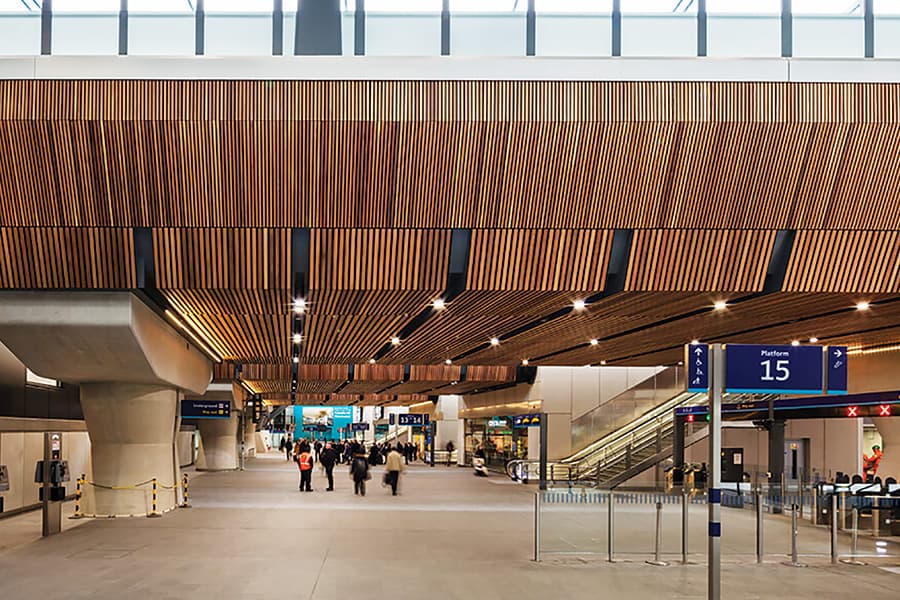 Finally, London Bridge Station, one of the most complex and ambitious station developments in the UK to date, reopened this year featuring a new concourse bigger than the pitch at Wembley Stadium and ten times more retail space than it had before redevelopment started in 2013. Where once there was a maze of exits and entrances, London Bridge Station is now all light and clarity with ample room for congregating, shopping and eating. There is also an impressive civic aspect to this previously dilapidated piece of infrastructure as it renegotiates the dialogue between the city and the station by bringing together two London neighbourhoods, which had spent 150 years completely isolated from each other, thanks to the huge Victorian viaduct that supports the raised tracks.
Monument for the Instagram age
However, some stations are not so much about the infrastructure. The new World Trade Center transit hub, designed by Santiago Calatrava, has been blasted by critics for its massive cost blowouts and lack of anything resembling a traditional train station – it has no maps, no benches, it also doesn't have a clock, or very many passengers. It is surrounded by a dozen other busier transit hubs, in effect, it is the 18th-busiest subway stop in New York. So the question on everyone's lips is, what is the primary purpose of this $4 billion unearthly winged structure? The answer is shopping!
If Grand Central is a train station with some shops, the Oculus, as it is known, is a shopping centre with some trains.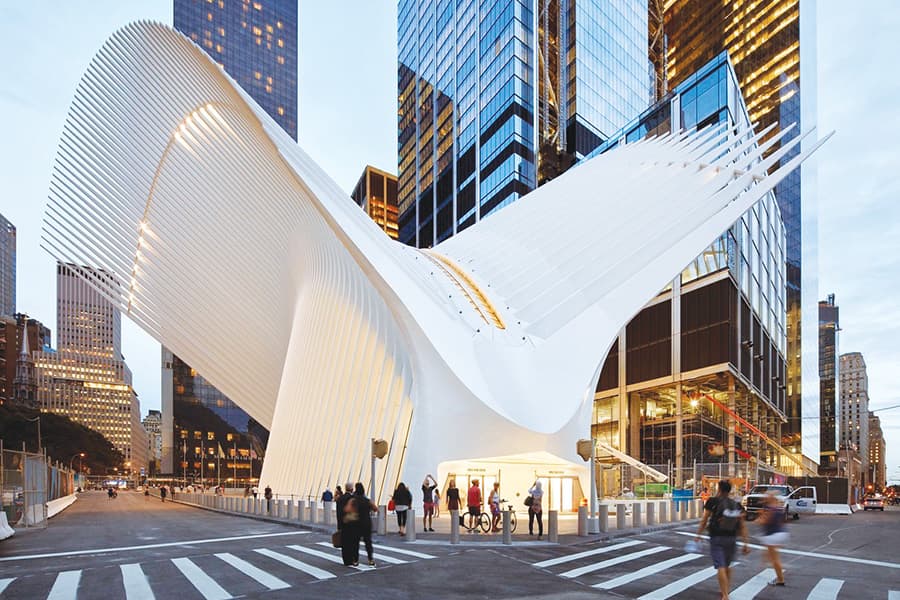 It is indeed a shrine to the commercial marketplace where shops, not trains, take a monumental space, but that doesn't destroy the impact of the architecture, or negate the fact that this is the first time in a half a century that New York City has built a truly sumptuous interior space for the benefit of the public, the type of ambitious open space that used to exemplify public transit in the US. Vanity Fair calls it "the exhilarating nave of a genuine people's cathedral". Featuring a vast ribbed structure full of light and movement, it is a glass room that soars, a true monument for the Instagram age, whose defenders insist that soon no one will remember that this is the most expensive train station ever.
Full steam ahead
A report by the consultancy firm Arcadis recently looked at 27 global transit hubs and gave them a Mobility Oriented Development (MODe) score. This benchmark takes into account how successful the station fits into its urban environment, social placemaking and sense of being a destination in its own right, connectivity and if it gives the surrounding area an economic boost. While no one station excelled in every area, New York Grand Central came closest, said Vernon Daal, from Arcadis. After being on the verge of being demolished at one point, Grand Central, one of the busiest stations in the US, had a major comeback 20 years ago, and today serves as both a railway station and a comprehensive shopping centre. Centrally located, the station is like a 'living room for New York', says Daal, and with its sculptural stone façade and a sumptuous baroque interior, it's very dramatic. However, this iconic station is also highly functional and – being full of shops and markets, including Grand Central Market, commercial spaces, residential and cultural attractions – it connects seamlessly with the city.
Most of the highly rated stations in the report include grand public spaces that create a sense of place, like the new Rotterdam Central Station for which the team of local architects developed a design that identifies the station as a safe and comfortable open public space, rather than a building. Its main feature, the striking roof structure, gives rise to the building's iconic character and the grand entrance serves as the gateway to the high-rise urban centre. The city is drawn to the new station and the entire railway zone becomes one with the city, demonstrating the role of infrastructure as the 'urban glue' that binds a city together. The result is a pleasant, open and transparent hub that has become a meeting place for passengers and Rotterdam's residents alike.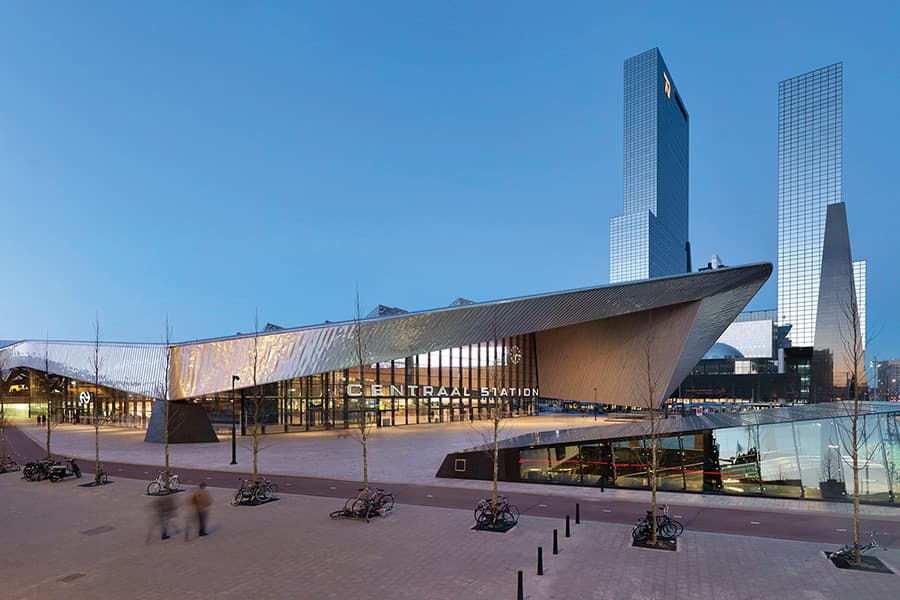 Not surprisingly, the Arcadis report also revealed that stations in Australia, at the bottom of the list, were lagging behind major global terminals and there is a long way to go to get them up the ranks. But, chances are that is about to change soon as, according to Urbis, with a growing population and a large number of infrastructure projects underway across Australia – most notably Sydney and Melbourne's metro expansions, including the $955 million redevelopment of Sydney's biggest station – there is no better time to leverage the space within, above and around transport hubs.