Nothing accelerates innovation as fast as a significant necessity. As an industry and sector, we are currently working our way through and out of a once-in-a-lifetime event and must innovate effectively for the long term. A lot of commentary has been made about how long and how deep the effective impacts of COVID-19 will be, and nobody truly knows.
In the pandemic aftermath, shopping centres have a monumental task ahead to reposition and support retail to navigate this unparalleled climb out of this sharp bricks-and-mortar decline, with Victoria being the last out of the starting blocks. Arguably, suburban centres may have been afforded a head-start, compared to CBD retail, as virus restrictions forced short-term changes to our behaviour, and encouraged the general populous to stay local. Without CBD workplaces back up and running, customers are generally absent within city centres.
Industry bodies, (such as the Property Council of Australia's Retail Committees), recognise the challenges facing CBD retail due to public apprehension to fully re-engage with public transport and, once again, move freely through tightly organised city grids.
It is quite ironic that our beautiful city grids – once celebrated for their eclectic qualities, intrigue and draw – are now subject to density and social distancing scrutiny. They are all considerations that seem to be keeping the suburban mass at bay, for now, and will likely fall away over time.
There is no question that our CBDs are a vital part of our society, but they are hurting. Unfortunately, we don't see a silver-bullet solution at present, other than to continue to lobby local government to support CBD retail through safe, planned events; encouraging different modes of transport to supplement public transport; or, bringing activities into the public realm (such as dining and other retail experiences) to support these retailers and CBD shopping centres. Once confidence rebounds – in parallel with a firmer public health position – we will see our CBD retail centres return more fully.
However, when looking more broadly at how our recent CBD-fringe and suburban customer behaviours have adapted in the short term, shopping more 'local', we might be witnessing a significant opportunity to engage, re-energise and revolutionise our shopping centre stock in these markets. Out with the old, in with the sensible and sustainable. Sure, it may not solve the holes and gaps left by exiting tenants. Still, it does allow us to address a few key fundamentals for sustainable retail environments such as customer experience, public realm enhancement and a celebration of place.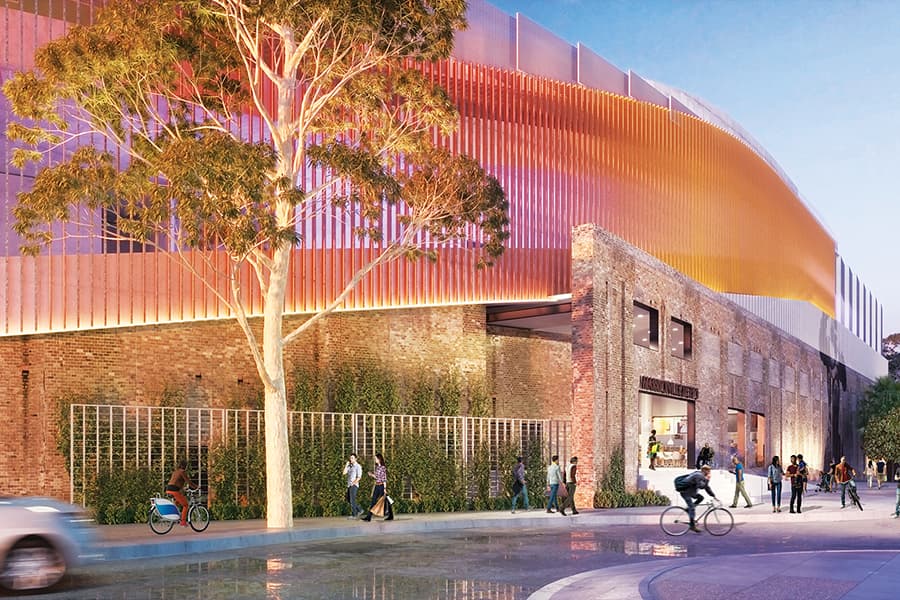 We have seen several centres do experiential makeovers during recent times, mainly to stay relevant in the marketplace and ahead of their competition. Some retail assets have done exemplar work and set excellent benchmarks where others erred on the side of caution by holding back refurbishments. In fact, some of the larger landlords used the various Stage 3 and 4 pandemic lockdowns to fast-track refurbishments for their centres.
It is unfortunate that not every owner has the capacity to support a repositioning strategy, especially with the recent impact to bricks-and-mortar fashion retail, department store downscaling and discretionary offers taking a big hit. Regardless of the appetite, demand, or ability to enact change, one thing is certain; the acceleration of change has never been greater for retail assets. Having said this, it's not about the multi-million-dollar investments either – as we continue to see successful low-intervention adaptations and light-touch repositioning projects bring about surprising results.
Impact can be achieved in often small, but crucial moves such as; the celebration of important thresholds, creating new intimate nodes that never existed before, carefully re-skinning a dated entry statement, taking back redundant car park spaces to re-use for customer respite opportunities or a temporary retail moment.
In Mt Hawthorn, WA, for instance, Hames Sharley managed to close-off an existing internal main-street within an existing retail asset and turned it into the communities' 'back yard' by designing a cost-effective landscape and invited the community in! This re-imagined space that was previously a convenient car-dominated space, now boasts family-focused dining, casual seating and respite, with the ability to transform into weekend markets.
We have little room for complacency and should act in honesty so that we can fully embrace our local communities and keep them engaged for the long haul. Great examples of re-imagined spaces within existing built forms are often found in adaptive re-use projects where existing structures, established infrastructure, heritage constraints and memory of place often set the parameters, limit intervention and demand the creative reinterpretation of spaces. Generally, Australia has a good stock of quality retail assets, relatively well-maintained, clean and polished, but they're stuck in a safe, vanilla, time-capsule. We can draw parallels between retail assets and post-industrial adaptive-reuse typologies; retain the expensive infrastructure, built-form, and shell, but convert the internal spaces carefully into something surprising, delightful and engaging.
Suburban centres are likely to lead the charge in the short-term and enact incremental place-augmenting changes to local destinations. I look forward to seeing many innovative adaptations as centres jostle to retain captive market share. Examples around the world, mainly in adaptive re-use projects: Chelsea Markets in New York, The Source in Denver's Rino neighbourhood, The Power Plant in the Baltimore Inner Harbor.
This article by Harold Perks, Director at Hames Sharley, was first published in Shopping Centre News Vol 38, Number 5, 2020