The future of bricks-and-mortar retail? Brave soul who would forecast it. That doesn't mean it's under threat; it's not. But it needs to and it will change – dramatically. Susanne Pini looks at some of the latest innovations; three of them that offer future alternatives.
Contrary to all the talk of a "retail apocalypse", it's becoming clear that physical retail isn't dead, it's just a question of what's next. So in an era when the coolest brands are starting online and discovery happens on Instagram, is a physical space for digitally native brands the future of retail?
In other words, is the future of retail in-store or online? The answer is both. It's true that people are embracing technology and exploring new brands virtually and if they purely want to buy something they will go online, however, inevitably we also still crave the basic human interaction and genuine social connections we can only experience in real life. What is more, today's consumers have different needs and expectations that go beyond traditional shopping – they don't just buy products, they buy stories, they buy missions and they are increasingly drawn to physical spaces where they can engage with brands and their products in a more meaningful way.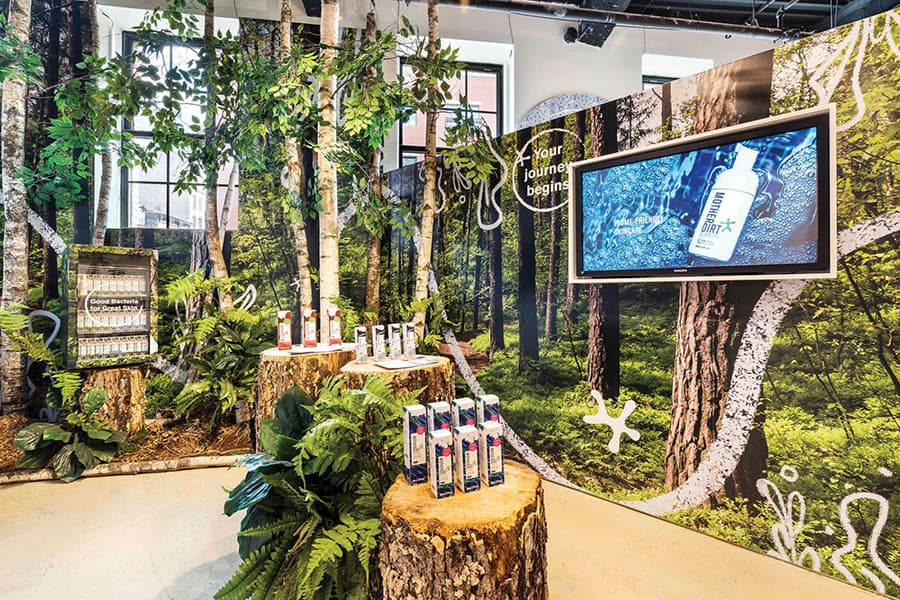 From 'the age of creators' to 'the age of curators'
Self-described as "the most interesting store in the world", Showfields is a new retail concept from New York already disrupting the retail industry as it is designed to bridge the gap between discovery and physical experience.
Part retail, part art exhibition and part curated community space, the four-level startup is reflective of a new retail model that makes it easy for independent and predominantly digital brands to interact with customers in a dedicated space without the risks that come with opening a stand-alone store.
At a time when other retailers regularly complain about 'showrooming', where people browse the stores but end up ordering online, Showfields wants you to do exactly that – showrooming is encouraged because the brands are the showrooms!
Within this concept, the temporary branded mini 'showrooms' are offering clever experiential and highly Instagrammable moments, along with interactive displays where shoppers are guided through the brand and its full range of products.
Australian beauty brand, Frank Body, for example, has a sink station where customers can test the brand's signature scrubs. Dental care start-up Quip's space features a bathroom vanity, complete with toothpaste, where customers can try out high-tech toothbrushes.
Personalised hair care company Function of Beauty incorporated a bathtub into its Showfields booth, and filled it with pink 'bubbles' to serve as a photo opportunity for passersby. Or you can just snuggle up under Gravity a Blanket (yes, it's a thing) while lying on a bed staring up at hanging puffy cotton clouds… Each showroom is equipped with a kiosk where consumers can then jump online and order the product, or for those who can't wait, there's a more traditional store at the end of the experience where customers can shop the products they've just tried out.
Since little to no inventory is stocked, space is not an issue – it is about curating a unique experience. The House of Showfields is the store's newest installation, a 30-minute immersive theatrical production where real actors (not sales people) are playing characters who tell the stories of the brands featured and allow customers to interact with products. To enter this 'retail theatre', instead of going through the door, you emerge from the black and white striped slide into the midst of a faux forest, down the rabbit hole… only to surface in an entirely different world made up of a full-on house stage set! "It is the first time that theatre, content and commerce have merged into one immersive experience," the owners explained in a recent Forbes interview. It's figuring out how your brand smells, how your brand looks, how your brand sounds and "the minute you go down the slide, you become an explorer where all the senses are engaged". This is an entirely new way of selling – an extreme, but logical step to the next level of experiential retail.
The intriguing layout, kind of like a Barbie-Dreamhouse-meets-shopping-mall, is full of eye-popping displays with a retail tie-in as well as pieces of visual art that's not for sale. There are bathrooms, studies, libraries, all created by different designers and built around products, providing the backdrop to bring the story to life. The 'study' has a wall full of artist designed digital frames and you can change the images by swiping your hand in front of each frame. The house's bathroom has stuffed a pink plush leg into the toilet and covered the walls in large protruding octopus-like tentacles that are supposed to resemble water droplets. The installation serves as a backdrop to the skincare product, which the room was designed to showcase. At the end of the hall, you find yourself in the middle of what seems like a regular sitting room that advertises Book of the Month, a book subscription program that connects readers with emerging authors.
By curating products for young, digitally savvy professionals, the startup is hoping to make it easier for customers to discover brands and products while helping small companies to interact directly with their consumers.
Those who have experienced it first-hand, describe it less like a sales pitch and more like a way to discover things that you might want to use in your life. Nevertheless, the opportunity to see, touch, feel and try out products is an invaluable part of getting a potential customer to make the purchase. Whether or not they realise they are being sold to, sales figures show, it works.
The pop-up concept, of course, isn't anything particularly novel, however, Showfields is taking the shopping experience to a new dimension. In exchange for a reasonable fee, Showfields manages the entire retail process for the brands and also provides each company with data on how well its products are doing by using heat maps that reveal what people are gravitating towards.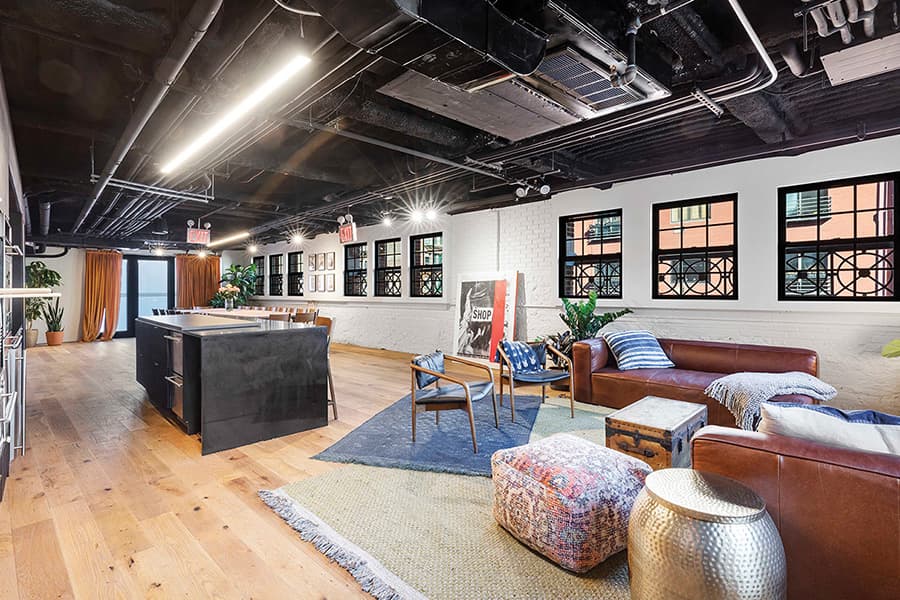 Showfields even opened a free co-working space with its adjacent rooftop garden and event space as part of its strategy to create a 'community' around a new kind of bricks-and-mortar shopping venue.
Whether the novelty of Showfields will wear off remains to be seen, but compared to the often dull experience of browsing through products in a normal store, 'retail theatre' with striped slides and costumed actors might just be the next best thing to make shopping fun again.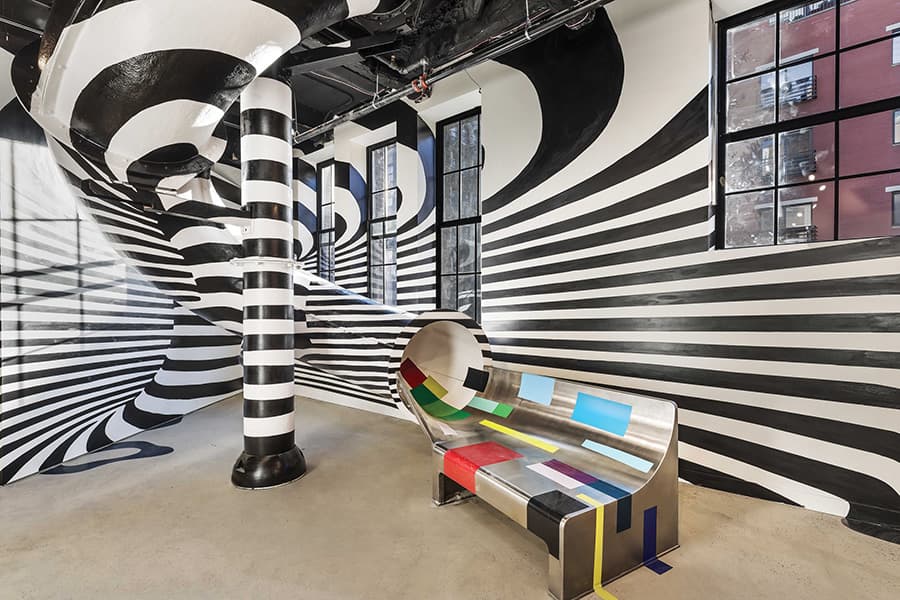 Department store with a story
Another rapidly-expanding US pop-up department store concept is Neighborhood Goods, based in Plano, Texas. Billed both as a "department store with a story" and "department store of the future", Neighborhood Goods takes the basic model of a traditional department store but makes it much cooler.
The concept feels at once both familiar and completely new. The store rents out space to a number of digitally native and some more established, often local brands, to appeal to an audience anticipating their next discovery – no matter where it comes from.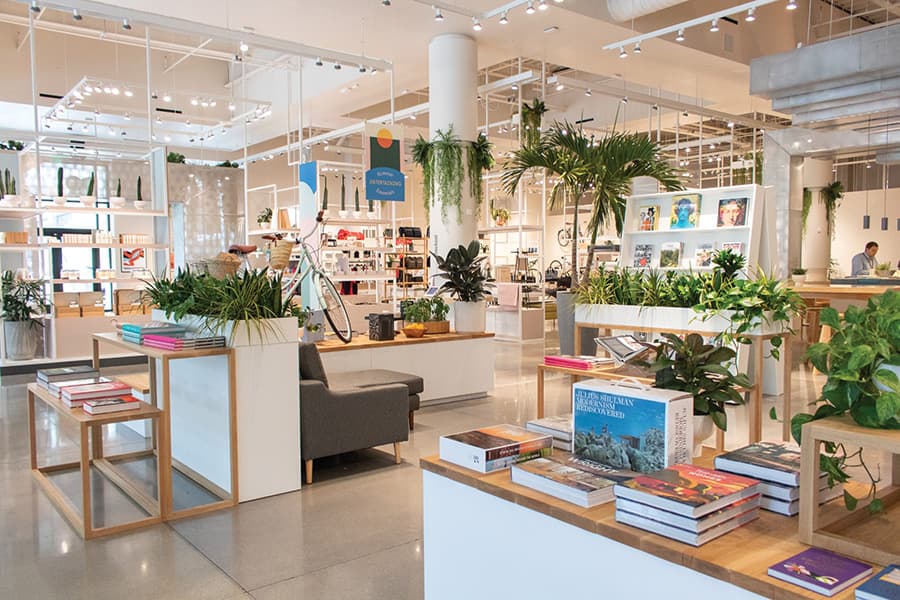 Like a traditional department store, Neighborhood Goods is responsible for the staffing and facilitation of the space but, unlike traditional stores, there are no long-term leases or contracts as the curated brands on display regularly rotate, giving visitors an in-built reason to come back.
The focus, undeniably, is on experience and brand activations or, as the store owner puts it, Neighborhood Goods aims to "be the bone structure of brand presentation". It's sort of a more cohesive, modern version of a pop-up where each activation features exciting technology and top-notch design.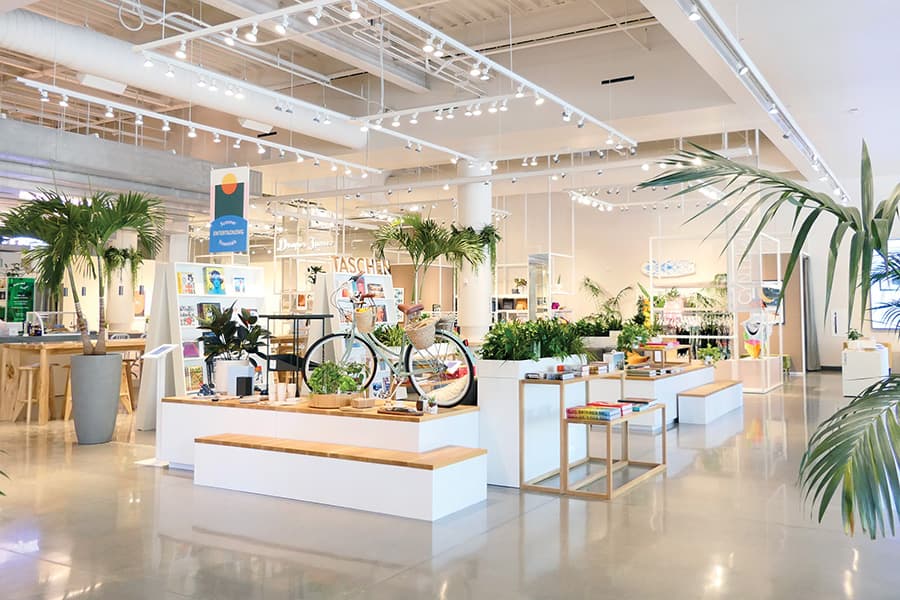 The location comes with its own popular bar and restaurant and has a communal space with dedicated food, drink and event programming. The restaurant is designed to be integrated into the shopping experience, hence you can browse around with a glass of wine or use the app to shop and then, like tracking an Uber, you can watch as your purchase makes its way to you in the hands of a sales assistant who knows exactly where to find you.
The store features some other innovative tech components such as advanced cameras that track shoppers' movements, how long they linger at each display and an app that will send them personalised offers based on items they browsed but didn't buy. The raw data is collected and provided to the brands, helping them not only in sales but assisting even more in informing their broader strategy and testing new products and ideas.
According to its website, Neighborhood Goods is a community, bringing thoughtful people together to shop, eat and learn in the vibrant physical spaces.
Even the word 'Neighborhood' in the name intentionally reflects the promise that the company is trying to make: to be local, present and relevant. Overall, Neighborhood Goods is an intriguing take on trying to get the next era of bricks-and-mortar retailing right. Its mix of exciting brands, low-pressure shopping environment and immersive experiences is certainly the step towards the "department store of the future", whereby the physical and digital customer experiences are aligned.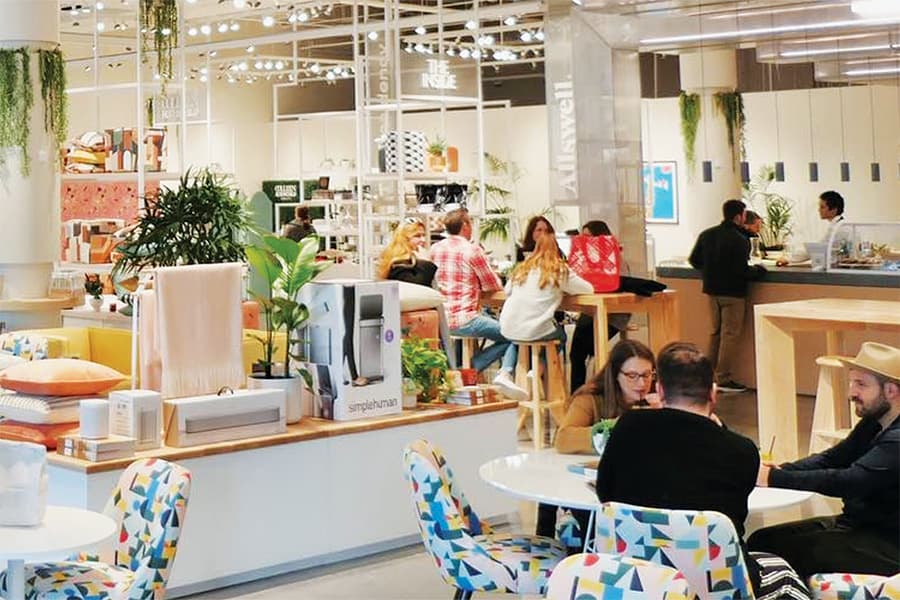 WeWork of retail
Marketed as the "WeWork of retail", San Francisco-based retail store and collaboration hub Re:store aims to help online-only brands secure both co-working space and their first physical storefront. The concept, as described by its founder, takes inspiration from Instagram's discovery method, and translates it into a tangible and immersive experience that brings niche brands and their creators closer to their followers in a physical space.
Partnering with a team of expert curators, Re:store hand-picked a number of cool millennial-targeting lifestyle, fashion, beauty and home labels together under one roof. Instead of a traditional wholesale model, brands pay minimal fees for a presence on the immersive, experiential and very Instagrammable retail floor.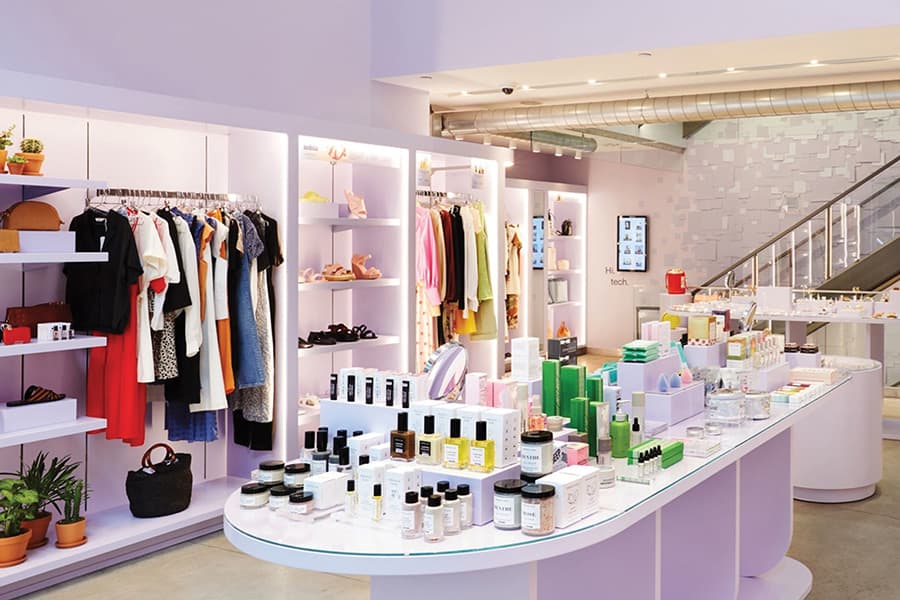 By intent, Re:store isn't for the passive shopper. Spanning three levels, the store is designed as a community space where consumers can interact personally with brand leaders through services such as "feminist-focused Lacquerbar manicure pop-in, or entrepreneurial creativity installations like the Living Wall" – a fashionable take on a Post-it ideation process. There is a seamless connection between a digital mindset and analogue world. Each brand gets its own space to ensure shoppers are able to connect with and learn about them, both via Re:store's sales associates and through technology touchpoints located throughout the store. Oversized iPads are placed on the walls where customers can click on each brand, learn their story, read or post reviews, sign up for mailing lists and, of course, order products online.
Re:store differs with the commission structure, inventory services and particularly the co-working structure. On site, there's a community workspace offering fledgling entrepreneurs a place to work and interact with customers in a highly sought after locale that they wouldn't be able to afford otherwise.
By doing so, Re:store aims to foster community-based innovation and change not just how we shop, but also how we engage with brands, ideas and the people inspiring them.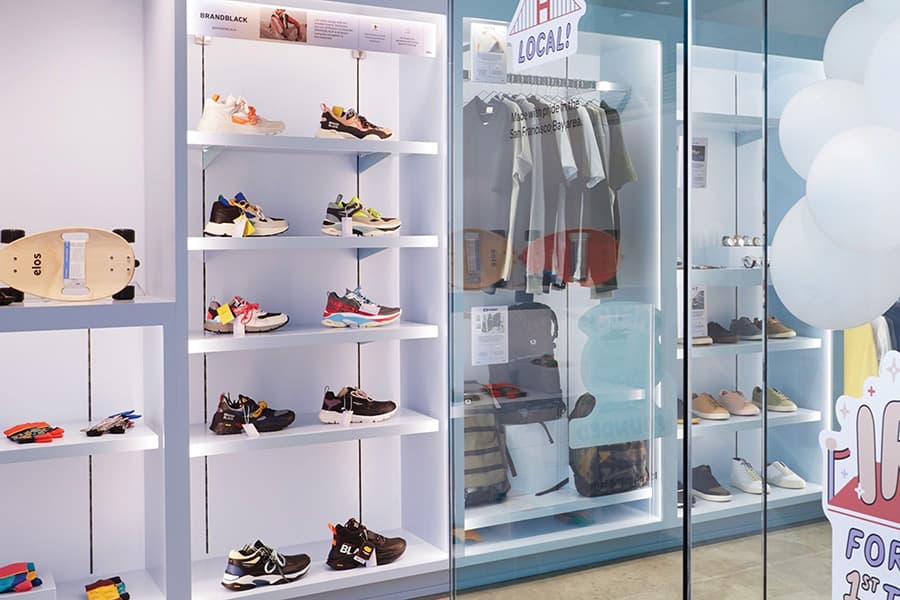 It is still too early to say if this kind of physical store, based on sharing economy principles, will become the 'new normal'. Then again, in an industry that is changing so rapidly, the concept of normal doesn't really exist anymore and the business model – which allows digital startups to rent space in the store the way office workers can in a WeWork or travellers do via Airbnb – just might be a game changer that could potentially disrupt bricks-and-mortar retail as we know it.