As we become more socially responsible and more caring about our environment, the practice of knocking down buildings in order to re-develop, lessens. Increasingly, unused buildings are being adapted for new uses.
In the age of recycling and social responsibility it stands to reason that great value can be attained through re-purposing the past and creating something new from something old. In many instances, with respect to buildings, it is often easier and cheaper to rebuild from new. There is, however, a certain allure of immersing yourself in the history and tradition of an original environment. 
Adaptive reuse, or the process of re-purposing buildings that have outlived their original purpose, can lead to the creation of truly magnificent and unique spaces. A closed school or church can become apartments. An old factory may become a museum. A disused tram shed becomes a retail space. Apart from protecting heritage, the practice of adaptive reuse can also benefit the environment by conserving resources and reducing new materials. Some seasoned building materials are no longer available in today's world. The process of adaptive reuse is inherently a green one, but most important is the retention of culture, history and memory.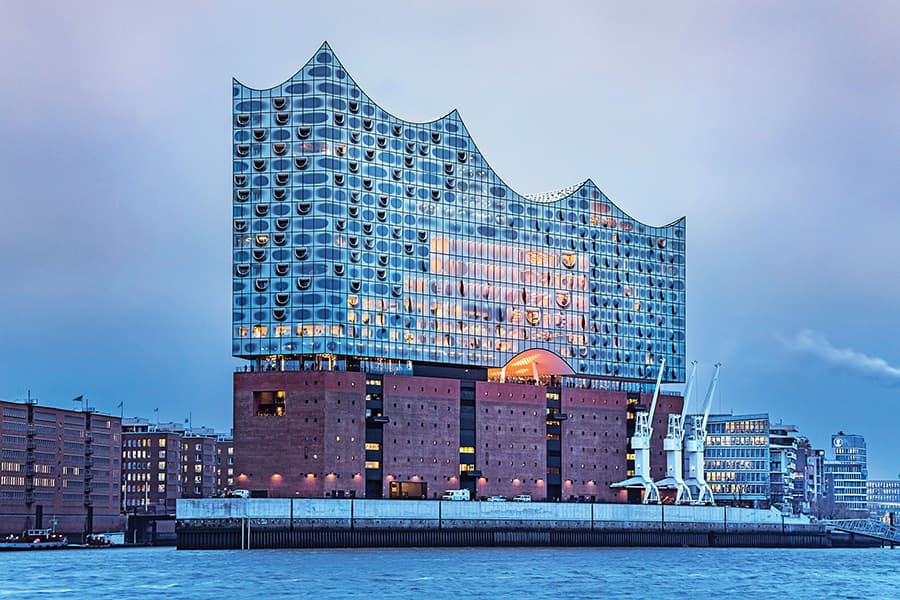 Around the globe are many breathtaking examples of successful adaptive reuse projects ranging from Zaha Hadid's Antwerp Port House in Belgium; the Mout Food Hall, Hilversum, The Netherlands, which was once an old car factory; or Herzog & de Meuron's Hamburg concert hall rejuvenated from an old cocoa factory.
Sung Lee, Director of M. Moser Associates argues, "The benefits of adaptive reuse are binary. First, preserving some or all of a building's existing structure reduces the large consumption of energy required to demolish and replace an old site with new materials. In parallel, this sustainable approach to design also make business sense. Re-purposing an old historic structure into a modern, healthy space helps to create a memorable experience. This results in a unique corporate identity that sets the organisation apart."
Re-purposing architecture and spaces presents exceptional opportunities. Bikini Berlin is a prime example. Originally built in 1957, the "Zentrum am Zoo" (Centre at the Zoo), is a lasting symbol of the Berlin City West cityscape. By the end of the 1960s more than 60 fashion companies had moved into the building and 'Bikinihaus' was born (the name Bikini Berlin reflects the original output of the production of ladies' outerwear and the 'two-piece' form of the architecture). Once the Berlin Wall was erected the building fell into a long slumber until 2014.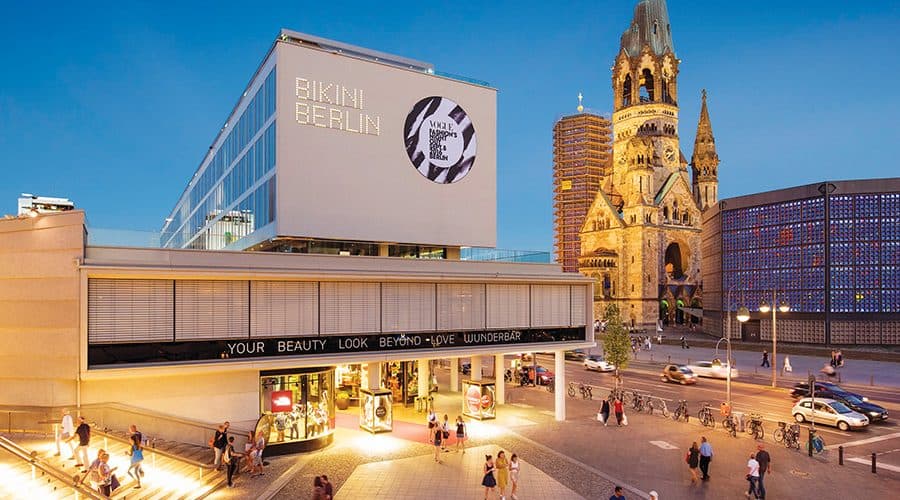 The basic concept of the revitalised and heritage listed Bikini Berlin includes a combination of shopping, gastronomy, workspaces, cinema, leisure, recreation and the 25Hours Hotel operated by Accor. The retail concept is fluid, offering a mix of permanent tenancies, pop-up boxes, showrooms, events and exhibitions. Continuously differentiating itself from regular shopping centres, the main mall reveals a carefully curated and coordinated ensemble of fashion and dining. The concept shopping mall provides opportunity for well-known brands to launch new products and aspiring young designers to present their creations to the public for the first time. The retail mix is kept fresh and vibrant.
Today, the partly redeveloped, partly reconstructed architecture reflects a post-war modernism and new functional urbanity. Merging the past with the future, Bikini Berlin is LEED certified and setting new benchmarks in ecologically efficient building design.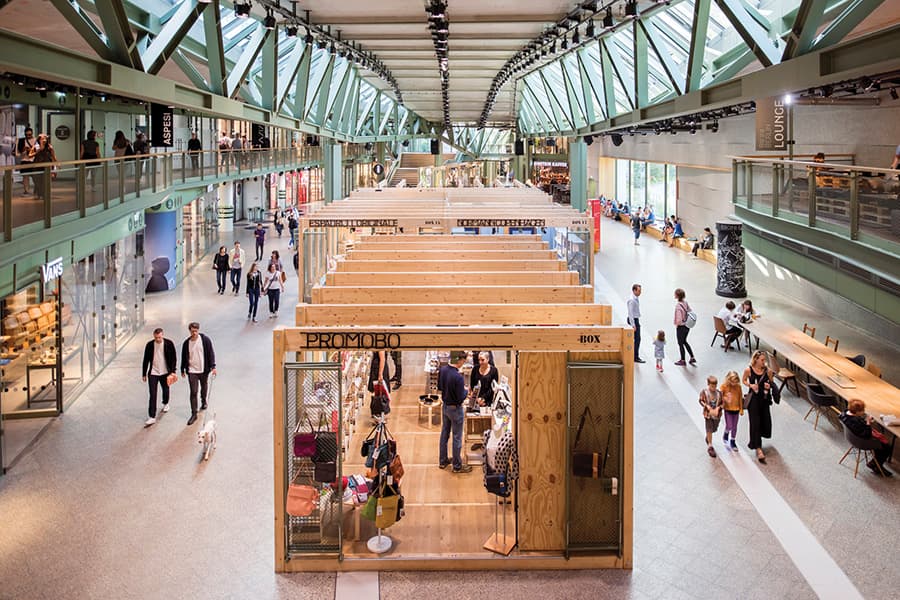 In Zurich West you can find 'Viaduktstrasse', a 500 metre-long strip of creative, design and food heaven. Noted as one of the five happy places in Zurich (happinessaroundtheglobe.com) Im Viadukt is full of energy and entrepreneurship with 46 fashion concept stores, restaurants and studios. Originally built in the 1890s, the stone viaduct once housed more than 200 stonemasons who first conducted their trade from the site. Zurich's first indoor market, Markthalle, is located here. 
The concept created by PWG Foundation was to preserve and create affordable commercial space in the heart of Zurich and populate the development with tenants who were compatible with the district and rooted within the region. It is here that value resides. Locals and visitors alike are seeking authenticity, uniqueness and connectedness.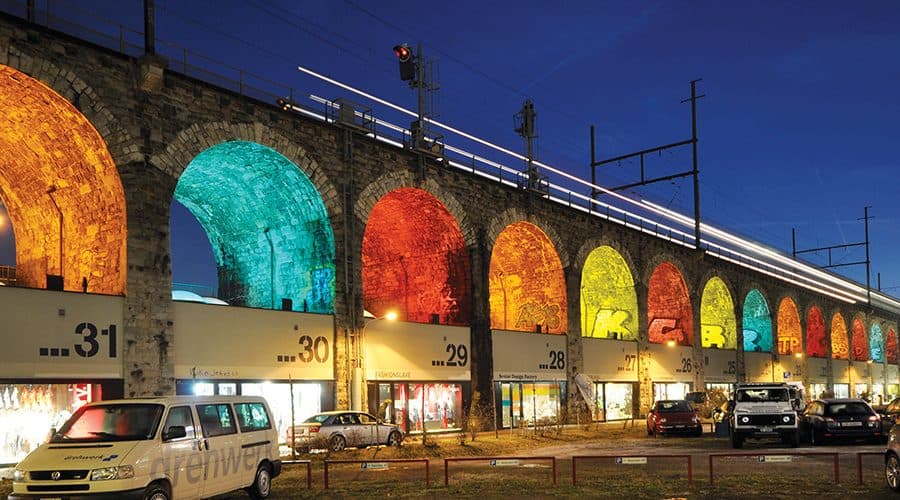 The best retail experiences are found at places where social connections can be made and in environments that evoke a vibrant town centre atmosphere.
Transforming non-retail spaces and creating new vibrant retail destinations is but one side of the equation. Adaptive reuse is also happening to transform underperforming or low-yield existing retail spaces for alternate use. Coresight Research calculates that more than 9,300 retail stores shut down in the US in 2019. That's up 60% from the 5,800 stores the firm tracked in 2018. It should be acknowledged that the retail scene in the US is very different from Australia and retail closures in Australia are very much countered by positive stories such as JB Hi-Fi. Adaptive reuse of retail space is one way to leverage vacant space and retail profitability amid market pressure. For example, some retail closures are making a comeback as eCommerce distribution centres in addition to bricks-and-mortar operations. 
There are some compelling reasons to think creatively about adaptive reuse of retail space. According to Investor Management Services, adaptive reuse can be 16% cheaper than new construction and take 18% less time. Converting retail to distribution helps reduce freight costs and delivery times for retailers. Consumer demand increases with shorter shipping times and can be an attractive option for companies looking to enhance their online sales.
A key element of successful adaptive reuse is the creation of new retail and lifestyle occasions for visitors and users. This includes well-designed and safe pedestrianised spaces, sensory experiences, a diverse palette of F&B options, accessibility and the flexibility to cater for different times of the day or night. Not only Millennials and Gen-Z are looking for the perfect backdrop or experience for their next social media post. Environments need to be walkable, accessible and connected. 
A great example of reuse of existing retail spaces is the re-purposing of floorspace in Vicinity's Emporium with Myer's shrinking footprint providing the opportunity for Vicinity to present a new co-working hub in the Melbourne CBD. Similarly, with the departure of Topman – Topshop, Emporium will see the creation of Australia's largest video gaming arena, Fortress Melbourne. Spread across two floors in the heart of Melbourne CBD, the development will welcome diverse groups from the entire spectrum of the gaming community, boasting a 200-seat purpose-built esports arena, more than 160 gaming PCs, console gaming suites, dedicated streamer pods, role playing and tabletop game play area, function rooms, a full-service restaurant and two bars all under one roof.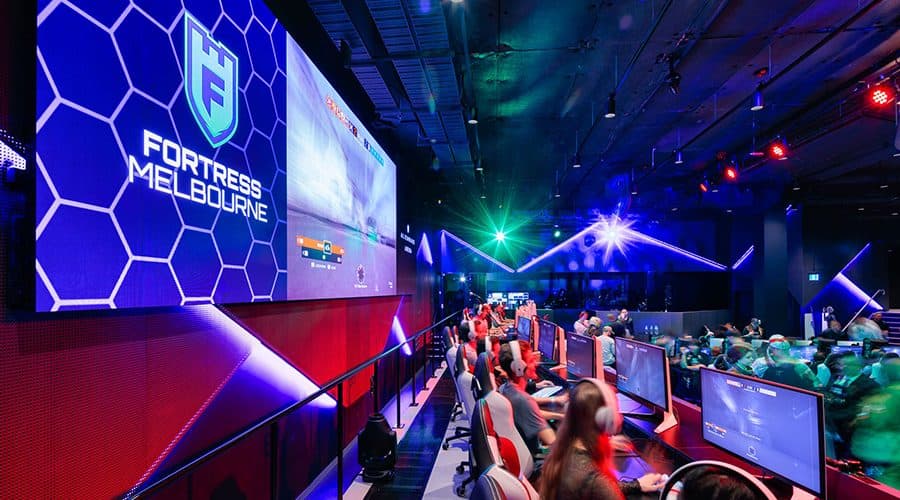 Locality and quality is on top of the agenda for property developments and consumers alike. It's not just about retail. Increasingly attractive spaces share civic uses beyond shopping. This is a keystone of the continual development of Mirvac's South Everleigh precinct in Sydney. Initiated in 2016, the vision for South Everleigh is to create a vibrant new precinct that combines work, retail and community through large-scale public domain improvements that embraces public art, immersive experiences and hire spaces. Key to the development strategy is to direct how the heritage of the site and its invaluable physical artefacts, such as the existing blacksmith operation, inform and shape the site's transformation. 
Community engagement initiatives for the new development include a community liaison group and heritage volunteer and community grants programs. The revitalisation plan for South Everleigh will carefully consider the iconic Locomotive Workshop and deliver a unique cultural and innovation hub for Sydney, preserving, celebrating and making accessible this rich history for everyone to enjoy. 
South Everleigh also features Mirvac's co-working space brand Hoist, that was launched in Ultimo and sits inside a beautifully renovated heritage building. Hoist is all about connectivity, innovation and community. At South Everleigh, Hoist will actively engage with the community, from local and small businesses to universities. 
Through a process of adaptive reuse, developers can transform communities and provide thriving lifestyle, entertainment and retail destinations, designed to create new, diverse and multi-layered experiences.