In the past few years, Revelop has sparked the industry's interest by acquiring some prominent centres such as Stanhope Village, Tramsheds and Forestway to name but a few. But the company this year celebrates its 15th year in business and its growth has been nothing short of phenomenal. Charbel Hazzouri and Anthony El-Hazouri started Revelop when they were students in their early twenties. In 15 years', they've built the company into a retail property tour-de-force. It's a compelling story of astuteness, tenacity and personal growth!

One of the reasons many of us love the industry we work in, is its diversity. The shopping centre industry is diverse in so many ways; Chadstone's atmosphere, presentation, precincts, decor and even tenant mix, are all very different to that of say, Westfield Miranda, yet they're both Big Gun centres. And, of course, Big Guns are very different to neighbourhood centres, which in turn are markedly different to CBD Guns or even Little Guns! Yet the diversity doesn't just confine itself to the physical or aesthetic aspects of the centre but also extends to other areas, not the least of which is 'ownership'.
These days, few Australian shopping centres are owned by private companies; they are held by major listed corporations, sovereign wealth funds, private equity organisations, funds management outfits and so on – again diversity features; however, at the extreme point of the ownership pendulum swing, sits 'Revelop', and a look at this company reveals a truly remarkable story!
Charbel Hazzouri and Anthony El-Hazouri, cousins, living in Sydney, had always been exposed to property; Anthony's father was a building engineer and Charbel's had always dabbled in property. After high school, it seemed an obvious route, so they both enrolled in Property Economics courses at UTS. During their first year, one of their friends sought help for his father who was constructing a house; the cousins got involved and soon after the building's completion, placed their collected 'fees' into the foundation of 'Revelop'. They optioned their first property, a residential home, in 2008 – during the depths of the GFC – redeveloping it into four townhouses; they had both just turned 20 years of age and were still at university!
In 2010, the young men acquired a property in Castle Hill from the Anglican Church, which was approved for a child care centre. SEPP (State Environmental Planning Policy) had just launched an 'Affordable Housing' scheme and Revelop succeeded in obtaining Development Approval for the property for apartments conforming to the scheme. In a quick turnaround, they sold the property to the neighbouring Anglican Retirement Village, delivering Revelop a handsome profit.
Revelop grew and grew over the coming years with a portfolio comprising affordable housing, apartments, boarding houses, child care centres and strip shops. However, in 2017, while the principals were still in their twenties, the company came into contact with Charter Hall through the purchase of a free-standing Woolworths at Rosehill. For those of us in our industry, this is where the story gets really interesting.
In November 2017, Charter Hall placed Renmark Square on the market; and Revelop purchased its first shopping centre for $24 million.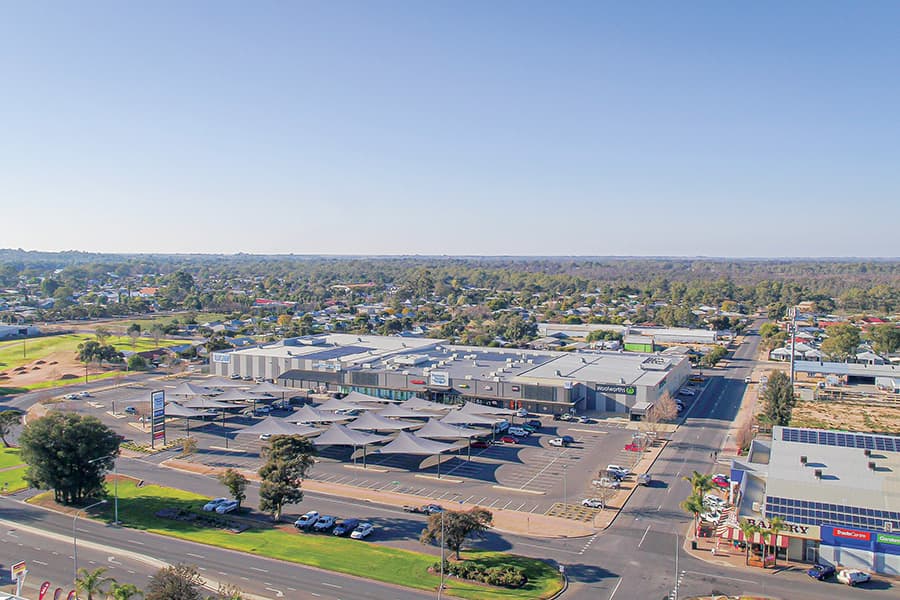 Renmark Square, a sub-regional in Renmark, a town some 254 miles north-east of Adelaide, close to SA's border with both NSW and Victoria, was anchored by a Woolworths supermarket and a Big W as well as 25 specialties. Renmark Square was viewed by the locals with somewhat mixed emotions: would it see the demise of the main shopping strip? Would it have an adverse impact on some small businesses? How would it affect certain commercial property prices? The new purchasers, however, were very much 'hands-on' – this was no 'major capital city, institutional, absentee owner'. Prior to purchasing the asset, neither Charbel or Anthony had ever been to South Australia; now they were there every week; they were highly visible, seen as committed, involved. In a short time, they had established solid relationships with the local council, the business owners on the shopping strip and with the community itself. They hired a local centre manager and began positioning the centre as a community asset and, as such, a significant factor in the town's expansion.
The two young men did almost everything themselves; they leased vacancies, installed management systems, directed the marketing, hired local trades for operational issues; in short, they ran everything.
Within two years, Renmark Square was not only 'vacancy free', but also had a waiting list of tenants, many of whom were shop owners from the main retail strip. In less than two years, Revelop had doubled the value of the centre. They now had a taste for shopping centres!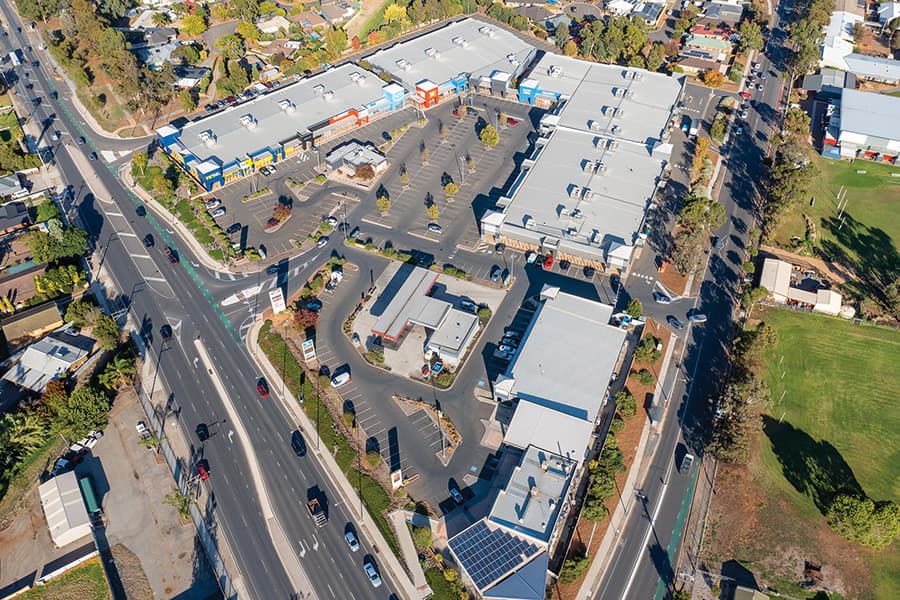 Over the next three to four years, they acquired several more retail properties – small centres as well as free standing supermarkets. There was Gawler Park Village, a 'Large Format' retail centre north of Adelaide; Lidcombe Shopping Centre in 2018, followed by Melbourne's St Kilda Woolworths and in Sydney the Woolworths tenanted buildings in Turramurra and Gladesville. And then came Forestway Shopping Centre in Sydney's Frenchs Forest anchored by Woolworths and ALDI. The 'taste' had refined; classic acquisitions like Stanhope Village and the Mirvac developed Tramsheds would come later.
Move forward to the present time; the principals of Revelop are closing in on their mid-thirties and it's still a totally private company; yet the extent of the shopping centre portfolio, its rate of acquisition and development pipeline, belies the reality.
Revelop now owns (all properties including retail) a GLA of some 500,000m2, has more than 1,800 tenants spread across 80 odd properties with a development pipeline in excess of $1 billion! Of that holding, retail has become the largest sector. Revelop today owns some 26 shopping centres (see box below) and to gain an insight into the sheer dynamism of this company, one just has to see Revelop's announcements and achievements of the past 12 months.
In July 2022, The City of Adelaide Council granted planning consent for the $25 million significant upgrade of City Cross Centre in Adelaide's Rundle Mall. Revelop acquired City Cross in 2021 in the midst of the COVID-19 pandemic. It was a run-down, somewhat neglected centre with very little customer traffic. Internal work began immediately with new tenants including Soul Origin, Vans and Sheik with other existing tenants such as Archer and Holland, Balfours and Boost Juice refurbishing or expanding.
Also in July 2022, Revelop completed Stage 1 of the upgrade of Forestway Shopping Centre in French's Forest, Sydney. Stage 1 tenants included ALDI, Charlies, Commonwealth Bank, Guzman Y Gomez and Vintage Cellars. The 'new look' of the centre takes direction from the natural landscape – quality timber finishes; higher ceilings, a 'living wall' bringing the outside in, creating a light, open and airy atmosphere. In the same month, Revelop acquired Dural Town Centre and the Dural Village Centre in Baulkham Hills Shire, just 35km from the Sydney CBD. The company will create a state-of-the-art neighbourhood centre as well as an integrated housing development on the 2-hectare site. It's a development worth close to $100 million.
In September 2022, Revelop acquired Box Hill Village Centre in Sydney's booming north-west corridor; planned to become another state-of-the-art neighbourhood centre. In the same month, Revelop received Development Approval for its service-based centre Pemulwuy Village, NSW. The development will provide a one-stop shopping centre for retail and dining along with a 92-place child care centre, medical centre, gym and a rooftop swim school. In October 2022, Development Approval was granted for Calderwood Village, another neighbourhood centre with a GLA of some 7,500m2, already 90% pre-committed with Woolworths Supermarket and BWS as anchors. It will incorporate an alfresco dining area and some 20 specialties.
Later that month – October 2022 – Revelop acquired Smithfield Square Shopping Centre, a 5,500m2 neighbourhood centre just 25km from the Sydney CBD and less than 10km from Parramatta city centre. With Coles committed to leave the centre pre-purchase, the completed development will incorporate 15/20 specialties and house a 100-place child care centre, swim school, gym and medical centre and various other non-discretionary, destination-based uses.
A Development Application was approved in November last year for the construction of Chisholm Plaza, 35 minutes' drive from Newcastle. On completion, the centre will present some 15,000m2 of retail incorporating a full-line Woolworths Supermarket and BWS along with a second supermarket and about 40 specialties. In the same month, Stage 2 of Newton Village (SA) was approved. The centre has been totally transformed since its acquisition in 2020 and is anchored by both Woolworths and Coles.
In December 2022, Revelop acquired Stanhope Village, originally developed by Mirvac. Situated in the growing north-west corridor of Sydney, it's a sub-regional of 50 specialties anchored by a Coles, ALDI and Kmart. The centre sits on a prime 5.5 hectares, 16km from the Parramatta CBD, boasting an MAT in excess of $180 million.
In May this year, Revelop announced the completion of the first stage of the expansion to Wilton Plaza, NSW, with the supermarket opening planned for October. It will feature a new, full-line Woolworths Metro store to accompany an existing BWS and Dominos along with a medical centre, Pharmacy and various food and service tenancies.
The activity at Revelop is feverish and, of course, the senior executive team has expanded far beyond the original two! Revelop now has a senior executive team of some 25 people, all highly skilled professionals, with a component of seasoned shopping centre expertise. What stands out at Revelop is how the original founders, Charbel Hazzouri and Anthony El-Hazouri, have acquired this sizeable retail portfolio, managed and redeveloped much of it, by their total 'hands-on' approach. They've learned acquisition, management, marketing, leasing and operations from the ground up; they're principals who've been there, done it and, more to the point, their fundamental reference point has always been 'the community'.
This focus on the community has been the driving force. From the early acquisition of Renmark Square in SA, where they engaged with the local community, the Council, the Chamber of Commerce et al, they have captured the imagination of the locals with their drive, commitment and enthusiasm.
Today, the portfolio is solid. With assets like Renmark Square, Stanhope Village, City Cross on Rundle Mall, Tramsheds and, indeed, the rest of the retail portfolio, Revelop will see assured cash flows, significant growth and lower capitalisation rates. It's a portfolio of quality neighbourhood centres, Mini-Guns and even the odd Little Gun. They've got a team in place – an expanding team – to handle future projects and, by the day, expansion capabilities.
What's indicative of their commitment to shopping centres is that they've never sold an acquisition; they've purchased for growth, for re-development, for expansion and, so far, they haven't put a foot wrong!
Who knows when Revelop will own its first Big Gun? In the view of SCN, it's not too far away. Watch this space!