Mainbrace has established itself as one of Australia's leading shopping centre construction companies. Although it's not our business, what happens in the construction industry, what affects it, the challenges it faces and the solutions it puts forward, all have a significant impact on our industry. According to Rob Doust, Mainbrace's Managing Director, the construction industry is facing some tough challenges.
This article by Rob Doust of Mainbrace, was first published in SCN Vol. 40 No. 1, 2022 Big Guns edition. 


We all started 2021 setting out to thrive. Open, optimistic, recovering. The 'new normal' was supposed to have arrived.
Of course, it did not turn out to be smooth sailing. If anything, the pandemic has forced us all to be more nimble, flexible and adaptive because who knows what will be thrown at us next?
It is true for retailers and it is true for retail construction companies too. The course for the future of retail will be set by best-in-breed operators who can navigate the upheaval.
The same goes for construction. Among this upheaval, I was recently asked, where construction is going; what are the next big topics and issues on the agenda? Let's take a look.
Price rise fallout
First, the doom and gloom.
Construction prices are on the move. Booming demand, supply chain constraints, material shortages and lack of immigration are all combining to have a huge impact on construction costs.
Not since the late '90s has the industry seen trades walk away from existing contracts because they are offered significantly higher rates elsewhere. Not since the unprecedented boom of the mid '80s has the building price index move up so sharply.
The chart (below) from the Australian Bureau of Statistics looks back over the past decade and tells the dramatic story of 2021.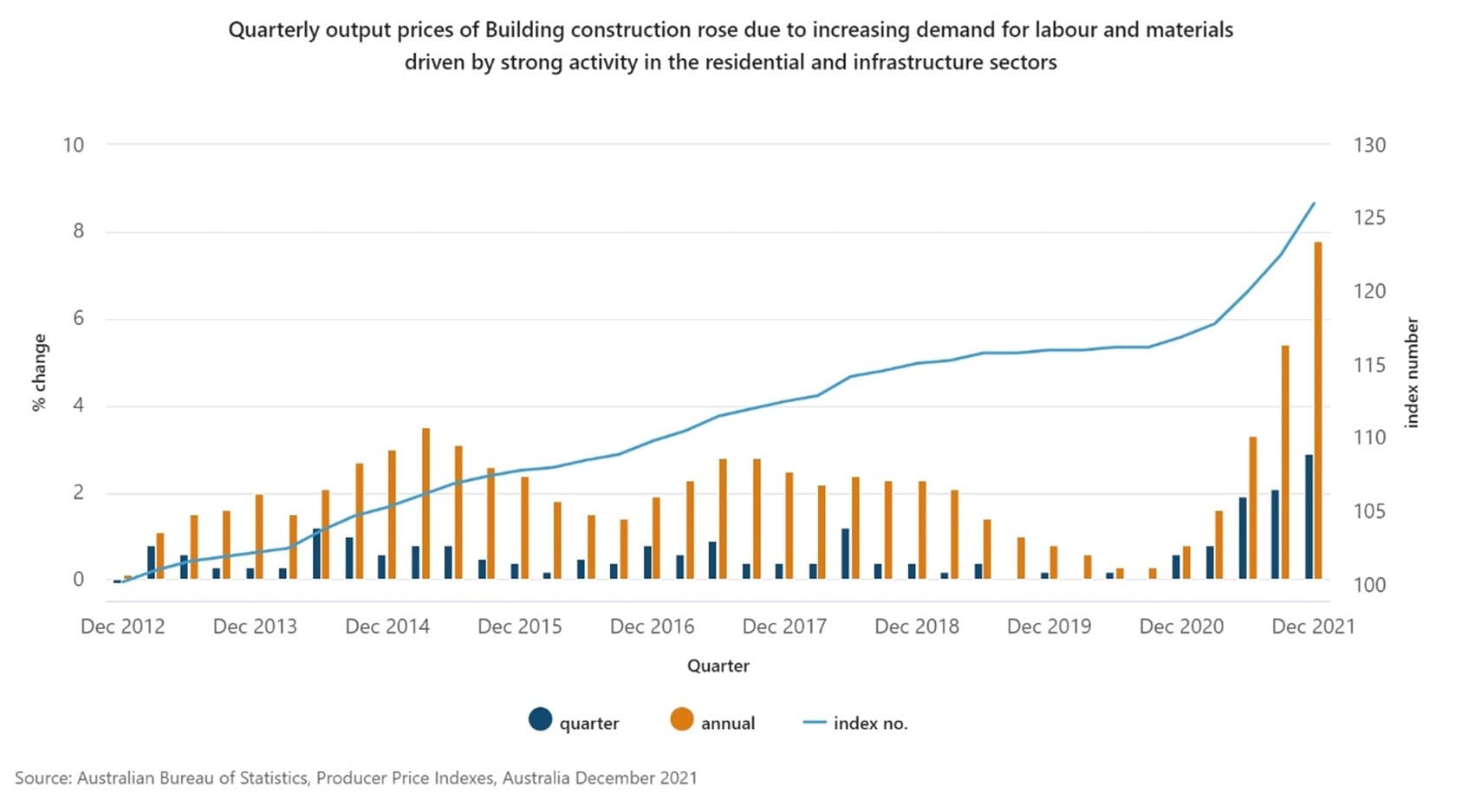 Right now, we are in the midst of one of the most challenging and potentially disastrous periods in construction Australia has faced.
In the context of 2–3% margins (that's worldwide average net construction margins that apply to Australia as much as anywhere else), price movement of this scale and velocity has, and will, find vulnerable companies short.
It is a sad reality that companies – and jobs – are at risk. And as we've seen before, once one fails, it can have a ripple effect.
We know from experience that if a builder on a given project goes broke, the cost to complete that project for the client escalates by about 25–30%. The same applies for the builder when a subcontractor goes broke. Next thing, another builder can't hang on.
Given the huge demand for construction services coming from the residential and infrastructure sectors, alongside all the other contributing factors, we don't predict much change in this environment for at least 12 months. It is, without doubt, the most volatile market and exposed construction industry we've seen since the GFC. Maybe longer.
But in this dangerous territory, opportunities exist to improve the world we live in.
The desire for environmentally sustainable construction is on a sharp incline and going well beyond the big end of town. The movement across society has never been greater, and we are seeing substantial enquiry levels and a significant increase in expectations from our client base.
As technology and innovative sustainable solutions continue to develop and become more affordable, the incorporation and coordination of these into buildings presents ongoing but welcome challenges. How do you choose, what works best with what, how much will it cost, what are the returns on my investment – financial, social and environmental?
Expertise in this field is fast emerging as a must-have, and demand will only increase. The sooner sustainable solutions are agreed upon and incorporated into the design, the more efficient and effective those solutions will be in the built product.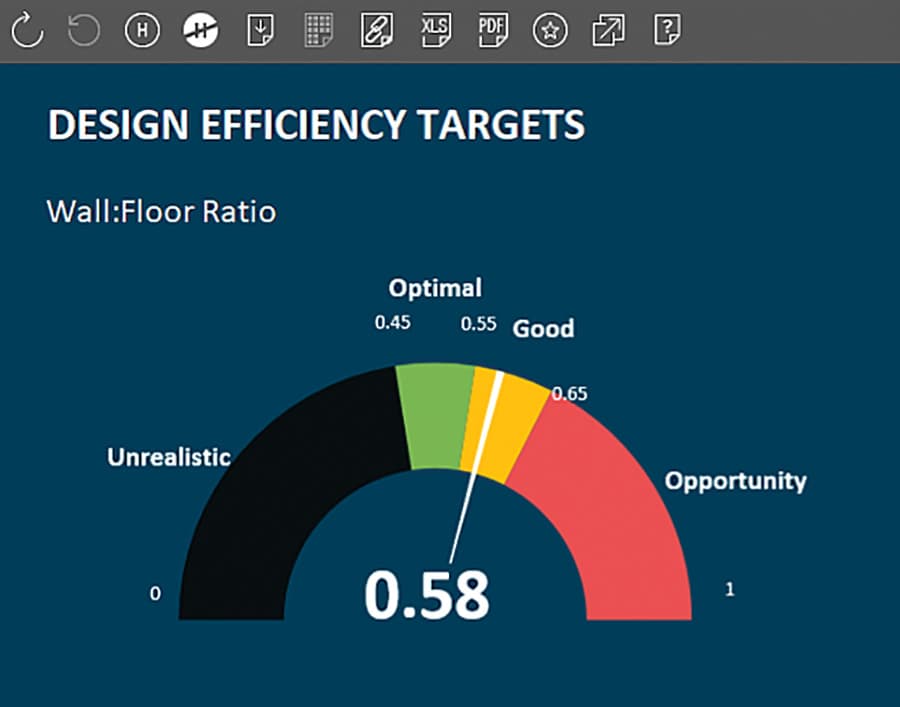 Efficiency is key
Efficiency is the natural counter to waste, so let's address just that.
In New South Wales, construction creates about 100,000 Olympic swimming pools full of waste a year.
For construction companies, this is a major opportunity to make a direct impact.
From demolition materials to packaging and surplus supply, our industry can have a significant and direct impact on minimising waste if we:
a) Eliminate it: don't bring it to site if it isn't needed.
b) Re-use it: ask ourselves, how can we re-use something that hasn't come to the end of life in its current state?
c) Recycle it: the second last resort, not first.
d) Bin it: the last resort.
Skip bin operators report that they recycle more than 95% of what goes in a typical bin. Have you ever stopped to look inside one? I'm not so convinced.
A recent survey of our skip bins found 20% of waste could have been re-used. We estimate a further 20% could have been avoided through a greater focus on elimination.
As an industry, if we could eliminate or re-use 40% of the waste we currently generate, we could save 40,000 Olympic pools of waste a year.
We recently completed a new Bunnings store in Leppington, Sydney where a particularly ambitious waste recycling target of 95% was established at the start. We achieved it, but it took a coordinated effort from everyone – the design team, site team and subcontractors all played an influential role. The next step is for exceptional efforts to become the norm.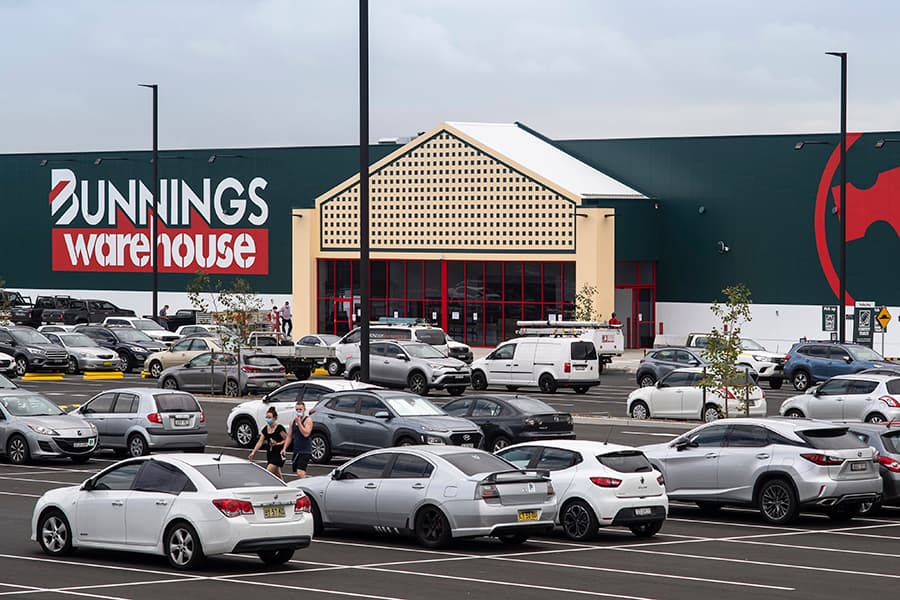 Innovation and data
At an industry level, construction has been a slow mover in innovation compared to almost all others. Agriculture used to rate lower, but even it recently leapfrogged construction. All that is changing.
From blockchain to 3D printing, nanotech to robotics, drones and AI, there is an enormous groundswell of innovation in construction. But nothing comes easily, and there's a lot of work required, even some trial and error, to optimise innovation. Let's face it, building information modelling (BIM) was going to completely revolutionise the industry overnight, but it has taken 20 years, and we have a long road ahead to fully leverage it.
Before COVID – the new 'BC' – members of the Mainbrace team spent three days at Singularity University in Copenhagen looking at all the exponentially-growing innovation about to shape the future of construction. There were some fantastic ideas and some fairly far-fetched concepts too. Keeping across it all is a challenge. Some innovations will move faster, and others will take more time. Few companies can focus on too many innovations at once.
At Mainbrace, we've focused on data. This means capturing the thousands of data points on every project and using them in ways to better understand (and predict) building efficiencies and costs.
We liken it to ball tracking in sports like cricket and tennis – 'Hawkeye' – and we're developing new ways to illustrate and communicate what is happening in our projects. From here, we are starting to use AI to predict and model. It provides us another option and we all know the importance of flexibility.
Whichever path different companies choose to take, innovation in construction is gathering momentum and will impact retail in new, exciting and valuable ways.