This CEO Outlook contribution was first published in SCN Vol. 39 No. 1, Big Guns 2021
2020 – a defining year for communities
Working for Woolworths during 2020 was a unique vantage point in a year like no other. As we approach 12 months since we first heard of the virus, what is clear is that, as our CEO Brad Banducci has said, this was a year where we truly lived our purpose – to create better experiences together for a better tomorrow.
The efforts of the entire team over the course of that year demonstrate the care and support that is at the heart of that purpose. We feel we were able to support our customers and communities when they needed us most.
From a property perspective, the ability to repurpose and re-orient our bricks-and-mortar stores to meet the needs of the community was vital, as more people stayed home.
While the implications of 2020 for retail in 2021 and beyond are still to come into full focus, what we know is that the experience of grocery shopping has been redefined. Perhaps never before has the community placed such priority on having convenient access to essential items, located close to their homes.
The resilience and rise of neighbourhood centres
Shopping close to home has taken on new meaning during COVID19. Many people have naturally rediscovered local retail as they worked from home more and travelled less.
However, the resilience of well-planned neighbourhood shopping centres is a trend we have observed and responded to over many years. In fact, over the past decade, we have opened more than 150 new stores in neighbourhood centres – more than any other type.
Neighbourhood centres have also been the fastest growing over this period, recording stronger like-for-like sales growth than those in regional and freestanding centres, reflecting a market shift to convenience.
Despite COVID, nationally, we continue to press forward with our own strong development pipeline, opening six centres in the last year, with a further six now under construction. One of the most notable of these was Emerton, where I was proud to see the team deliver in ten short months one of the country's most-needed neighbourhood transformations.
Located in the western suburbs of Sydney, Emerton Village was a centre that had lacked investment by the owners for many years and was crying out for change.
Our supermarket was in the centre for some time – since 1999 when it was converted from a Franklins. In 2017, the opportunity arose for us to purchase the centre. We believed in the long-term potential of this centre, having seen the success of well-planned neighbourhood centres across the country.
By owning the shopping centre, by investing in its transformation, we put the community and retail at the heart of the centre, getting the fundamentals right. While we actually reduced the amount of lettable floor space, we almost doubled the amount of available car spaces and boosted customer amenity. We expanded and refreshed the supermarket. And we created an entirely new area for specialty stores with a wonderful restaurant precinct.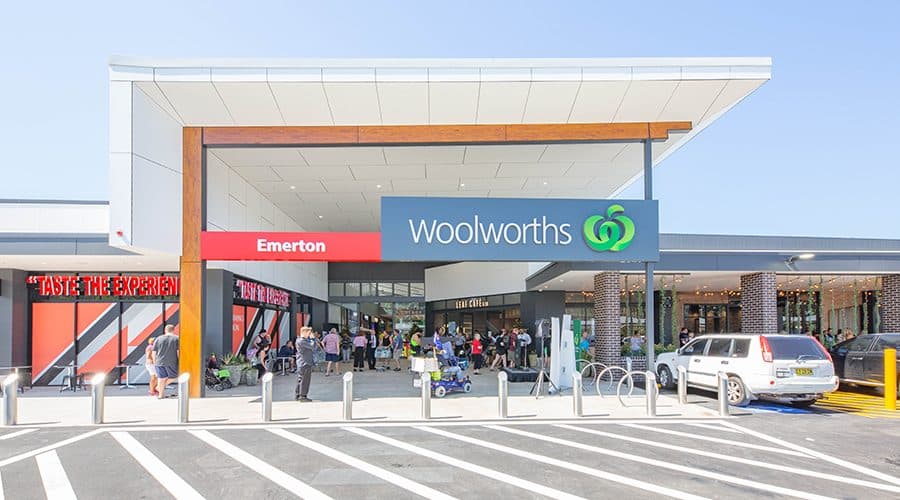 The result has seen a significant increase in customer visits to the centre – and a major step forward in the revitalisation of Emerton. Our ambition was to create a safe, vibrant and convenient destination that the community can take pride in and the team delivered.
The project was as much about small businesses opening their brand new shops after a year of enormous upheaval and uncertainty. Our team worked alongside many small and family run businesses making sure they've been able to service the community throughout construction.
Perhaps it was best summed up by Morrie, who has owned the electronics repair store at Emerton since 1983, who said to us: "This centre is long awaited, and it is what the people and the area deserve."
We are proud to be investing in these small businesses, in their success and in their confidence to create jobs when they are needed most. In total, more than 350 ongoing jobs will be supported by the centre, with a $30 million spend. We know this is vital to the local economy – replicated across our development sites across the country.
The future is happening now – bricks-and-mortar retail is underpinning shift to online
A lot has been said in the industry about the future merging of digital and physical spaces in retail. For us, this future is happening now. To keep pace with demand, we're investing in new online infrastructure in a range of ways to offer our customers more delivery windows and an even more reliable service.
2020 saw us bring forward significant infrastructure to double online capacity within our network in response to unprecedented demand.
A large part of this effort was enabled through our existing store network – where most of our online orders are fulfilled. In the past year, we worked with our landlords to roll out 420 direct-to-boot pick up bays and 150 drive-through sites – an unprecedented, collaborative effort that doubled our online shopping capacity in response to customer demand. After being the first retailer nationally to introduce Pick-Up, this is a trend here to stay for the long-term.
Our contactless 'Direct to Boot' service allows customers to simply park their car in a dedicated pick-up space, let the store know via their app that they've arrived and have their online orders packed directly into the boot of their car. It's convenient and it's easy for customers to receive their groceries when it suits them. We're also seeing that customer visits and spend within centres has remained robust where our 'Direct to Boot' service has been rolled out.
With the continued growth of online shopping we have also started to reimagine what the future of stores will look like. We recently started picking the first online orders in Melbourne from a newly built ecommerce floor, located at the back of an existing supermarket at Carrum Downs.
The 2,400m2 space uses automation technology to sort and move products from vertical storage units directly to team members, who hand pick online orders. The eStore is servicing a key growth corridor and helping us keep pace with the major increase in demand for online orders seen this year. The new facility has also created 170 new jobs.
The combination of a traditional bricks-and-mortar store with state-of-the-art micro-fulfilment technology is a potential game-changer. 
Not only will it help our teams deliver speed and accuracy in the online picking process, importantly the eStore helps reduce congestion in the aisles for our in-store customers. As we commence construction on our second eStore in Maroochydore in Queensland, we can start to see on-the-ground the real estate requirements for the future of retail.
Industrial property is also providing a platform for strengthened grocery supply chains. We are strengthening our supply chain network for the future, and will start construction this year on a once-in-a-generation investment on our regional and national distribution centres at Moorebank.
Cutting-edge automation will build tailored pallets for specific aisles in individual stores, helping progress localised ranging efforts, with the ability to hold many thousands more products centrally than we can in our existing facilities.
Collaboration and planning reform is required to facilitate economic recovery
As the Reserve Bank Governor, Philip Lowe, said in late 2020, the economic impact of the pandemic will take time to repair and that it is highly likely that this recovery will be uneven and drawn out. The property industry has an important role to play in the economic recovery post COVID-19. A pipeline of new construction projects and, particularly for our case in retail, ongoing jobs, which will be vital to this effort.
As Australia's largest private sector employer we have a key role to play in this respect.
Nationally over the next five years, we plan to invest significantly across our network of new and renewed stores, developments, supply chain and e-commerce infrastructure, unlocking thousands of jobs during construction and on an ongoing basis.
State and local planning systems have a vital role to play in unlocking investment and jobs.
While we have seen efforts to encourage reform and streamlined processes to bring new projects forward, a concerted effort is needed to maintain focus. As investment windows shorten – particularly with ten year leases now well established for food based retailers – greater certainty, more quickly in the planning system will be vital.
Looking ahead
In the short term, we expect to see some uncertainty with COVID demanding ongoing flexibility in our real estate footprint to adapt to operational requirements. We anticipate that the fundamentals of the retail property market will remain, including the resilience of high quality neighbourhood centres with full-line supermarkets and key services close to homes.
However, as shopping centre owners, we will also be rethinking the drivers of foot traffic and dwell times as the pandemic continues.
Our focus will be to continue to deliver for our customers, particularly through the acceleration of our digital transformation strategy through our property footprint. We expect to see online continue to be serviced in large part through our existing store network, with the shift towards dedicated online infrastructure expected to take time with lead times for new infrastructure builds. It's a challenging and compelling time for retail property, and we're looking forward to continuing to work together with our partners to deliver for our customers, teams and the communities we are privileged to operate in.