This CEO Outlook contribution was first published in SCN Vol. 39 No. 1, Big Guns 2021
As I look back on the past year, it's certainly been an extraordinarily challenging one for QIC Global Real Estate (QICGRE) and the industry as a whole, but our conviction in high quality and convenient retail has not wavered.
No one could have foreseen the curveballs this past year has thrown at us, but disruption and evolution are permanent features of the retail real estate sector and it's our ability to embrace these changes through intensive active management that serves us well in such uncertain times. Undoubtedly, COVID-19 has accelerated the pace of the structural changes shaping the future of retail, but we've long prepared for these.
While vaccines are now being rolled out in many countries, COVID still hangs over the economic backdrop. In Australia, we certainly didn't escape the onslaught of the disease in the first half of last year, with GDP dropping by just over 7%. However, having taken a far more conservative path in the battle with COVID, Australia has managed to keep its economy open while still maintaining the suppression of the disease.
Consumer confidence is back above 100, meaning that more households are optimistic rather than pessimistic about the future, and business confidence has turned positive.
The recovery in employment and consumer confidence combined with the government's income support has spilled over into retail sales, which are now 9% higher than they were before the COVID outbreak back in February last year, and appear to be trending higher. So, while we are not out of the woods just yet, the economic landscape is much better now than what was feared back during the depths of the COVID outbreak last autumn and winter.
Domestic spending (and consumer spending in particular) will continue to drive the Australian economy, as long as we maintain our current low COVID case rates. As we move through 2021, the recovery in consumer spending is expected to continue, which will assist the recovery in the broader economy. Nonetheless, with migration levels down, international trade remaining disrupted, and with high debt levels, the economy is expected to still be below its pre-COVID trajectory by the end of 2022.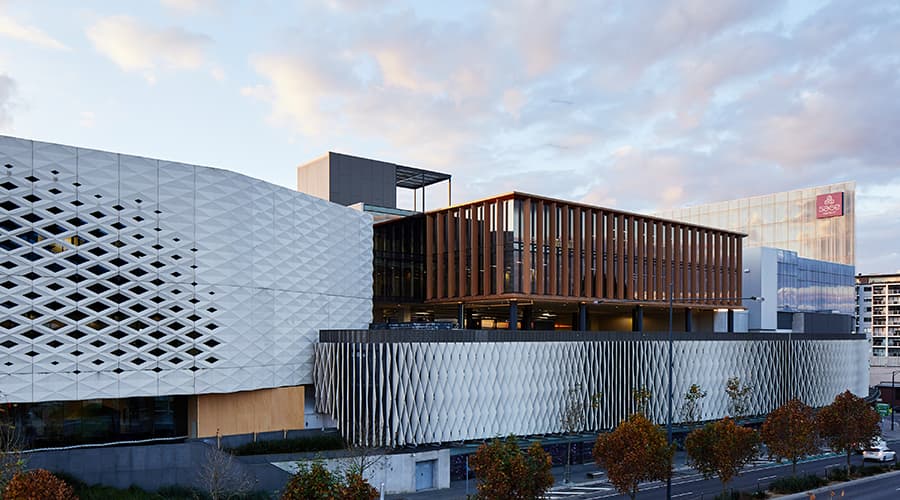 In terms of the outlook for the retail real estate sector, if you look at total retail sales (bricks-and-mortar and ecommerce combined), as mentioned earlier, the total retail turnover is up by just over 9% from its pre-COVID February level – but the distribution across categories is very uneven. Those doing well include household goods retailing and food retailing, and those underperforming are cafés, restaurants, department stores, and clothing and footwear. Looking forward, we will see an ongoing rebound among these underperforming categories.
Beyond 2021, cafés, restaurants and food services are expected to be the strongest performers, growing at 4.7% per annum over the next ten years, reflecting the shift in consumer preferences for dining out. Overall, we expect retail sales to grow at 3.2% per annum over the coming ten years.
The inherent defensiveness of food-based neighbourhood centres became increasingly clear last year. By their very nature, neighbourhood centres offer customers a one-stop-shop experience – providing the everyday and essential services a community needs. During the height of the COVID-19 pandemic, approximately 70% of retailers at our neighbourhood centres remained open and trading throughout. The high percentage of essential services at these centres meant they were more insulated from the pandemic.
More broadly, retail is poised to rebound from COVID as people frustrated from being confined return to the social engagement involved in bricks-and-mortar shopping. Trends towards services will generate healthy bricks-and-mortar sales alongside the continued increase in online shopping, delivering a reliable income stream to well-run assets.
Consumer trends are changing rapidly, and there is an even greater need to understand these and respond strategically. Overall, we have become more customer-centric in our delivery than ever before – whether that be with consumers or our retail partners – which is a legacy we intend to hold on to.
In terms of support for our retail partners, we set up Order and Collect in ten centres in just four weeks, an initiative that will last well beyond the pandemic, allowing us to provide a much-needed direct avenue for retailers to continue to provide product to customers. In response to the ongoing situation in Victoria last year, our team pulled together retailer recovery workshops for small and medium businesses operating out of our Victorian centres, and introduced pop-up parks to support our dining retail partners whom were operating under a range of restricted conditions.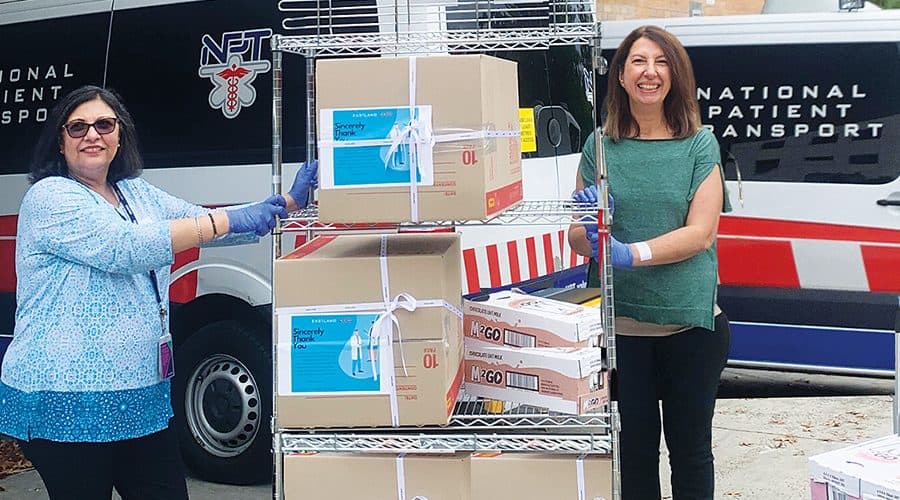 QICGRE's commitment to helping protect the health and wellbeing of those that visit and work at our centres led to the implementation of a range of measures and initiatives at our centres, including tools on centre websites which use centre traffic and real-time parking data to help our customers choose a quieter time of day to visit; social distancing ambassadors; extended trading hours; and a touch-free option for our digital wayfinder units.
Retail is core to what we do at QICGRE, and investment in retail will continue to remain an attractive element within a balanced real estate portfolio. The acceleration of change for retail led by the COVID-19 pandemic may have exposed some weaker assets over the past year, but it has also highlighted the relative resilience and attractiveness of assets that possess preferred attributes. Highly productive retail assets in strong catchments and adjacent to excellent transport infrastructure have the ability to evolve their retail mix in line with changing consumer preferences, and provide opportunities to add real estate uses beyond traditional retail, providing a true town centre for their local communities. The potential represented by the addition of mixed-uses to complement an evolved retail core over time shouldn't be underestimated, and over the past 25 years, QICGRE has acquired significant landholdings surrounding key assets that provide the platform for this mixed-use diversification. A disciplined portfolio strategy is essential, along with the ability to realise value in retail assets and to continue to evolve them.
QICGRE has some of the most productive centres in the country with our larger assets – such as Eastland, Castle Towers, Robina Town Centre, Canberra Centre and Watergardens – and we continue to evolve the retail mix at these centres to match what consumers are looking for.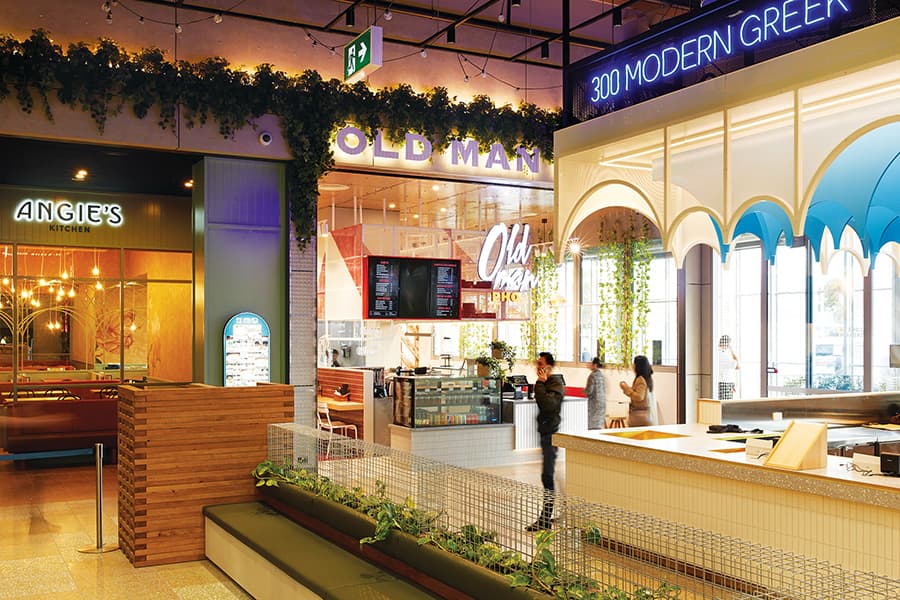 Retailers want to be in highly productive assets such as these, that serve as hubs for their communities and that support their omnichannel strategy. These centres' role as town centres also gives them the best chance at tilting to non-retail services sectors including health, education and accommodation, which are in increasing demand and are largely shielded from ecommerce penetration.
Over many years, we have strategically acquired adjoining land and worked in partnership with local and state planning authorities to unlock zoning, density and height limits to provide opportunities for value-add developments across a wide range of uses such as office, medical, childcare, education, residential, and hotel. We are well underway on executing on this strategy and have the flexibility to deliver small, medium and large scale opportunities as these align with tenant and consumer demand.
Castle Towers delivered two major upgrade projects last year – an upgrade of the Piazza alfresco dining precinct and an upgrade of Levels 2 & 3 – enhancing the ambience, convenience and design of the centre. Works have also recently commenced on the Station Street upgrade project at Watergardens, delivering a significant refurbishment and offer remix of the centre's entertainment and dining precinct. This upgrade project follows the successful introduction of The Marketplace in early 2020, an open-air style market with a new ALDI supermarket and a mix of fresh food providores, specialty grocers and grab-and-go eateries.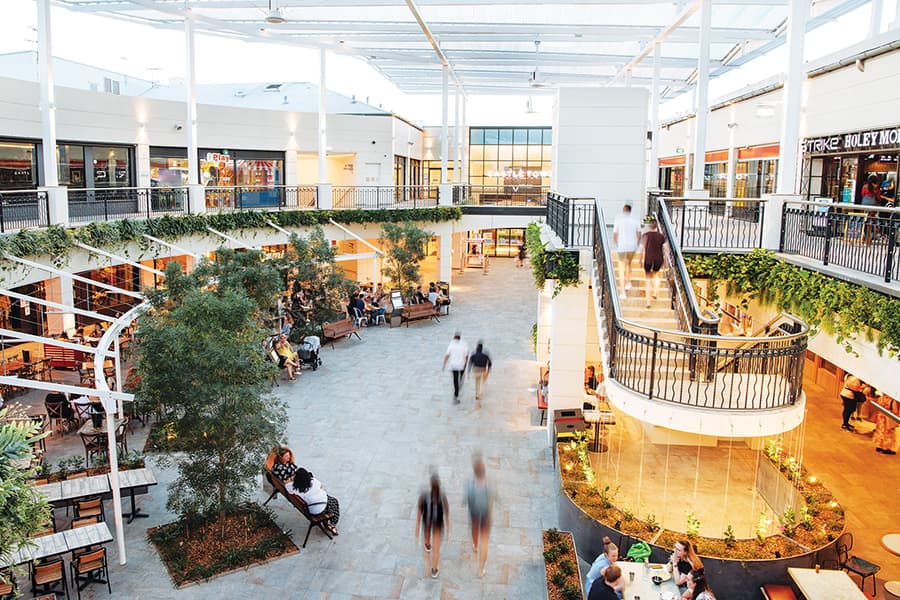 I'm also pleased to say that Waterman Business Centres will open a coworking space at Eastland this year. This is another example of the application of our mixed-use town centre strategy we have been progressing at Eastland through developments such as Sage Hotel Ringwood, Maroondah City Council's new office accommodation on Town Square, and the EastCo commercial tower currently under construction.
ESG has been a passion of mine for a long time. If anything, the current global pandemic has shone a spotlight more brightly on the criticality of investment in sustainability and long-term environmental performance, and we're seeing this reflected regularly in discussions with our clients, retail partners and the communities our assets operate in.
QICGRE has set an ambitious target of achieving net zero carbon emissions for our core Australian retail assets by 2028, and we have a clear plan to get there.
Our net zero emissions pathway is being achieved in partnership with leading sustainability experts, including ongoing collaboration with the Clean Energy Finance Corporation (CEFC) through a recent equity investment in the QIC Shopping Centre Fund, which is supporting the investment in best-practice sustainable infrastructure and technology. This includes the delivery of one of Australia's largest rooftop solar projects, which we're making good progress on at the moment at Domain Central in Townsville, Hyperdome at Logan, Grand Central in Toowoomba, Robina Town Centre at the Gold Coast, and Watergardens in Victoria.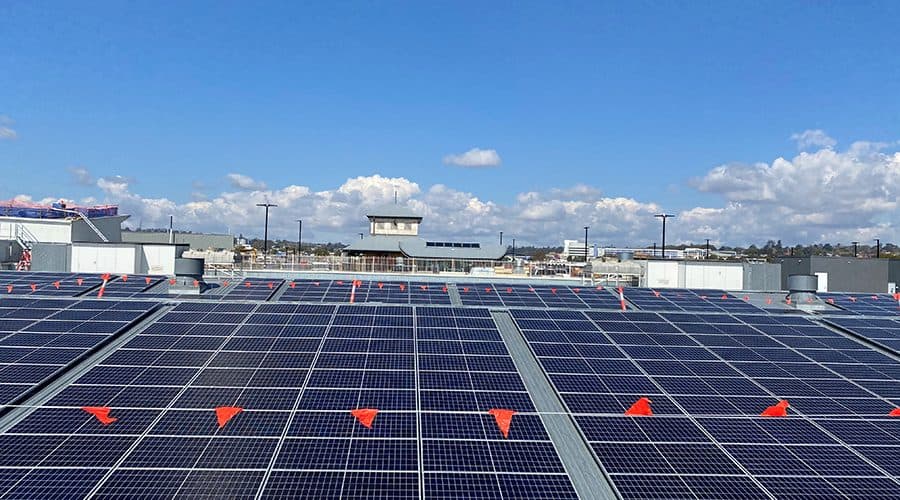 This year, QIC celebrates its 30th year, and I feel we're in great shape to tackle the next round of challenges that face us, but also the opportunities in front of us.
Our people in QIC are our strength – their passion and determination has shone through over the past year, and they will continue to be very active in embracing the opportunities presented by continuing to evolve some of our assets into retail anchored mixed-use destinations.