This CEO Outlook contribution was first published in SCN Vol. 39 No. 1, Big Guns 2021
As a global community we have witnessed and experienced unfathomable sadness during this pandemic. Yet despite the individual, community, business and industry challenges, I continue to be moved at how truly resilient and adaptable human beings are. At Mirvac we start the year appreciating how fortunate we, as Australians, are and how, despite the challenges our industry has faced, we have collectively adapted and are preparing for structural change. 
COVID accelerated the structural change, which was already being navigated within our industry and by our own outgoing Head of Retail, Susan Macdonald. As we enter a new year with new concepts and partnerships, we are grateful for Susan's commitment to innovation and driving change during her transformative ten years at the helm of Mirvac's retail portfolio. Susan departed Mirvac at the end of 2020, leaving us with a portfolio of well-located, adaptable urban shopping centres, well-positioned for the future. We intend for this legacy to play out as Mirvac continues to evolve its approach to innovation, partnering and co-creation, with a 360-degree view of the customer. 
Enrichment and wellbeing
While Australia builds towards recovery from the pandemic, the world remains in crisis and so does our interconnectedness, so we can expect to face many more challenges and setbacks as we navigate our way to a new normal. The social and emotional wellbeing of our people and communities has only intensified and there is a moral imperative on us to enrich the communities we operate in, leaving a positive legacy and being a force for good. 
We know it's important to support our partners and customers, but now more than ever, we need to continue to support the most vulnerable in our communities.
We remain committed to our existing programs like our Shelter at Mirvac community initiative which includes our partnership with OzHarvest where we deliver food to people in need, and Headspace where we offer youth mental health programs and services.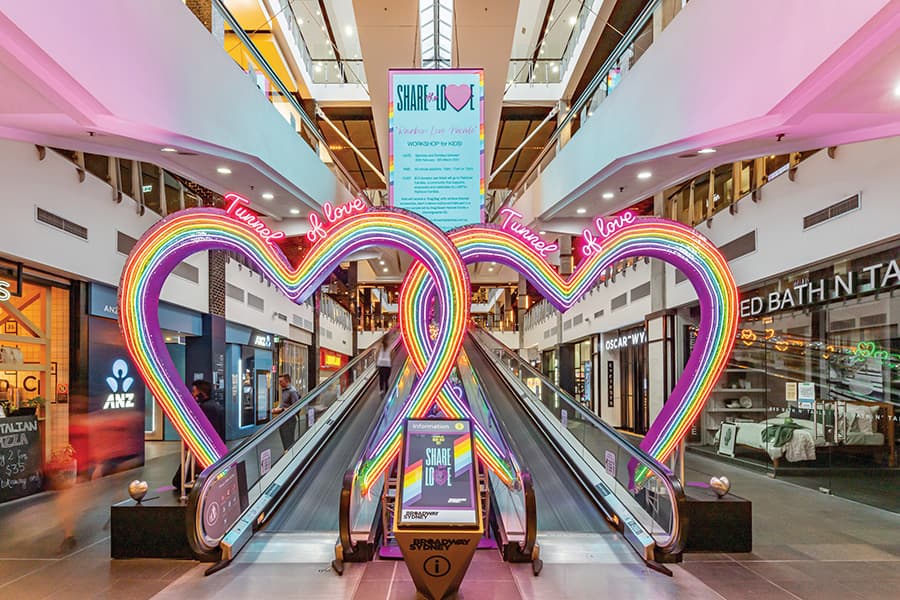 We loudly and proudly go into 2021 with a stronger focus on bringing people together around the arts and inclusivity to all ages and cultures supporting celebrations like Mardi Gras and NAIDOC Week. This year we are delivering on our vision of truly supporting the LGBTQ+ community rolling out our 'Welcome Here' partnership to all of our assets. We are now an ACON Pride in Diversity member, Rainbow Families Supporter and collaborator with Bonds to support Mardi Gras. It fills our hearts to know our LGBTQ+ team and community members feel so supported as a result of this small gesture of respect and love.
At Mirvac, sustainability is in our DNA as is doing the right thing, but we believe our planet needs more from us. As such in 2021, we continue our strong commitment to providing 100% renewable electricity across all 16 of our assets. Almost 30,000 tonnes of CO2 (or 12,000 cars) will be eliminated this year alone, reducing Mirvac's carbon emissions by 39% in FY21. Today, we divert 69% of all waste from landfill and we have reduced our overall water intensity by 37%. 
As we welcome a new year and new era of humanity, we know there will be challenges ahead, but our focus on sustainability, connectedness and community puts our assets in a strong position. 
Integration
Coinciding with Susan's departure in 2020, Mirvac underwent a restructure integrating our Retail business with Industrial, Build to Rent and Office. This integrated, cross-disciplined business will enhance Mirvac's ability to respond to the accelerated need for a futureproofed business.
Importantly within this unified business we have created a strategic team, focused on understanding the partner and customer journey as they live, work, shop and play, providing us with a unique opportunity to offer a new level of service. Putting customers first enables us to identify problems and pain points, find solutions through co-creation, develop partnerships, new business models and alliances; all aimed at creating a better customer experience and mutually beneficial outcomes. The amalgamation of our sector specialisation has created an opportunity to increase our focus on the customer and ensure we are placing priority on the human experience. We are now uniquely placed to gain a 360-degree view and be an enablement business, a true connector and business solutions partner.
As we work with our retailers, we understand that their ability to be effective is underpinned by aligning their logistics and supply chains to meet customer demand for real-time solutions. As an integrated business we are able to bring retail and industrial knowledge, data and insights together to offer relevant property solutions. For example, we have large format sites close to transport hubs for large scale fulfilment centres as well as smaller format sites closer to the customer to meet the needs of last touch. We know there is a need for retail as a service, storage as a service and logistics as a service, so we have research underway to help join the dots for our customers. 
We also understand the importance of the right partners for our collective growth and evolution. True partnership is a very different proposition to a transactional discussion, it requires a commitment to thinking beyond the short term, being sector agnostic and deeply understanding the customer need.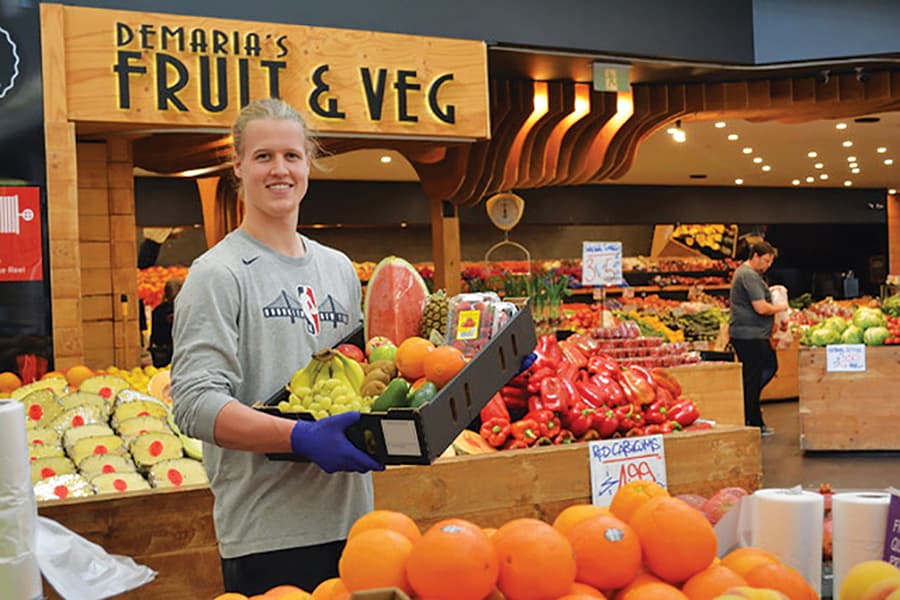 Our sector specialisation within an integrated structure will enable us to proactively adapt our business and respond to the changing operating needs of our customers. Our ambition is to be more than a property solution: we can share data, insights and ideas; add value by co-creating solutions; reimagine financial contracts; bring partners together for the betterment of the collective; develop new business models; and offer solutions that play to our cross-disciplined expertise.
Innovation and acceleration
At the start of the pandemic, some commentators predicted the increasing adoption of digital retail channels would distract focus on evolution and deteriorate bricks-and-mortar relevance. This couldn't be further from the truth.
There was increased innovation across the industry and, under the extreme pressures of COVID, we delivered our first foray into an online marketplace, 'Essentials Express'. This pilot brought together operators, products and a technology solution, which enabled consumers to purchase products online and safely pick up at dedicated drive through locations or have same-day delivery. Learnings from this trial are informing how we progress the development of our omnichannel programs, further support omnichannel operators and introduce bricks-and-mortar partners to digital channels.
The COVID journey has also highlighted the importance of the right partnerships for collective growth and evolution. We believe reciprocal partnerships will be a key strategic differentiator and moving forward a 360-degree view on the relationship will be a key determiner in who we invest in and partner with.  Case in point is our partnership with Jaycar. Developed in the height of the pandemic, our relationship has enabled Jaycar to grow its audience as we launched our first collaborative studio maker space, WeMake at Rhodes Waterside. Designed and built for making, learning, exploring and sharing, WeMake adjoins Jaycar and provides opportunity for Jaycar, a key space user, and other businesses to interact and connect with audiences in new ways. This new model of experiential retail will be a template for broader co-creation relationships. 
More than ever, physical locations that adjust for relevance, adapt to customer needs, offer a connection and enhance our collective communities, are fundamental to our success. We see our role as curating the right retail mix for a fresh experience and sharing new talent whom have a story to tell our audiences.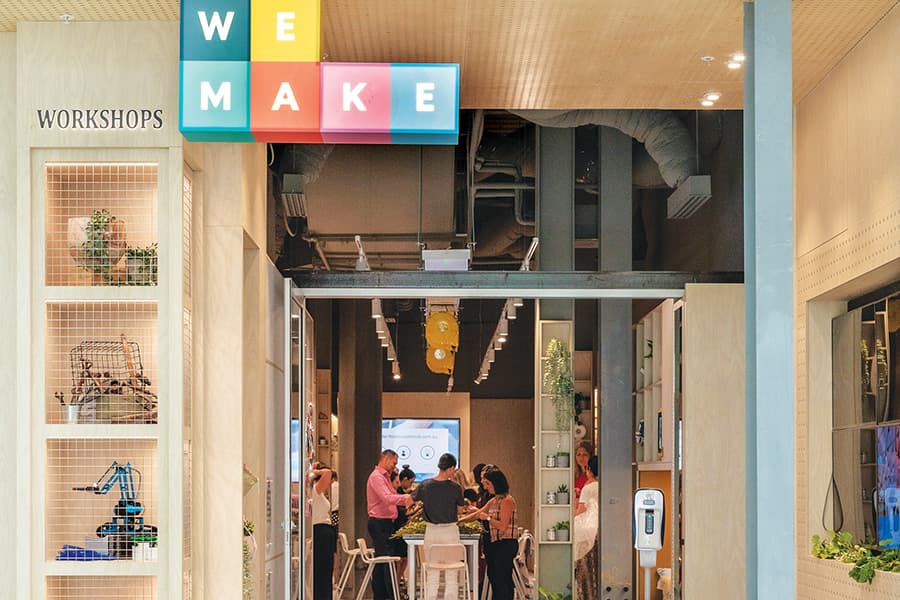 To allow great brands and businesses the platform to stand side by side in a physical retail environment, ensure growth for progressive businesses and respond to the need for interactive, sensory environments, we need to respond with a change in business model. We aspire to be more than a property solution offering data and insights for growth, digital platforms, end-to-end logistics and supply chain solutions; we know to deliver the right outcomes for progressive operators in our spaces we need flexible lease structures, affordable adaptable space, and mutually beneficial commercial structures. 
To support this aspiration that we are more than a property solution, and rather can offer our expertise to grow a business in numerous ways, we are piloting our retail-as-a-service concept, WeShow at East Village. WeShow proves that by removing the barriers to entry into bricks-and-mortar, brands have the ability to showcase their products and engage more deeply with their audience. Now three months into our pilot program, our first partner has benefited from an increase in brand awareness and, as a consequence, business growth. WeShow has also shown we can deliver flexible, affordable quick turn around spaces removing the complexities of converting to omnichannel for pureplay digital brands but also to provide an alternate, more affordable solution for growing businesses as we navigate recovery.
Future proofing the way we deliver and use physical spaces, consider and invest with brands and structure financials and commercial terms could redefine, not only the shopping experience, but also the experience our Mirvac customers have. 
As an industry we should be optimistic about the future. Despite the challenges, COVID has shown us how inextricably linked shopping centres and their communities are. Our spaces are more than shopping centres or property assets, they amalgamate essential services into a single accessible location, act as places of respite, connection, celebration and fun. Our footprints and initiatives have the means to enrich and enlighten, positively impact environmental outcomes, drive social change and be spaces of business evolution and growth. 
And at Mirvac, Retail is now part of an enablement business and can be a true connector and solver of problems for the future. Who wouldn't want to be part of that evolution and journey?