The massive project, Sydney Metro Martin Place will change the nature of the heart of Sydney CBD. It will change traffic flows, streetscapes, retail and consumer habits. Yet the 'changes' are far more than simply that. This development will significantly add to the character, the prestige and international significance of the Sydney CBD. It's world 'leading-edge'.


It's a rare occurrence that a property development transforms an entire precinct. It's rarer still when that precinct is at the very heart of a major city. Sydney's Martin Place is undisputedly the epicentre of the city, not simply because of its central location, but also because of its role in Sydney's history, culture and commerce. Wikipedia describes Martin Place as the 'Civic Heart' of Sydney. Sydney Metro Martin Place is a development that will transform the way it functions.
To understand that change, it's necessary to examine what, at first glance, may seem to be three separate entities – a metro station and two new commercial office buildings some 150 metres apart.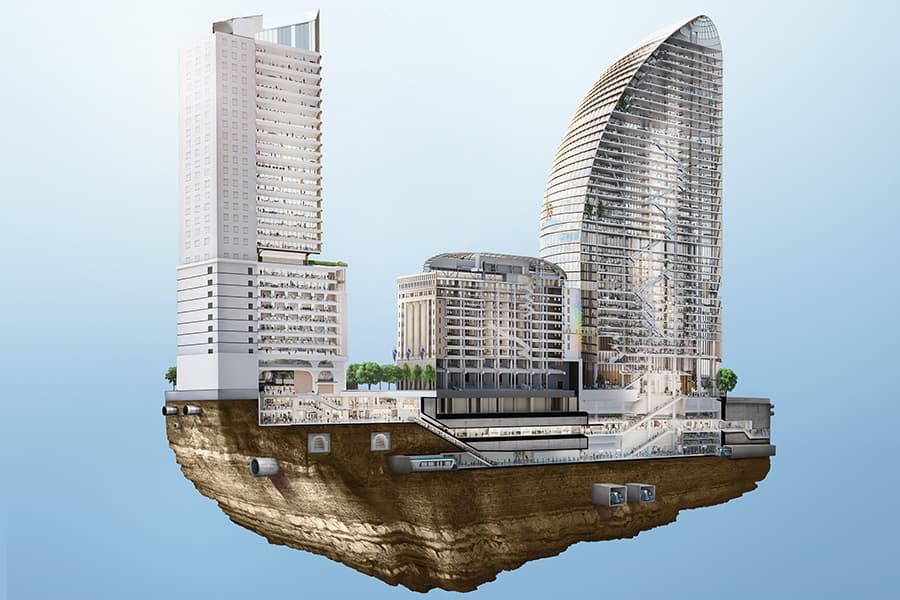 The centre of Sydney's transformational new rail network
The new Martin Place metro station, due to open in 2024, will sit at the centre of a 31 station metro line that sweeps 66 kilometres from Rouse Hill in Sydney's north west, through Macquarie Park, Chatswood, North Sydney and the CBD and continues out to Bankstown in the south west.
The line will connect Sydney like never before and is part of Australia's biggest public transport project.
The new station will become one of the busiest public transport hubs in Sydney by virtue of its location and connections, with the new platforms linked directly with the existing Martin Place railway station to provide convenient access to the airport and eastern suburbs line, and a short walk to bus and light rail services.
Construction is also underway on a Metro West line that will provide a new link between the CBD and Parramatta, as well as the new Sydney Metro – Western Sydney Airport project.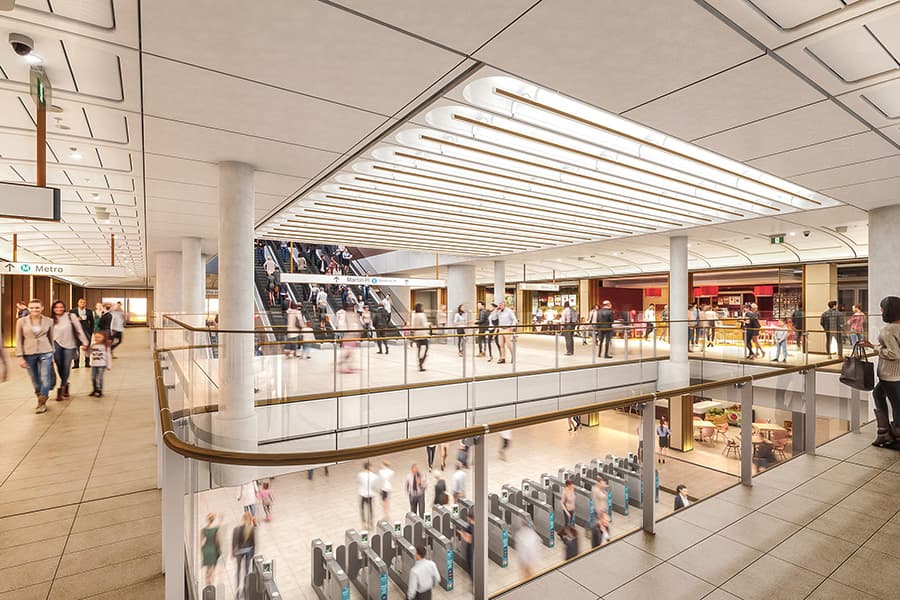 Over 100,000 square metres of office and retail accommodation across two commercial buildings
1 Elizabeth Street is an iconic, sculptured curved glass office building of 39 storeys, with frontages to Hunter, Elizabeth and Castlereagh streets. Together with the adjoining 50 Martin Place heritage building, this will be the new global headquarters of Macquarie Group.
39 Martin Place is a 28-storey office building, to be co-owned by Investa Commercial Property Fund (ICPF) and Manulife. 39 Martin Place's elegant design fits harmoniously into the surroundings and is uniquely positioned, with three street frontages and retail over two floors.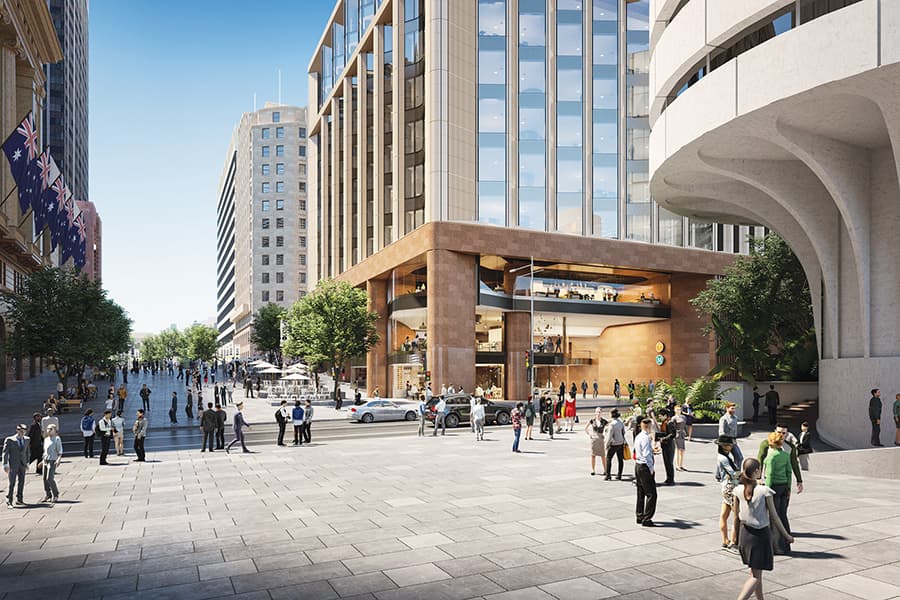 An integrated precinct
So, how do these three, apparently separate spaces change the way the heart of the Sydney CBD operates? The answer is, they are fully integrated, totally connected and to the general public, they present as one.
Sydney Metro Martin Place will be no ordinary arrival or departure hub; this is no 'out of the train, through the turnstiles and on to the street' pursuit.
Alighting from the train here, then leaving the platform, one steps on to an escalator and emerges into a magnificent world of experiential retail, food and beverage.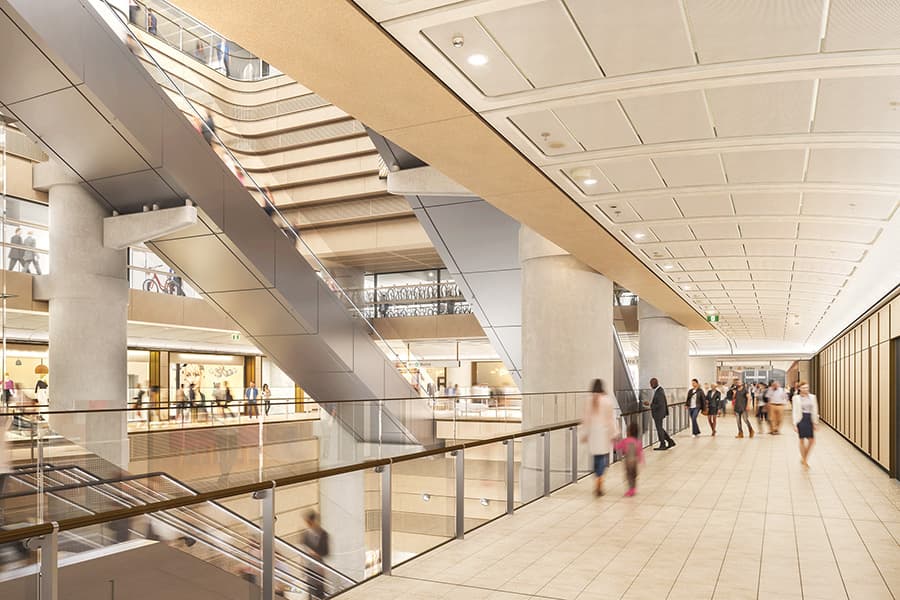 Customers will travel through public spaces that are vibrant and inclusive, designed to respect the significance and importance of Martin Place for Sydney.
The sheer scale of this development, its scope, quality, architecture, internal design and its very presentation, are leading edge on any world standards governing retail development, but what is simply extraordinary here, is how it was conceived and put together.
The integrated station development, including the station and associated public domain works, is being delivered by Macquarie Group. Lendlease has been appointed as Macquarie's design and construction partner. As we go to press, construction is well advanced with station caverns complete and ready for fit-out, and the cores and lower floors of 1 Elizabeth Street visible above the street hoardings.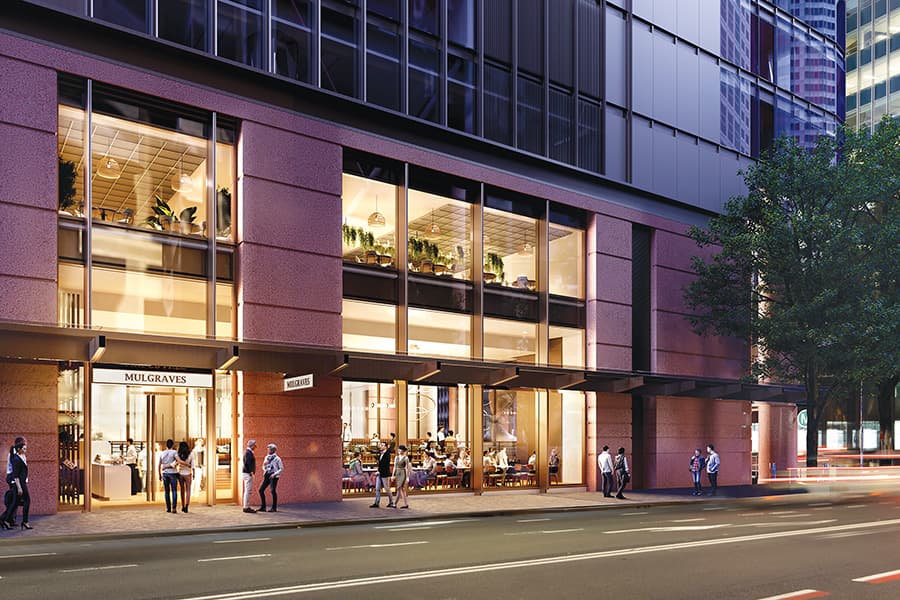 It's what's at the base of these two commercial office towers that will distinguish them from their neighbours. In nearly all cases, the retail at the base of office buildings is secondary in terms of commercial importance. Yes, retail at ground and perhaps another level or two, is valuable, but it's the tower that sets the tone. Here, in these two buildings, the integrated approach means that the commercial, retail and transport components have been designed holistically from inception.
Form follows function; the retail presentation in these two towers will reflect Sydney's role as a truly globally connected city.
Consistent, architecturally designed shopfronts and quality finishes reinforce the single precinct approach. This development has been inspired by some of the world's leading integrated transport-based public precincts.
Pictures tell a thousand words; the artist's impressions above show the sheer scale of the development.
Choose to leave the station at the northern end and the massive escalators will feed you into a multi-level retail emporium filled with cafés, casual dining restaurants, convenience retail, a bar or two and, of course, a range of fashion and accessories outlets with the familiar brands thick on the ground! You'll enter an active, vibrant space filled with natural light beaming down from massive atriums; it will be comfortable, inviting, leading-edge retail at its very best. Exit points at this end will take you directly out to Castlereagh, Hunter or Elizabeth streets, with state-of-the-art, double-height street frontages. Exits from the northeast and northwest corners directly address Chifley Square and Richard Johnson Square, aligning with pedestrian access to the north of the city.
On the other hand… choose to leave the station at the southern end and the retail emporium you will enter is at Martin Place. It will be cutting-edge, world-class and state-of-the-art. Again, it's multi-level, packed and vibrant with food and beverage, cafés, espresso bars, convenience retail, fashion and accessories, and leading brands. Exits will lead directly into Martin Place, Elizabeth Street or Castlereagh Street and double-storey retail housing top international brands.
The precinct stretching from Hunter Street to Martin Place has 95,000 city workers within a five-minute walk. It's a one-minute walk to the bus interchange and just a short stroll to the Circular Quay ferry terminal, Barangaroo and Pitt Street retail.
Total GLA is only 3,500m2 and will account for some 45 tenancies ranging in size from 15m2 kiosks to 500m2, with some dual level. In SCN's view, there's no doubt that it will be oversubscribed; the leasing exercise will by necessity be selective. But critically important in that process will be curating the right mix to contribute to the reinvigoration of the precinct and its role as a place for everyone.