In the latest issue of SCN, we profile a centre within a new town – Oran Park; it's a unique retail development. Unique because the owners haven't just developed the shopping centre, they've been responsible for the whole of the town! Oran Park Podium is presently a Mini Gun about to become a Little Gun. Continued growth of the town is a 'lay-down misere'. In a few years Oran Park Podium will join the Big Gun rankings!
To present Oran Park Podium as an entity on its own, is to present an incomplete picture. Oran Park Podium, a sub-regional shopping centre for the surrounding community, sits at the heart of the town of Oran Park, a suburb of south-west Sydney, within the Macarthur Region, located in Camden Council. As we all try to ensure our centres become the community focal point, our efforts in doing so are mostly confined to the centre itself; the surrounds – both immediate and extended – are rarely within our sphere of influence. Not so with Oran Park Podium.
Within a few short years from now, Oran Park Podium will emerge as a major regional shopping centre – a Big Gun – and perhaps, arguably, it will be the most uniquely developed shopping centre in the world!
That's a mighty statement, yet it's made pragmatically, logically and authoritatively.
To explain the uniqueness of the Oran Park Podium development, let's begin with the Big Gun picture in Australia. There are, of course, about 100 Big Gun centres nationally.
In terms of ownership, Scentre Group leads the pack, Vicinity tracks at number two and then the powerhouses of the likes of Lendlease, QIC, Stockland, AMP, Dexus, GPT, Mirvac et al. Whatever the numbers involved, Big Gun centres are owned and controlled by massive entities – public companies, pension funds, sovereign wealth funds, private equity funds and so on. But there's just one, only one, that's different; Narellan Town Centre in Sydney's south-west is owned privately. One of the owners happens to be the developer of Oran Park Podium. But that's merely the beginning; the uniqueness of this development goes far beyond that of just mere private ownership.
Vicinity's Chadstone, one of the world's best centres and Australia's largest, sits on a landholding of approximately 30.4 hectares or some 74 acres; the group's Bankstown Central centre is on a 11.4-hectare site or 28 acres. GPT's Highpoint has a landholding of 28 hectares, 69 acres; its Rouse Hill development is on 20 hectares or 49 acres.
Oran Park Podium lies at the centre of a landholding of 1,300 hectares or 3,212 acres! Oran Park Podium's owners haven't just developed the centre; they've developed the entire town!
Prior to development commencement in 2010, the entire 1,300 hectares was farmland with a raceway at its centre. All subsequent development has occurred under the control of a single developer.
The Perich family, Oran Park Podium's owners, migrated to Australia from Croatia in 1938. In 1977, they purchased their first parcel of land in Oran Park. In 1984, they acquired the Oran Park Raceway and transformed it into one of the most popular raceways in Australia. The last race held there occurred in January 2009 and a partnership with Landcom resulted in some 2,700 residential lots, the first being sold in 2010 – south-west Sydney's first modern, master planned community. At that time, the median price for a house and land was $580,000; today, only 12 years later, the median price is $1.1 million, representing a 5.5% compound annual growth in capital.
Today, Oran Park is a truly walkable, liveable town providing housing, employment, education, shopping and recreational facilities to suit the community, including five schools, medical facilities and a Civic Centre incorporating the Camden Council (Oran Park sits at the geographical centre of the Camden Local Government Area).
The community also offers a church, a retirement centre, a skate park and youth recreation centre, which opened in 2020 at a cost of $16 million. In 2020, the Oran Park Splash Park opened at a cost of $14 million and a leisure centre is currently under construction within the town centre at a cost of some $60 million.
The Metro apartment building is directly opposite the Podium Shopping Centre; it's 100% sold and apartments are due to be occupied as we go to press. A second apartment block next door has an expected completion date next year. Four additional commercial and residential buildings located just east of 'The Podium' will open in 2024. TRN House is another commercial building opposite the centre; it's 100% occupied and houses about 500 people each day. A second commercial building next door to TRN House is currently under construction with an estimated opening date of mid next year.
And that's not all; Western Sydney Airport is due to be completed in 2026, four years away; it's located just 10 kilometres from Oran Park. Massive growth of the region is assured.
In addition, the transformational new rail network system, reported in our last issue (Sydney Metro Martin Place) incorporates a new link between the Sydney CBD and Parramatta, as well as the new Sydney Metro – Western Sydney Airport. Part of this scheme involves a new station at Oran Park; its planned location is directly opposite The Podium Shopping Centre.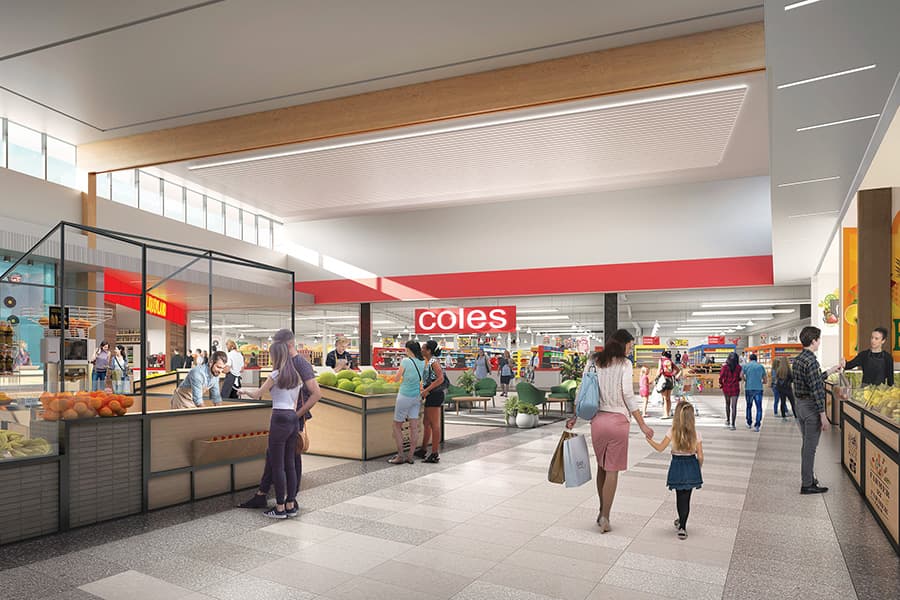 As it stands, Oran Park Podium Shopping Centre is a 'mini-gun'; a 9,000m2 centre incorporating one of the largest Woolworths Supermarkets in NSW along with some 32 retailers.
It's a high trading centre with an MAT/m2 in excess of $10,700.
Stage 2, opening next year, adds a new Coles Supermarket, a further 65 specialties and mini-majors, a rooftop childcare centre of 1,800m2 and a playground for children and teenagers of some 1,200m2, including an adventure playground, water play area and a handball court.
Above the centre will be an Atura Urban Resort, offering larger family restaurants at ground level with some 184 rooms catering to local and interstate markets, given its proximity to the Western Sydney International Airport.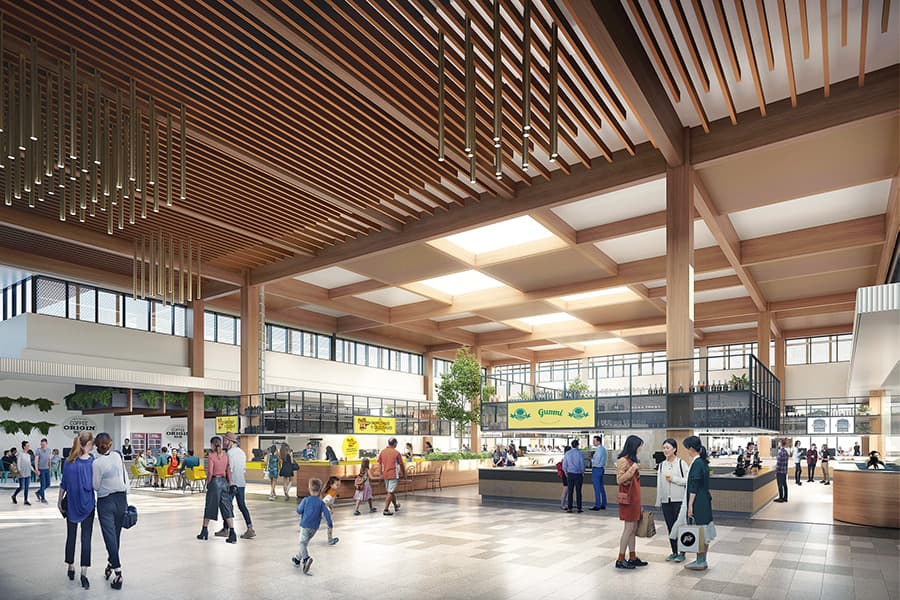 In all, Stage 2 will deliver a centre of 29,000m2 – a new 'Little Gun'. It will incorporate a new market hall with a broad food and beverage offering, including a new 'eat street' style outdoor dining precinct.
Stage 3, already DA Approved, will commence after Stage 2 completion – next year – and will bring Oran Park Podium into the ranks of the Big Guns.
And so, our statement at the beginning; 'the most uniquely developed shopping centre in the world', begins to acquire some credibility. Only 15 years ago, these 1,300 hectares were nothing more than farmland with a raceway at the centre. Today it's a thriving and growing town just one hour's drive from the Sydney CBD. The current Main Trade Area of 55,000 people has a compound growth rate of 5.4% and is projected to grow to 96,570 by 2031 and to 144,000 by 2041.
The retail spend is currently estimated at $674 million and is expected to increase to $1.9 billion by 2031 at an average annual rate of 8.2%. Home ownership is 82%; 28% higher than the Sydney Metro at 64%. Present household income at $135,000 is a whopping 17% higher than the average Sydney Metro household income.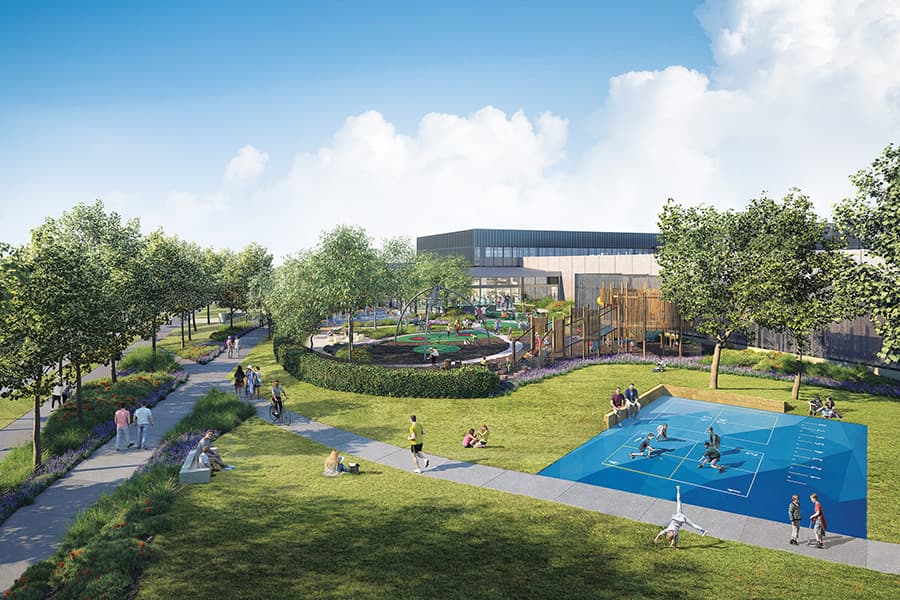 And that's why, to present Oran Park Podium as an entity in itself, is to present an incomplete picture.
The centre developers have placed it at the heart of a town they have developed totally from scratch. They have planned this centre and its expansion entirely based on market demand to ensure the retail connects to the commercial, residential and social infrastructure in contemporary ways. Their vision from the start, and their continuing development, has been nothing short of extraordinary.
Success in commercial terms may be achieved by adopting one of two strategies; exploiting society or contributing to social advancement. It is obvious which route these developers took chose. In our business, we all try to present our centres as the community focal point by whatever means available to us; however, the Perich family simply engineered it from the beginning. Quite simply; the resulting master planned community is remarkable and unique!