Colliers International is far more than just a Real Estate Agent and Valuer. The Retail Division of the organisation has emerged over the last decade or so as one of the most sophisticated, fully integrated, independent property service groups in the world. The level of expertise, the depth and breadth of the services provided, are nothing short of phenomenal!
We live in an age of transition. Change is dramatic, consequential and rapid. Less than 40 years ago, there was no such thing as a mobile phone; the fax machine was yet to arrive and the idea of the internet was yet to be conceived.
Transition though, isn't just confined to material things – phones, faxes or computers and the like. Transition extends to methodology, strategic thought, and to the fundamental principles we adopt, to control the very way we conduct our business. Change however, is often traumatic; many organisations, especially those that are well established, traditional and conservative, have difficulty when it comes to change.
Colliers International (the Australian division) is a very traditional and well-established organisation, but it's at the forefront of change.
Colliers International has transitioned itself from being a traditional 'Valuers and Real Estate Agents' company, into one of the most vibrant and dynamic property services group in the world, and its retail division is spearheading that metamorphosis.
As the new millennium dawned, if you'd asked someone what the retail division of Colliers International did, you'd probably elicit the simple answer that they were 'valuers, selling and leasing agents'. Those days are long gone.
Today, Colliers International Retail Division is a fully integrated property services organisation, with a totally 'in-house' capability in development and project management, leasing, marketing and management of shopping centres, together with the full range of financial and investment services.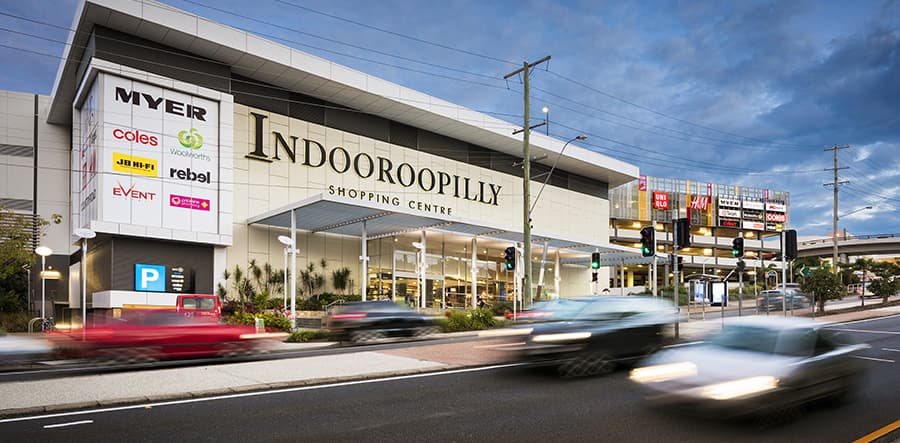 It all began some 10 years ago when the CEO John Kenny said, "Our important clients are demanding a full retail service". That was the cue for Lachlan MacGillivray to move from his home in Melbourne, to take up the Retail Investment Services role based in Sydney. A few years later, Michael Bate joined Colliers International as the Head of Retail of the retail business, and set about building a full-service business starting with the acquisition of McKenzie Hall, a specialist Retail Property Management and Leasing company. Dale McDermid, as Head of Retail Management, became the third of the triumvirate at the helm of Colliers Management Division.
It's a powerful leadership team with great pedigree. Lachlan MacGillivray, prior to joining Colliers, spent several years with a boutique real estate agency specialising in leasing to upmarket labels. His key deals included Prada whom he placed in Collins Street along with Cartier, Rolex, Watches of Switzerland and Lloyds Shoes to mention but a few. Since 2010, as Head of Retail Investment Services, MacGillivray has had the lead role in some $9 billion worth of shopping centre sales in Australia including Northland in Victoria; Mt. Ommaney, Queensland; Westfield Woden (ACT); Mid City Centre in Sydney; Stockland Townsville; and, of course, the largest single transaction in Australia's shopping centre history – the sale of 50% of Indooroopilly for $810 million. Many of these transactions are highly complex, a long way away from a simple sale with a buyer and seller. These are major capital partnering transactions involving some of the finest retail property assets in the world, conducted by some of the most astute and knowledgeable figures in the industry.
Michael Bate came to Colliers after a 10-year stint at Stockland where he held senior leasing roles, moving into the position of National Business Manager for Capital Transactions. He has worked at Lend Lease as General Manager, Retail Leasing; he's worked at Westfield. It's a career spanning 35 years which has seen him involved at the highest levels in the sales of leasing, masterplanning and management of major shopping centres throughout Australia and internationally.
Dale McDermid was an 'acquisition through an acquisition'. He came to Colliers International after Bate and Kenny acquired McKenzie Hall where McDermid ran the management team – a highly specialised shopping centre management division with deep expertise in all areas of management, marketing, leasing and operations. Prior to that, Dale McDermid was MD and shareholder of the Byvan Group, another specialist retail centre management company, which was sold to Savills in 1999. He was a founding member of the Shopping Centre Council of Australia (SCCA).
It's these three executives who have transitioned the retail property division of Colliers International, from the 'traditional' valuers and real estate operations, into the fully integrated property services group it is today.
It's a transition that has seen a change in focus, from the 'product' (the property) to the 'client' (the investor or owner). "Traditionally the focus was on the property," says Lachlan MacGillivray. "We leased vacancies or acted as selling agents but the accent was always on the property, what we could do to fix it or make it more attractive for sale. Today we focus on the client, their needs, their agendas, their requirements, and they're all different." It's not difficult to see why; it's a widely diversified client list including Primewest Property Investors, SCA Property Group, LaSalle Investment Management, Woolworths Property Group, Harrington Property Group to name but a few.
It's a point emphasised by this leadership team – this 'client focus' is at the core of the transition and what separates the Colliers retail arm from the pack.
A major Fund, for example, may invest in one or several retail property assets; their objective may be one of remixing, re-planning the asset(s), leasing, marketing and managing them for a term of say five-years, value adding and then selling. In such a case, several 'Consultancy' or external retail specialist companies might have parts of the required skills. On the other hand, the objectives could be completely different; the client is a 'long-term' holder, the assets need 10-year masterplans involving redevelopment, extensions, re-financing. It's in such cases that the uniqueness of the Colliers retail arm comes to the fore.
We all know that successful retail developments always involve the entire retail team, from market research and its translation into a retail mix. From the retail mix and subsequent retail planning, comes an architectural brief, the result of which must be costed to produce an initial and long-term ROI. Development Management must include full Project Management and leasing, then delivery to a management, marketing and operations team who will have had input at the earlier stages. And it doesn't end there either. Investment advice must incorporate the likelihood of future capital partnering transactions, prospective partners and their requirements. The entirety of this process and the skills involved is at hand, and more to the point, totally 'in-house' at Colliers International.
In terms of Development and Project Management, Colliers International recently announced the acquisition of NixAnderson, one of Australia's leading Project Management firms.
The company has been involved in some of the largest and most complex projects including the new $600-million Northern Beaches Hospital, the Australian Catholic University, and Sydney's Wet 'n Wild theme park. In terms of retail, amongst others, NixAnderson's expertise stretches to the DFO Homebush Shopping Centre, Moore Park Supa Centa, Homemaker Centre at Marsden Park and Rockingham Shopping Centre.
So it's a 'one-stop' scenario for potential investors or present owners who wish to tap into an expertise bank with credentials second to none. The recently created retail group 'Home Consortium' who acquired the failed Masters portfolio is a perfect example of how the Colliers International retail arm swings into action. Colliers International has been appointed exclusive agents for the leasing of the first of 35 of the 61 properties acquired. It's far more than a simple case of 'lease this vacant space'; Colliers retail experts have been working with Home Consortium on the retail planning, remixing and repositioning strategies for the old Masters stores. The model has been decided and the first one is about to go to the market.
In 2017 Colliers International leased more than 226,000m2 of retail across Australia engaging in some 530 retail leasing transactions across their CBD, Projects and Large Format retail leasing teams.
In terms of masterplanning, we need to look no further than the current Kings Junction in Adelaide. Colliers International Capital Markets & Investment Services sold Stage 1 of this massive, 20ha site to GIC Australia. The retail leasing arm met with GIC who subsequently introduced Retail Real Estate Management to assist with this massive project. The collaborative team is now working with a full consultancy team to design, build and lease this 30,000m2 centre (30kms north of the Adelaide CBD). Kings Junction features three major tenants, several pad sites and approximately 50 tenancies with a delivery date in 2019.
The management arm in the retail team is currently responsible for some 200 retail assets with a total GLA more than 1.6 million sqm. The portfolio includes significant market share in Large Format integrated centres, Sub-Regionals, Convenience and Neighbourhood, CBD Retail and Mixed-Use properties. In the Convenience/Neighbourhood sector alone, they manage more than 100 supermarket-based centres across the country.
SCN talked at length with the senior members of the Colliers International retail team and the major difference that struck us, between the traditional (or 'old') approach and the new, was the focus on the Client. Michael Bate summed it up: "A large organisation may look at a project, assess the present situation, and contrast it against the objectives set a year ago to see how they performed. If it hasn't gone well there's a post-mortem; perhaps new priorities are set, new objectives, it might even involve new team leaders or whatever. In the Colliers case, we form part of those objectives and take full ownership through our KPIs to deliver."
Initially, that might sound a trifle glib, but it's not; it's very succinct. There's no grey here – no blurring of the objectives, the timeline, the dollars or the result. At the beginning, the terms and conditions are set down and all based on mutually agreed performance levels. "What the client wants," says Michael Bate, "is what we produce – it's that simple."
Of course, it's not that simple at all. The reality is that in today's world it's highly complex. But the depth of expertise, the skills base at Colliers International Retail, allows the division to add value in any sector of the retail property market. The record speaks for itself.
As well as those mentioned earlier, in Retail Investment Services, the company has sold more than 110 assets since 2011.
Just last year alone (2017) they sold Kawana Shoppingworld on behalf of Mirvac ($186m); Salamander Bay Centre was sold on behalf of Vicinity Centres for some $175m and not to mention record-breaking results for Coles Supermarket Five Dock ($19.66m) and Chester Square Shopping Centre ($68.5m) for their private market clients.
On the leasing front, 2017 was a bumper year. Colliers International were appointed as exclusive joint leasing agents for the Sydney Arcade, Pitt Street Mall – 400 George Street. The retail team has been working for over 12 months on the retail masterplan for M-City Monash in Clayton, Victoria. It's a significant mixed-use development consisting of some 680 new residential apartments over 26,000m2 of retail which will include Woolworths, Kmart, cinemas, mini majors and specialties; Colliers have now been appointed the exclusive leasing agents for the retail component.
It was a great year for the Management team as well. The prime Collins Street (Melbourne), development, St Collins Lane, owned by JP Morgan, appointed Colliers as managers of this prestigious four-level centre boasting a mix of luxury and premium international brands and the only Debenhams department store in Australia. At the other end of the retail sector, Colliers have been appointed managers of one of the latest Woolworths developed convenience food-based Neighbourhood centre, Glenrose Village, located on the Upper North Shore of Sydney. It's a Woolworths and Aldi-based centre with a strong specialty accent on fresh food and dining. Another addition to the Colliers' portfolio was Clemton Park Sydney (owned by SCA). It is a strong community, convenience food-based centre anchored by the latest Coles supermarket.
So, along with the 'client focus', the other striking feature of this highly sophisticated retail division is the size and scope, the variety and sheer contrast in their portfolio. They work on high-end, major city CBD luxury developments, while simultaneously planning, leasing and managing neighbourhood centres in low socio-economic regions, and everything in between as well!
This exposure to the whole market, to the nuances and general shifts in demand, to the variances in spending patterns in different trade areas at the same time, give the Colliers International retail team a very broad yet highly detailed view on the state of the industry at any given point. Dale McDermid explained,
"If you think we are in the property industry, you are sadly mistaken. We are clearly in an industry that relates completely to the delivery of service and results by having the best people, structures and platforms."
And this, coupled with an intimate knowledge of the directions, needs and strategies of the major players in the ownership stakes, positions them perfectly as an organisation that brands itself as a 'fully integrated property services group'.
This comes a long way from 'Valuers and Real Estate Agents!'