Australian retail property assets remain well sought after with $6.84 billion trading in 2019, underpinned by domestic and offshore groups who continue to see value in the sector. 
Retail investment volumes were constrained by fewer assets being brought to market with a 10% fall in the number of assets sold in 2019 when compared to 2018. Despite selective demand, the market saw a total of 122 asset transactions with an average deal price of $56 million. This represents the fourth highest average recorded in the 10-year period from 2009 – 2019.
New South Wales accounted for the largest dollar share of investment volumes in 2019 with $2.5 billion in sales – representing 36% of the total retail investment market. This is followed by Queensland and Victoria recording $1.4 billion (21%) and $1.2 billion (18%), respectively.
Despite the continued growth of online retail, bricks-and-mortar stores remain an essential part of the retail landscape and continue to evolve to meet consumer expectations. For landlords, this has meant a narrowed focus on optimising their tenancy mix and, as a result, we are seeing shopping centres becoming more service-based to meet the needs of the local catchment.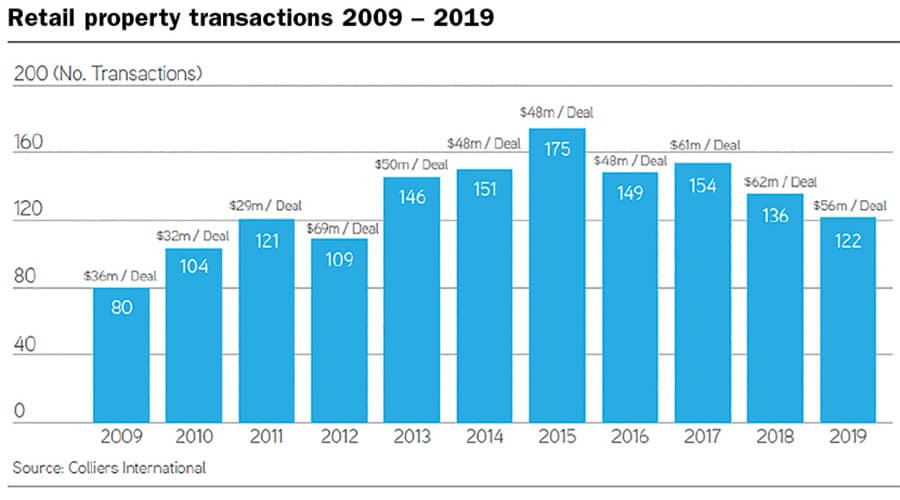 Purchaser Source of Capital 
Private investors
Astute private investors accounted for 47% of transactions (by dollar value) in 2019 after being presented with generational opportunities to invest in high quality defensive assets.
These investors are less constrained by global sentiment and are able to look beyond cycles, while taking the opportunity to act quickly and acquire intergenerational assets. All of these factors, in addition to an increase in interest from international investors such as SPH REIT, point to a view that the Australian Retail market has been oversold and represents good value.
Institutions
Similarly, domestic institutions have progressively reweighted their portfolios and disposed of selected non-core centres. This environment has created opportunities for proactive investors willing to undertake refurbishment works to rejig the tenancy mix to enhance consumer experience in a bid to boost trading performance.
Institutional Investors were the second-most active purchaser group by dollar value, accounting for 39% of total retail transactions. Institutional Investors have contracted from the retail market relative to their market share in 2018, where they accounted for 59% of all transactions.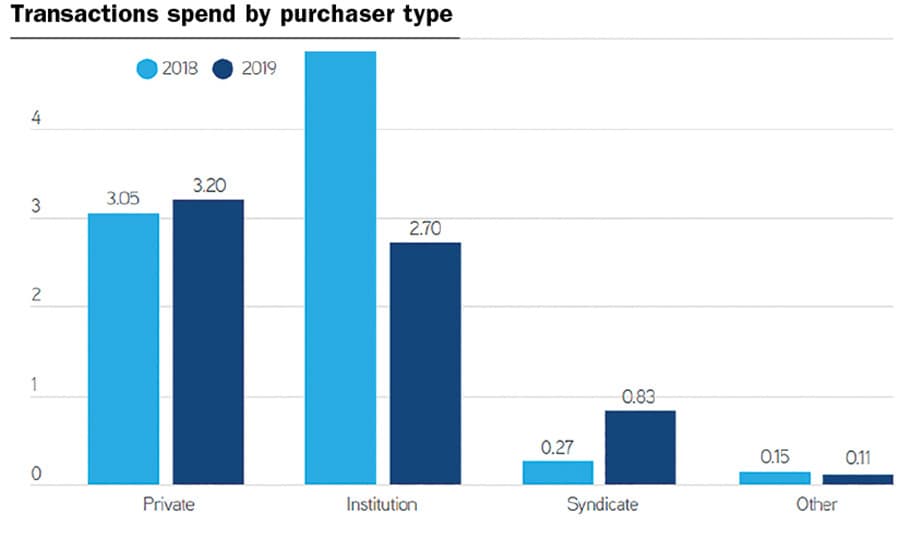 Syndicators
Syndicators have become increasingly prevalent in the retail investment market over 2019, now accounting for 12% of the overall market. This is a significant increase from the previous year, having almost quadrupled their relative market share.
While the overall retail market has contracted in terms of dollar figures between 2018 and 2019, private investment has grown by $259 million, or 9% YoY, and syndicate investment has grown by $560 million, 205% YoY.
The growth in investment by these purchaser types has been counteracted by reduced activity from the institutional investor group. Institutional investors accounted for $2.70 billion of retail investments in 2019, almost halving their investment levels since 2018 of $4.93 billion.
Major Transactions Overview
CBD retail assets
Overall, transaction activity in Australia's CBD showed a 6% increase from 2018 levels. The sub-sector saw 12 asset transactions worth $876.7 million – eight of which were in Sydney, two in Brisbane, one in Surfers Paradise and one in Melbourne. 
Sydney was the most active CBD with $520.1 million in sales, which, by dollar value, accounted for 59% of retail CBD transactions nationally. Queensland accounted for 39% of activity with $342.1 million in sales recorded. 
The sale of one of Sydney's newest and most diverse retail precincts, Central Park Retail, marked the single largest pure play retail transaction within this sub-sector for 2019. The asset was acquired by Fortius Funds Management with Singapore-based SC Capital from Frasers Property Australia and Sekisui House Australia for $174.5 million at a fully leased yield of 5.5%.
Super regional & regional centres
Regional centres accounted for the largest dollar share of investment volumes in 2019 with $1.82 billion trading – representing 27% of the total retail investment market. This outcome is the result of three transactions, all brokered by Colliers International.
Westfield Burwood was the first regional transaction of 2019 with a 50% interest sold by Scentre Group to Perron Group for $575 million.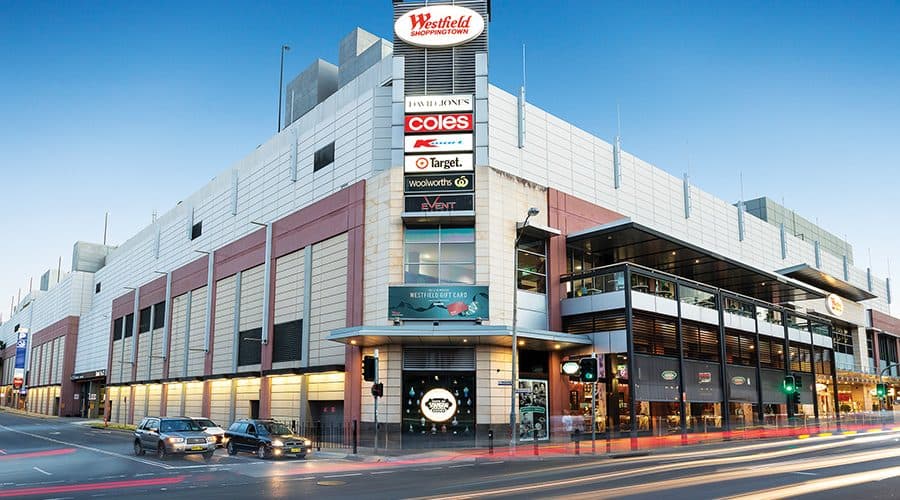 A 50% interest in Westfield Marion – South Australia's only super regional shopping centre – sold for $670 million in Q4 2019. The Centre was purchased by Moelis Australia with an investment vehicle fully capitalised by SPH REIT.
Scentre Group acquired a 50% share with management rights in Garden City Booragoon, Western Australia's best performing regional centre. The Centre, now rebranded Westfield Booragoon, was sold for $575 million by AMP Capital Diversified Property Fund at a 4.75% cap rate.
Sub-regional centres
Investment volumes for sub-regional centres more than halved in 2019 with just over $1.18 billion across ten assets being sold over the year. 
New South Wales was the most active state with $413.3 million recorded across four transactions. This accounted for 35% of national sales. Victoria and Queensland were the only other states to report sales of sub regional centres during 2019, with both states recording similar levels of activity – accounting for 34% and 31% of sub-sector activity, respectively. 
Noosa Civic was the largest sub-regional transaction for 2019 – representing one-fifth of investment in the sub-sector. The centre was acquired by Stockwell Funds Management from Queensland Investment Corporation in Q3 of 2019 for $235 million. The sale reflected a yield of 6.00% and was facilitated by Colliers International.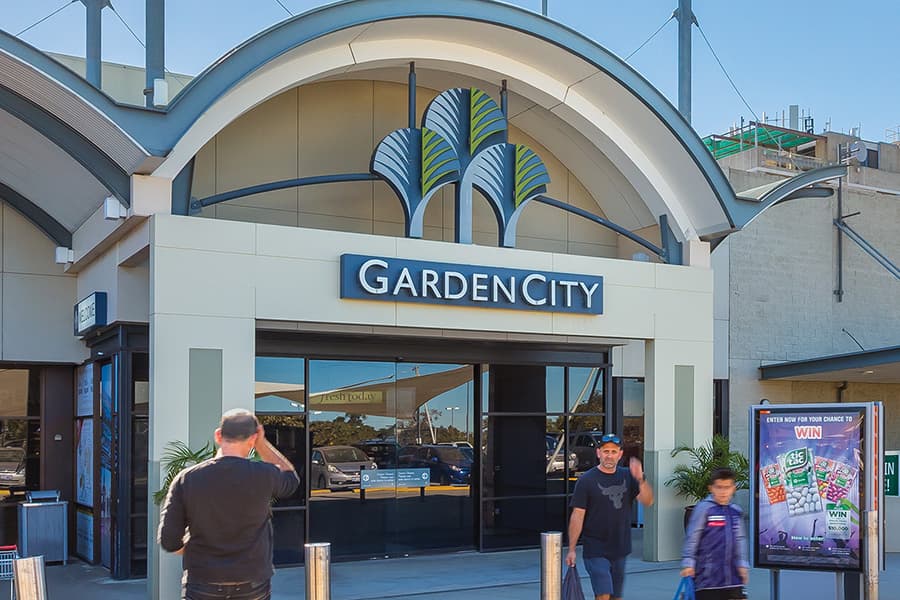 Neighbourhood centres
By number of transactions, neighbourhood shopping centres remain the most active sub-sector with 42 sales recorded in 2019.
With volumes totalling $1.49 billion for the year, demand for neighbourhood centres continues to stem from high exposure to non-discretionary stores while the average price point of approximately $35.4 million remains affordable to a broader range of investors.
In 2019, New South Wales and Queensland recorded $507 million and $485 million, respectively in neighbourhood centre sales. Each state registered 13 deals reflecting a combined 67% of sub-sector transaction volume nationally. Victoria and Western Australia each recorded six transactions, which accounted for a combined 25% of the market. A total of four transactions occurred between the Australian Capital Territory, Northern Territory and South Australia.
The sale of Norton Plaza (NSW) was the largest neighbourhood centre transaction in 2019. A private investor acquired the centre from GPT for $153.2 million on a 5.50% yield.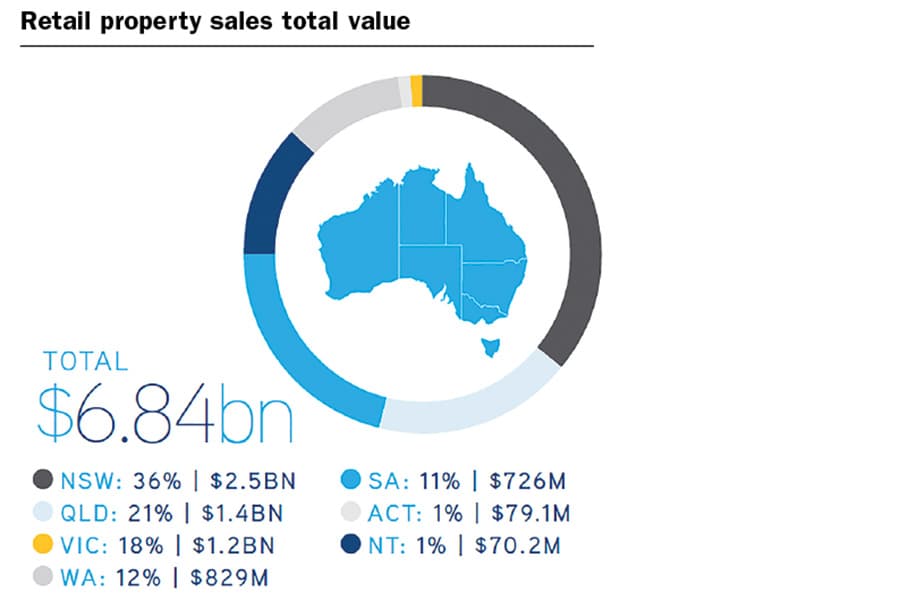 Freestanding
The freestanding retail sub-sector remained steady during 2019 with $446.49 million worth of transactions across 23 assets. Sales declined marginally from 2018, by 2%.
Victoria accounted for 56% of national transaction activity in the freestanding retail sub-sector in 2019. The state recorded $247.9 million in sales across 12 assets. This was more than double the second-most active state of New South Wales, where $92.4 million in sales was recorded over six transactions.
Coles Group anchored freestanding retail assets accounted for the majority of sales recorded in CY19, with a total of $304.59 million sold across 13 transactions, including the sale of Coles & Kmart Northcote Plaza and Coles & Kmart Boronia.
The largest freestanding retail transaction in CY19 was the combined sale of Coles and Kmart within the strata shopping centre Northcote Plaza. The assets were purchased by a private developer at a sub 5% cap rate.
Large format retail & outlet centres
The large format retail (LFR) and Outlet Centre sub-sectors saw $736.8 million in sales across 23 assets in 2019.
New South Wales recorded the highest sales volume within the sub-sector with $334.0 million transacting over nine assets – accounting for 45% of LFR investment sales.
Bunnings Warehouse anchored assets accounted for $256.2 million or 32% of LFR sub-sector sales.
The single outlet centre transaction in 2019 was the acquisition of a 50% stake in Uni Hill Factory Outlets for $67.8 million. Vicinity Centres purchased the stake from their joint venture partner MAB Corporation on a 6.50% initial yield. The transaction is subject to ACCC approval and is expected to settle in early 2020.
The $64.3 million sale of Homemaker Prospect in Sydney's western suburbs was the largest transaction in the LFR sub-sector in 2019. Dexus purchased the asset on a cap rate of 7.10%.