It's the industry's highest Marketing Award of the year in Australia and as Australia is the world leader in the shopping centre industry, then it's obviously leading edge on a global scale. The SCCA's Sabina Rust Memorial Prize, for Campaign of the Year, was awarded to Pauline Pham, Marketing Manager of Mirvac's Rhodes Waterside. We asked Pauline to tell us about the campaign.
Onboard the millennial movement of self-love, health and well-being, Mirvac's 'Festival of You' at Rhodes Waterside celebrated everything that makes you feel good.
In the hustle and bustle of modern day, the realm of happiness has taken up a new dimension. Feeling better from the inside out spearheads the multibillion-dollar health industry as society progresses its focus on mental health.
For Mirvac, a campaign focused on mental health and well-being was a no brainer, with the national marketing team rolling out the 'Festival of You' initiative across 16 centres Australia wide. The concept was then enhanced and tailored at each centre to the target demographic.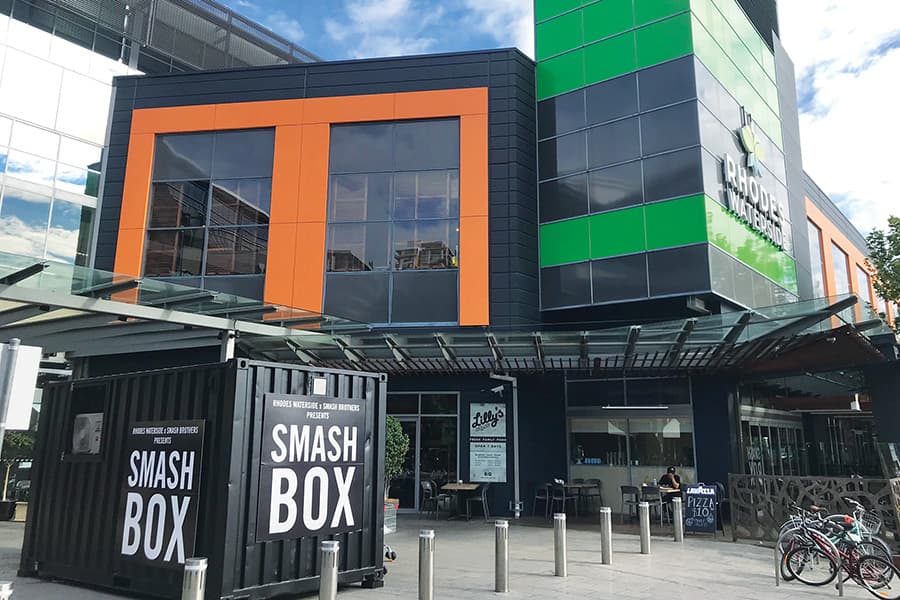 Following a recent brand re-fresh, Festival of You at Rhodes Waterside embodied the centre's new brand vision; finding the fun in every day to leave people with a smile. The strategic territory gave licence to be playful, use humour and not take life too seriously in creating vibrant, unique and meaningful collateral while injecting feel good fun into the centre.
Considering the competitive Sydney events calendar and a limited budget, Festival of You at Rhodes Waterside focused on creating strategic partnerships to drive alignment with relevant perceptions and attitudes to its on-trend customer. The centre marketing team identified key Sydney commercial, community and retail partners who were leaders in their field, providing Festival of You with a broad range of expertise and experience. The partnerships created a calendar of experiences encouraging customers to explore inner and outer health, stress, art, beauty and altruism to achieve happiness.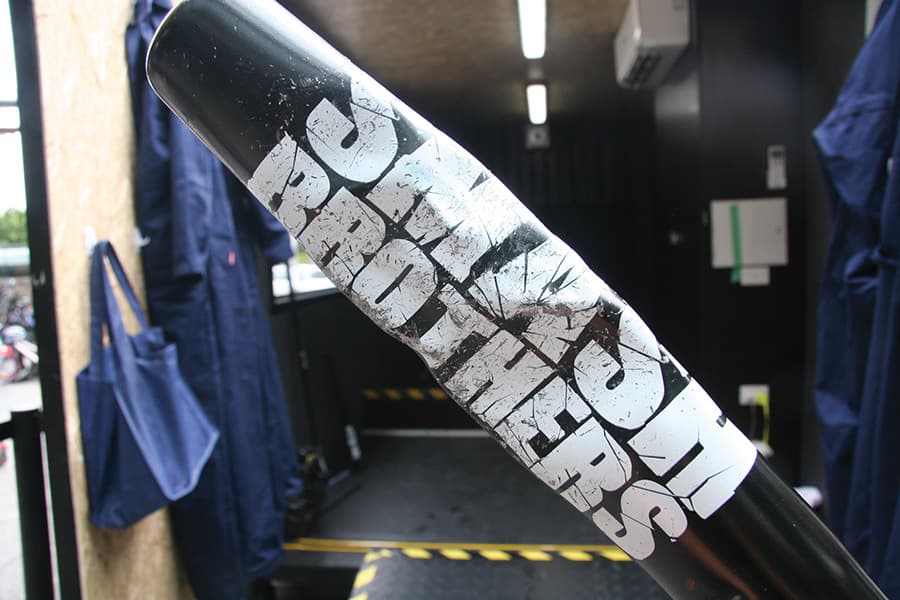 Rhodes Waterside's key commercial partner Sydney's Smash Brothers are forerunners in the Smash Room scene, opening their premium warehouse in Alexandria a few years ago. The team crafted a pop-up version of the Alexandria experience for an Australian first in a shopping centre at Rhodes Waterside; complete with a 15ft shipping container fully equipped with online booking, sound system, cushioned walls and thousands and thousands of bottles. The combination of the two brands saw a successful partnership generating $27,000 in value at no cost to the business and creating a unique experience for the centre and its patrons.
Altruism has often been linked to the pursuit of happiness. Festival of You's partnership with Dress for Success aimed to forge human interaction to drive philanthropy, with the shared mission of empowering women to achieve economic independence. The campaign featured two strategic community initiatives with the Handbag Drive and the Karma ATM. More than 750 bags were donated and distributed to prepare Australian women for the workforce with an estimated value of more than $15,000. The Karma ATM invited customers to tap to donate $1.99 to Dress for Success, with their good deed rewarded with an instant hit of karma and resulting in more than 2,000 donations.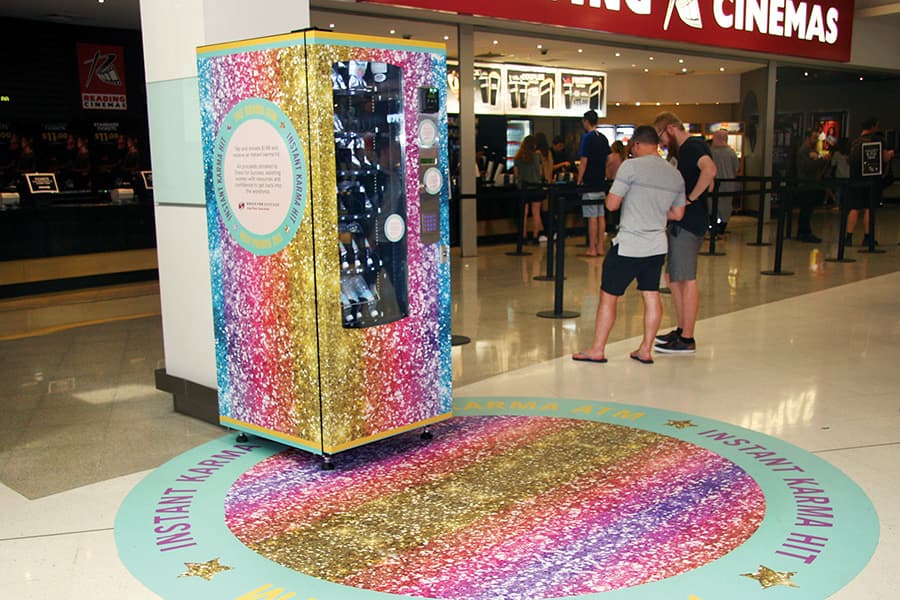 Leveraging the plethora of industry experts and brands available in centre, Rhodes Waterside partnered with key retailers to create a two-week calendar of more than 20 unique events and workshops delivering on the promise to find fun in the everyday. Workshops included:
• Terrarium Making Workshop with Sheridan Studio
• Breakfast Club with Lilly's Espresso & Cucina
• Yoga on the Roof with GFitness
• Laugh Club with Corbett & Claude
• Financial Wellness Hub with HSBC
• Beauty Bar with Priceline Pharmacy
• Smash Stress workshop with NSW Institute of Education
Workshops generated more than $27,000 in value and were provided at no cost to Rhodes Waterside, engaging more than 2,000 participants across the two-week period.
Existing community partnerships with NSW Police and NSW Health supplemented retailer partnerships with additional services to the community, including workshops in health and community safety.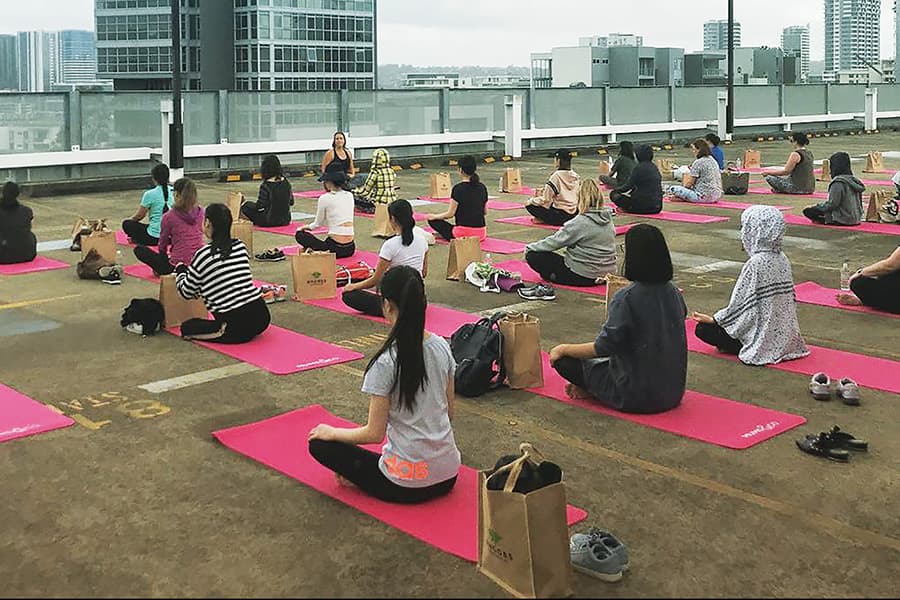 As an extension of the brand, the content strategy and customer touchpoints for Festival of You cultivated the connection with Rhodes customers in every touchpoint of the campaign including creative, digital content and in-centre customer experience. Content ranged from motivational quotes and messages on social media and on bathroom mirrors, to free downloadable meditation and self-help books from commercial partners, ensuring that campaign and content integration encompassed every type of customer and left them feeling good.
The campaign engaged more than one million patrons through in-centre experiences such as the Smash Brothers' Smash Box, a sold-out calendar of events and activations and philanthropic initiatives for Dress for Success.
Festival of You showcased Rhodes Waterside as a premium family destination driving growth in both traffic (+7.9%) and sales (+8.9%) and generating more than $90,500 in PR value including features in key publications Broadsheet and Concrete Playground Sydney. Successful partnerships provided value of more than $164,000 to the marketing budget and an ROI of $1:$4.45, aligning Rhodes Waterside with key brands and unique, one-of-a-kind experiences for its customers. The campaign exceeded objectives and brought Rhodes Waterside to the forefront of immersive, meaningful connection in line with the Marketing strategy.