Everything (well nearly everything) is down. In a downturn, do you continue advertising or do you put it on hold? If you do; what's your message? Same as usual or do you take a different tack?
The ongoing COVID-19 pandemic is most likely the biggest challenge many of us have ever faced.  
Personally, I have never seen anything like it, and you would have to go back to the WWII era to find anything that surpasses its broad and deep impact on society and the economy. 
While at the time of writing Australia has not been hit as a hard as other countries in terms of the number of sufferers, the impact here is still severe. I remember the GFC and the early 1990s recession, but this is far worse because it is a health crisis and an economic crisis rolled into one. In previous downturns, we could at least rely on economic forecasts to help us plan, with relatively accurate models showing the path to recovery – but I never had to worry about Out of Home audiences declining, certainly to the levels we are currently seeing nationally, and across the globe.  
Today, there are more unknowns than ever, and economic forecasting is less reliable given a pandemic on a global scale has not been seen for 100 years. We really have no clear idea of its impact over the coming months and years on our modern, globalised economy. 
As a business leader, the best thing to do is analyse the situation and update your colleagues frequently. Demonstrate to all your stakeholders that you can adapt quickly and accommodate new realities, no matter how much you may dislike them.  
For oOh!media this has meant taking steps to protect the health and safety of our staff, following all government guidelines, keeping an eye on costs and working very closely with customers to help them. We are trying to measure audience decline so we know when the uplift to normal starts again, which in turn will help us all come out together on the other side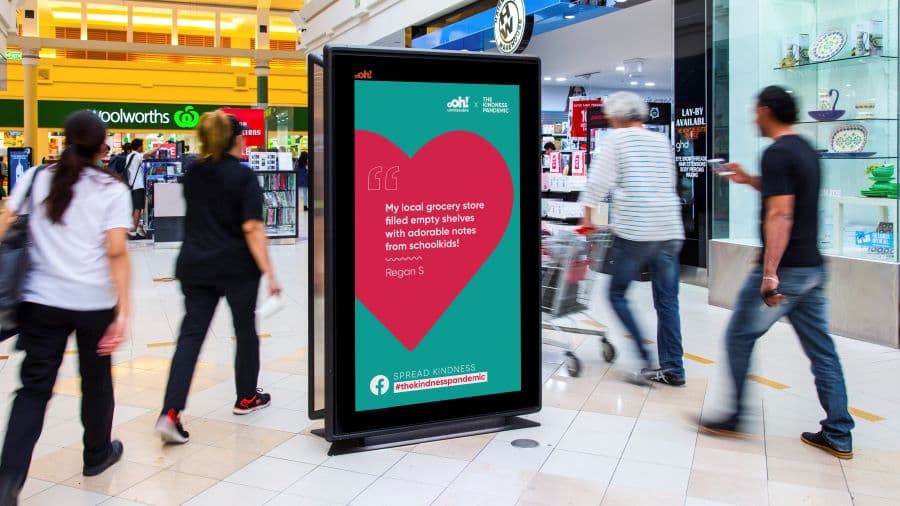 There is no doubt the pandemic has taken its toll on businesses worldwide, and the retail sector has been hit hard with many shops closed and foot traffic down in normally busy areas of retail centres. While some supermarkets are still doing a lively trade, this does not offset the wider downturn across the broader retail portfolio. Brand advertisers have of course noticed this and reduced their spending accordingly, which has a flow-on effect on revenue opportunities like retail media. Alternatively, some clients are not having to spend as they are doing relatively well. As a result, we are working through this reality with centre owners and discussing ways to manage these issues collaboratively.  
I strongly believe this approach is the right one – being constructive, being honest and finding ways to cooperate. By doing this, we lay the foundations for a solid return to growth when conditions improve. 
In fact, history shows that being smart in a crisis pays dividends. In the advertising sector, brands that doubled down and focused on long-term brand building through crises often emerged better placed than rivals who cut ad spending. While Coca-Cola decreased its operating expenses during the 1930s Great Depression, it actually increased its advertising spend in order to build brand equity over the longer term. Other companies have adopted similar strategies in downturns – Toyota, for example, increased its ad spend during the early 1970s energy crisis, helping it become the US's best-selling imported car soon after.  
Today, smart advertisers are adapting their brands to suit the times. We've seen companies like McDonald's, Audi and Coca-Cola modify their messaging to become more relevant to consumers, and they are just the tip of the iceberg.  
Relevancy is everything here, and we firmly believe this is an opportunity to carefully build brand trust at a time when consumers are looking for comfort. Practical ways to do this involve being present and investing in consumer relationships, being a source of truth and positive impact, showing empathy and giving comfort, helping people constructively use time and build new routines at home, going virtual, and recognising and affirming new social norms.  
Recent international research suggests that 70% of consumers expect brands to adopt a reassuring tone, while 75% say brands should not exploit this pandemic to blatantly promote themselves. People will remember your brand after the crisis is over, so it's important to get it right. On the flip side, one in three consumers had already stopped buying a brand they believed had not done the right thing during the crisis1. 
At oOh! we're taking the relevancy message to heart. As well as amplifying the federal government's health messaging campaign, we're developing and implementing campaigns spreading good news and reminders around kindness and appropriate social behaviour. We also launched a digital bear hunt campaign here and in New Zealand, designed to help keep kids entertained and boost community spirit amid all the challenges. These campaigns make use of our retail, road and street assets, enhancing their visibility. 
The campaigns also demonstrate that even in a crisis, the Out of Home medium can be used to increase the utility of public spaces and reach people with appropriate messaging in an age of traditional media and digital audience fragmentation.
The Out of Home sector is certainly being impacted by the change in audience movements. We are now seeing hyperlocal behaviour, with many people working from home and not travelling into the cities, and more local and suburban areas seeing increased activity with people exercising and shopping locally – 10% of Sydneysiders are making daily visits to the supermarket, for example, and almost 50% are shopping at least twice a week2. People are also taking care of others, with 36% checking on neighbours more often, and 30% helping others with grocery shopping3. 
This data suggests people are still out and about to some extent. Despite the upheavals, and in a different way, advertisers in these usual circumstances can still reach the public by utilising Out of Home assets in neighbourhood retail and road areas, as well as street furniture such as bus shelters. 
This unprecedented situation looks set to continue for a while, but like everyone, we're managing our way through it and looking forward to the day where signs of normality start to appear.
1. Source: Kantar Research, March 2020
2. Source: YouGov, 16 April
3. Source: Pure Profile, 7 April