As the first and last touchpoint in shopping centres, parking can be one of the biggest pain points in the shopping experience. Robert Horton of First Class Valet explains why investing in parking is key to creating a seamless customer experience.
One of the key reasons we started First Class Valet (FCV) was to improve the quality of customer service and parking in Australia. As an industry, if we could improve this pain point, more customers would choose the physical retail experience over online.
During the past couple of decades across all industries, solutions to improve convenience with technology have changed substantially. However, we still talk about 'good old fashioned service', but what does that actually mean?
Our experience with customers and parking is that they want it to be as seamless as possible, and we have become more accustomed to it with recent innovations. We think it is much better that payments are instant in an Uber by removing this simple step. Equally, we love the fact we can 'tap and go' with payments. It might be two minutes we've saved, but we love it! Good customer service is defined as seamless, convenient, and time-saving service, and anything that eliminates unnecessary hurdles. At FCV, our trained staff add the icing on the cake with their smiles, personal touch and efficiency.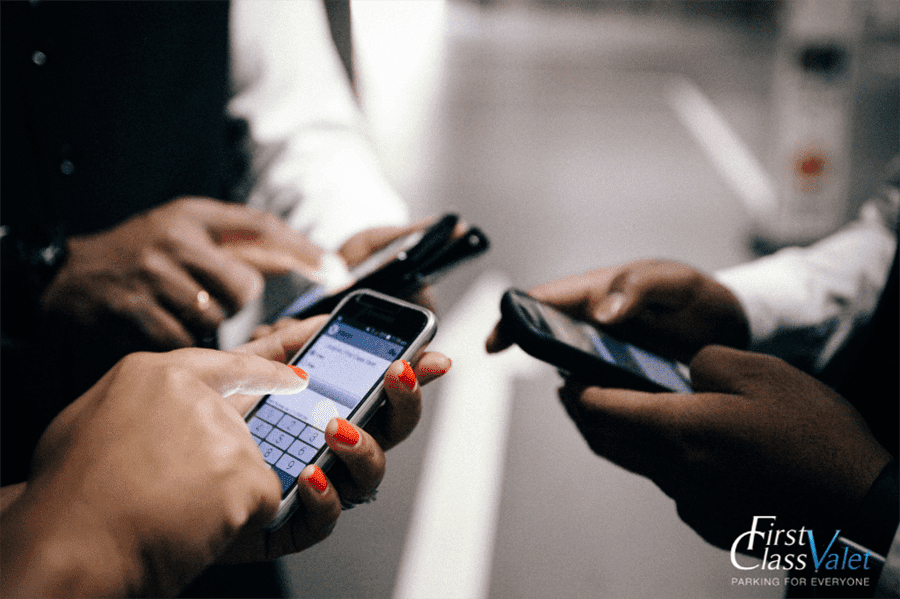 Technology is vital to any efficient, modern valet parking service; our technology allows for a paperless experience. Customers receive an sms message, click a link to request their car to be returned, and we send them an sms when their vehicle is ready for collection. There are no apps, no downloading, no logins. Our technology eliminates up to three steps compared to traditional valet parking operations and has helped improve net promoter scores for our clients. This technology also provides the ability for more efficiency.
As car park or valet operators know, the less a car is touched/moved, the lower the risk. The technologies capabilities are built for this. With more efficient processes and accountability, vehicles are moved far less, thus lowering our customer's risk (of incidents). Also, capturing any pre-existing damage is saved to the cloud. It is time and date stamped, which mitigates approximately 85% of false claims. Overall, lowering risk and claims, and still providing a seamless experience is what our valet platform can provide.

What's probably surprised us the most, is that the need for seamless experience spans across all generations. Even our older customers, understand how simple sms and phone technology is. From assisting the elderly or helping a young family load up and drive away, valet parking is accessible for everyone (Parking for everyone is our tagline).
We live in a time-poor society, and people don't have the time (or patience) for parking, especially in our larger and busy cities. When customers can effortlessly find what they need and complete their tasks without friction, it saves them time. Both customers and stakeholders would prefer time spent in the shopping centre, not circling the carpark looking for a space. A seamless experience in shopping centres means they can complete their shopping effortlessly and efficiently. Part of that essential mix is to provide a suitable parking experience.
One of the best car parks in the world is in Wolfsburg, Germany. This carpark situated next to the VW factory and museum, is the world's fastest automated parking facility. When a customer comes to pick up their car, parked in a pod in two towers made of steel and glass, the car is placed onto a platform and lowered down. A vending machine for vehicles!

Then there are all the operational elements which make parking good. Customers talk about the worst shopping centre car parks, which is a deterrent to visiting. Remember, your shopping centre's experience starts and ends in a carpark. We have done many operational reviews, and we find that even in new developments, the carpark is often the last consideration – when it can be your centre's competitive edge. Word spreads quickly when customers have exceptional experiences, attracting new customers and giving the centre an edge over others.
Parking also doesn't start when they enter your shopping centre. It begins with easily accessible parking information on websites. Many of our clients opt for pre-booked valet parking, so the team can manage the expected numbers and flows of cars arriving. This in turn, creates a good experience but also increases carpark revenue. Pre-booked valet also assists with staffing needs. With enough notice, a shopping centre can increase or decrease and redeploy valet team members, which is essentially cost-saving and efficient.
If shopping centres are reviewing revenue models, we know that customers are willing to pay for convenience and quality service. Valet parking adds to the shopping experience and instantly takes away any thought that parking will be a hassle. In the US, Dubai, and many places across Europe and Asia, just about every shopping centre has valet parking, and its broad demographics use the service, and are willing to pay.
A key consideration for any centre is optimising space. With our car dealership and airport clients, valet parking maximises the efficient use of parking space – which in most capital cities is becoming an increasing economic decision when there is the decision between the space being used for car parking versus retail space. Valet parking is a good way to save space, or we follow international models where buildings use car lifts, stackers or hoists to accommodate more car parks.
At First Class Valet, our success is only as good as our customer's experience with parking, and our client's experience with operational efficiency and reporting. Our clients have improved net promoter scores that lead to customer loyalty, repeat business and positive word-of-mouth recommendations.