Technology platform anyspaces.com has seen tremendous growth year on year with start-up businesses seeking short term spaces, and now established businesses are getting on board as well. Activation Specialist, Drew Littlefair explains how to turn vacant or underutilised spaces into customer engaging programs that generate revenue while maintaining simplicity in the process.
Traditional retail is phasing out in some areas with new and exciting customer engagement solutions entering the market. The new 'fad culture' is built perfectly for commercialisation as it provides a standalone solution or a stepping stone to longer-term objectives.
As we emerge from the COVID pandemic, the landscape is beginning to look very different. There is an abundance of vacancies across various areas, with many businesses closing or downsizing. Vacancies are aesthetically unappealing and diminish a customer's experience.
Listing and filling these vacancies as they come up can lead to a more vibrant, evolving environment for customers and create meaningful experiences.
With the rise of the pop-up culture and drive for brands to connect with customers in physical spaces, demand is growing exponentially for commercial space activations within shopping centres. Global brands, SMEs and start-ups seek short-term activations and co-sharing spaces as an agile, scalable, inexpensive, low-risk, and flexible solution to re-engage face-to-face with customers. Pop-up tenancies provide an incubation stage and testing ground for new ideas or businesses, some of which can transition into longer-term leases.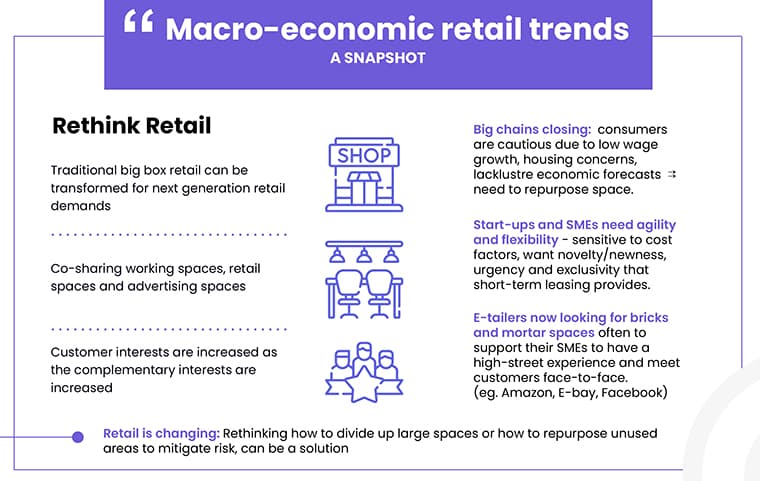 The technology creates opportunities for longer-term requirements. Over the past six months, we have nurtured several pop-ups into longer-term leases as businesses have proven their concept and are ready for commitment. Our 8,000+ user database and ongoing globalisation rollout expose the venues to new and exciting opportunities 24/7.
As the world becomes digital, landlords and managers need to find these potential new brands for their spaces fast and seamlessly.
Technology as a solution
The shift in preference in our everyday lives to use technology to find and book services is rendering the traditional booking methods obsolete. This means venues that want to attract the new generation of customer experience creators must meet their new needs with technology.
Every business wants a frictionless process so they can focus on their core business. Start-up vendors need space booking processes to be super easy while holding their hand through the entire process, and brands want to speed up the way they buy media across multiple communication channels. The before, during and after campaign processes need to work with and for the business, which goes beyond just a license agreement transaction.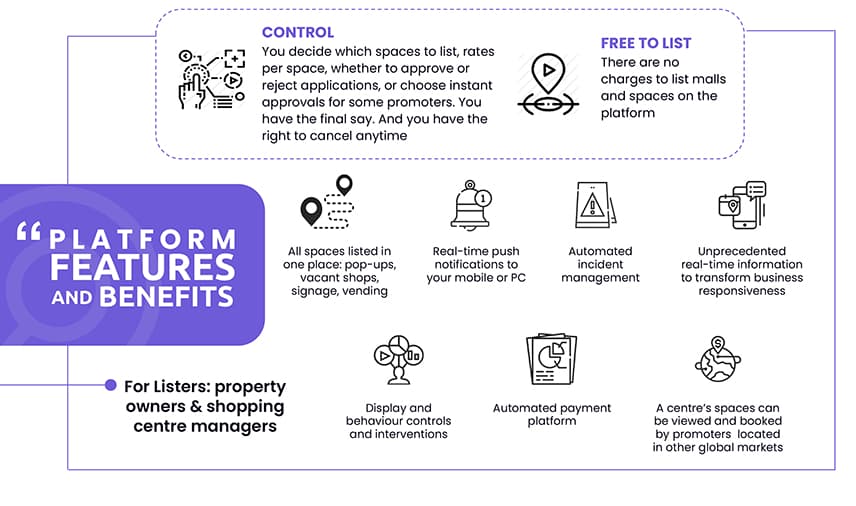 Having to navigate multiple landlords with a range of different requirements is time-consuming and often off-putting. Across the range of short term commercial spaces, the need for immediate turnaround and access to information to assist the booking process is paramount for any business thinking about using your space. Venues can list part or all of their space inventory on the anyspaces.com platform to get in front of thousands of vendors globally – a marketing reach that is unparalleled.
Staff members responsible for casual bookings can find target audiences of vendors located anywhere in the world via the online automated processes, helping them become more efficient with their time. The immediacy and simplicity of the automated processes of listing spaces on the platform, and reviewing and approving activation requests, can be transformational. World-class technology has arrived and is ready to help venues recover and revitalise.
anyspaces.com is not just a marketplace for space; it is a technology platform developed specifically to automate and enhance real estate space transactions. The core features focus on driving and increasing revenues through short term space activations of any commercial space.
It can help turn vacant or underutilised spaces into customer engaging programs that generate revenue while maintaining simplicity in the process.
Identifying underutilised spaces and filling these with activations or displays opens up additional income streams. The platform can host all kinds of spaces to rent – from banners, posters, decals, storage, offices to empty shops and common mall spaces – all possible revenue-generating options.
Click here for more information on how anyspaces.com works