With the holiday season fast approaching, one thing is certain: shopping centres will be bustling with shoppers darting from one shop to the next, and the demand for smooth elevator and escalator operations is paramount. Adam Daly, Modernisation Director at KONE Australia and New Zealand, highlights the company's commitment to modernisation and sustainability.
In today's evolving commercial landscape, the importance for modernisation and eco-efficiency in retail spaces is essential in ensuring they remain vibrant centres, paving the way for a sustainable future. Retail facilities, such as shopping centres, rely on the continuous modernisation of elevators, escalators and autowalks to keep this experience convenient and accessible for customers. Much like shopping centres, modernisation and sustainability in buildings is essential in creating up-to-date spaces with reliable features that enhance the overall performance of the building and user experience.
Future-proofing technology
In the rapidly changing world of construction and architecture, modernisation is all about future-proofing your building with world-class technology that is up-to-date and provides a positive user experience. Why wait for a problem to arise, which could only cause longer delays and greater costs, when you could stay one step ahead with KONE.
With KONE's technological capabilities, clients can have peace of mind knowing the building remains at the forefront of innovation, efficiency and sustainability. By minimising disruptions and ensuring seamless operation, retailers can maximise their potential and safeguard against costly downtime and untimely loss of trade.
When you partner with us, you're making a proactive choice to future-proof your building and stay ahead of the curve as we continue to push sustainability boundaries by ensuring our products, solutions, and services are future-proof and engineered with a focus on reducing emissions and conserving energy for a more sustainable future.

Revitalise your building with reliable parts
Whether it's replacing failing equipment or connecting your elevator equipment to smart technology, you can create a whole new experience for your building. KONE provides not just an upgrade but an enhanced safety system for residents, increasing the building's overall value and sustainability.
At KONE we have established ourselves as trusted industry leaders, recognised for our ability to deliver exceptional maintenance services across various equipment brands. Our commitment to innovation and sustainability reflects a forward-thinking approach that aligns with the evolving needs of the property management industry.
Sustainable solutions
More and more, businesses are required to manage the sustainability aspect of their business strategies and develop climate-friendly solutions that bring us closer to a healthier, eco-friendly world.
Coupled with this, maintenance is of utmost importance to ensure all equipment performs reliably and safely to withstand the test of time. Introducing KONE Care DX – a carbon-neutral maintenance solution that includes compensation for the carbon emissions caused directly or indirectly by our maintenance activities.
Eliot Goldstone, National Sales Manager at KONE Australia and New Zealand, says it is evident that mere compliance with basic standards are no longer enough for businesses to evolve and thrive, commenting, "At KONE, sustainable and eco-efficient solutions are prioritised through smart technology, allowing users to embrace a reliable and environmentally-friendly way of living and working."
"Whether you're developing a new shopping centre or replacing an existing elevator within the centre, sustainability is at the core of what we do. As such, we're pledging to reduce the climate impact of DX Class elevators by offering a carbon neutral option."
"If you are looking to build greener, or implement greater eco-friendly practices in your shopping centre, take advantage of KONE's healthy, low-emission interior materials, best-in-class energy efficiency, and receive full disclosure about the environmental impact of our solutions."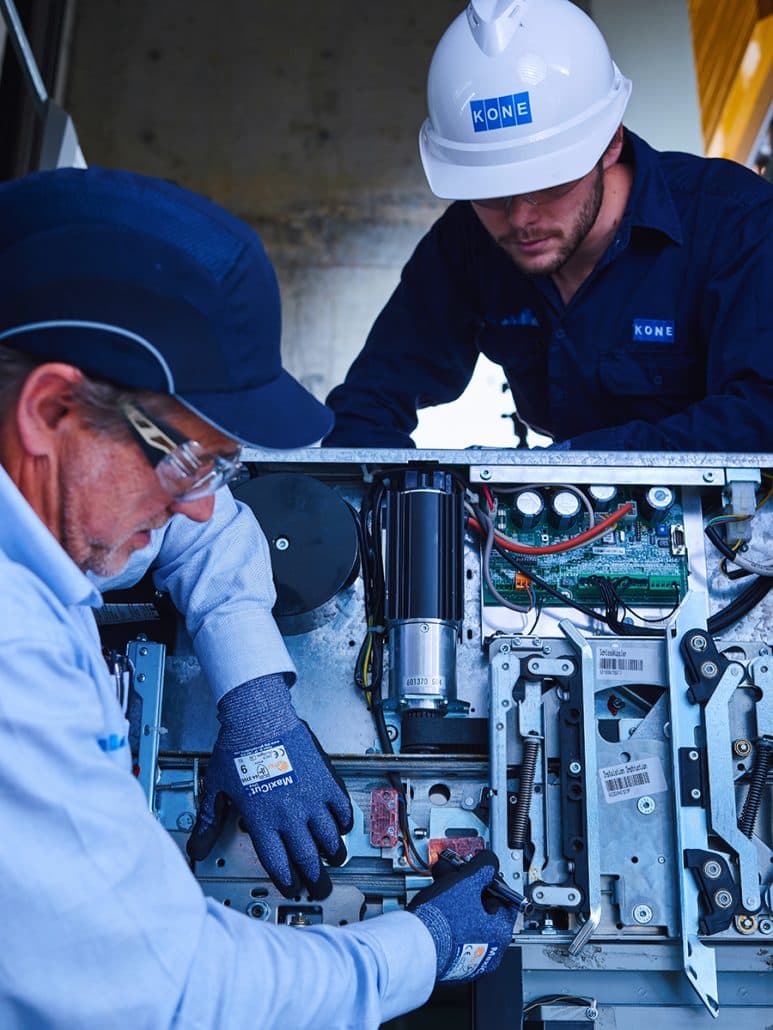 Unmatched maintenance services
In the competitive world of shopping centres, safety, maintenance and compliance are integral components of success. With KONE's 24/7 Connected Services and nationwide Technical Support team, KONE offers round-the-clock solutions to optimise maintenance operations, prioritise facility performance and mitigate risks.
This intelligent predictive maintenance keeps your building moving to increase the value of your centre and prolong equipment lifetime. The intelligent monitoring technology detects and alerts the team of potential problems before they cause disruption and assists in planning ahead for future maintenance needs.
To learn more about KONE's modernisation practices and maintenance solutions, visit kone.com.au.