TOMRA, the technology partner for the NSW Government's successful Return and Earn scheme, this week released a report outlining participation in its reverse vending machine (RVM) network by major shopping centre groups.
TOMRA has approximately 330 RVMs located across NSW for Return and Earn, with the majority of these positioned in shopping centre car parks to provide convenient locations for NSW consumers to conduct their regular recycling.
While TOMRA has agreements with about 150 individual shopping centre owners, the report highlights that take-up among the major shopping centre groups has been strong. Charter Hall has led the charge with 12 RVMs, SCA Property Group has nine and Scentre Group, ISPT and Aventus each have eight RVMs located at their shopping centres.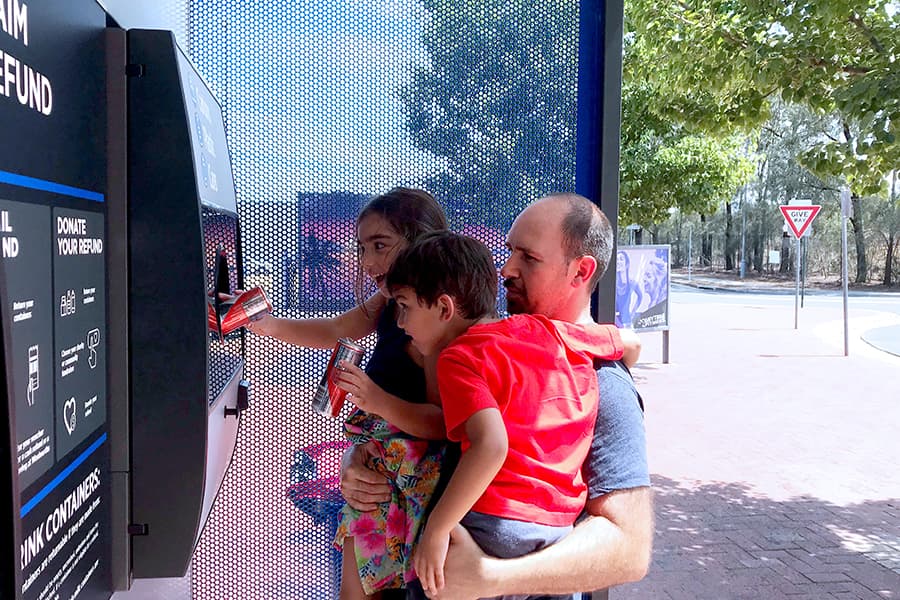 TOMRA Executive Director, Markus Fraval, told Shopping Centre News: "RVMs hosted at shopping centres really are a win-win proposition. Consumers gain the convenience of conducting their recycling and collecting their refund when they do their shopping. Shopping centres gain the benefit of a commercial rent and additional foot traffic. Retailers redeeming vouchers gain the benefit of increased sales. And all of that means higher recycling rates and less litter for NSW. It has proven to be a virtuous cycle."
The sustainability benefits associated with container return and recycling at shopping centres are eye-opening. The table below from the TOMRA report provides container volumes collected along with the environmental benefits that include estimates of CO2 offset, water saved and landfill avoided for each shopping centre group that provides more than one RVM location.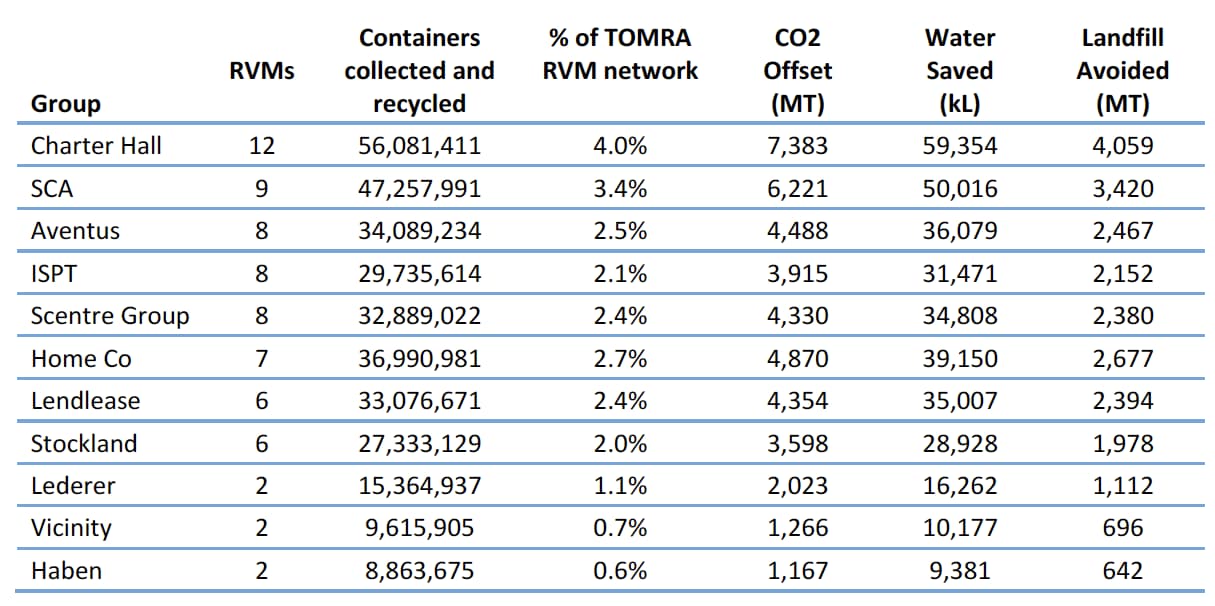 Several major shopping centre groups who don't appear in the table above are nonetheless co-owners in some of the centres counted.
The total estimated CO2 offset as a result of container recycling at all participating shopping centres is estimated at a whopping 113,240 metric tonnes, for the 12 months to 30 September this year, equivalent to 27,221 cars off the road.
TOMRA believes the trend in 2021 will be towards even further convenience for consumers to be able to conduct recycling where they do their grocery shopping. Encouragingly, Victoria has recently announced a draft design for its container deposit scheme that would facilitate 'return at retail' recycling.
Requests for a copy of the TOMRA report or enquiries about RVMs can be made by email to partnerships.aus@tomra.com