The ATM market is due for a shake-up, thanks to Armaguard's recent purchase of ANZ's 1,300 off-site ATMs. Of course, while the convenience and availability of ATMs remains an important financial service at shopping centres, the ATM industry itself is changing. Campbell Thompson from Next Payments explains how landlords can best maximise on the new opportunities presented.
Armaguard already owns Redi ATM, which it acquired from Cuscal in early 2019, and is in talks with CBA to acquire its remaining offsite ATMs. In a deal signed-off in 2019, Westpac has already offloaded its 750 machines to Prosegur.
ANZ and Westpac have remained silent on when ATM fees will be turned back on for customers. Meanwhile, some CBA machines have already been rebranded to Armaguard and have begun charging fees.
What this industry manoeuvring means for landlords is, to put it simply, the consolidation of ATM fleets across the country as cash management businesses take over, effectively providing landlords with new commission and rental negotiation opportunities.
Next Payments, an Australian owned company with investment from Macquarie Bank, has evolved as the major alternative provider, amassing a fleet of more than 3,800 ATMs since it launched in 2012. Next is Australia's fastest growing payments hardware and software business, installing several hundred machines a year, and has therefore attracted attention from major landlords.
Next Payments offers longer leases of up to six years, and much more favourable commercial terms, which means we're starting to see a shift in market sentiment away from the traditional bank owned and operated ATMs.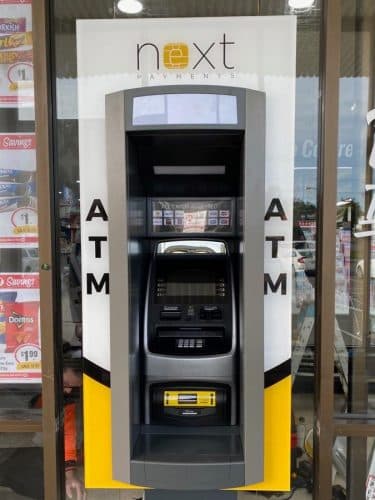 The cash economy is holding up well during COVID-19, despite negative publicity around cash and its cleanliness. Next Payments and other providers are sanitising cash and storing it for 24 to 48 hours to ensure it is contamination free. There is no evidence of cash spreading COVID-19. This has been confirmed by The World Health Organisation, The RBA, The Australian Mint and The Department of Health. The latest RBA figures show ATM withdrawals back up to pre-COVID levels, with 35 million withdrawals from ATMs in Australia during July 2020.
Any landlord being strong-armed by another provider should stick to their guns and know that there are alternative providers like Next Payments on the market.
ATM transaction levels have returned to pre-COVID levels other than in tourist destinations, CBD areas, and travel hubs such as airports.
To enquiry how Next Payments can help your centre, talk to:
Campbell Thompson
cthompson@nextpayments.com.au