This article by Cameron Leggatt, Executive General Manager Development, Frasers Property Australia, was first published as part of a special feature in SCN's July/August edition

At Burwood Brickworks in Melbourne, Frasers Property Australia has created the world's most sustainable shopping centre. Earlier this year, the International Living Future Institute announced it achieved Living Building Challenge® Petal Certification. No other retail development has attempted the challenge. In a sustainability sense, Burwood Brickworks stands alone.
But in a community sense, it's an essential part of a greater whole. The centre has been designed to naturally complement the surrounding residential neighbourhood.
Burwood Brickworks is true mixed-use. It was conceived holistically as one project, not defined by its residential, retail and public space components, but integrated in a place-making sense to exist as one, creating a sense of belonging to everyone who lives and works in the community.
Approaching mixed-use in a 'project is paramount' way enables a philosophical view. The best outcome for the community in a short- and long-term context means more. Even financial aspects and decisions, which would otherwise be attributed to different uses, can be viewed as one through a long-term lens.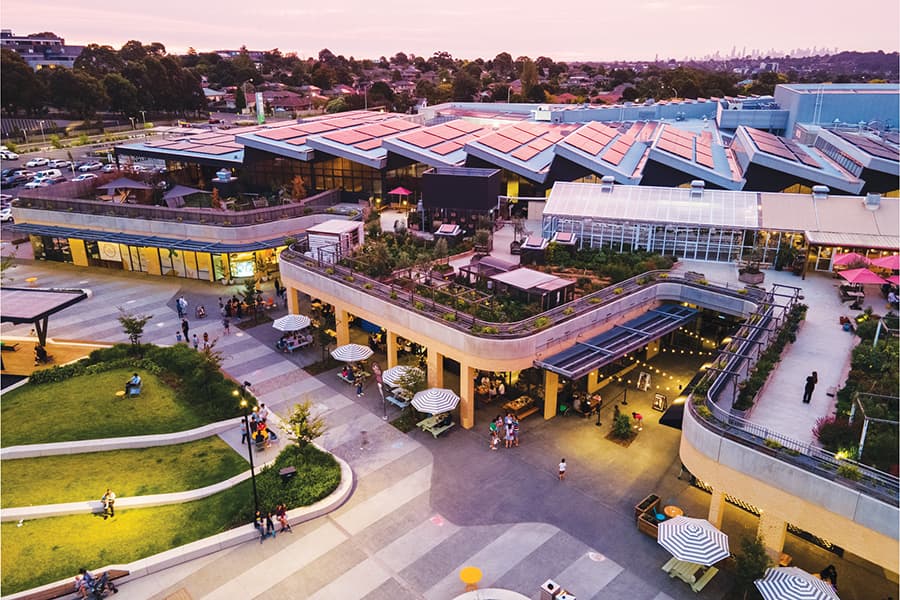 In building communities that encourage and facilitate a sense of belonging, the impacts of COVID-19 and working from home have highlighted the importance of social connection. The role of localised retail has been elevated. Retail is an adhesive in a mixed-use context.
Burwood Brickworks belongs to local residents because the physical place-making connects them seamlessly.
Residential and retail connected by community amenity that carries the common theme. Green links and pocket parks lead to a green urban plaza that blurs the boundaries between where the parklands end, and the retail starts.
It carries into and, in this unique case, on top of the centre. Biophilic design and extensive internal landscaping characterise the centre, though the inside/outside green blend is perhaps best celebrated through the urban farm on the roof.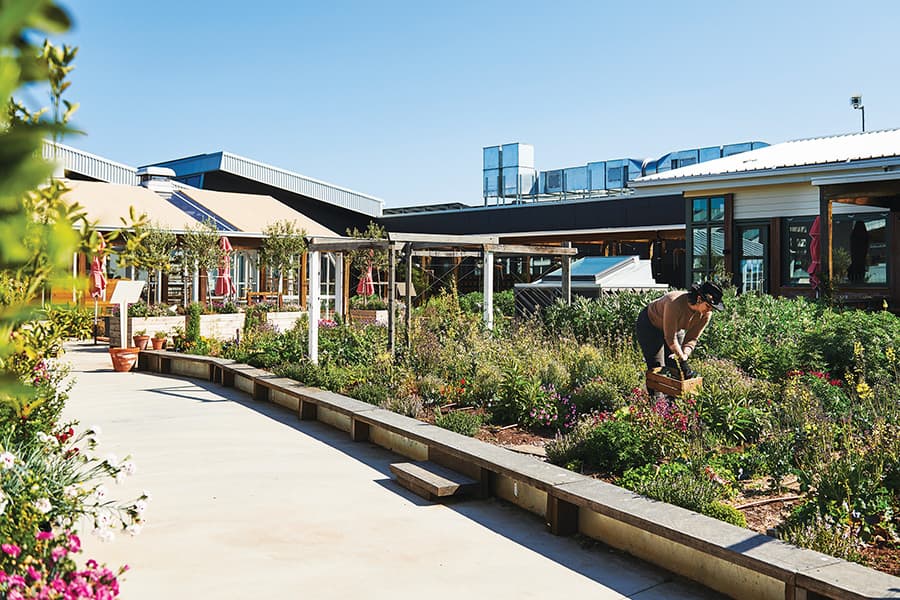 The Burwood Brickworks community is growing and people have moved into their new homes. Some, perhaps, are proud their local shopping centre is a global green leader. Most, probably, are simply thankful that Woolworths, Reading Cinemas and plenty of convenient services, fresh food, health and wellbeing stores, dining choices and more, are a comfortable walk away.
The residents of Ed.Square in south-west Sydney can also access everything they need within a short walk from home. Or they can get the train.
At Ed.Square, the residents of 1,884 homes will all have easy access to the new Ed.Square Town Centre, the community's retail, dining and entertainment heart.
By design, these residents will also have easy access to Edmondson Park train station. Mixed-use, at Ed.Square, encompasses the physical rail connection to create a strong community outcome that carries beyond the immediate catchment and across the region.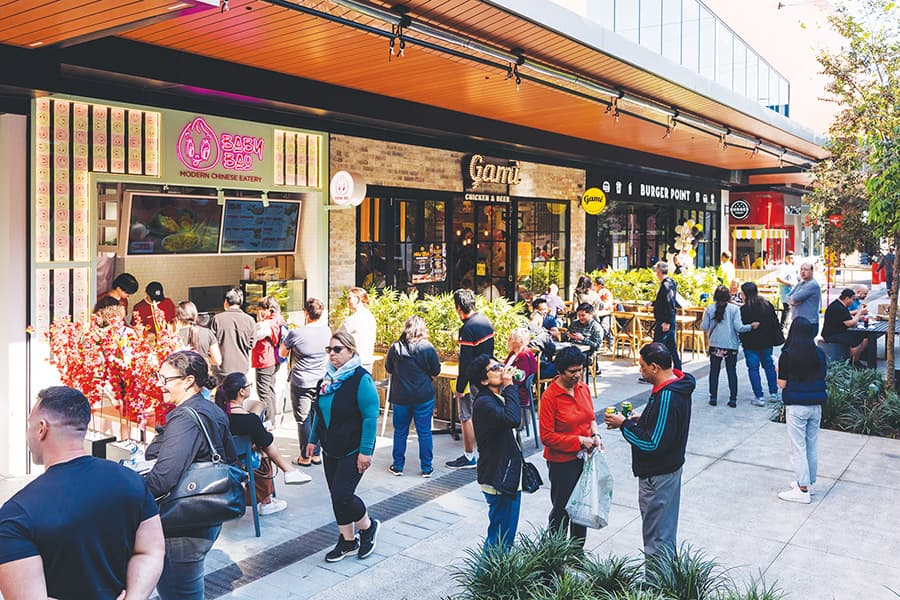 Walk through the Ed.Square neighbourhood, find yourself in the new Town Centre, and you realise what the new community brings – and means – in a local and regional context.
With drawcards like Coles and destinations like Event Cinemas, iPlay and Eat Street, there's nothing else like it in the region. Already, people from across south-west Sydney are assuming a degree of ownership in what has been created. Our retailers, through careful integration with transport connections and the residential neighbourhood, have broader opportunities to appeal to customers and drive loyalty beyond the catchment. This is complemented through the centre's own community initiatives and loyalty programs, to encourage those feelings of ownership and belonging.
The role of retail in the mixed-use Ed.Square community is not just as a place to shop, dine and socialise, but also as a town centre landmark that people naturally engage with every day. It's part of people's daily routines.
This is the power of localised retail. People don't just want to live close to amenity, they want easy access to the elements that together shape their lifestyle and bring identity to their community. With a holistic approach to the project, we can make places that deliver an immersive sense of belonging each day.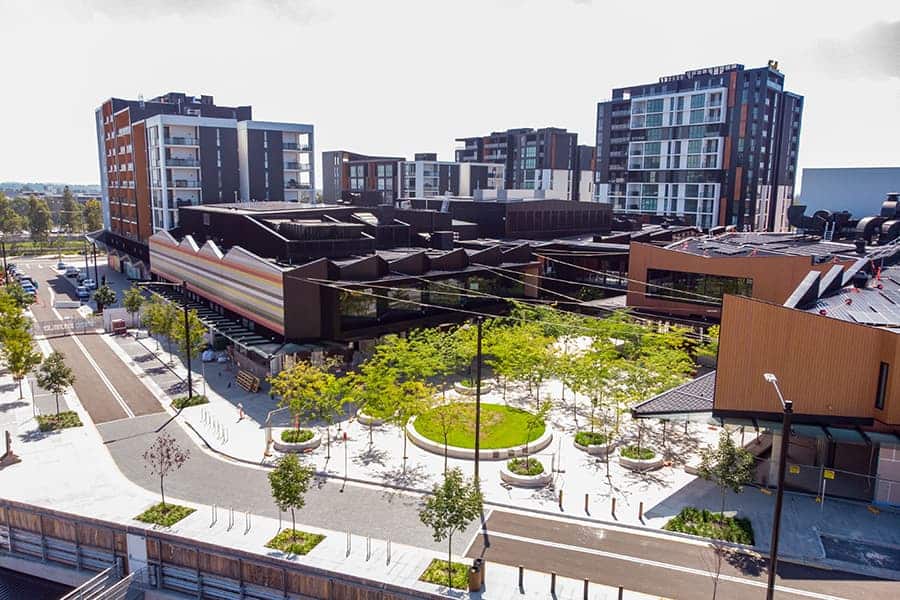 Frasers Property views mixed-use as a strategic strength. But mixed-use is different in every context.
The best mix of uses, how they're integrated to complement each other, the role retail can and needs to play, depends on the individual site and the community in which it's a part. From our perspective, solving these more complex, multiple use projects is highly appealing and where we want to play as a creator of communities.
In 2020, Frasers Property Australia re-organised its business and approach to mixed-use projects. Its cross-sector capabilities are best leveraged in a development sense by teams with skills in residential and retail – and commercial – working together from the conceptual phase to deliver smarter, stronger neighbourhoods over the long-term. The key being that the overall project outcomes are what is prioritised in a 'project is paramount' approach.
How mixed-use manifests at the local level must always be unique. At Coorparoo Square in Brisbane, apartment residents have doorstep access to a convenience and dining-focused offer that integrates with public transport connections.
At Shell Cove, on the NSW South Coast, Frasers Property and Shellharbour City Council have created a new marina, boat harbour and mixed-use community with amenities to provide residents the coastal lifestyle promised, while drawing tourists from afar. Here, retail is waterfront dining and socialising to cater to locals and hotel guests, balanced with a town centre with convenient services to cater for everyday needs.
Retail's mixed-use potential is broader still. I see retail as a crucial ingredient to a customer-centric approach in the emerging build-to-rent sector.
Residents rely on localised retail to meet their neighbours, for convenience, for specialist services including health and medical, and simply to belong. Like our other sector strengths in residential, property management and hospitality, retail has an adhesive role to play in build-to-rent too.
Far from being rendered obsolete by online shopping or COVID-19, bricks-and-mortar retail is an essential part of mixed-use community building. Just as long as it's not viewed in isolation.Frasers Property Australia