Wider footpaths, more trees, new street furniture and extensive paving for walking and outdoor dining will transform Sydney's George Street into a world-class pedestrian boulevard and draw people back to the city.
The City of Sydney has begun work on creating 9,000m2 of car-free space along the George Street light rail route from Town Hall down to Railway Square. Works to open up a new public space on Devonshire Street between Chalmers and Elizabeth streets in Surry Hills is set to start in 2022.
Lord Mayor Clover Moore said the $43.5 million project will be a boost for the local economy and support recovery from the impacts of the COVID-19 pandemic.
"Block by block, we're turning bitumen into beautiful paving with room for new trees, outdoor dining and street furniture," said the Lord Mayor. "We've loved seeing people reclaim George Street south while the temporary road closure measures have been in place. Now we want to make these measures permanent, giving people more space to window shop, dine and walk while maintaining physical distancing.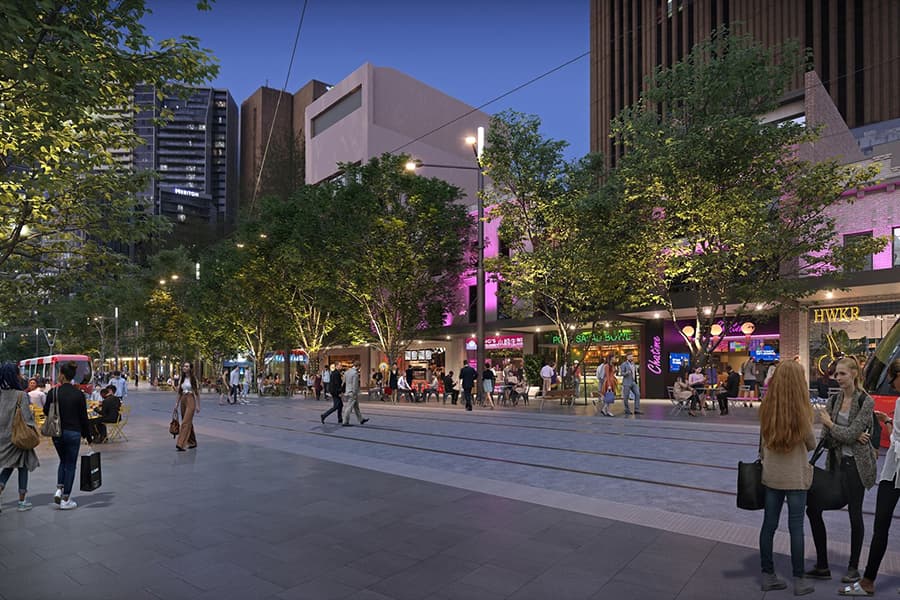 "This work will complete our long-held vision of turning George Street into a wonderful tree-lined pedestrian and light rail boulevard through the heart of our City," she said. "Extending this public space with permanent, quality infrastructure will make the whole area more appealing for workers, visitors, residents and local businesses, and encourage walking through the centre of our CBD.
"We are working closely with businesses to minimise disruption and thank everyone for their patience as we undertake this transformative project."
Gabriel Metcalf, Chief Executive of the Committee for Sydney, said the pedestrianised section of George Street from Circular Quay to Town Hall had quickly become one of the world's best streets.
"George Street is becoming a magical place and a big draw into the city centre – it's a place to enjoy public life in the city," Metcalf said. "It makes so much sense to extend that magic to the cultural anchor of Chinatown and the emerging tech hub around Central Station. We're excited to see the next phase of Sydney's public space renaissance unfold."
The Albion Place Hotel on George Street is set to benefit from the first stage of the transformation. David Highet, Director of Operations for venue owner Reserve Hotels, said the new-look George Street will help revitalise the area.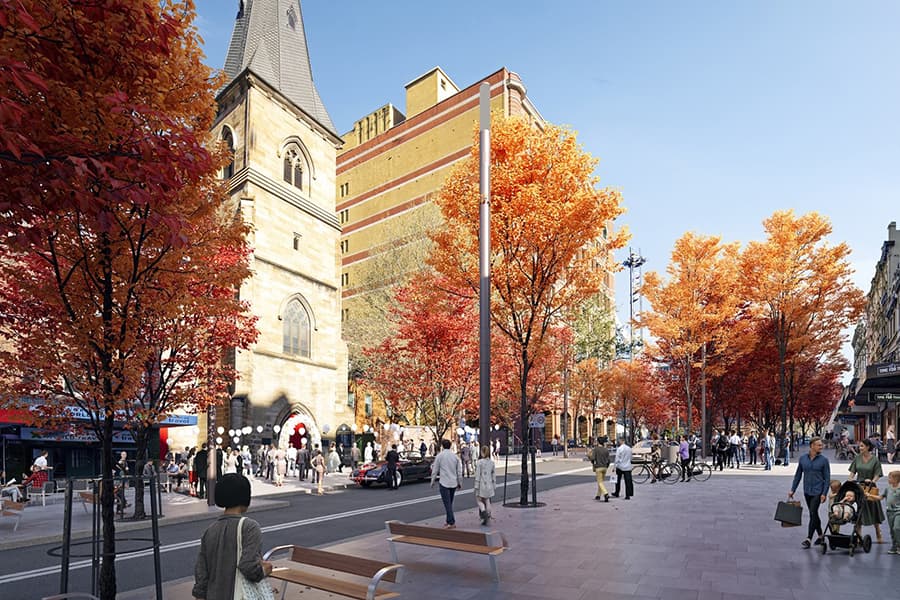 "This part of town has always been a bustling entertainment hub that attracted a diverse demographic looking to eat, drink and come together at a range of venues, but due to COVID, we saw business slump overnight," Highet said.
"This wonderful idea to turn George Street into a European-style boulevard will draw people back into the area and inspire us to explore new business opportunities.
"This is going to help turn George Street south into a destination in its own right and take the precinct to the next level."
The project is supported at all levels of government. The Australian Government will contribute $7.05 million for part of the project on George Street between Bathurst and Goulburn streets, with the NSW Government funding $1 million for the overall works.
The project works include:
Extended pedestrianised zones at the southern end of George Street between Bathurst Street and Rawson Place
Open space improvements on George Street between Rawson Place and Pitt Street, Ultimo Road, Thomas Street and Hay Street
More than 9,000m2 of new space for walking
Granite footpaths to replace car lanes
New street trees, seating and lighting
Spaces for outdoor dining
Simpler intersections to reduce travel times for everyone.
Local access and emergency services access will be maintained.
You can see plans for the works at city.sydney/george-street, along with details on construction timing and staging. The works will be completed in stages to minimise disruption to people and businesses.
Construction work is underway on the east side of the light rail tracks, near Bathurst Street, and will progress south on both the eastern and western sides, block by block, towards Railway Square.
Construction to the south of Goulburn Street is planned to start in late 2021. Work on Devonshire Street in Surry Hills is planned to start in 2022.