The year 2020 was brutal for retail in Australia, which was hit hard as COVID-19 wreaked havoc across the economy. But the latest data suggests that consumers are coming back to the shops as confidence returns, with noticeable recoveries across the country.
With 2021 looking rosier, we now see the emergence of new technologies and partnerships to leverage commercial opportunities and enhance customer offerings. It's going to be a pivotal year for the sector, and one that should set the foundations for higher revenues and greater successes over the next few years.
According to our latest data, the renewed positivity is being felt in actual audience numbers. People are out and about again in increasing numbers, which can only be good news for centre owners and retailers looking to make up ground after last year's difficulties.
Looking at the big picture first, on a national scale, we're seeing retail audiences coming back at pace, as measured across the 500+ centres where we have a presence. They are currently at 87% of 2019 levels and almost 95% higher than the depths of April last year1.
With 2020's lockdowns and working from home trends forcing people to spend more time in the suburbs, we're seeing similar patterns early this year, with suburban activity at or slightly higher than pre-COVID levels. For the week ending 22nd February 2021, we're sitting at 83% of 2020 levels on suburban roads, for example2. This headline number reveals some regional variations, with Queensland at  99%, New South Wales at 80% and South Australia at 91%. Western Australia bounced back from its recent lockdown to 92%, while hard-hit Victoria is seeing a slower but steady recovery to 69%2.
This is all good news for shopping centre owners, especially those with suburban or regional centres who are set to capitalise on these audience movements. However, we do expect that metro will pick up too as people return to their offices in greater numbers, and anecdotal evidence from the media and other sources suggests that more companies expect to see their workers at their desks again soon.
We also have access to retail insights, which itself is painting a positive picture. Week ending 22nd February saw in-store furniture sales up 11%, luxury goods up 28% and home and garden up 10%3. These categories include some big-ticket items, suggesting that consumers are opening their wallets a little wider as the new year starts, and looking to upgrade things around the house or treat themselves to a more expensive item.
From our own point of view, we're seeing an increase in activity and briefings coming in for out of home campaigns, with the domestic banks and auto categories leading the charge. Other categories are picking up too and as these campaigns roll out, they'll encourage increasing numbers of consumers to visit the shops to make their purchases. We're even being briefed on more long-term brand campaigns, which again is good evidence of returning confidence in the market that should flow through to the retail sector.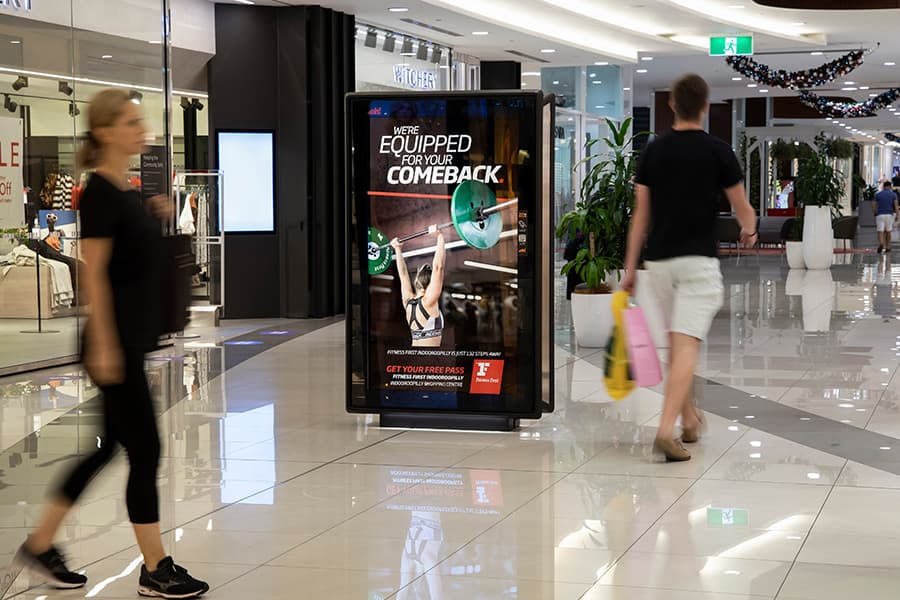 Thoughts on the year ahead
I've had a few conversations recently where people have asked our thoughts on the year ahead, and what insights we might have for our commercial partners.
One of the big questions is whether the working from home trend will stick as people return to work. Truth is, it's impossible for anyone to know. I've seen newspaper headlines that predict 'permanent' changes, but forever is a long time, and it's hard to know whether in a post-vaccine world the working from home trend will be as prominent two or three years down the track, let alone further than that. What we do know is that travel has returned to 84% of normal levels across our cities4. For our business in particular, we're noticing that people are eager to be back in the office.
One thing we're definitely going to see more of is the use of QR codes in the retail environment. The connection between mobile devices and digital out of home assets is continuing to grow as the public becomes more used to the technology, and we've had an influx of briefs to integrate QR tech and consumer interaction into the campaigns we deliver.
In our own industry, another trend we've seen is the use of out of home for more than just advertising. Everyone's familiar with the government health campaigns that ran far and wide during COVID, and we did our bit to amplify this important messaging, acting as a kind of public noticeboard. We've seen similar campaigns for the bushfires and with heat warnings in various places, but also with less obvious things like our collaborations to bring artworks to local neighbourhoods. This type of activity attracts eyeballs while utilising our unmissable medium to engage and inform consumers and citizens. Content, in other words, is evolving, and we expect to see more creativity in the public space medium across our network in the future.
Finally, one silver lining from COVID is increased transparency between the out of home industry and commercial partners. We've been long-term investors in the retail space for more than 20 years, and were in fact the first provider of retail out of home media, but last year's challenges led to a much greater level of collaboration with our commercial partners than ever before. That's here to stay, and we'll be keeping the shopping centre industry closely informed about some upcoming extensions to our retail offer in due course.
We'll also be talking much more about data, which nowadays is so robust and sophisticated that it's providing very valuable up-to-the minute information in terms of audience numbers, sudden changes and emerging trends.
Data is a juggernaut coming down the road that won't stop, and centre owners will see more and more innovation in this area as both oOh! and the out of home industry bring to market new data offerings and analysis techniques.
Data enables us to work together to target audiences and reach and understand consumers wherever they are, even if their movement patterns are changing. It also helps us find the right balance between classic and digital assets when running a campaign, or how to weight and optimise a campaign across an extensive network of thousands of different out of home formats, from billboards on the way to a retail centre, right through to panels throughout a centre.
As the recovery continues, we'll be relying on data and information sharing to a greater extent than at any previous point, and knowledge of returning retail audiences should help contribute to the general feeling of positivity in the air, and a better year than the last for centre owners and everyone else. 
Data sources
oOh! Smart Reach, DSpark, Aggregated weekly total volumes, 500+ oOh! Retail locations, as at 22nd February 2021 vs. week ending 13thApril 2020
oOh! Smart Reach, DSpark, Aggregated weekly total volumes, 3,200+ oOh! Road locations, as at 22nd February 2021 vs. pre COVID-19 (week ending 3rd February 2020)
Source: Quantium data, week ending 22nd February 2021, indexed in-store spend per person (benchmark w/e 3rd Feb 2020).
Source: oOh! Smart Reach, DSpark, Aggregated weekly total volumes, 3,200+ oOh! Road and 500+ oOh! Retail locations, as at 22ndFebruary 2021 vs. pre COVID-19 (week ending 3rd February 2020). Excludes ACT and NT.