The latest Westfield iQ research has confirmed how important Westfield Living Centres are to its customers and their optimism for the year ahead with two-thirds saying that in 2020, Westfield Living Centres provided them with access to essential stores and services, helped them get out of the house and maintain a sense of normality.
Scentre Group Chief Customer and Business Development Officer, Phil McAveety, said this heightened desire for social interaction was evident in customer visits.
"During 2020, we had more than 450 million customer visits, including an average of 46 million per month during the fourth quarter. Customers spent more than $22 billion with our retail partners and enjoyed close to one-and-a-half hours of their time on each visit.
"Despite the disruptive 12-month period, the trust and confidence our customers placed in our centre teams to deliver COVID-safe retail experiences every day remained constant.
"Approximately 90% of our customers said they continue to feel safe when visiting us and that our COVID-safe protocols are implemented well.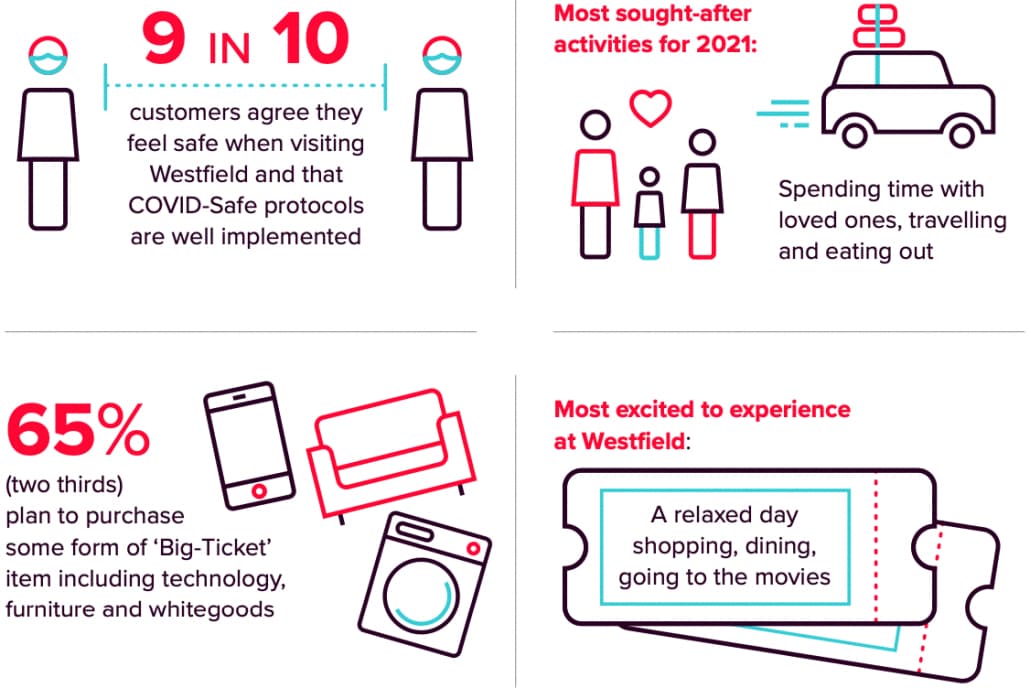 "We know our customers trust the Westfield experience, which is one of the reasons why customers are choosing to shop local," said McAveety. "Our Westfield Living Centres are local to our customers. About 20 million people live within close proximity to a Westfield Living Centre.
"Looking ahead, our customers are optimistic about the current environment and their own personal situation. Most are looking forward to having the flexibility to travel, eat out and even purchase big-ticket items.
"Customers are looking to Westfield for fun, pleasurable experiences to enjoy with friends and family," he added. "This level of positivity encourages us for the year ahead."