Since its inception, Vicinity Centres has been closely watched by investors and the industry as they develop their strategy for the future. This week Vicinity Centres released its 2019 first quarter results with a positive reaction by the market and proof that momentum is building towards a solid strategy of growth in response to the challenging retail market. Holding one of the largest retail portfolios in the country, Vicinity Centres released its current performance results as well as its continued plans to invest heavily in mixed-use and retail destinations. 
Grant Kelley, CEO and Managing Director, said: "It has been an active start to the calendar year, with our strategy for the new Vicinity – creating market-leading destinations, realising mixed-use opportunities across our portfolio, and expanding our wholesale funds platform – now having been in place for just over six months. 
"The repositioning of the portfolio toward approximately 50 market-leading destinations continues to be progressed and the strong operating metrics for this group of assets demonstrate Vicinity's strategy will continue to unlock value and deliver sustainable growth for securityholders. We have made significant progress on our live developments at Chadstone, with construction on the hotel and its link to the centre progressing well, while premium valet parking commenced operations in April 2019, as Chadstone continues to push the boundaries on the service and experience of shopping. In addition, stage four of the major redevelopment at The Glen remains on track to open in August 2019." , he said
With a clear strategy Vicinity Centres, under the leadership of Grant Kelley shows a progressive growth strategy underpinned by strong returns for investors. Peter Huddle joined the group recently as COO adding to his already strong leadership team.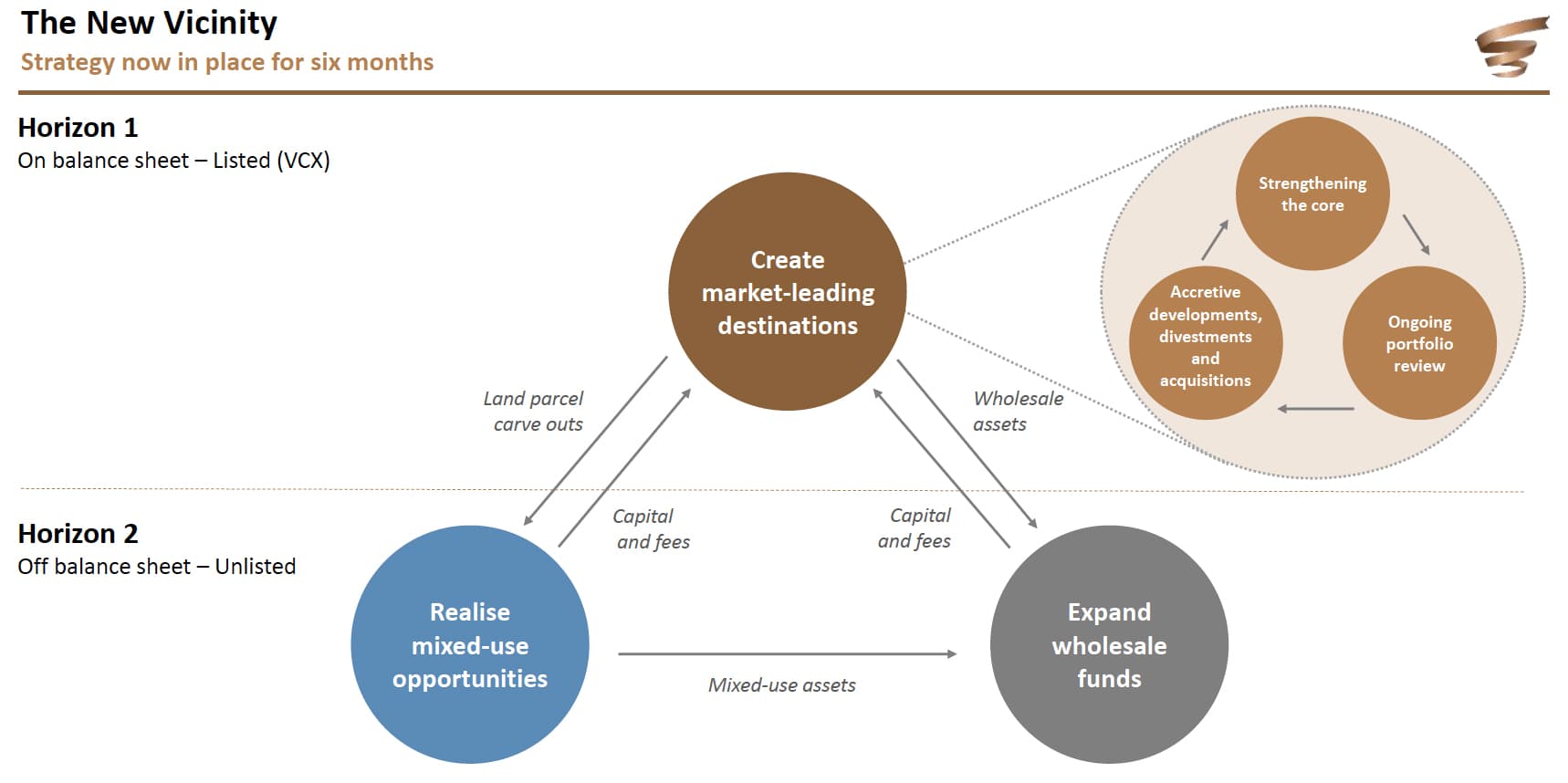 "On strategic initiatives, we are actively acquiring Vicinity securities on-market, we have completed four solar projects and are continuing to work through the remaining asset sales and establishment of a proposed wholesale fund with higher-yielding Vicinity assets." 
Total portfolio specialty store MAT per sqm is $10,939, compared to $9,918 reported in March 2018, an increase of 10.3%, partly driven by organic growth and highlighting the success of portfolio repositioning. The destination portfolio specialty store MAT per sqm is $11,392. 
Total portfolio specialty store and mini majors' MAT growth was up 3.3%, underpinned by jewellery (+11.0%), leisure (+6.1%) and retail services (+5.3%) categories, with particularly strong results for Chadstone and the DFO portfolio. Specialty store and mini majors' MAT for the destination portfolio was up 3.9%. 
Kelley said: "We acknowledge that the retail environment continues to evolve however Vicinity is well placed to respond to changing market conditions. Vicinity's strength is underpinned by our points of differentiation. Chadstone is Australia's number one retail asset, we have seven premium east coast CBD locations and Australia's leading Outlet Centre portfolio with six DFOs, and we are also Australia's leading landlord for luxury retailers. Furthermore, we are continuing to progress the repositioning of our portfolio to 50 market-leading destinations which have an average asset value of $478 million, up more than 35% on the 74 assets owned at June 2018." 
During the period, Chadstone maintained its position as Australia's number one retail asset by MAT, for the 18th consecutive year, in the 2019 Shopping Centre News Big Guns survey. With the completion of a number of retail projects in late 2018, the centre is well positioned for future growth and is also looking to take its service and experience to the next level. A visitor lounge was opened in late 2018, premium valet parking and associated concierge services commenced operations in April 2019 and construction of the 250-room MGallery By Sofitel Chadstone Hotel and the link between the hotel and the centre is on track to complete later this year. 
The $430 million major redevelopment of The Glen continues with stage four on track to open in August 2019, with a new format David Jones, 60 specialty stores and alfresco dining. Construction of more than 550 apartments on site, by third party Golden Age, will commence in May 2019, with expected completion in 2021. 
Planning continues on a number of additional opportunities to create value for Vicinity security holders through development. We have significant retail development projects planned for Bankstown Central, Box Hill Central, Chadstone, Chatswood Chase Sydney, DFOs, Emporium Melbourne and Victoria Gardens Shopping Centre. On mixed-use development, we are prioritising Vicinity resources on four main projects at Box Hill Central, Chadstone, QueensPlaza and Victoria Gardens Shopping Centre. At other centres we will look to realise capital, for example by entitling a site and then selling off the mixed-use development to a third party or strategic partner or fund. 
To read the latest SCN Cover Story on Vicinity Centres click here