Glebe Hill Village is charging ahead with plans to start construction in 2021 as property development and investment group, Tipalea Partners, has announced its new $30 million retail centre Glebe Hill Village in Hobart is now 80% full.
Eight leases have been negotiated during COVID-19, including locking in anchor tenant Coles and a drive-through McDonald's. Prominently located at the intersection of the South Arm Highway and Pass Road in Howrah, Glebe Hill Village represents the first new neighbourhood shopping centre in metropolitan Hobart in more than a decade.
Acquired by Tipalea in 2016, the site is in close proximity to several new residential estates in Hobart's popular eastern growth corridor. The 5,900m2 Glebe Hill Village shopping centre is set to deliver a new standard of convenience retail and consists of Coles plus 17 specialty shops in an air conditioned mall with 260 car spaces in an expansive, completely on-grade car park.
Glebe Hill Village will provide the largest only full-line supermarket in the primary trade area. It is also set to become Hobart's most connected retail centre with a suite of innovative smart-tech features including its own app, free wireless phone charging and wi-fi, real-time air quality monitoring, smart bathrooms that monitor water usage, parcel lockers, recycling stations and EV chargers.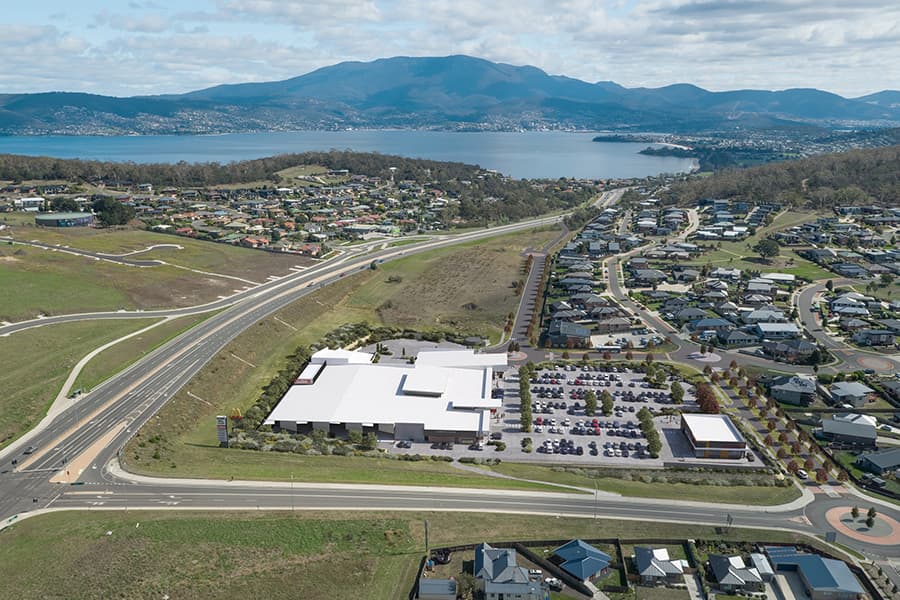 "The demand we have experienced from retailers for this new centre is testimony to how vital it is for the community," said Scott Spanton, CEO of Tipalea Partners. "More than ever, the jobs created by this investment are desperately needed. Despite all the gloom of this year, these forward-thinking retailers realise we are still 18 months away from opening and that we will eventually come out of this pandemic.
"Glebe Hill Village is essential infrastructure for what is Hobart's fastest growing catchment and will create about 200 jobs during construction and more than 350 ongoing jobs once the centre opens. McDonald's alone is expected to employ around 100 people across a mix of full-time, part-time and casual roles, with training and development a focus for these new employees," said Spanton.
As well as Coles (3,500m2), other retailers secured so far include McDonald's (425m2), Australia Post (140m2), a chemist and medical centre (590m2), bottle shop (270m2), tobacconist (55m2) and a nail salon (55m2). All leases were brokered by Lewis Torkington and Ashleigh Wearne of CBRE.
"We expect to be able to announce even more leasing deals shortly and for the remaining tenancies we are targeting quality food and beverage tenants, café, sushi, butchers, hairdressers, dentists, optometrists and hearing uses," explained Spanton.
Construction is set to commence in early 2021 for a forecast centre opening in mid-2022. The new freestanding drive-through McDonald's will be the only McDonald's restaurant in the trade area.
Tipalea Partners has been investing and creating jobs in Tasmania for more than 15 years and Glebe Hill Village will be the third Tasmanian project undertaken by the group.