QV Melbourne has created a city square haven with their Euro-summer inspired QV Club. Reminiscent of the Greek Islands or Capri, the club comes complete with two pop-up bars, DJs and live music.
Melbourne has never been more ready for get-togethers, good times and slow living in the sunshine. The QV Club launched on Friday 19 November with Vogue American Express Fashion's Night Out (VAEFNO). The outdoor club invites everyone to make it their summer meeting point, all the way until March.
QV Club Bar includes two pop-up bars by Father's Office, a Stella Artois shipping container bar and an Absolut cocktail caravan. QV Club will exclusively launch the new release Absolut Watermelon with the QV Club Watermelon Smash. A 750ml bottle of Mumm Champagne is on offer for just $69, all summer long. The QV Club Bar will also offer Aperol Spritzes, frozen margaritas, Pina Coladas, and city favourite wine, seltzer, beer and spirit varieties.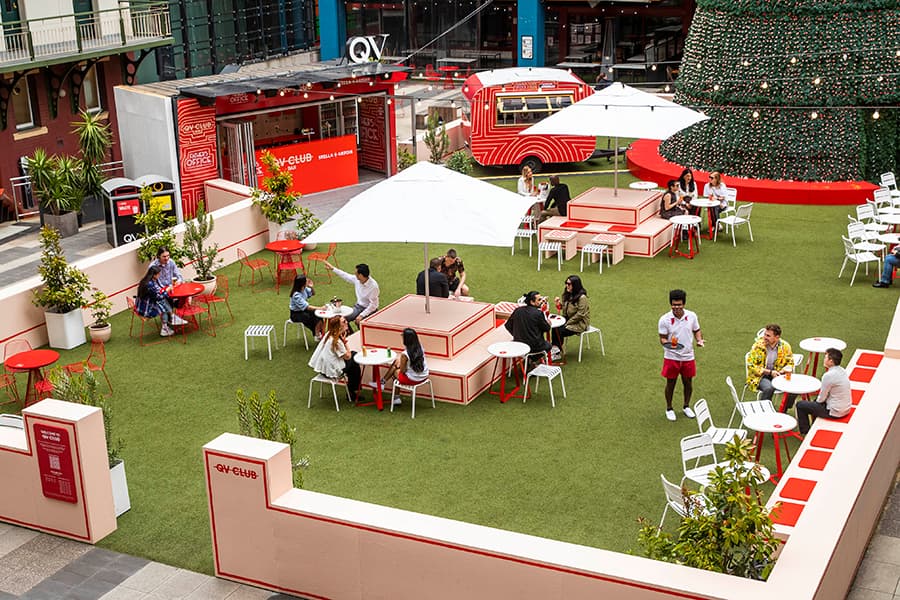 From 5pm on Fridays and Saturdays, DJs will spin vibe-worthy sounds, chill house music and remixes, amping up as the night continues. Guests can even request their favourite track from 9pm-11pm. Electric live bands will be programmed on select Fridays and Saturdays throughout summer as well as flash dancers.
QV Melbourne City Retail Centre Manager Arabella Richards said: "We are so thrilled to welcome everyone back to the CBD, with our summer-loving QV Club. Coming together in the heart of the city, Melburnians will be able to enjoy everything they love best: pop-up bars, eating out, DJs, live music and laneway shopping, all in the one place,"
"Lounge on a daybed and play a lazy game of checkers, as you order meals, drinks and bar bites via the table QR Code from QV food vendors, without having to raise your sunhat. Father's Office will even deliver food directly to your spot in the sun, beach club style."
Anna Carosa, co-founder and Managing Director, Father's Office QV added: "We are thrilled to be partnering with QV Melbourne again to launch the amazing QV Club, with drinks presented by Stella Artois, Absolut Watermelon and Mumm champagne. It's definitely going to be a summer to remember."
QV Club is the centrepiece of QV Melbourne's celebration of all the good things in life: 100 Days of Summer, making every day count. Visitors are encouraged to wander through fashion boutiques on Albert Coates Lane, revel in the ability to touch and try on favourite designs and apparel, and finish with thrilling morsels of authentic Asian fare in Artemis Lane.
QV Club is located in the QV Square, Level 2, QV Melbourne, corner Swanston and Lonsdale Streets, Melbourne.