Bjarni Wark, has officially completed Fairfield's newest 57-metre community mural located at the T-Way entrance to Stockland Wetherill Park Shopping Centre. 
 Bjarni Wark is a multidisciplinary street artist and illustrator with a tendency to work with people who are needing artwork that is playful with a splash of quirkiness. By using a strategic process combined with a unique creative skillset the aim is to make places within the city and rural-urban environments more beautiful and enjoyable for people to interact with. 
"The new mural offers a bright and welcoming gateway that hopefully resonates with people coming into the shopping centre," said Bjarni. "It includes positive words of love and belonging, with a colourful illustration that reflects the community and the diverse mix of people who live within it. It's meant to inspire joy, and I really hope it does." 
Michael Iraninejad, Centre Manager at Stockland Wetherill Park, said: "We were overwhelmed by the number of creative entries received from the local community to bring this mural to life. Thank you to everyone who submitted; we obviously have some very talented local artists.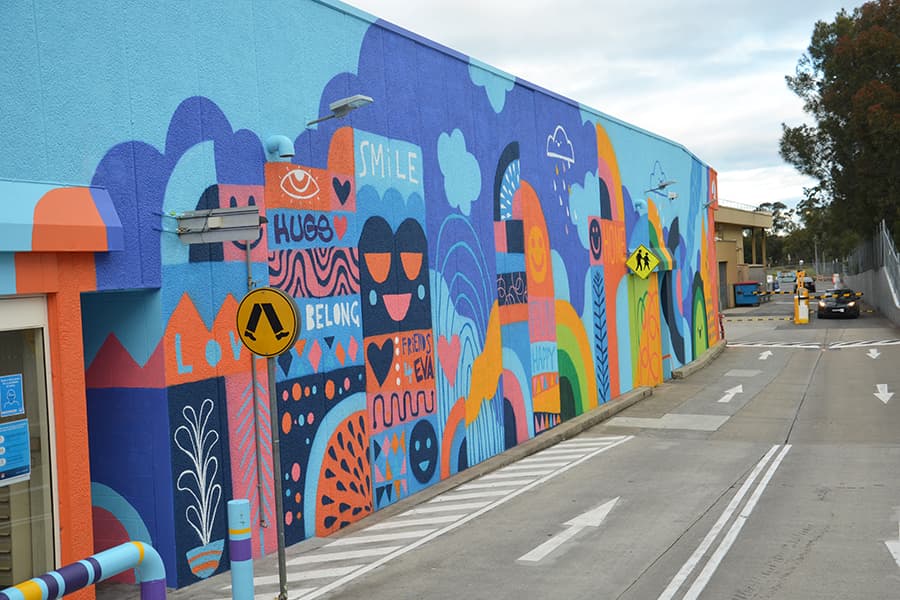 "It's been exciting to watch Bjarni of HAPPY DECAY work on the project with nothing but smiles and enthusiasm, and for the final result to be such a beautiful reflection of the diverse and vibrant community spirit of our area. 
"We hope the Fairfield community and beyond can feel a sense of ownership, pride and belonging every time they see the mural and visit our town centre." 
As part of Stockland's broader placemaking initiative, Stockland Wetherill Park has also awarded two contracts to Office Feurman and Amigo and Amigo for 3D sculptures. Office Feurman will install their concept 'Chandelier' in the centre's food and dining precinct Kinchin Lane, and Amigo and Amigo will bring their illuminating concept 'Loop' to life in The Promenade entrance off of Town Centre Drive. Both of these works are expected to be completed by mid-2022.