Australian startup BindiMaps is revolutionising the way people who are blind or vision impaired experience large, indoor spaces with an app that provides navigation in indoor locations, like shopping centres. Stockland Wetherill Park is the first large indoor public space using the BindiMaps app, which is optimised for the vision-impaired community and uses a network of Bluetooth beacons installed throughout the indoor environment. BindiMaps applies everyday language to guide users via their smart phones to their destinations.
Stockland identified Wetherill Park as a pilot location following research investigating the key challenges of the shopping centre experience for vision-impaired customers.
Chris Travers, Regional Retail Manager, Stockland, said Stockland was keen to identify solutions as part of the research in line with its commitment to providing a better customer experience for people who live with a disability. "This innovative wayfinding system will open up a whole new world of discovery for customers with a vision impairment, bridging the gap between a large indoor public space and the barriers to going there in the first place."
"It removes significant pain points for people with a vision impairment when navigating a shopping centre – from locating entry/exit points and amenities to finding new or relocated stores," said Travers.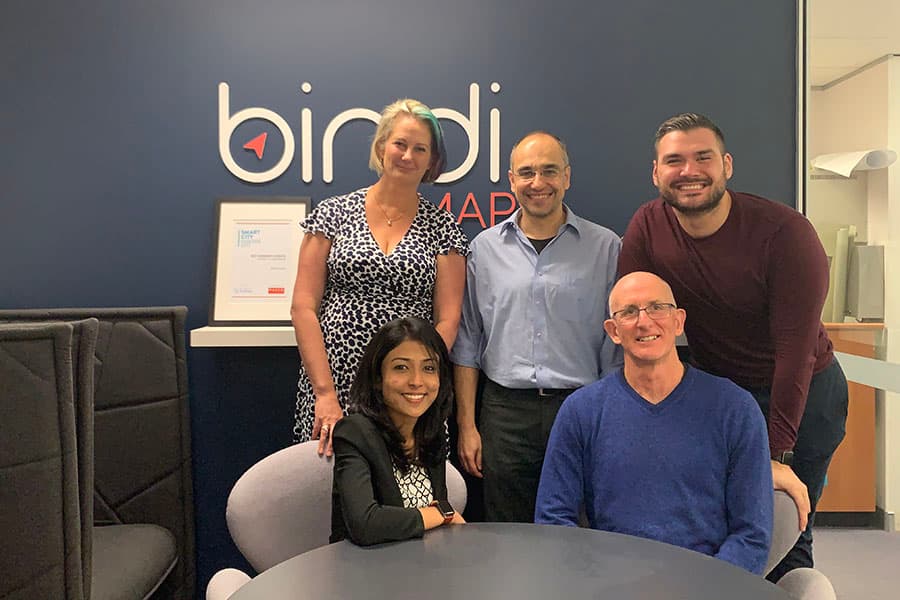 BindiMaps was jointly co-founded by Dr Anna Wright, Mladen Jovanovic and Tony Burrett – all who have a passion for using technology to enhance people's lives. CEO of BindiMaps, Dr Anna Wright, said BindiMaps was proud to be working with Stockland, one of its first major clients, and was encouraged by Stockland's willingness to adopt the innovation at Stockland Wetherill Park.
"While BindiMaps can enhance the shopping experience for any customer, it completely changes the way people with a vision impairment can safely and independently access indoor spaces. Before BindiMaps, a person with vision impairment would need significant help from others to be able to do something most of us take for granted, accessing our local shopping centre. But now, even someone whose sight is very limited or non-existent can find their way around much more independently, even if they are unfamiliar with the space."
"This is a significant milestone for our startup and will pave the way to BindiMaps being rolled out at other major facilities around Australia," said Wright.
BindiMaps is currently in a number of small scale installations including UTS, and both the Vision Australia and Guide Dogs NSW/ACT head offices. In addition to shopping centres, the technology can be applied inside any major precinct, such as university campuses, airports and office buildings.
BindiMaps has developed the app with the help and expert advice of Guide Dogs NSW/ACT, Vision Australia and many users who are blind or have low vision.
Jennifer Moon, Guide Dogs NSW/ACT Access Coordinator said shopping centres are incredibly busy and complex environments for people with a vision impairment to navigate. "While the orientation and mobility services Guide Dogs provide help enable people to navigate these environments independently, the introduction of BindiMaps provides another layer of information to assist with orientation," said Moon.
Ben Moxey, who is vision impaired and uses a white cane, had the opportunity to test BindiMaps at the shopping centre during its installation and provide consumer feedback.
"Information is power. It's been great to experience the way an app like BindiMaps provides additional information about the environment I'm moving through. It's helped me navigate to specific locations like shops and facilities with more ease and accessibility," Ben said.