Mirvac's South Village shopping centre in Sydney's south shared its first birthday celebrations with the local community with the highlight being the opening of the new Sutherland Shire community park adjacent to the centre.
St George and Sutherland Shire Mayor Cr Carmelo Pesce officially opened the park on Thursday 14 November, kicking off the birthday celebrations that included a giant balloon arch, birthday cake and entertainment including stilt walkers and face painting for the kids.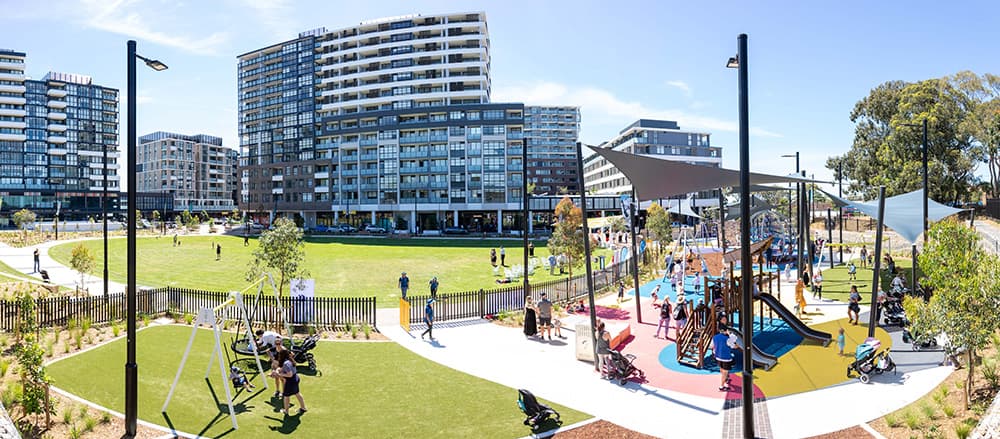 Customers could also get free picnic rugs with their purchases from the many foodie offers at the centre and were encouraged to enjoy the summer weather out in the new parklands. In addition to the centre stores, a fresh produce market every Friday to Sunday has proved popular with the locals and enhanced the atmosphere for the fun birthday celebrations.
South Village plans to keep the fun going throughout summer with picnic food offers to entice family and friends to gather in the park and share meals together which can be enjoyed in the new park.
Offers will be available from Cooperfield, Christophers Cakes, Criniti's, Grilled, Guzman y Gomez, Joe Jnr, Lone star Rib House, Tamping Ground, Thai Riffic Kirrawee, Umaya Japanese Restaurant and Umaya Sushi.
South Village is located in Kirrawee, approximately 25km South of Sydney's CBD in the Sutherland Shire. The convenience of ALDI and Coles is complimented by approximately 30 specialty retailers and restaurants.
South Village includes the first BodyMindLife outside of central Sydney as well as the first Lone Star Rib House and Criniti's in the Shire. The open layout design with three courtyards promotes a free-flowing area full of natural light.