In the wake of COVID-19, the ability to actively maintain a safe environment for customers and staff members is crucial. Skyfii, an Omnidata Intelligence company and the leader in location-based analytics, have released  an automated occupancy and social distancing management toolkit. OccupancyNow™ combines automated counting technology, with real-time monitoring, reporting, and communications tools.
The toolkit has been designed to help businesses maintain a safe environment for their customers and staff, and ensure compliance with COVID-19 regulations and allows businesses to accurately monitor, detect, and alert staff when occupancy counts reach a limit, or an area is becoming congested. By accurately maintaining safe occupancy limits and preventing overcrowding, businesses can give both staff and customers confidence that their venues are safe.
"In just 2 weeks since its launch in the US market we have had an extremely high volume of new leads from companies requesting OccupancyNow. We are very excited about our ability to help businesses reopen as soon as possible and stay open." said Wayne Arthur, CEO at Skyfii.
As government regulations regarding COVID-19 evolve, businesses will need to continue to verify and ensure compliance in order to remain open. The OccupancyNow™ toolkit includes a web-based reporting dashboard, enabling management to review occupancy counts by the minute in each location, verify safe social distancing practices are being maintained, and track whether routine cleaning procedures are being performed.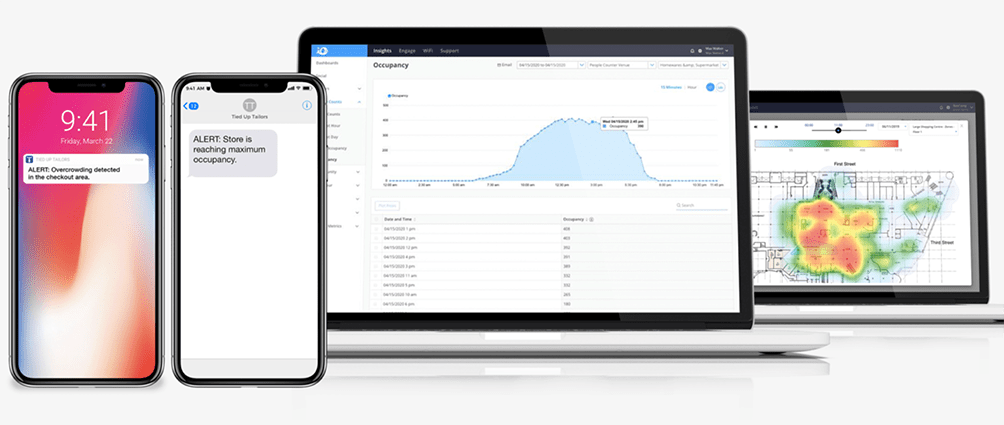 The toolkit also includes a suite of data-driven communications tools – enabling businesses to keep staff and customers informed of their COVID-19 countermeasures, and facilitate contact tracing. By allowing customers to easily opt-in to communications through their devices while they are in-venue, businesses can quickly build a database of customer contact information and visitation history. In the event that a confirmed COVID-19 patient was known to have visited a venue, businesses can inform customers and employees that were present at that time about possible exposure risks.
"Skyfii has deep experience in helping physical venues use data and technology to better understand visitor movement, behavior, and congestion. We moved quickly to build off of our existing expertise and technology to develop the OccupancyNow toolkit in response to the COVID-19 impact on physical businesses. We're already rolling it out to several of our existing customers, and with the announcement of its release, we're hoping we can help many more businesses open sooner and continue to operate under the respective occupancy and social distancing guidelines." said Arthur.
As all businesses – including customer-facing venues, corporate offices, warehouses, or distribution facilities – look to recover from the impact of COVID-19, they will need to adapt to changing regulations and concerns regarding customer safety. The toolkit will assist businesses to accurately manage live occupancy and social distancing, maintain compliance with local COVID-19 regulations, and ensure the safety of their customers and staff.