Two separate neighbourhood shopping centres have sold for a combined value of more than $69 million, as the resurgence of COVID-19 across Australia spotlights the performance of this type of retail asset to investors.
JLL's Nick Willis and Sam Hatcher sold neighbourhood retail centre, Coolum Park Shopping Centre in Queensland, in an off-market deal for $32.5 million. Further to this sale, the JLL team including Dylan McEvoy have exchanged contracts following the formal on market expressions of interest campaign for the sale of Market Plaza Chipping Norton in New South Wales. The centre has transacted for $37.4 million at a yield of 4.75% to a private investor. Both assets are convenience-based neighbourhood retail assets, anchored by strong performing Woolworths and Coles supermarket, respectively.
JLL's Retail Investments (Australia) Senior Director, Nick Willis said, "The convenience and Large Format Retail sectors continue to attract the strongest investor interest and highest conviction given the sector's outperformance over the past 24 months. The investor interest is broad; ranging from private high-net worth investors, global pension and sovereign funds and the A-REIT's all looking to increase scale in what is a highly fragmented market.
"Supply of investment product remains a key issue for this part of the retail market, with demand drastically outweighing available supply. This imbalance will continue to drive yield compression and potential for further M&A and strategic partnerships in 2022," said Willis.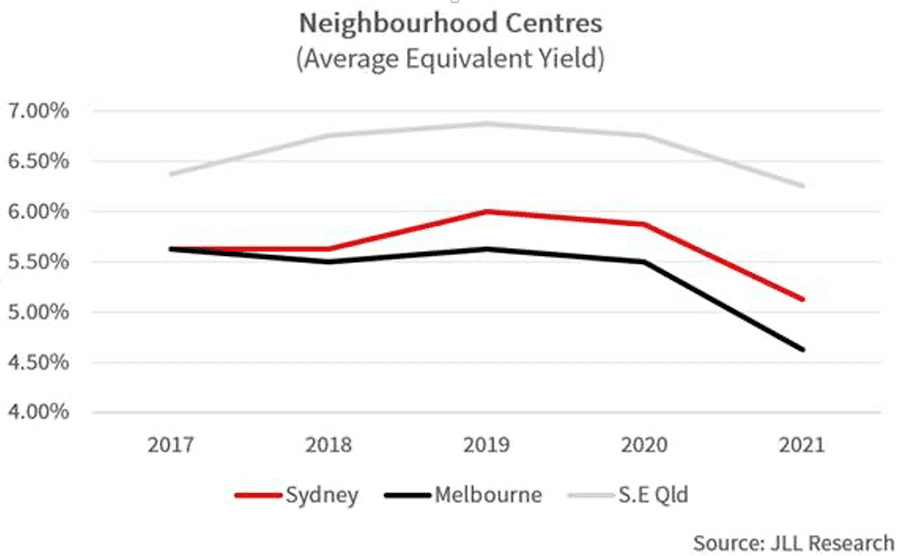 JLL Research shows that $2.7 billion worth of neighbourhood shopping centres transacted in 2021, trading at a 81% uplift compared to the year prior, and up 45% and 64% on the five and ten year averages, respectively.
JLL's Retail Research (Australia) Senior Director, Andrew Quillfeldt said, "The recent spike in COVID-19 case numbers is likely to re-introduce many of the trends evident over the last two years during periods of restricted movement, resulting in an increase in spending on grocery and Large Format Retail (LFR). The strength in underlying sales performance in these two main categories will continue to support investor confidence and demand for neighbourhood and LFR shopping centres.
"Although there is some economic uncertainty in 2022, consumer confidence remains positive and the household sector is in a good position to be supportive of retail spending across all categories," said Quillfeldt.