Sydney-based start-up Slyp has announced the completion of a $4 million funding round that included ANZ, NAB, Westpac-backed Reinventure and Scentre Group, owner and operator of Westfield in Australia and New Zealand. Slyp has developed a new standard for digital tax receipts that will allow retailers to automatically send customers an interactive itemised receipt to their banking app.
This latest investment round takes Slyp's funding to more than $7 million to date and will help them launch their product to retailers and banks later this year.
ANZ Ventures Managing Director Ron Spector and Investment Director Daniel Wypler led the funding round and were pleased to support Slyp as it continues to develop a platform enabling smart receipts.
"This capability can provide significant value to retail customers, merchants and financial service providers and aligns with our focus on building relationships with emerging growth companies in the fintech space that can support our customers, bankers and partners," Spector said.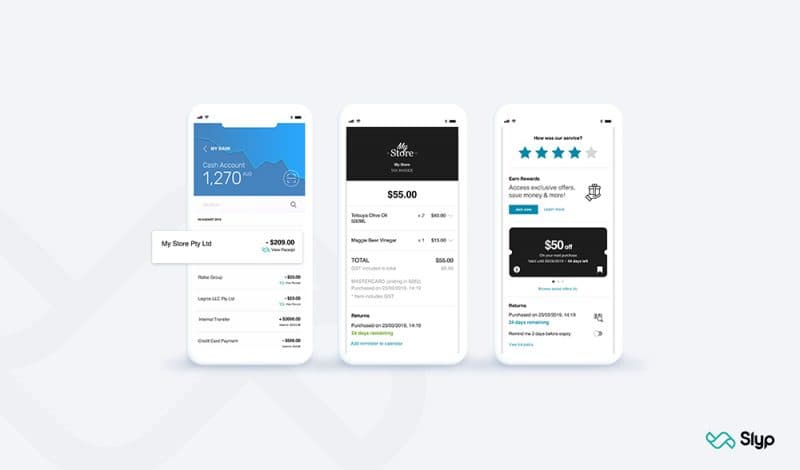 Slyp co-founder and former PayPal executive, Paul Weingarth, said that market testing showed that customers want a consistent and intuitive interface for their receipts.
"We have completely reimagined the receipt with customer-centric features like warranty and return reminders, ratings, rewards, product recall alerts and much more. Our mission is not only to delight customers, we want to help retailers turn the end of the transaction into the start of a customer relationship. Our research data showed that customers were six times more likely to engage with a Slyp Smart Receipt than a bespoke digital receipt from a retailer," said Weingarth.
Scentre Group has also formed a strategic partnership with Slyp to drive awareness and adoption of the smart receipt solution to retailer partners in Westfield living centres across Australia and New Zealand.
"Scentre Group is pleased to partner with Slyp and support this new technology for our retail partners because it provides a practical solution to improve the customer experience whilst contributing to increased productivity of their businesses," said Cynthia Whelan, Chief Strategy and Business Development Officer of Scentre Group.
Slyp is partnering with the major banks to enable the 'utopian state' of smart receipts for their customers – where the Slyp Smart Receipt is automatically linked to a customer's bank card and then displayed inside their banking app (with no change in behaviour at the point of payment). NAB has already trialled the solution and will be the first major bank to integrate Slyp's capabilities into their mobile banking app later in the year, with the other banks aiming to follow shortly after.
"We are excited to be the first to have this feature in the hands of our mobile app customers later this year. Slyp has developed an innovative, customer-centric solution, backed by an experienced founding team," said Jon Davey, EGM NAB digital.
Slyp has signed several of Australia's leading brands onto the platform including Harris Farm, Bing Lee, Cue fashion, BBQ Galore, and San Churro.
"At Cue, we are always striving to be more sustainable, whilst delivering an award-winning customer experience. Slyp helps us deliver on both", said Lenton, CIO Cue Clothing
In addition to the retailer traction, Slyp has signed more than 20 tier-one point of sale (POS) providers on the platform including Retail Directions, Apparel 21, Magenta Retail, Island Pacific and Gap.
Westpac's venture arm, Reinventure also followed on from a prior seed investment. "We are excited to see Slyp Smart Receipts become the new benchmark in post-sale customer experience. Once launched later this year, we expect to see Slyp's network scale quickly via the bank, retail and POS distribution partnerships it has put in place over the past two years" Said Rohen Sood, General Partner at Westpac's venture arm, Reinventure.
Slyp is currently expanding its Australian team and while their immediate focus is to launch the receipt standard across retailers and banks in Australia, their ambition is to expand into overseas markets later next year.