The latest release (December 2021) of the monthly ABS Retail Trade data indicates that the overall month-on-month estimate decreased by 4.4%, down by 7.3% from a particularly strong November 2021. Retail Turnover increased by 4.8% year-on-year, down from an equally strong 5.8% in the prior corresponding period.
While the December results provide a welcome boost after a difficult 2021, year-on-year growth has slowed and the numbers reveal the beginnings of a slow-down as the Omicron wave began to impact businesses.
The December ABS figures show Victoria leading the states, with sales up 6.5% compared to the previous year, followed by Western Australia (up 5.3%), New South Wales (up 5.2%) and Queensland (up 3.7%).


Spending on retail goods remains elevated compared to December 2020 for all retail categories except for Department stores, down 9%. Cafés, Restaurants and Takeaway food had the highest year-on-year increase at 6.8% followed by Clothing, Footwear, and Personal Accessories with sales up 5.8% and Household Goods at 5.1% in December compared to the same time in the previous year.
Online sales represented 12% of total retailing in December, with online sales continuing to normalise as Australians returned to physical store shopping.

The ABS data suggests that elevated spending in November 2021 was a combination of Christmas spending being 'pulled forward' by the proximity of Black Friday/Cyber Monday to the end of the month, as well as a function of elevated demand following Government restrictions across some jurisdictions which ended in October. So while m-o-m spending was down, 4.8% growth y-o-y for December is a particularly strong result, especially given that December 2020 recorded 9.7% y-o-y growth, the highest growth in 32 years.
Simon Hemphill, Head of Research, Shopping Centre Council of Australia said: "Comparison of retail spending will be affected throughout 2021 given two main factors. Firstly, lockdowns and Government restrictions for 'non-essential' retail in certain jurisdictions (including during post-lockdown periods) will negatively impact short-term comparisons, especially for month-on-month or quarter-on-quarter periods."
"Secondly, record spending during 2020, due to the bounce-back of consumer activity, has an impact on longer-term analysis (year-on-year). Given these factors, it is worth making a comparison of Retail Trade to the pre-pandemic period of 2019."
Interestingly, all jurisdictions (including those exiting Government restrictions in the latter part of 2021) show positive growth versus the corresponding pre-pandemic, 12-month period.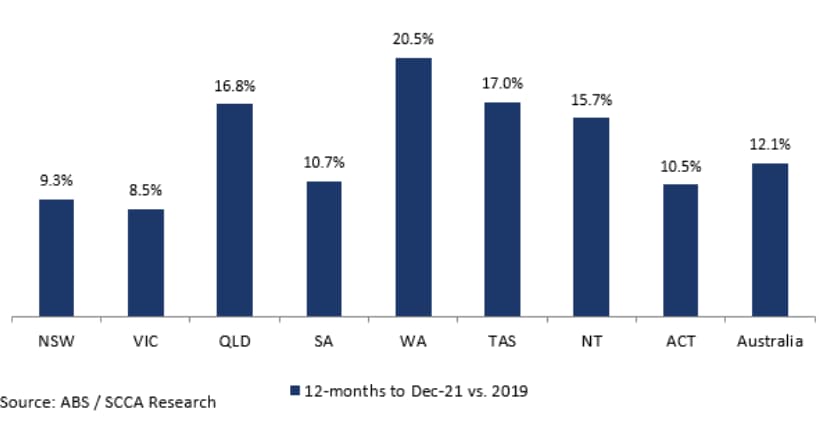 ARA CEO Paul Zahra said the robust Christmas results provide a lifeline for struggling retailers, but all signs point to a dismal January as Omicron challenges continue to create a shadow lockdown.
"Christmas sales are when most discretionary retailers make up to two-thirds of their annual profits. This solid December performance, following a strong November, will help replenish cash reserves for retailers affected by a year of restrictions and lockdowns.
While it is worth remembering that January sales is always down on November/December, Zahra said some retailers are calling the opening months of 2022 the worst part of the pandemic.
"Whilst we welcome the state and territory government business supports that are starting to come in, our reports tell us January was a devastating month for retail, hospitality and tourism businesses and we believe much more support will be required. Many small businesses are struggling to keep their doors open with staffing shortages and we are calling on federal and state and territory governments to step up to keep these businesses alive," he said.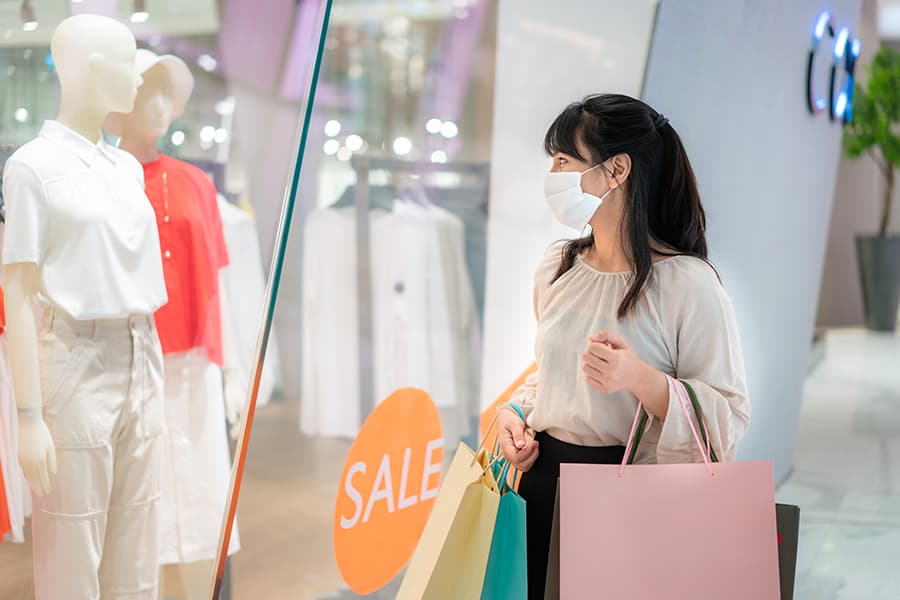 NRA CEO Dominique Lamb said the December figures confirmed internal NRA data showing that small businesses are in urgent need of assistance.
"Internal NRA data indicates that 95% of small businesses surveyed had been negatively impacted by Omicron. While a majority have had to decrease casual staff levels, implement alternative rosters, and reduce trading hours," Lamb said.
"The NRA is calling on state and federal governments to work together to provide support to smaller retailers who have suffered steep revenue drops during what is typically the busiest time of year."
The ABS has split the release of their Retail Trade data into two separate parts with more detailed data to be released next week.