Mirvac Group has submitted a revised development application for the redevelopment of its Harbourside Shopping Centre at Darling Harbour in Sydney, which will deliver a new public domain of more than 8,200m2 and generate more than 6,100 jobs.
The proposed plans for the centre, built in 1988, provide an opportunity to transform it into a key tourism destination for Sydney and deliver a world-class mixed-use development. The proposal updates the centre to a quality consistent with its surrounding landmark developments, including the International Convention Centre, Barangaroo and Cockle Bay Wharf.
Mirvac's Chief Investment Officer, Brett Draffen, said the updated plans provide significant public domain benefits, including a widened waterfront boulevard with more seating, a new pedestrian bridge connecting to Pyrmont and a north-facing 1,500m2 public plaza. The redevelopment is expected to deliver more than 4,000 jobs in the long-term and approximately 2,100 construction jobs during the building phase.
"The new-look Harbourside Shopping Centre will provide locals and visitors alike with access to a range of open public spaces as well as improved retail, dining and entertainment options.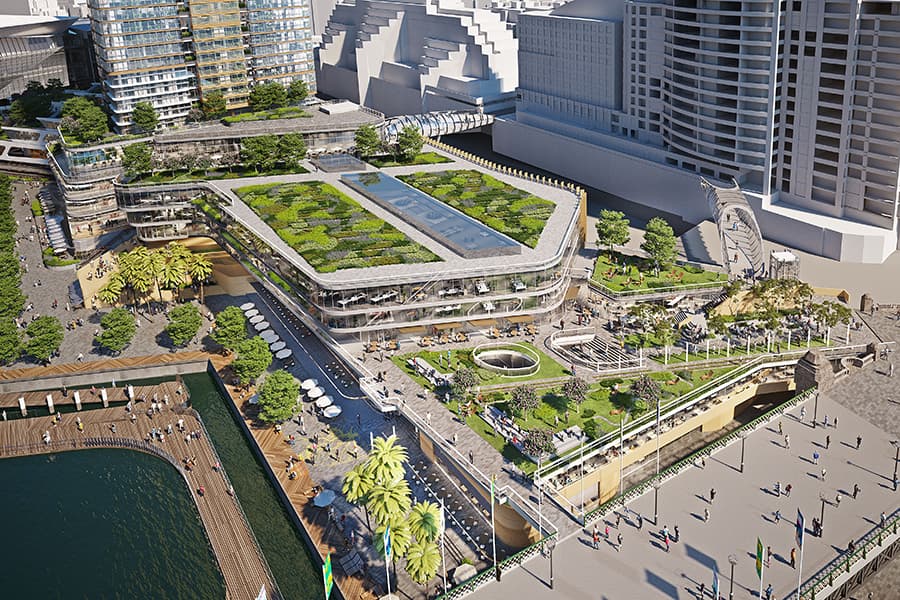 "Around $15 billion of investment and renewal has been injected into the precinct over the past decade, and having the opportunity to reinvent Harbourside will complete the area and link Darling Harbour to the wider Pyrmont peninsula," said Draffen.
"Our plans for the centre, developed after four years of extensive community consultation, have been significantly improved by feedback from government, especially around the public space that will open up Darling Harbour and connect to the Pyrmont Bridge," he said. "This is the final piece that completes Darling Harbour as a true destination for both locals and visitors, and we are very excited about the opportunity to transform this iconic site."
"Pyrmont is the exciting future of Sydney – and Harbourside is an important gateway," added Gabriel Metcalf, CEO, Committee for Sydney. "This is a welcome and exciting addition to the Darling Harbour foreshore, providing significant new public space and benefit for the people of Sydney."